Out on the wiley, windy moors. It's time to go hiking in England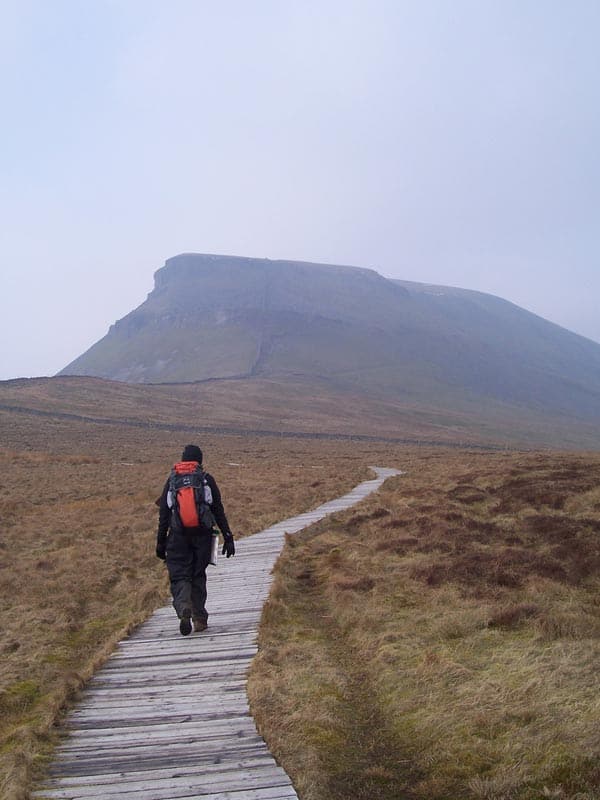 Hiking in England – The Pennine Way
If you want to go hiking in "quintessentially English" scenery, you'll usually be advised to head to somewhere like the Cotswolds, in the south of England.
The Cotswolds
It's fairly close to London, and its picture perfect villages and cottages are the kind you'd imagine decorating a biscuit tin. It's one of the wealthiest areas of the country, one of the most conservative.
Well, that's all right I guess, if you like walking past rich people's houses.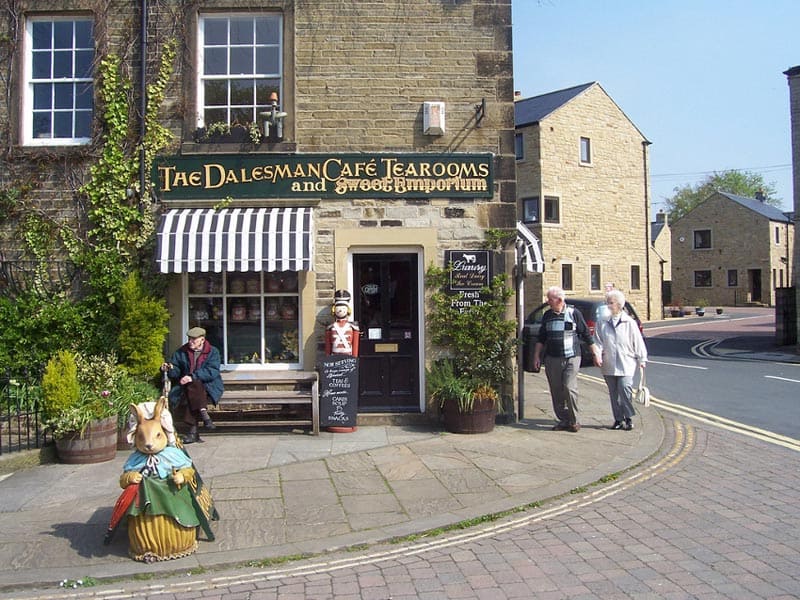 The Lake District
Alternatively, you'll be told to head to the Lake District, for its wild craggy fells, and historic connections to Wordsworth and Beatrix Potter.
On this I agree: 'the Lakes' (as we call them) are absolutely a must do for visitors to the UK.
The Pennine Way
But if you were to ask me for a hiking trip that's off the tourist trail, but gives you a real sense of what northern England is like, I'd pick the Pennine Way: this beautiful, atmospheric walking weekend without any hesitation.
It's a land of wild moorland, dry stone walls, friendly folk, flat caps and Yorkshire puddings (not a dessert), pretty sheep with curly horns, cosy pubs, and yes, sometimes rain and atmospheric mist (pack your waterproofs).
I almost forgot to mention lovely northern accents, spectacular geological features, waterfalls and windswept walking trails.
Forget Beatrix Potter and twee picket-fenced cottages: think Wuthering Heights.
The Pennine Way: From London to Malham
We started off with a map of the Pennine Way, England's first and (in)famous long distance walking route.
We took the train from London King's Cross station – recently renovated and dramatically improved with a new sweeping dome, cafés and a bright airy feel – to Gargrave in Yorkshire, changing at Leeds.
It took the whole morning to get there, but we enjoyed watching the scenery change from city to country from the train window, drinking our tea and eating biscuits.
Where to get off the Train
At Gargrave, we popped into The Dalesman Café for refreshments, before following the Pennine Way to Malham through green fields and along the river Aire, admiring the classic dry stone walls that decorate this landscape.
At Malham, we took a short detour to see Janet's Foss, a waterfall supposedly the haunt of a fairy queen. We then explored the famous Gordale Scar, a dramatic landscape feature that has inspired many famous British artists, including Turner and Wordsworth.
This area is a favourite for geology students' field trips, and it's not hard to see why.
We stayed in Malham. It was out of season, so the usually crowded village was quiet and peaceful.
I remember how dark it was, walking back to our B&B after a night in the pub: so dark we could see the milky way clearer than we had seen it for years.
Along the Pennine Way
The next day, we followed the Pennine Way to the stunning Malham Cove, and climbed to the top to view its famous limestone pavement with absolutely breathtakingly beautiful views of Malhamdale below, even in the hazy autumnal mist.
Bill Bryson lived here for some years, and said:
"I won't know for sure if Malhamdale is the finest place there is until I have died and seen heaven (assuming they let me at least have a glance), but until that day comes, it will certainly do."
We continued to follow the Pennine Way, through a limestone gorge past Malham tarn.
The Wild and Remote
We now entered a wild and remote area. The colours turned to brown and green; we felt the wind whistling down from the moorland around, and hardy sheep roamed amidst the olive-green bracken.
The sounds of the wind, a few birds and sheep are all we heard for the next few hours. The only people we saw were each other.
We climbed up Fountains' Fell, and then continued to follow the Pennine Way as it curved round past remote farmhouses (just imagine living out here!) and finally turned towards one of the most famous fells in the area, Pen-y-Ghent (the hill of the wind).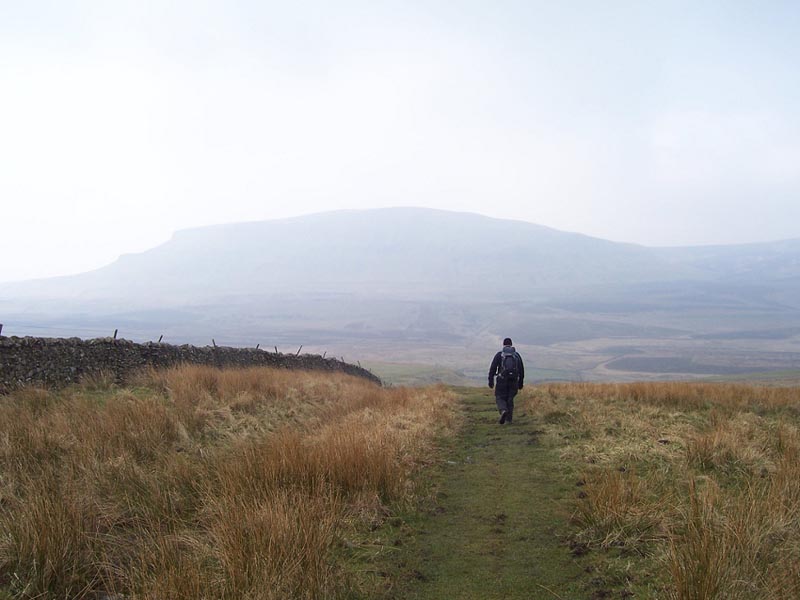 After a steep but short and easy scramble, we reached the top at the 'trig' point (triangulation point: used for Ordnance Survey mapping, these white pillars are common features in the British landscape).
After descending the fell, we passed Hull Pot: a chasm where water cascades down into the blackness, triggering thoughts of Middle Earth and Gollum's caves below.
We then headed down to the nearby village, Horton-in-Ribblesdale.
This is a classic hikers village, and the famous Pen-y-Ghent café in the village is a major hang out, with a series of 'signing in books' for those who are walking the Pennine Way. We duly signed, even though we'd only just started.
It's the base for a walking challenge called the 'Yorkshire three peaks' which is climbing Pen-y-Ghent, Ingleborough and Whernside in one trip – 23.3 miles in just 12 hours.
Two peaks and a viaduct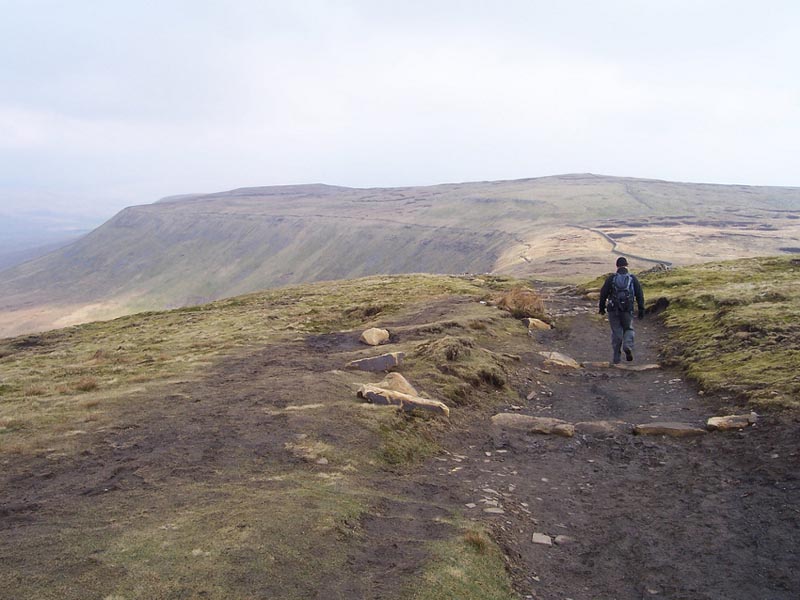 The next day, we left the Pennine Way and set out to climb the other two peaks: Ingleborough and Whernside.
We headed up Ingleborough first, and then followed the well trodden path towards Whernside. This was obviously a popular walk, and many people were out completing the challenge.
After Whernside, we came back down to the spectacular Ribblehead Viaduct, a masterpiece of Victorian railway engineering.
We headed to Ribblehead station, had a pint in The Station Inn (ok I admit it, this walk was just a massive pub crawl!) and got the train back to our base in Horton-in-Ribblesdale.
The next day, we took the train back to London.
My boyfriend? He's now done more hiking than I have. And he still loves a good pub.
Catherine Redfern provides advice and inspiration for Londoners (and newcomers to the city) – who want to experience the best hiking in Britain at www.londonhiker.com. Follow on Twitter and Facebook too!
Get '20 Top Tips for Londoner Hikers', regular useful information and give-aways, by signing up here: http://londonhiker.com/free-stuff.
"You know, I think I could do more of this hiking stuff." My boyfriend said this while hiking through Malhamdale, just outside of London. 
How it all started: 
My boyfriend took a contemplative sip from his pint of Theakston 'Old Peculiar' (we Brits like giving quirky names to our ales).

We were sat in the hikers' bar in a pub deep in the heart of Yorkshire, after a weekend of walking. The wall was covered with plaques listing winners of fell running races from years past, and the unmistakable smell of damp dogs rose from where they lay, panting in front of the crackling fire.

Walkers periodically came through the creaky door, shaking off their waterproofs, scraping their boots, and flattening their windswept hair. Others stood at the bar, sharing stories of the famous local 'three peaks' walking challenge.

I was ecstatic, but I tried to stay nonchalant.

"Really? You think so?"

Years later, I still remember it: the walking weekend that turned my boyfriend from indifferent walker into passionate hiker.

It was autumn. The weather hadn't been perfect on our trip; we'd had our fair share of mist and drizzle and the colours in our photos seemed somewhat washed out. But the impact of the trail, the scenery, the many interesting things to see along the way – even the remote moorland we'd passed through – had cast a spell on us.

The pubs may have had something to do with it, too.
Read More:
6 Incredible Reasons to Explore Dorset