Fresh off our appearance at Travel Bloggers Unite in Italy, we're already planning our next speaking engagement in our home town of Toronto to speak at the Travel Tales Symposium at Centennial College.
The Culture and Heritage Institute (CHI) has been playing host to annual symposia since 2007 and has carved a niche for facilitating discussions with a focus on cultural and heritage tourism topics and issues, featuring leading industry experts, speakers and keynotes, along with attendance and participation from ministerial, community, industry and student fronts. 
The Culture & Heritage Institute is pleased to announce that its

Cultural & Heritage Tourism Symposium will be taking place this June!  This year's theme is:

"Travel and Tales: inspiring stories and learning from global voyages"

 
Date: June 4 & 5, 2012
Location: Japanese Cultural Centre, 6 Garamond Court, North York, Ontario
Our Session: Travel at your fingertips: social media and electronic evolution
Are paper maps still in vogue… has digital travel become a force to contend with…? We'll discuss along with Glenn Shannon of Frommer's Canada on how online access and information have redefined travel experiences.
The 2012 CHI Symposium will focus on the strengths and expertise of each of our program clusters at SHTC:
Festival & Events, Food & Beverage, Hotels & Resorts, and Travel & Tourism
Who will attend?
We had an amazing time talking to the industry and our peers and can honestly say that our presentations at TBU went over quite well. To motivate you all to come out, we're including a few sound bites of tweets going on throughout the conference. we dont' want you to think that your time in the audience will be boring, so here's a bit of what our peers had to say at TBU in Umbria Italy.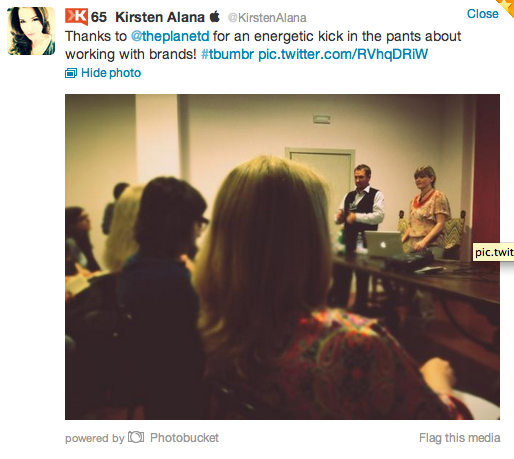 And a Few Favourite Tweets! 


So, if you find yourself in Toronto on June 4 or 5th head over to the Japanese Cultural Centre for a fun and informative conference. We'll see you then!