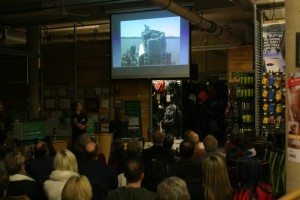 Public Motivational Speaking Presentations
When we returned from cycling Africa in 2008, one of our goals was to become motivational speakers. We had many goals then.  We were searching for a life change and we were willing to try anything.
We were desperate to find ways to become full time travellers and we thought that this might be our ticket.  If we could only come up with an angle.
Brainstorming Ideas
We had visions of being the next Tony Robbins.  We brainstormed ideas and ways to break into that small circle of speakers that tour the world and tell people how great their lives could be.
Okay, that didn't happen
We managed to do a few speaking engagements after Africa and we loved every minute of it.  We get a rush out of speaking in front of an audience. Especially when we are together. We feed off of each others energy and have a blast bouncing back and forth when we tell our stories.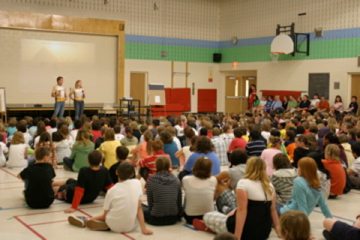 We would still love to do more media presentations.  It is an endgame of ours.  Maybe if we ever become successful enough or have enough adventures under our belt, we will be able to inspire people to step away from their traditional lives and give the life of a traveller a try.
This summer, we had the chance to speak at several engagements and we still feel the same as we did when we returned from Africa. We love it!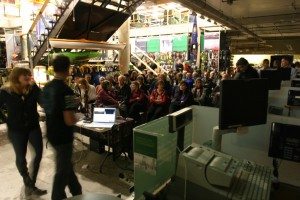 –
We Practice
We sit at home in front of our computers with our iWork keynote program open filled with slides from our travels. We rearrange every frame until it flows just right.  We write our notes and edit with an iron fist.
The last thing we ever want to do is bore people to death.  We discuss who says what and when each of us will interject. We have codes in case we ramble on.  If I am talking too long, Dave will give me a sign to cut it off.
We are lucky because we have each other as e
ditors
.
I love Dave's photos but unfortunately they can't all make it into the presentation. I love to write long paragraphs about a moment in time, but we have to keep things short and concise.
The most beautiful picture or story doesn't make the cut if it doesn't further the conversation.  It's a tough job.
We plan our story line and discuss our message and then choose the photos.  It is important to have a message. What are we trying to say to the audience and how do we want to inspire them?
They need to come away with a message.  They should go home with a feeling of "Yes! I want to do something like that!"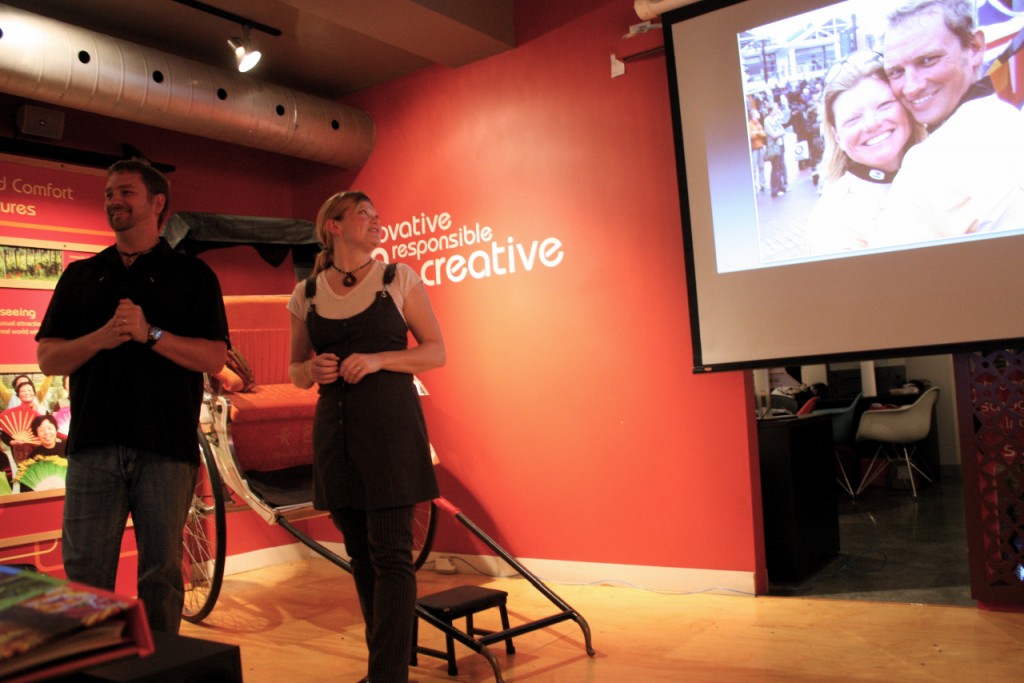 Photo Courtesy of Alicia of Behind the Lens
After we have focused on our message and chosen our photos to help tell the story, we get to work on graphics.  A "powerpoint" presentation wouldn't be exciting without some slick graphs, stats and adobe animation.
People like looking at cool graphics.  We add movement by fading them in and out, having words come up to our timed sentences and we like to have frames pop in at different points on the screen.
Movement is important.
Once we have added snazzy graphs, lists and statistics. we utilize video.
Pacing is important.
People can start to zone out after staring at too many photographs.  Every 15 minutes or so it is a good idea to intersperse some video footage.  We like to use a montage with some upbeat or traditional music from the region we are talking about. It peps people up and gives them the energy to focus on the rest of the presentation.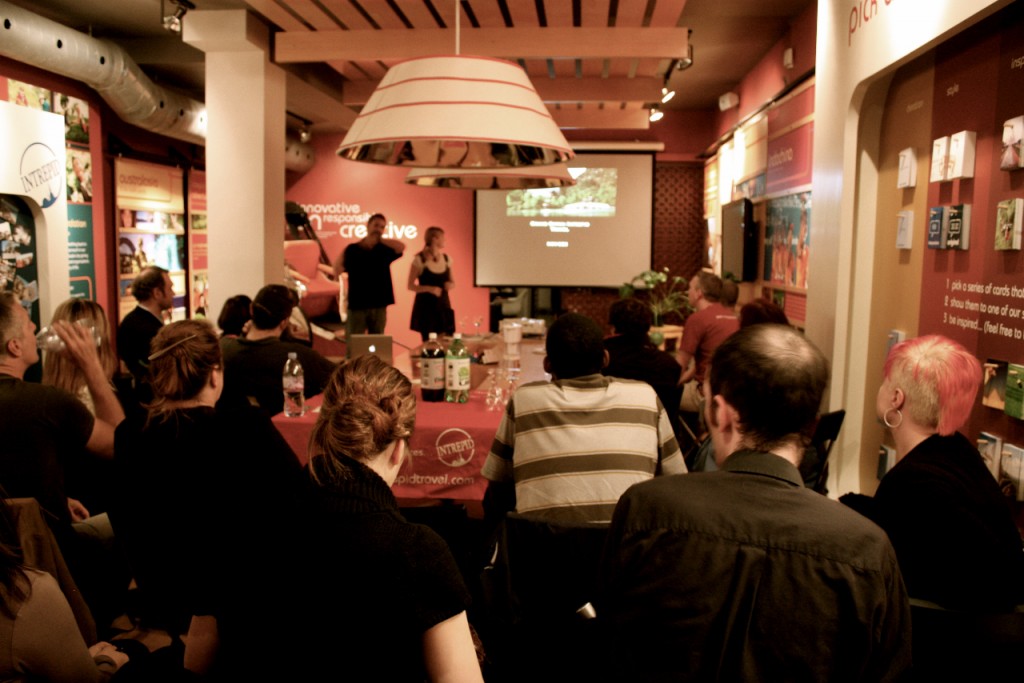 Photo Courtesy of Alicia of Behind the Lens and TorontoTravelTribe
We have found that keeping the presentation to just a little over and hour is optimal. Under an hour isn't enough because people will feel that they didn't get enough bang for their time out, and 2 hours is just way too long.  1 hour and 15 minutes is perfect.
Leave people wanting more and if your audience is engaged, they will ask questions after the presentation and stick around longer anyway.
We have had success with our shows.  People stick around and ask questions and that is always a good sign.  We have had large turn outs and small turn outs. We have had loud audiences and quiet audiences.
We have spoken in groups and on our own.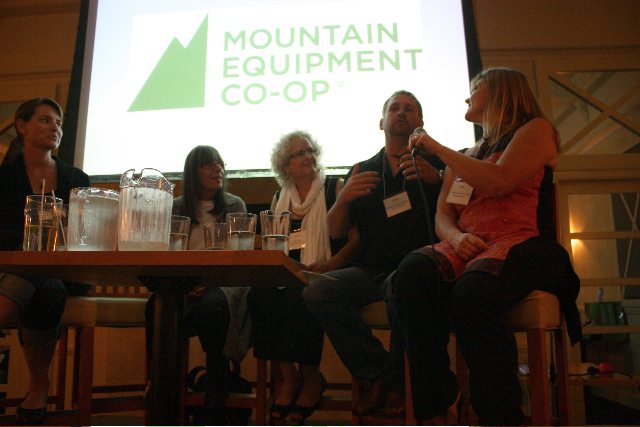 Photo Courtesy of Alicia of Behind the Lens
How to Plan Presentations
We think hard about what we like when planning our presentations.  We go to other slide shows and events and we look at what engages audience.  We know that people don't care about a dozen photos of a subject.
We know that they don't care about a long and boring story even if it is interesting to us. We make sure to keep things short and move on to the next thought quickly. People want a face paced, interesting multi-media presentation and that is what we aim to give people.
They want stunning visuals, music, humour and fun.  When we rehearse we ask ourselves, would we be bored by this?  And if we answer yes, we change it.
Luckily for us, we bore easily, so we make sure not to bore others too!
The final and most important thing that we think about is technical issues.  Anything can go wrong. Programs can crash, computers may not be compatible with the venues systems and people may not have a sound system for your videos and music.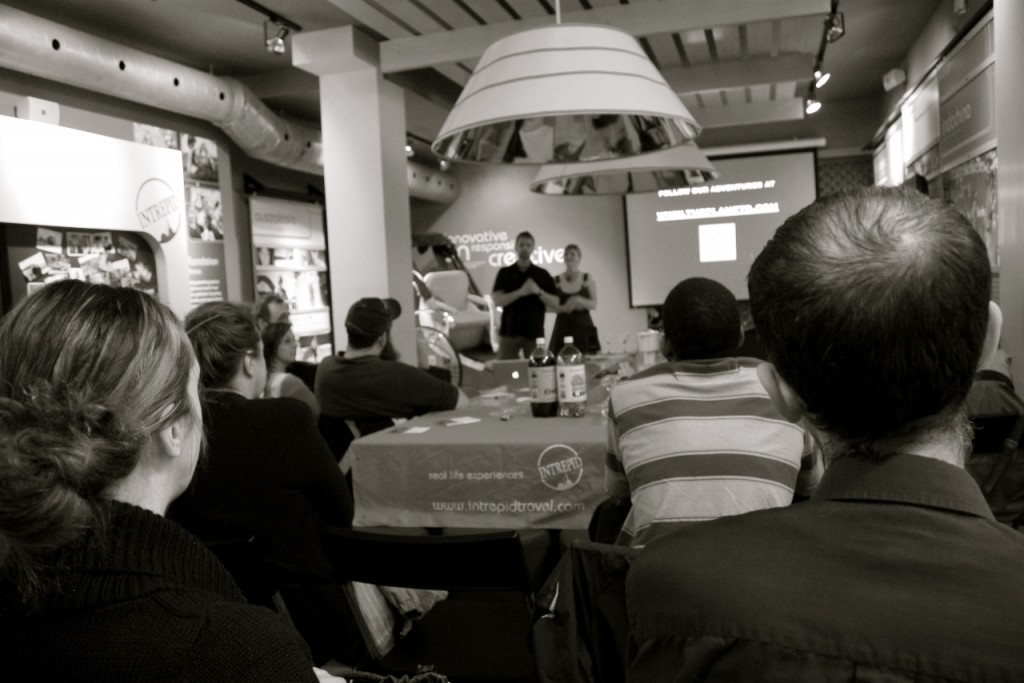 Photo Courtesy of Alicia of Behind the Lens
We bring our own speakers, we go early (a day or two if possible) to check out the equipment and to make sure that we have the right connector cables and we bring two computers with our presentation on both.  The worse case scenario is that a computer crashes with our presentation on it.  When we bring two computers, we have redundancy and a backup plan.
We are like the boy scouts…Always be Prepared.
Read More
The Year in Pictures: A Month by Month Photo Journey of 2013
Why Can't the World be More Like Scandinavia? Breaking Down What's Good in the World