We have a lot of events and parties coming up this holiday season in city of Toronto, Canada. Normally we're on the road traveling at this time of year, but for the first time in three years, we're Home for the Holidays! We are in desperate need of booking hotels for after parties instead of driving home to Woodstock in the middle of a stormy winter's night, but we don't have it in our budget to pay for hotels downtown.
What Does One Do?
During the holiday season money is tight, especially for these two world travellers who have blown the budget on trips to Mongolia, New Zealand, Mexico and China – just to name a few. However, because we have travelled so much over the past few years, we have a little nest egg that we didn't even consider using until we started to learn more about using travel rewards during our time working with American Express Canada.
We may not be on the road for another couple of months, but that doesn't mean we can't enjoy mini getaways in our own backyard. Thanks to the travel rewards we've accumulated, we have extra points to book hotels without having to dig into our pocketbook.
Using TripFlex For The First Time
For the first time in our lives, we actually booked a hotel using rewards instead of saving them for a flight. How liberating it was to call up a luxury hotel, book a night of accommodation and know that we have it for free.
You can book with anyone and still use your travel rewards.
With TripFlex – a feature of the Gold Rewards Card – it doesn't matter who you book with, if you book last-minute or even if you find an extremely discounted travel deal. We used our resources to secure a great deal on a downtown hotel. If we play our cards right, we won't have to pay for one night of accommodation for the entire holiday season!
How it works
All we have to do is charge the night at the hotel to our American Express Gold Rewards Card, give AMEX a call once it is posted to our account and have them pay off the travel spend with our accumulated Membership Rewards points. There is no need to hurry either; you have up to a year to give them a call for a statement credit against that purchase.
For every 10,000 Membership Rewards points that we accumulate, American Express gives us $100 worth of travel spend. That is way better than our other cards, some of which offer half that amount.
Flexibility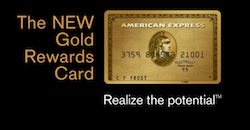 What we love about the American Express Gold Rewards Card over other travel rewards programs is the flexibility that it offers. We can transfer points to Aeroplan 1:1, we can use them for different rewards programs such as  Alitalia, British Airways, Delta, Cathay Pacific, Hilton Honors, Starwood Preferred Guest and Priority Club or we can simply purchase a travel deal of any kind and pay it off with our rewards.
Because we use our card for every purchase possible, we have accumulated a lot of points over the past few months. We've been driving to Toronto weekly and Amex gives double points for fill ups at gas stations, as well as on purchases at grocery stores and drugstores. It doesn't take long for rewards to add up with this card and we're taking advantage of every deal we can.
To find out more details about the American Express Gold Rewards Card Visit American Express Canada