I have always been one to try to keep an organized house. Friends used to always joke that I was a little bit on the obsessed side when it came to having everything in my apartment meticulously placed.
Well, even though I'm without home at the moment, I still like to keep my belongings in an orderly and easy to find fashion when I travel. Travel organizers have helped me do that.
Dave and I live out of suitcases and backpacks.
Having our travel bags organized eases the every day stresses of travel. I hate having to take out every single piece of clothing and travel gear to find one little item.
I used to rummage through clothing stuffed into every nook and cranny and went bonkers tracking down every day items I needed.
Not any more!
Now that I've discovered a bunch of useful travel organizers to put my gear in the right place.
Now I'm a much more pleasant person to be around in the hotel room. Read our Packing Tips for European travel for more better packing advice.
Choose the right travel bag
We've switched back and forth from backpack to rolling duffel depending on our itinerary.
If we're going to do a lot more adventure type travels, we prefer a backpack. But when traveling to easy destinations such as Europe or North America, a rolling duffel works great.
Either way, we prefer a bag that doesn't have a lot of compartments. Instead we pick a bag that has one big open space with one divider and then use travel organizers to keep things in their place.
It's up to you which way you go. My preference is a backpack for my every day items and a rolling carryon bag for my electronics and computers.
But Dave is the opposite, he likes a rolling duffel bag for his every day items and a backpack for his camera gear. Either way works great!
Check out: Our Ultimate List of Travel Gear to Help you Pack Smart
8 Great Travel Organizers
I have come to love packing cubes.
These nylon sacs come in different sizes and hold every piece of travel clothing we've got. We have gathered an arsenal of packing cubes. I love colour coding each sack for different travel items.
Shirts in one bag, shorts in another, and skirts and blouses have their own space.
There are compression cubes for items you don't use a lot, but you have to bring with you "just in case" like our hybridge down jackets or base layers for colder weather.
They can be bulky, but we cram them into one cube, and then us the extra zipper to compress the clothes down even more to take up less space.
Compression cubes have been one of our favourite pieces of travel gear on recent trips as we criss cross the globe to different climates.
2. Laundry bag – Dirty clothes take up a lot of space and can smell up your entire bag.
Have you ever noticed how part way through your trip your luggage expands to twice the size?
It's because your clothes are no longer crisp and clean. You'll notice that most professional travellers will go on and on about how much they love compression and packing cubes, but it's because they are so great and versatile.
The Nylon packing cubes act as a great laundry bag because they block out the odour.
But if you use a compression packing cube, you can compress your dirty clothes down to a very small package until you either fly home, or find a spot to do your laundry.
I cannot believe I didn't use to use a proper travel toiletry bag.
We used a big bulky one from Walmart for years. And then we discovered the Eagle Creek Pack-it-Wallaby.
It has helped us organize our travel gear immensely.
It holds everything from our travel size shampoo bottles to toothpaste, and medication.
It's the one bag we need that keeps all our bathroom goodness in one place.
Documents and Travel Organizers
Life is so much better with an organized wallet.
My PacSafe Travel organizer holds everything for the two of us. As many of you may know, Dave does not carry a wallet.
Do you remember when he was stuck on the Swiss Rail train without his wallet or cell phone because I had everything when the doors closed behind me?
We never learned our lesson, I still carry all important documents. (but Dave does have his cell phone at all times now!) Anyway, I digress, my travel organizer holds our passports, money, tons of credit cards and travel cards, driver's licenses and even a pen.
I have so many compartments, I can find things in a snap.
I used to have to go through a stack of cards to find what I was looking for, now I have it all at my fingertips and it all zips up into one safe place.
I cannot tell you how many compliments I get with this wallet too. Even at the liquor store the other day, the cashier remarked how much she loves my wallet.
Enjoy: 10 Must Have Items to Make Air Travel Easy
I love my PacSafe Shoulder Bag.
This is a super spacious bag that I use for my everyday walking around bag.
It not only holds my wallet, but I put my camera in here as well. With 3 dividers and plenty of pockets, I put things neatly into their place.
The camera stays safe in a padded divider, my wallet goes in another. My phone tucks into a pocket and I can even put make-up and chapstick in the front compartment.
The best thing is it's Pacsafe, so I can lock all the zippers when going through a crowded market and carry the reinforced strap across my body without fear of being pick-pocketed or having my bag slashed.
Read: 9 Anti-Theft Travel Accessories for Travel
Electronics Travel Organizers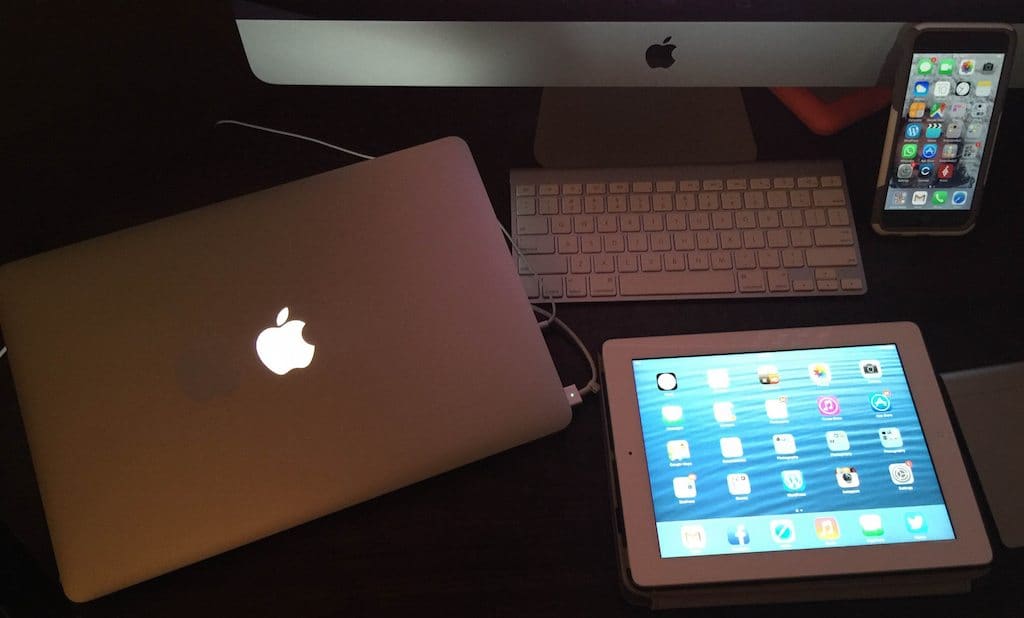 We sound like a broken record each year we mention the Belkin Mini Surge protector, but this handy electronics travel organizer is a lifesaver.
We can charge all our electronics at once including cameras in three different outlets and cell phones in two USB ports.
Instead of searching for 5 different plugs in a hotel room, all you need is one.
Plus there is a surge protector built in, so if there happens to be an electrical surge your valuables won't be fried!
Forget about carrying a dozen different travel adapters for each country you visit.
The all-in-one Universal travel adapter with USB port has you covered for all countries.
You won't have to research where your traveling to, there's a plug for everywhere and it's all in one compact piece of gear.
I love this. Plus with an extra USB port, I have yet another place to charge my phone or camera.
Keeping your camera gear organized is a must.
Dave has gotten his camera bag organization down to a science.
And has a compartment for lenses, camera bodies, and accessories.
He carries two bodies, 3 lenses and a tone of filters and it all fits nicely into one camera bag.
He's a fan of his f-Stop camera bag because it unzips from the back.
We've commented many times "how ever did we use a bag that zips from the front?" I'm not going to go into what bag you should use or how you should pack it, but get a waterproof camera bag that has plenty of changeable compartments so you can set it up nicely.
Another item we love to organize our travels is a memory card holder.
We used to have memory cards floating around our bags as we constantly looked for them in obscure pockets.
A memory card holder changed all that. We carry two memory card holders.
Each holder holds both SD and micro SD cards – 8 in total.
One memory card holder carries our empty memory cards that are ready to be used and the other carries full ones that need to be downloaded.
We put a sticker on the outside of one to differentiate between the two. Clean holder, clean card, sticker holder, full card.
Disclosure: There are some affiliate links in the post above, but these are all products we highly recommend. We won't put anything on this page that we haven't verified and/or personally used.