New Orleans is a fascinating city. While it's known for Mardi Gras and its legendary 24-hour parties on Bourbon Street, New Orleans is so much more than just booze and boobs. It goes by many names being lovingly referred to as the Big Easy, Crescent City, NOLA, or N'Awlins, but one thing is for certain, New Orleans has an amazing music scene, strong ties to Voodoo the supernatural, and rich culture. Dig deeper beyond the bars of the French Quarter and you'll discover a city steeped in tradition while embracing the 21st century. There are so many amazing things to do in New Orleans, you'll want to go back again and again. (I know we do!).
Top Things to do in New Orleans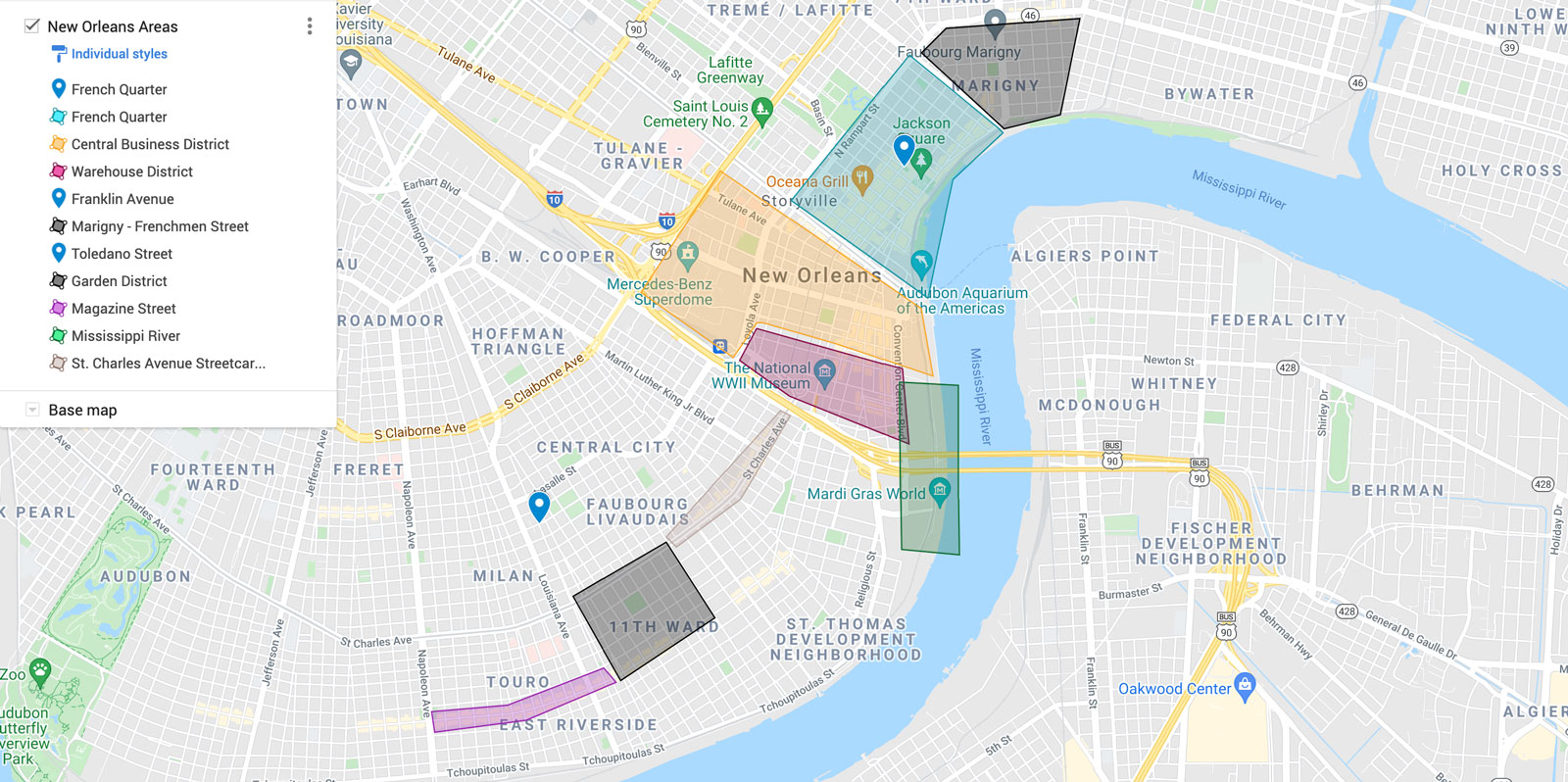 While most people know of the French Quarter in New Orleans, there are several other amazing neighborhoods to explore. We have broken up this guide by neighborhood so that you can explore each NOLA attraction from Frenchmen Street to the Garden District and see what is in each place.
It is easy to get around New Orleans. We caught the streetcar to the Garden District and Magazine Street. But you can easily walk around the French Quarter, Central Business District, and Warehouse District. Uber's were also very affordable in New Orleans.
the French Quarter – Vieux Carré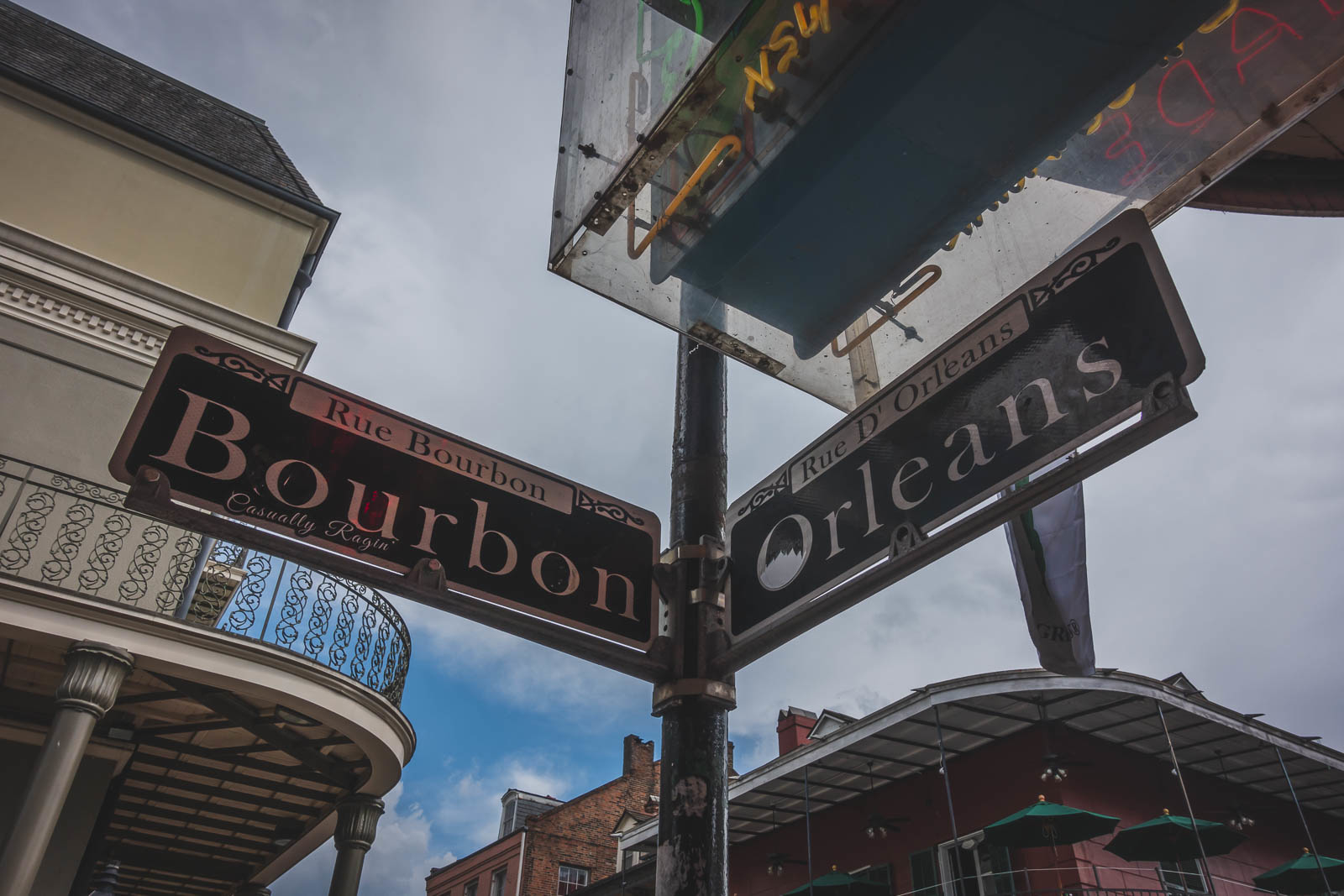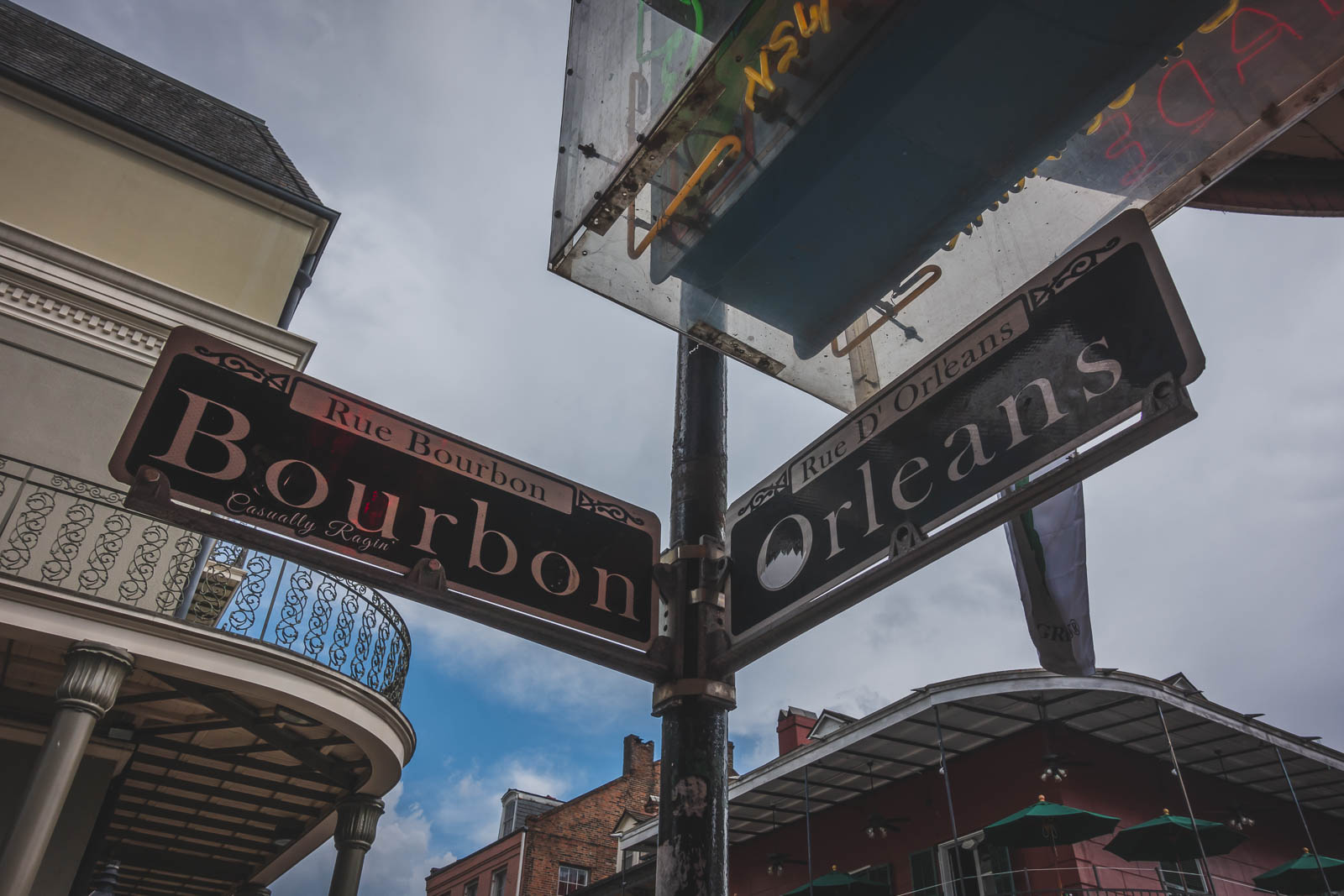 The French Quarter is the first place you must visit when traveling to NOLA, it's the heartbeat of the city and party central with talented street performers playing Dixieland Jazz and partiers out until the wee hours of the morning. It's also where New Orleans got its nickname "The Big Easy."
The French Quarter has that laid-back feel with music clubs and museums interspersed among the bars. As revelers walked down the streets with drinks in hand, we watched on in awe. It's as if time has stood still in the French Quarter. Some of the most famous landmarks in New Orleans can be found in the French Quarter and you'll end up finding that you'll be spending a lot of time here. Let's find out why.
Bourbon Street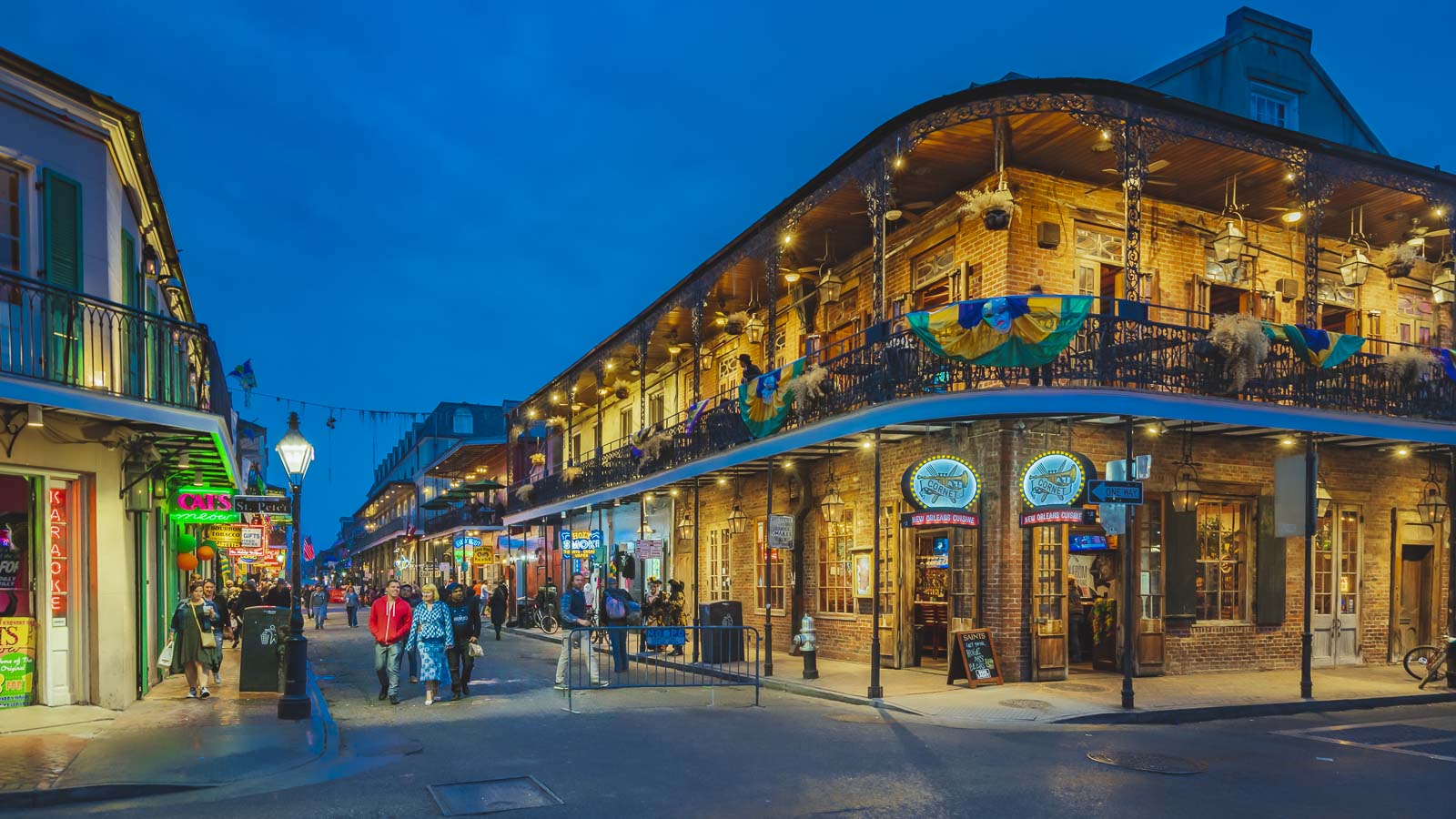 Bourbon Street is the main street in the heart of the French Quarter of Crescent City and no trip to New Orleans would be complete without walking down this legendary thoroughfare. It's loud, it's busy, and it is the place to party. Balconies line the street making it the centerpiece of Mardi Gras bead throwing.
Bars line each and every block where you can pop in for a signature cocktail and take your drink to go! From Canal Street to Esplanade Avenue, Bourbon Street has endless New Orleans points of interest. It's not just bars and beer along Bourbon Street, there are plenty of things to do in the French Quarter. Let's take a look.
Voodoo and Vampires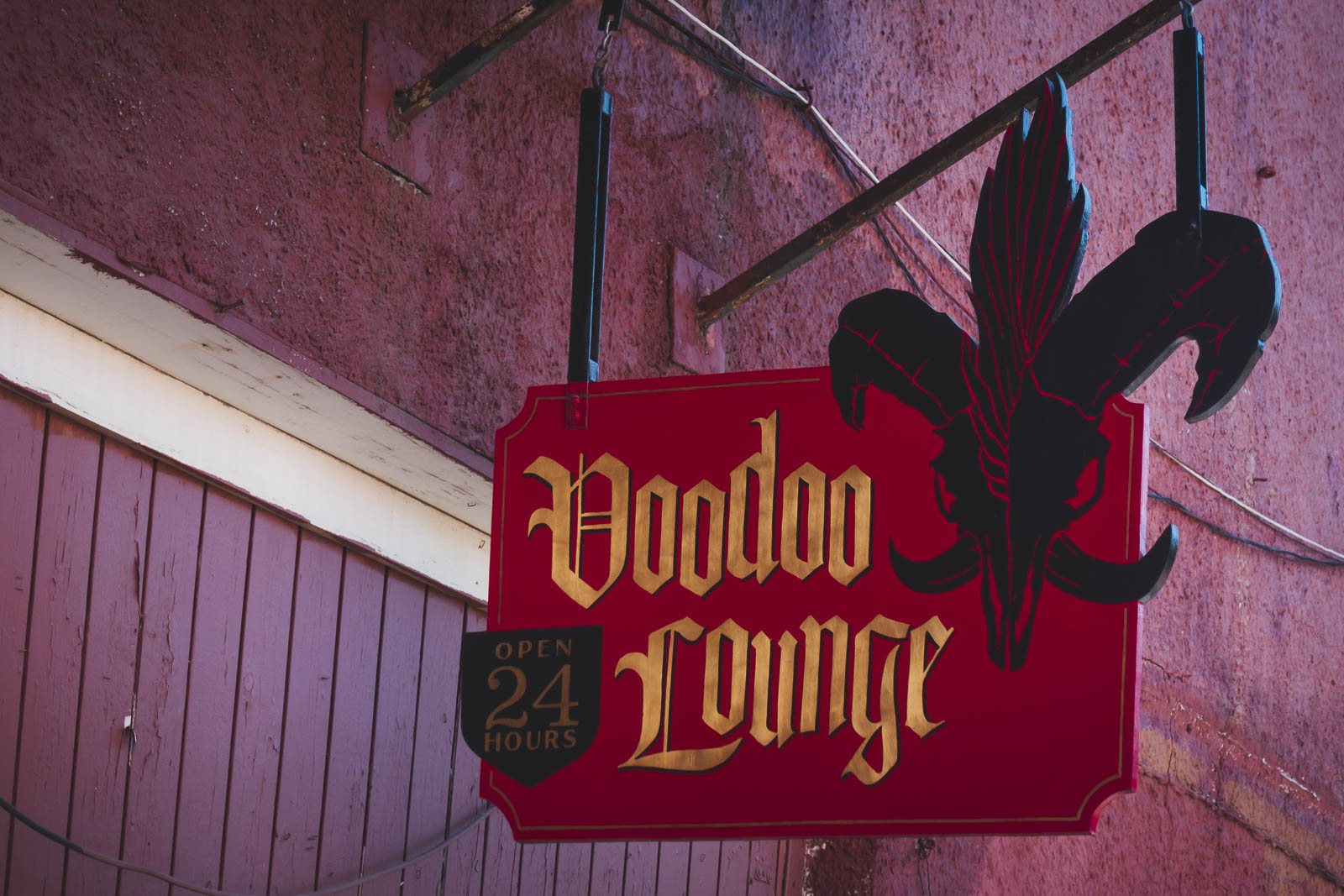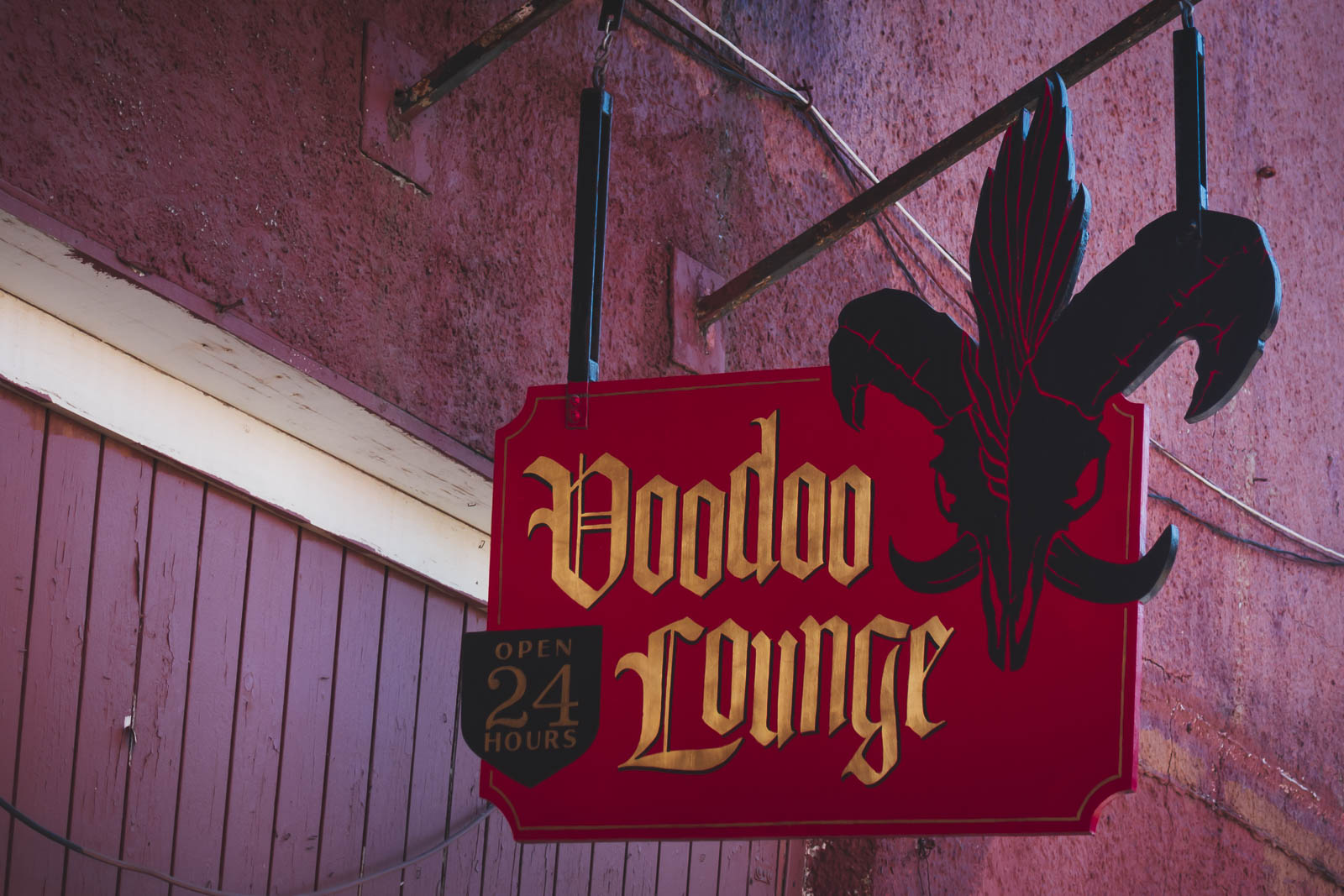 Voodoo Lounges, Vampires, and tales of ghosts haunt the historic streets. It's no surprise that the supernatural is alive and well in New Orleans. It is, after all, The City of the Dead. Do you believe in vampires? In New Orleans they do, and the Vatican has even frequented the city to keep the vampires at bay. There are haunted hotels, churches, and buildings. Plus there are many ghost stories and voodoo legends to be had. See our complete guide to The Most Haunted Places in New Orleans
This guided tour of the French Quarter is a great way to learn about the history and voodoo past of New Orleans. Follow your tour guide through Congo Square, Jackson Square where you'll learn about the St. Louis Cathedral, the Presbytère, and the Cabildo before stopping at the former home of Voodoo Priestess Marie Laveau.
Cemeteries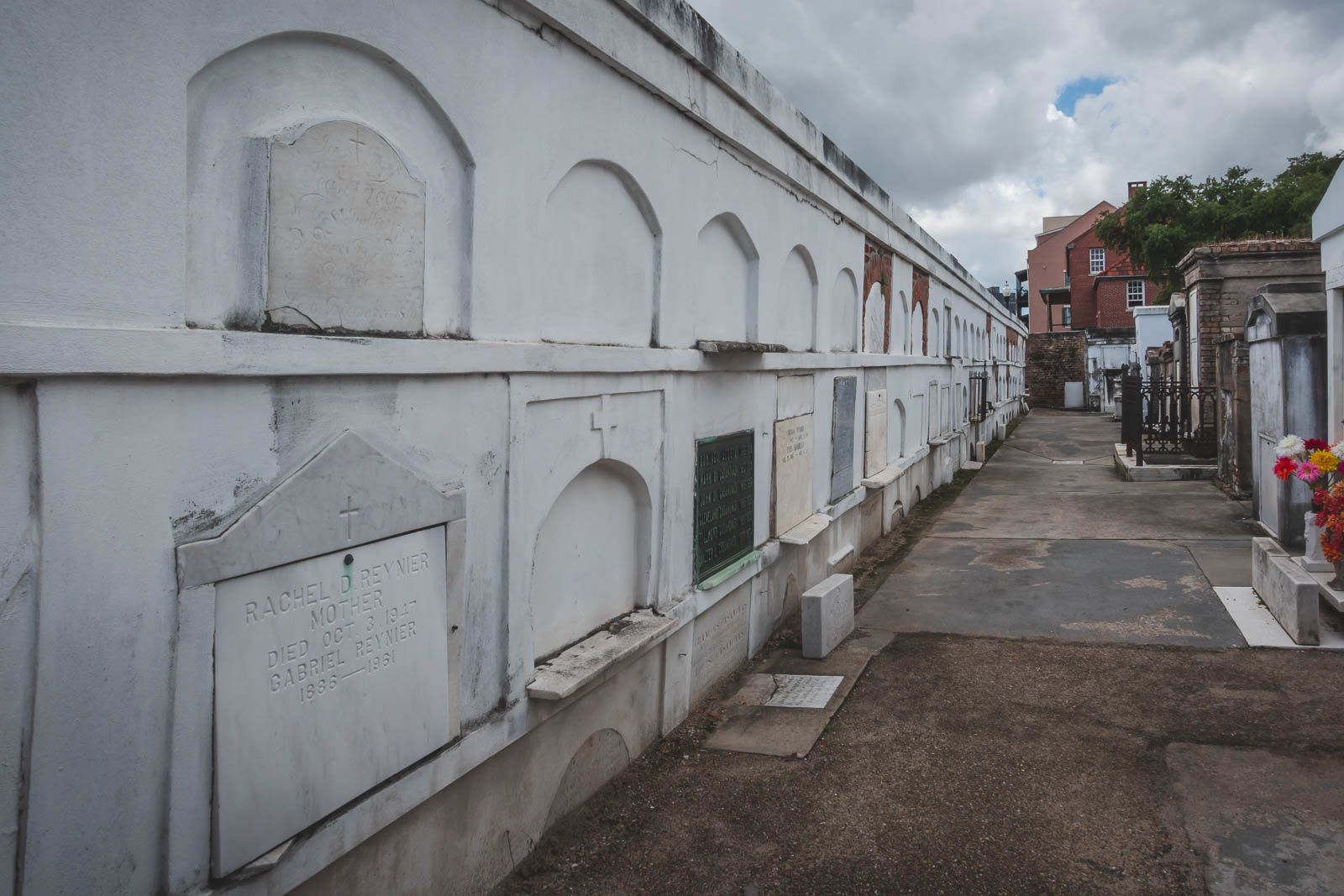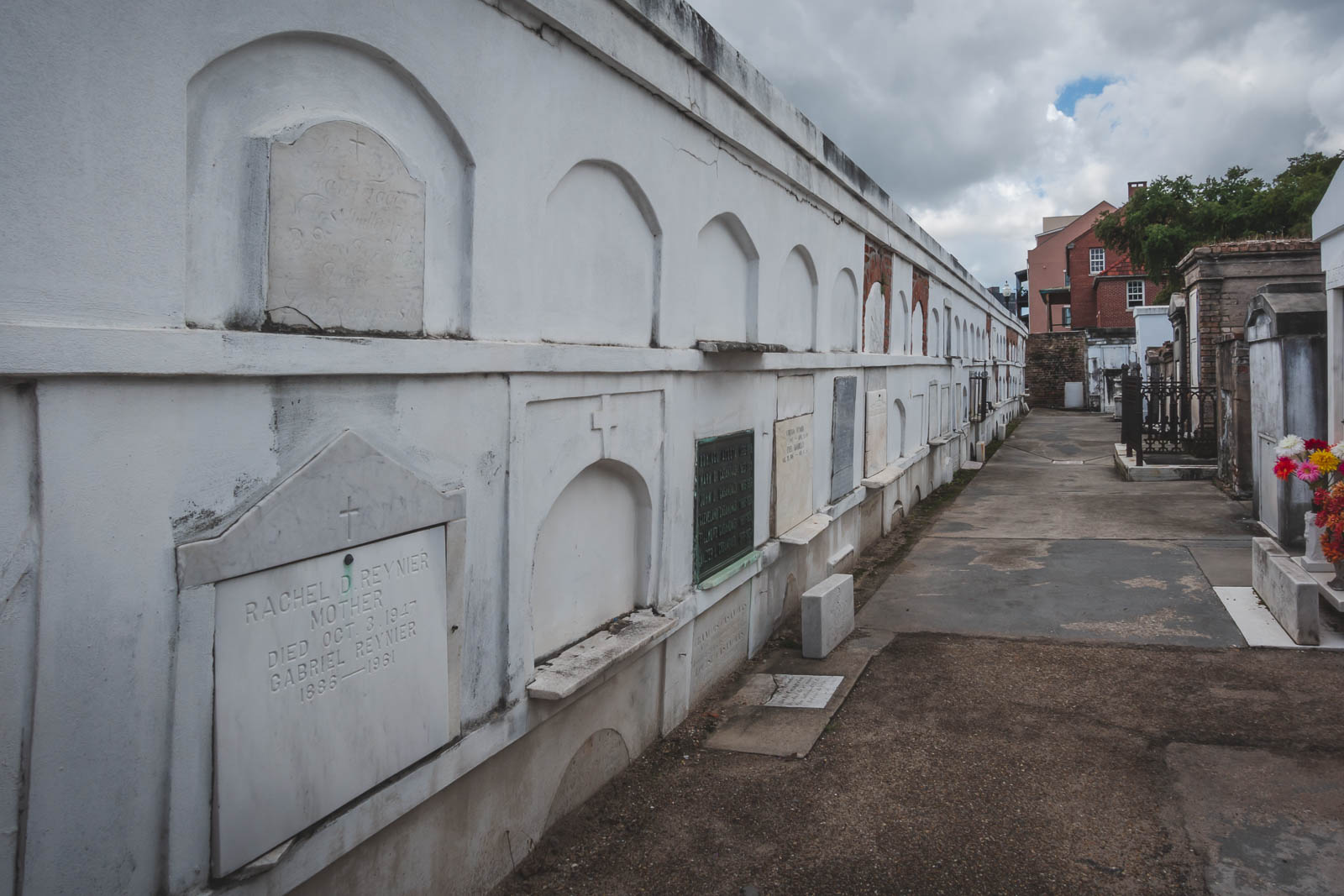 Early settlers had a difficult time keeping corpses down due to New Orleans's high water table. They stuffed coffins with stones and filled them with water to try to keep the dearly departed dead and buried. But as the saying goes, "You just can't keep a good person down!"
The cemeteries of New Orleans really do remind us of the famous Paris cemeteries like Pere Lachaise, and it is no wonder, NOLA was settled by the French. As a matter a fact, New Orleans has a French Canadian connection. The French Quarter was founded by Montreal native Jean-Baptiste Le Moyne de Bienville who was originally from Dieppe, France. The French culture is still very strong to this day. Today, New Orleans buries their residents above ground in cemeteries that are truly works of art.
St. Louis Cemetery No. 1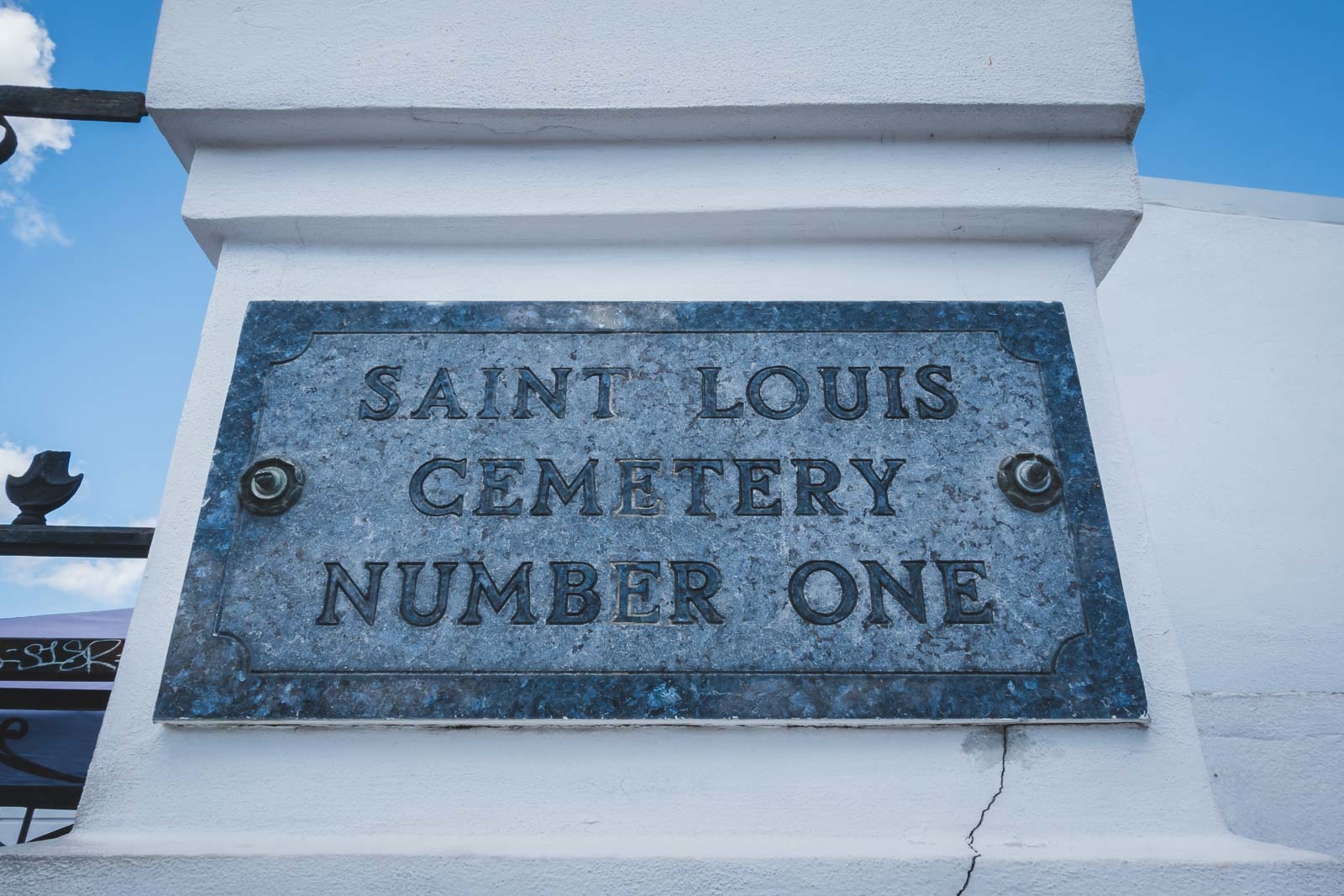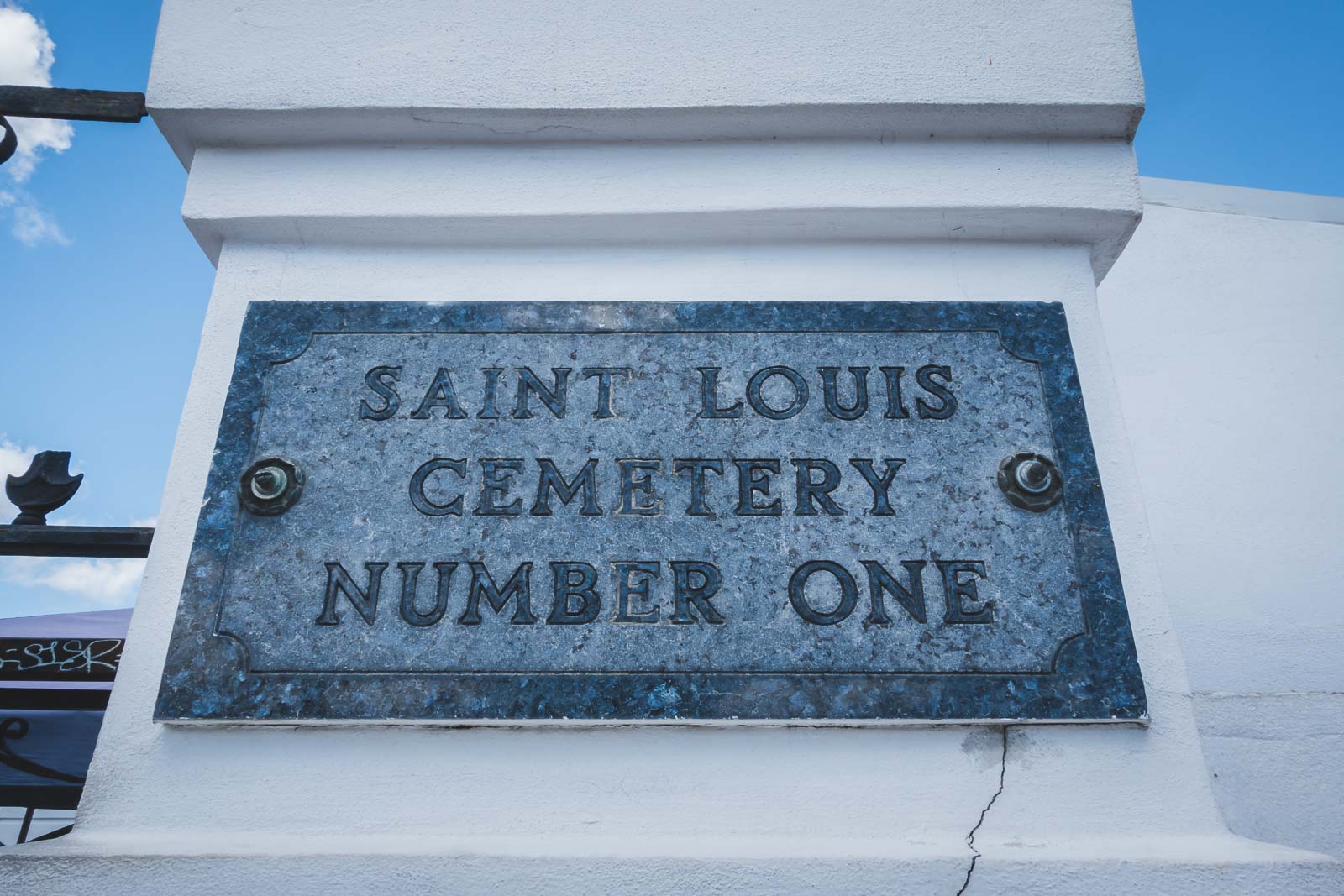 One of the city's most popular cemeteries to visit is St. Louis Cemetery Number 1 where famous voodoo practitioner Marie Laveau is buried. You cannot enter this cemetery without going on a tour as it has seen much vandalism over time. The cemetery is worth visiting for Marie Laveau's tomb alone, but there are many things worth seeing.
There are wall vaults and family tombs, and you can see the pyramid tomb owned by Nicolas Cage. The St. Louis Cemetery really is a beautiful place to visit. But remember, it is still a working cemetery so make sure to be respectful of families visiting their dearly departed.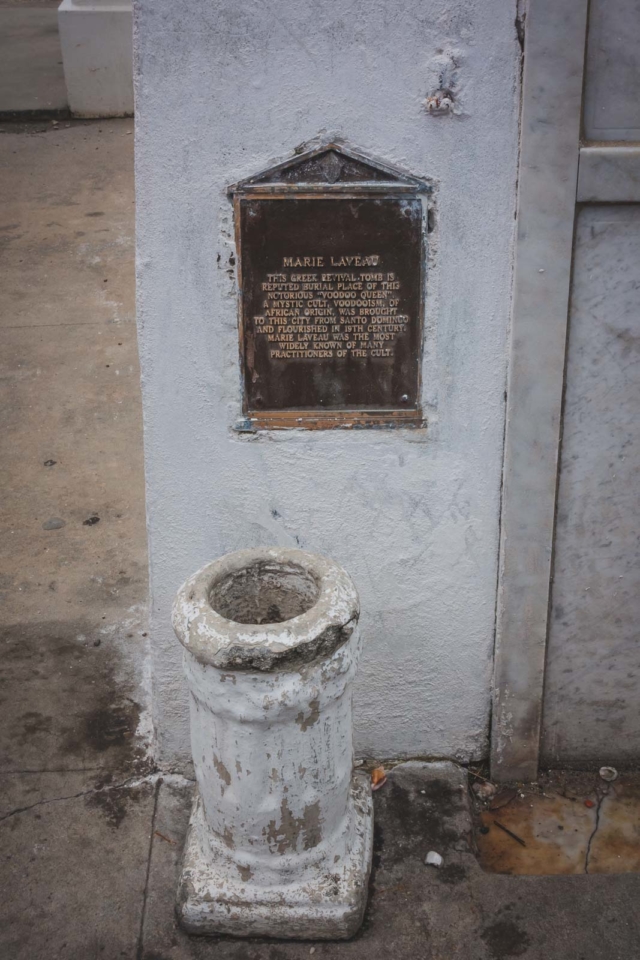 Marie Laveau was a high priestess who was born a free woman of color in New Orleans and this cemetery was her final resting place. She was a healer and herbalist who was highly revered even after death. Her grave has become quite the attraction similar to Jim Morrison and Oscar Wilde's tombs in the Cemetiere Pere la Chaise.
At one time her grave was covered in black crosses and graffiti as people performed rituals at her grave to have wishes granted. We were told that today you simply need to place a hand on the grave and ask her for a blessing. If it comes true, pay it forward in Marie Laveau's name. I did make a wish on her grave and my wish did come true!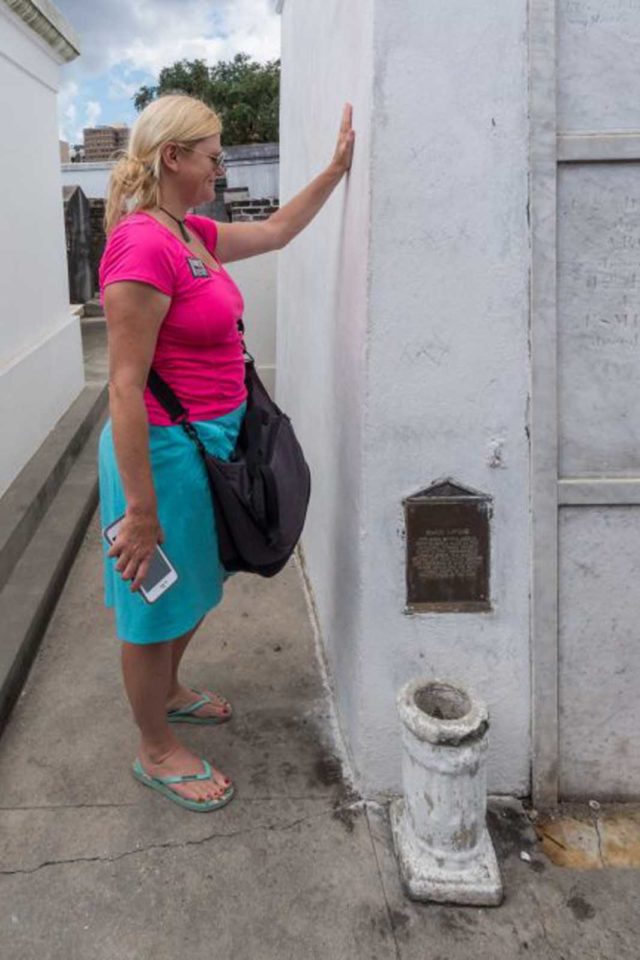 This Cemetery Tour takes you off the beaten path to explore several other cemeteries outside of St. Louis Cemetery Number 1 starting at Greenwood Cemetery. You'll learn of New Orleans history, and visit the memorial to Hurricane Katrina victims as well as other cemeteries with some of the city's most impressive tombs, Civil War monuments, Chinese society tombs, and a memorial to the unknown Civil War soldiers.
We recommend booking this St. Louise Cemetery Tour as you are not allowed to visit alone unless you have family buried there because of vandalism.
House of Voodoo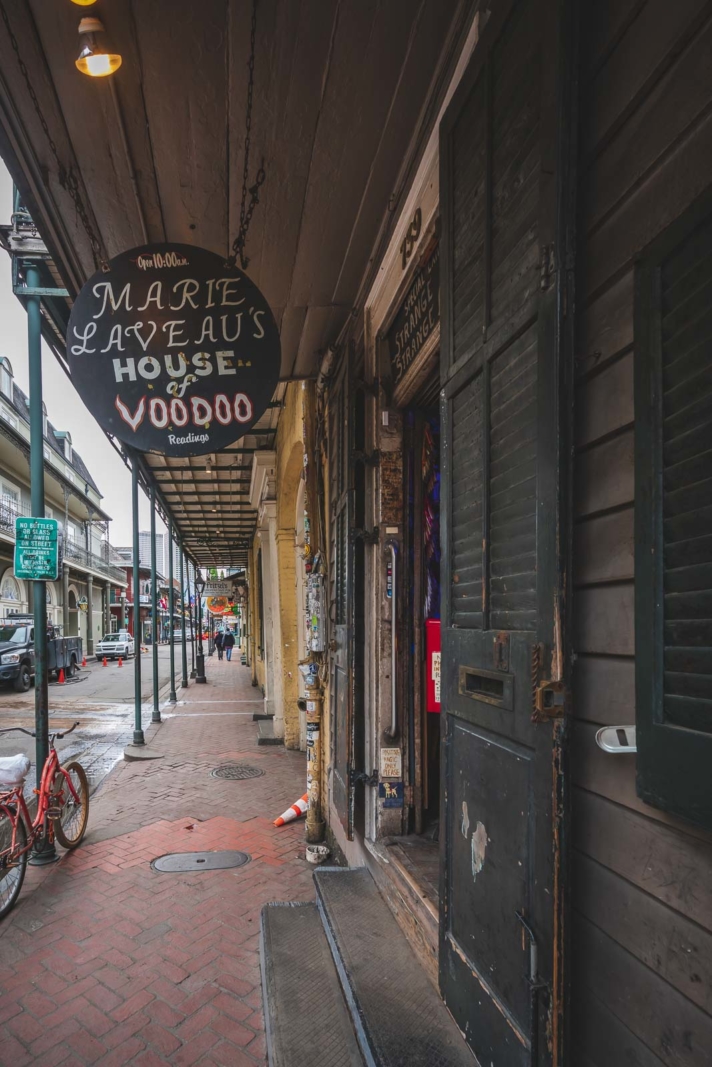 After you have visited Mari Laveau's Tomb in the cemetery, make sure to add Marie Laveau's House of Voodoo to your list. Voodoo shops are a must-see in New Orleans. The voodoo queen is legendary and it is said that her ghost still walks the halls.
You can have your fortune told here and if there is one place in the world to get your fortune told, it is New Orleans. It truly feels like there is a connection to the spirit world here. New Orleans certainly has its fill of the mystical. Check out this Haunted Tour that we did through the French Quarter.
Voodoo Museum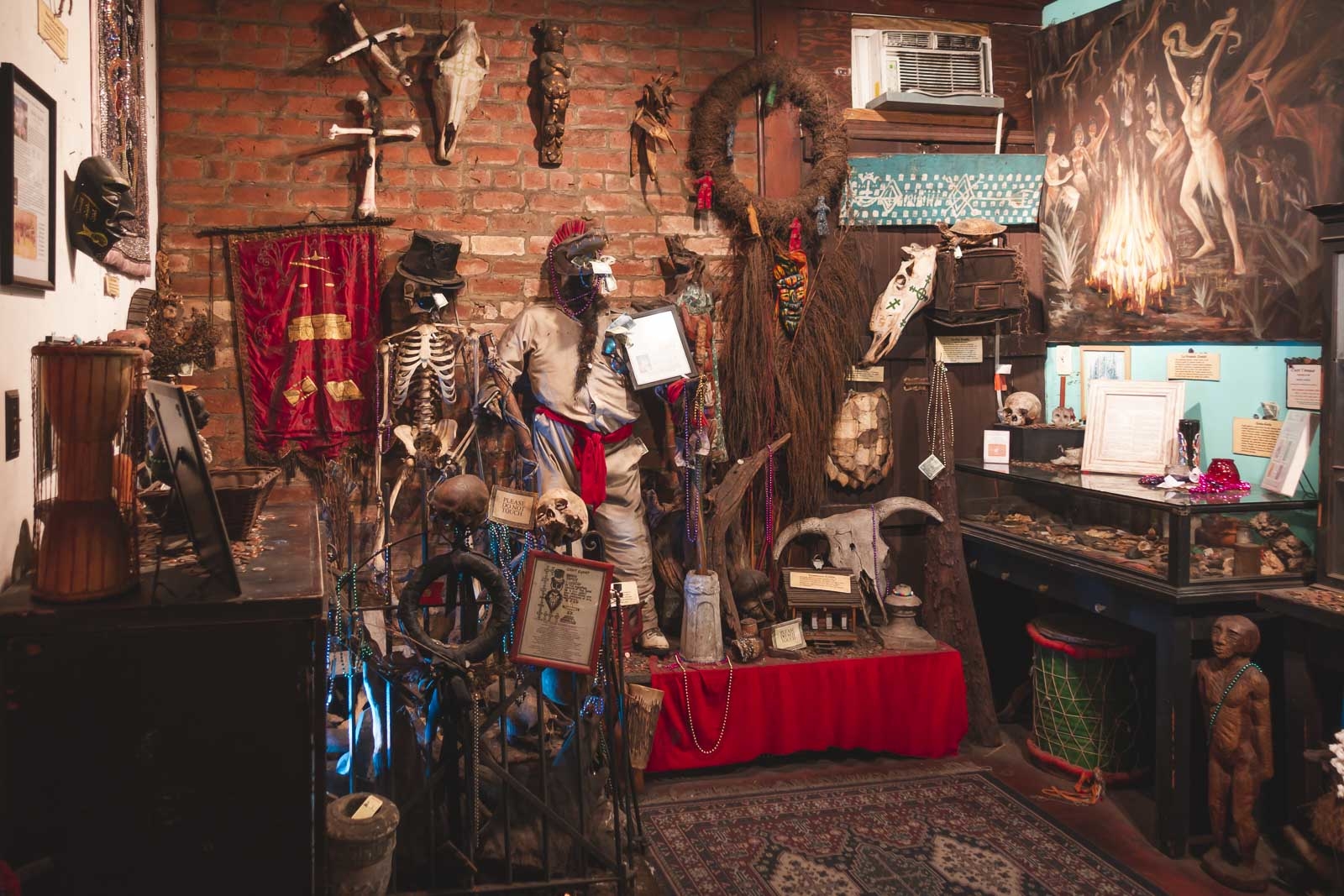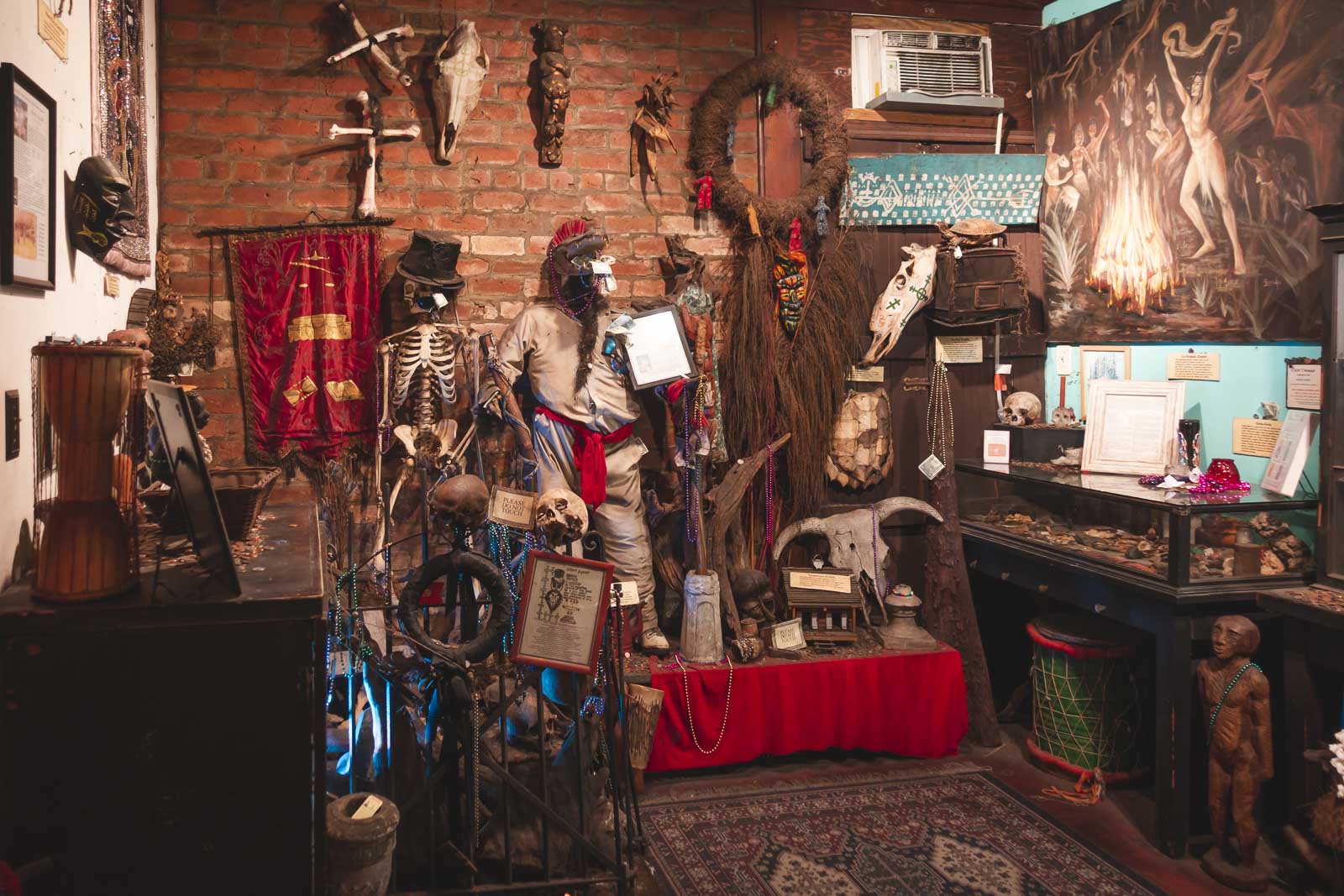 The odd and macabre continues as you visit the Voodoo Museum which tells of the history of how Voodoo made its way to New Orleans. African slaves who were bought and sold in New Orleans had extensive knowledge of herbs and plants. They held on to their African culture and practiced Voodoo with the tradition still continuing today. You cannot visit New Orleans without learning of Voodoo and its dark slavery trading past.
An interesting stop is the Voodoo Museum. It's a tiny museum of two rooms that only costs $5 to visit, but it packs a punch. There are articles and photos of voodoo priests and practitioners, there are alters that are not to be touched, but you can leave an offering and ancient relics of Voodoo dolls and magical masks.
Haunted Tours of New Orleans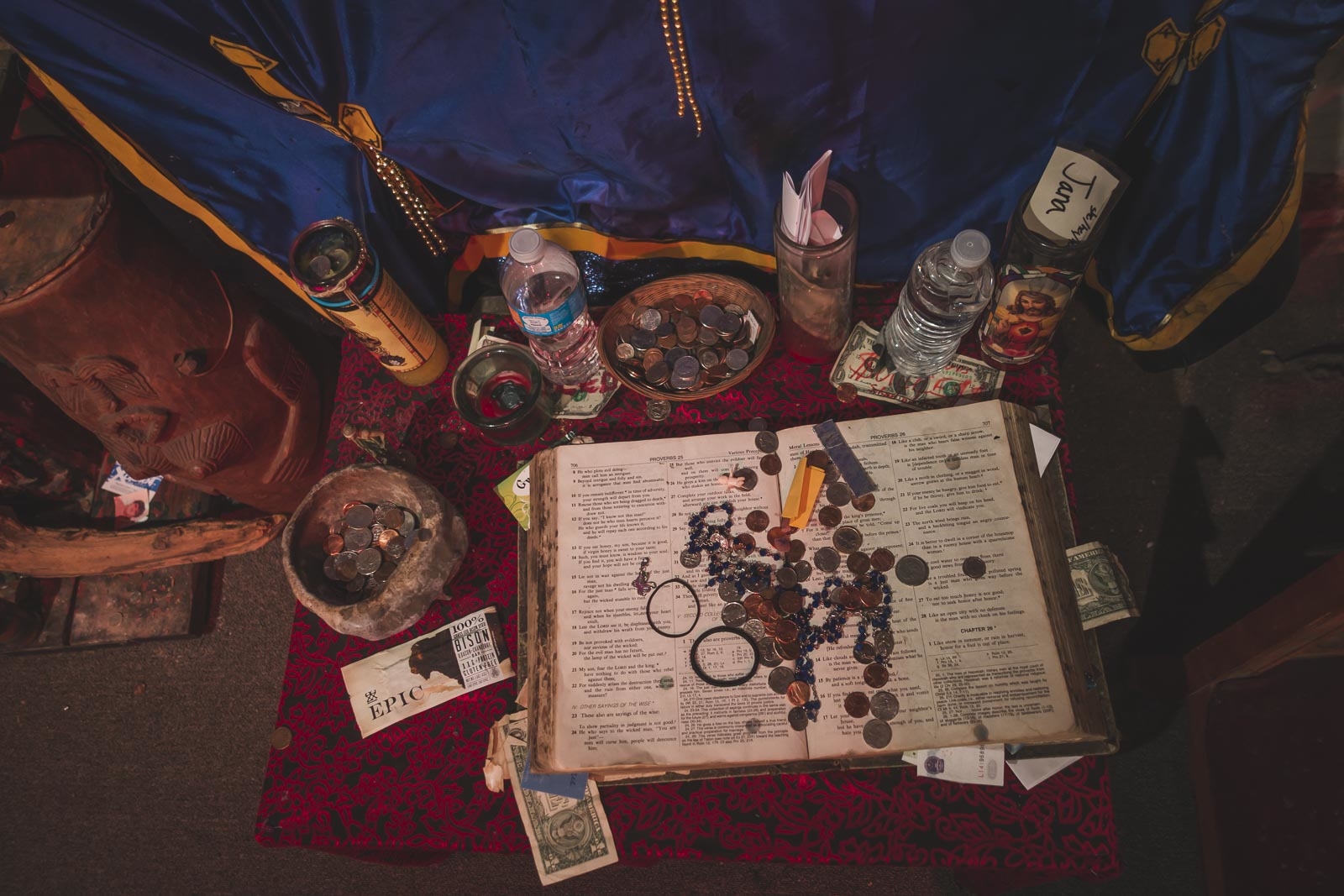 One of the best ways to learn about voodoo and dark history is to take a haunted New Orleans tour. New Orleans has the distinction of being one of the most haunted cities in the United States. With its dark past, voodoo history, and a lot of debauchery and murder, there are plenty of stories to be told on a haunted walking tour. Enjoy reading our breakdown of the Most Haunted Place in New Orleans.
Jackson Square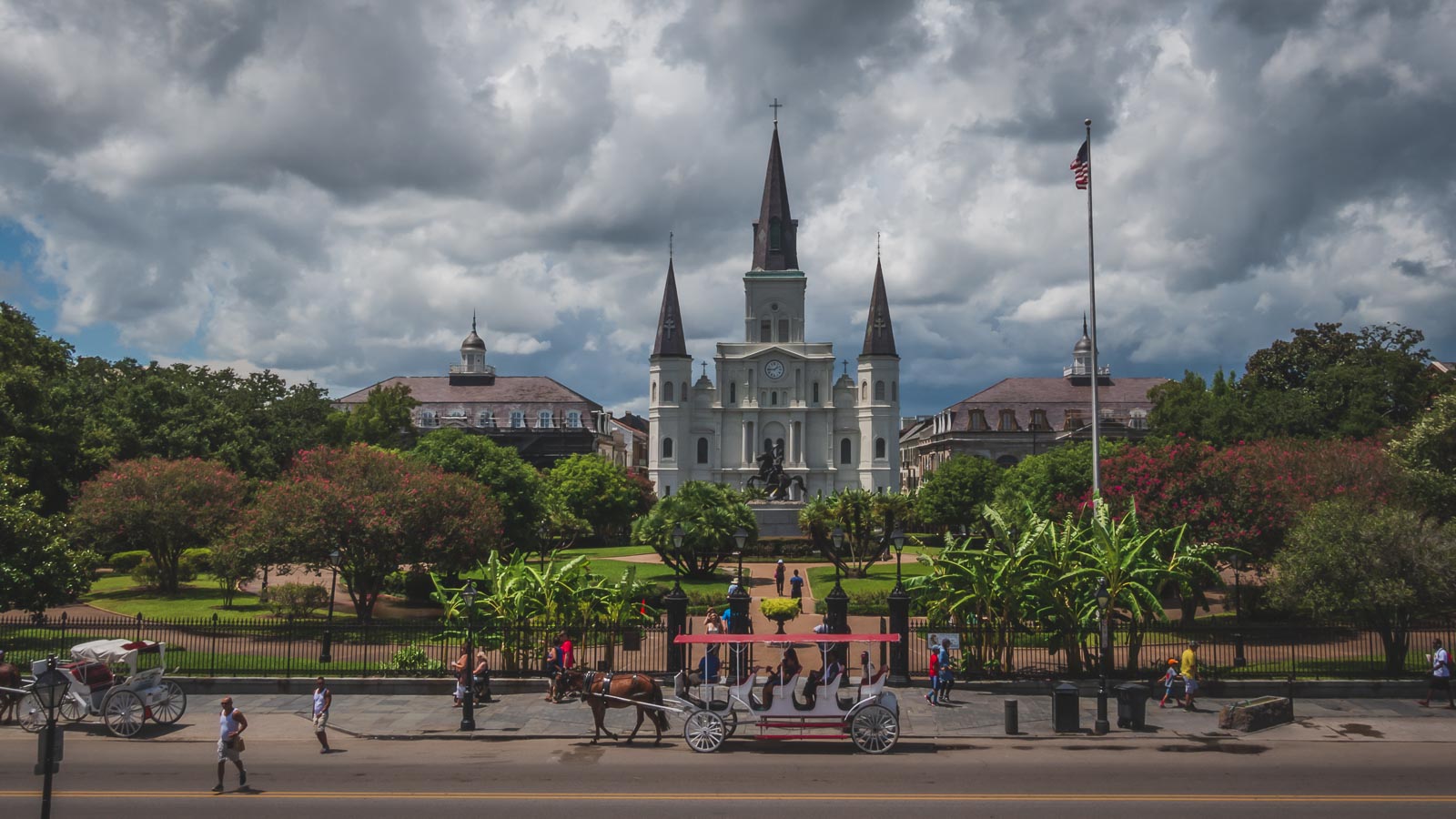 The most recognizable place in New Orleans is definitely Jackson Square. This city green space was the site of the Louisiana Purchase and was declared a national historic landmark naming it one of America's "Great Public Spaces." It is certainly a meeting place in New Orleans with horse-drawn carriages lining up in front waiting for eager tourists to tour the city. With a lovely view of St. Louis Cathedral sitting among majestic mansions of Cabildo and Presbytère on either side, the scene offers that iconic photo moment of New Orleans.
Book this Carriage Ride in advance to save on haggling that takes you on a tour from the French Quarter to historic Faubourg Marigny.
St. Louis Cathedral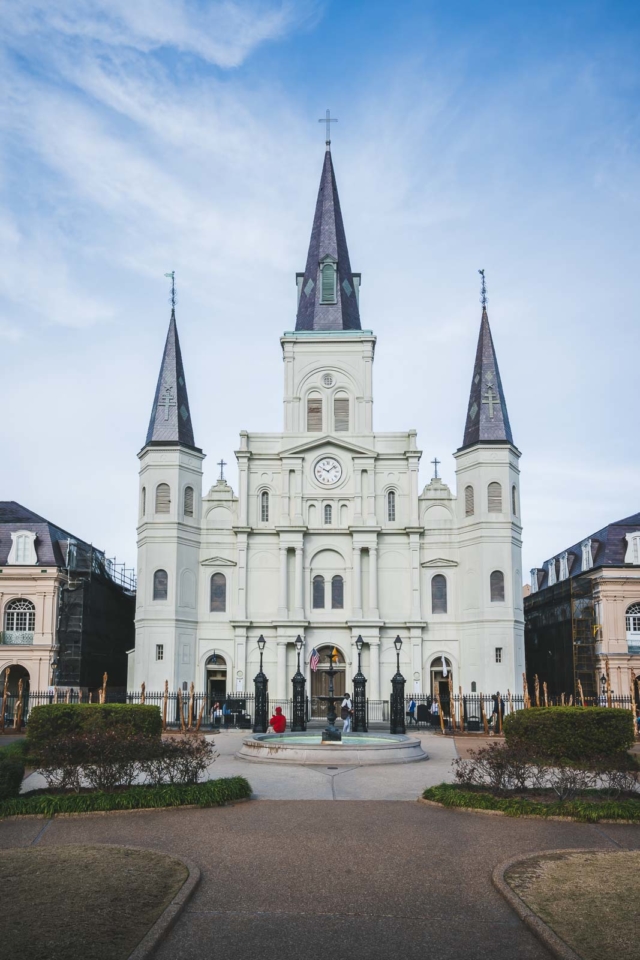 St. Louise Cathedral is a National Historic Landmark and stands at the head of Jackson Square facing the Mississippi River. It is the oldest continuously run cathedral in the United States. Like many places in New Orleans, the cathedral is said to be haunted. People have spotted the priest Père Antoine strolling its halls.
For a guided tour of the French Quarter, this affordable, highly rated tour takes you around the French Quarter to sights such as Jackson Square, the French Market, and the Mississippi River.
Cabildo
Located beside St. Louise Cathedral are two other important New Orleans landmarks, the historic Cabildo and Presbytere. Both of these are part of the Louisiana State Museum system due to their important historic significance. . The Cabildo is a Spanish colonial building dating built between 1795 and 1799 that has historic significance being the site of the historic Louisiana Purchase transfer. Today it displays historic artifacts from New Orleans history.
Presbytère
On the other side of St. Louis Cathedral and the equally historic to Cabildo is Presbytere built-in 1791 to match the Cabildo. A visit to Presbytere takes you through the history of Mardi Gras plus the rebuilding and resilience of the New Orleans people rebuilding after Hurricane Katrina. We didn't go inside these two buildings when visiting New Orleans and I definitely need to fix that when we go back. They look fascinating.
There are five museums in the French Quarter that fall under the Louisiana State Museum system that include the two above, the Jazz Museum, 1850 House, and Madame John's Legacy. (currently under renovations)
Café Beignet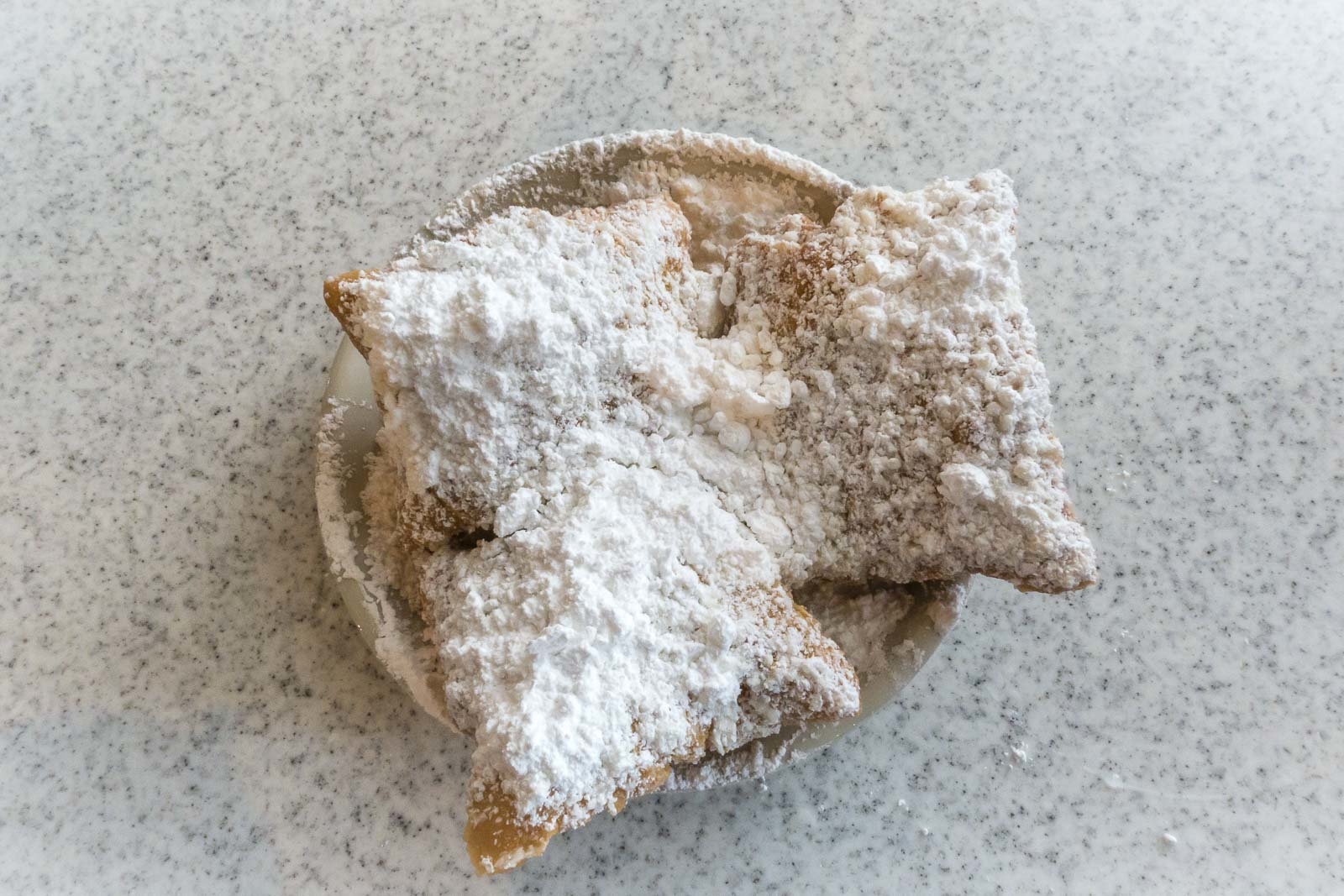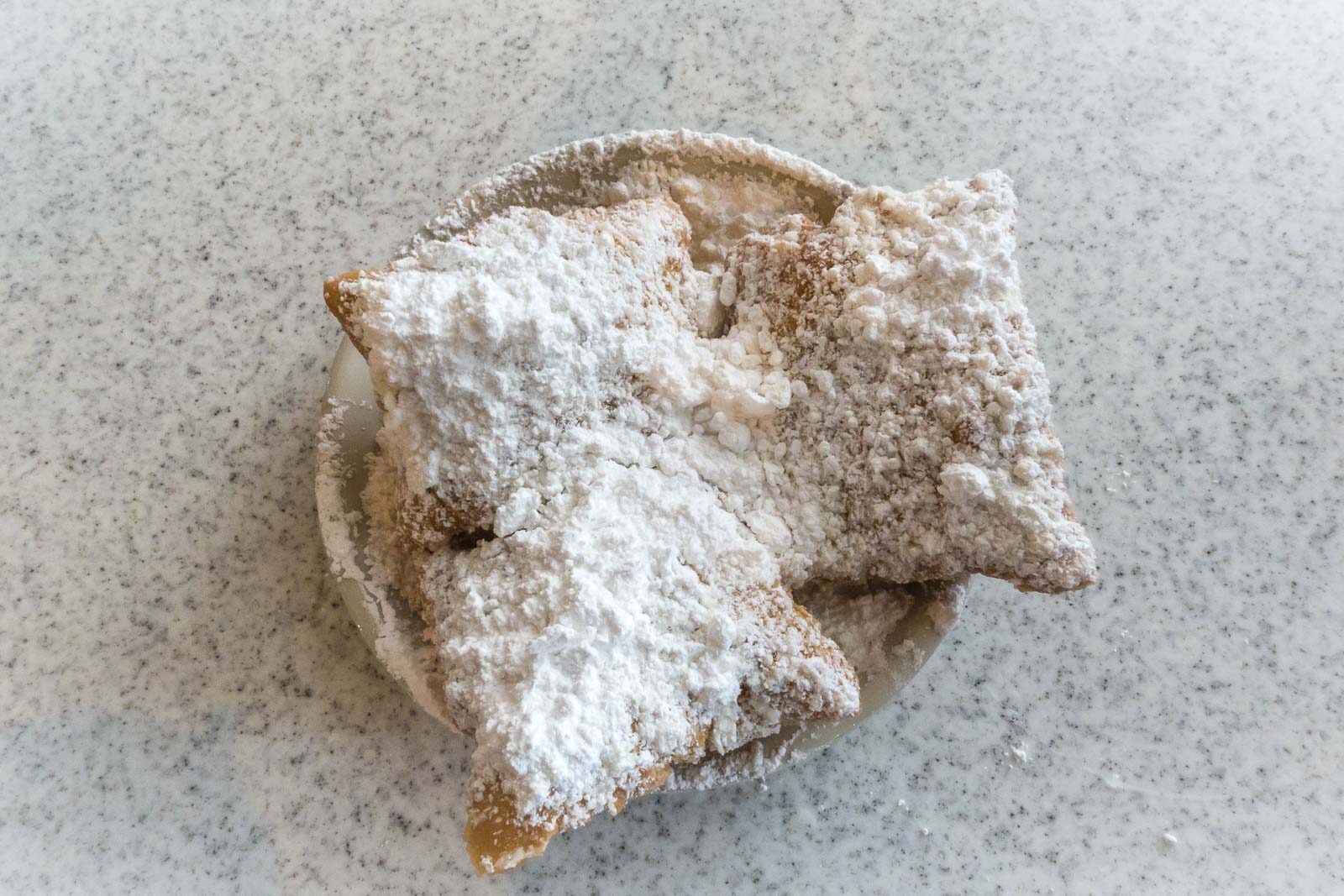 Beignets are a Louisiana staple food and when visiting Jackson Square, take a walk to Café Beignet Decatur for their delicious treats. Beignets are deep-fried dough fritters sprinkled with powdered sugar. Café Beignet is one of the most famous restaurants in New Orleans and has been a part of the food scene for 30 years. So no visit to New Orleans would be complete without tasting a Beignet. Café Beignet is located at 334 Royal Street in the French Quarter.
Food Tour of New Orleans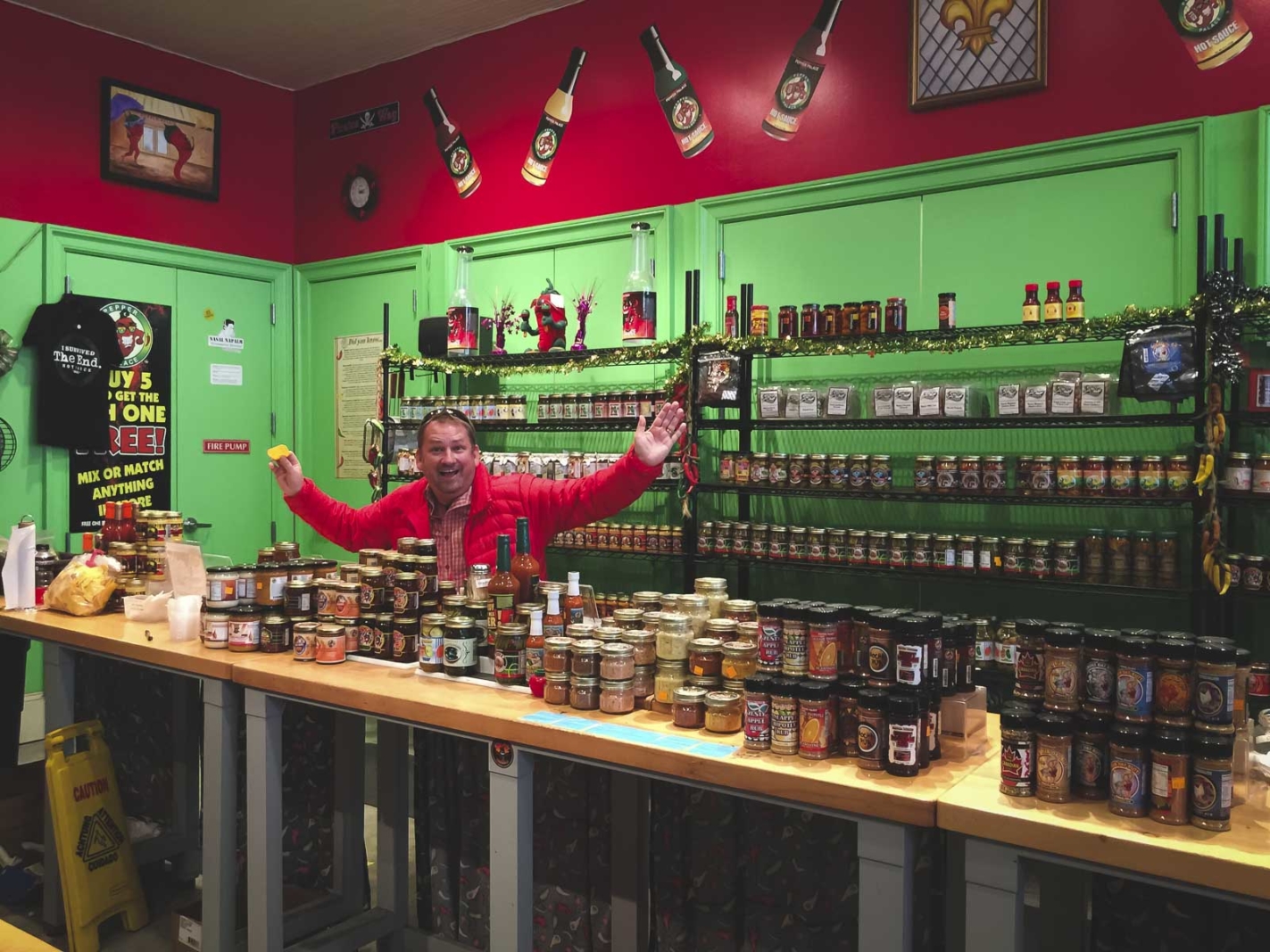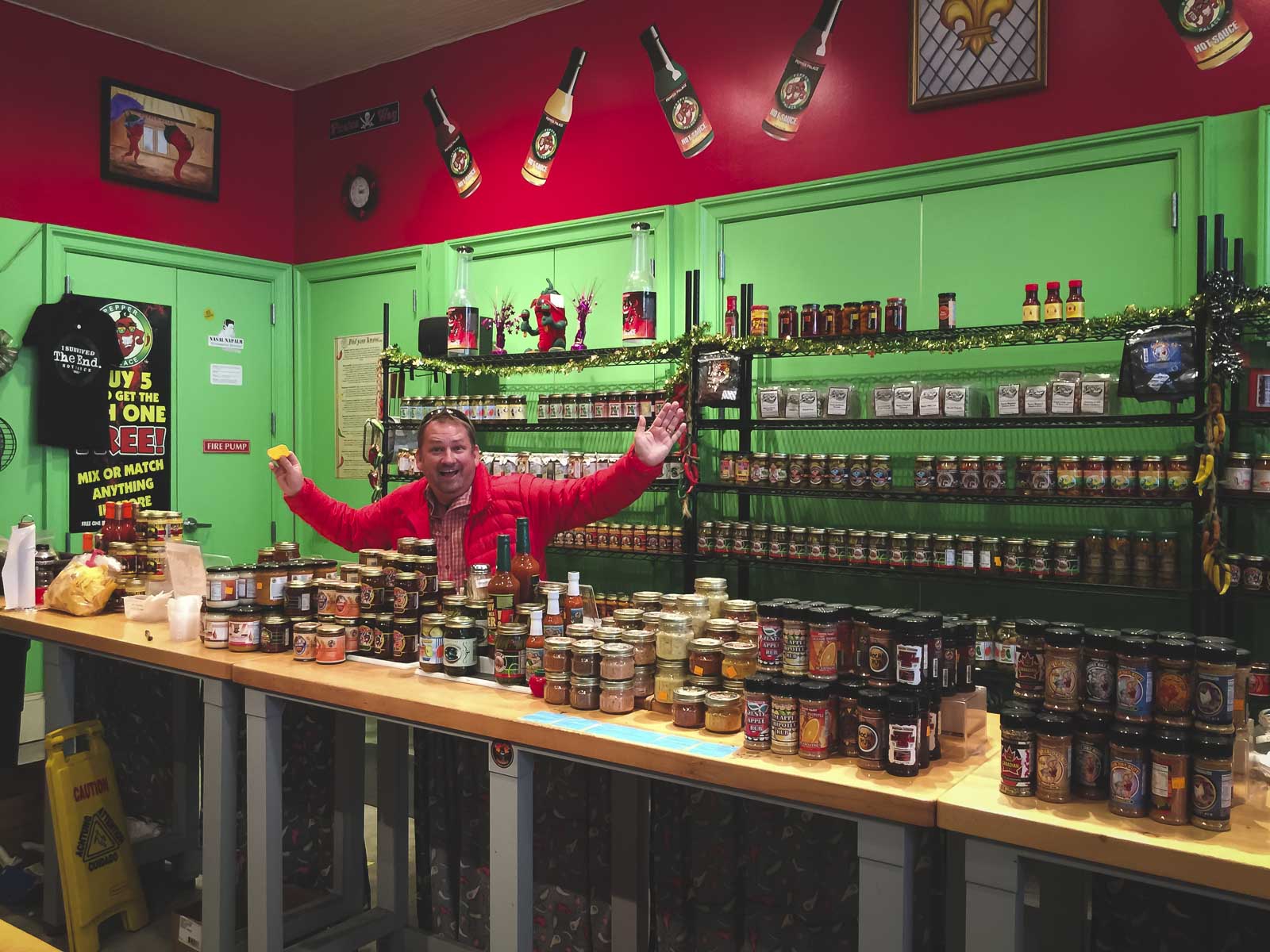 New Orleans has one of the best food scenes in America. There are several unique foods in New Orleans and there are so many restaurants to choose from, a food tour really helps to get your bearings. From Gumbo to Muffuletta and Po Boy sandwiches to jambalaya and pralines, eating is the best New Orleans experience that feels like an event unto itself. If you want to get to the root of New Orleans cooking, pop into Pepper Palace. They have one hot sauce that is so hot, you need to sign a waiver before tasting it! We have an entire article about New Orleans food at our New Orleans Food Tour – Where to Eat in New Orleans.
Some other restaurants that we ate at in the city include:
There are countless food tours in New Orleans. We took the Doctor Gumbo Food Tour and it was outstanding. We sampled all the top dishes of the city including Po Boy, Jambalaya, Muffuletta, and Gumbo. New Orleans has one of the richest food scenes in America and a food tour is a must. If you want to try some on your own, check out NOLA Poboys for an authentic Po Boy sandwich, and Central Grocery and Deli for an authentic Muffuletta.
The Old Absinthe House
Something that is very cool about going to New Orleans is how old many of the bars and buildings are. This city is filled with history and history lovers will also enjoy visiting The Old Absinthe House. This 200-year-old bar played an important role in the war of 1812. It was general Andrew Jackson who approached the outlawed pirate Jean Lafitte who was being held here to help the Americans defeat the British Navy.
This iconic bar has attracted celebrities to see its historic setting in a building that has stood the test of time with the same fixtures and walls from the 1800s. It even has the same fountains serving absinthe that the pirate Lafitte and General Jackson may have been served from in history.
Jean Lafitte's Blacksmith Shop Haunted Bar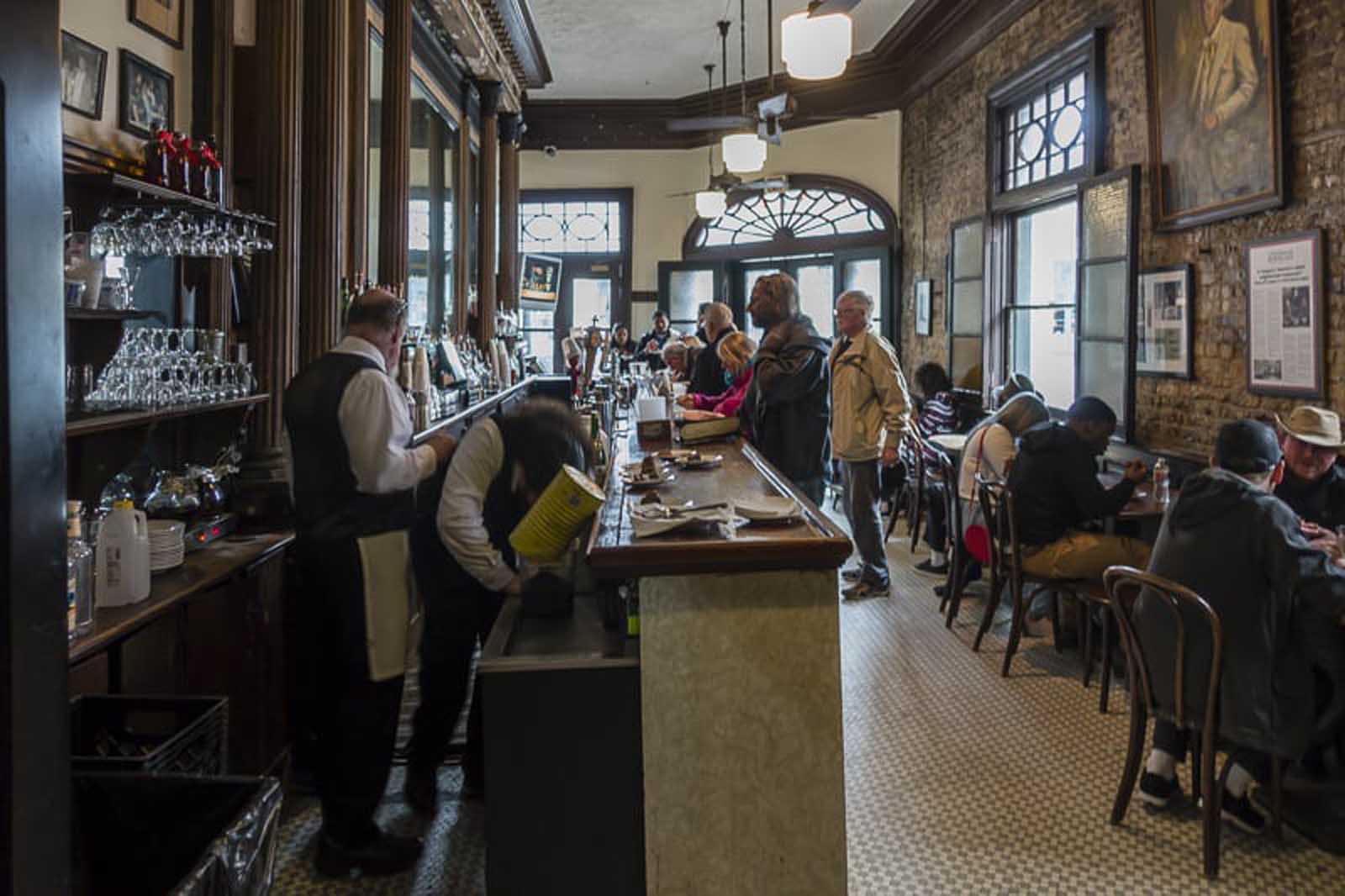 Another historic bar is Jean Lafitte's Blacksmith Shop located on Bourbon Street in the French Quarter. It is one of the oldest surviving buildings in New Orleans that was built around the 1770s. Through the years it has been frequented by the likes of Noel Coward and Tennesee Williams.
If you are on a haunted walking tour of New Orleans, chances are you will stop here, it's one of the most haunted places in the city. Jean Lafitte was a privateer and smuggler who used this house as his headquarters and fun fact, he helped Andrew Jackson fight the British. It is said that he still haunts the walls of this historic building.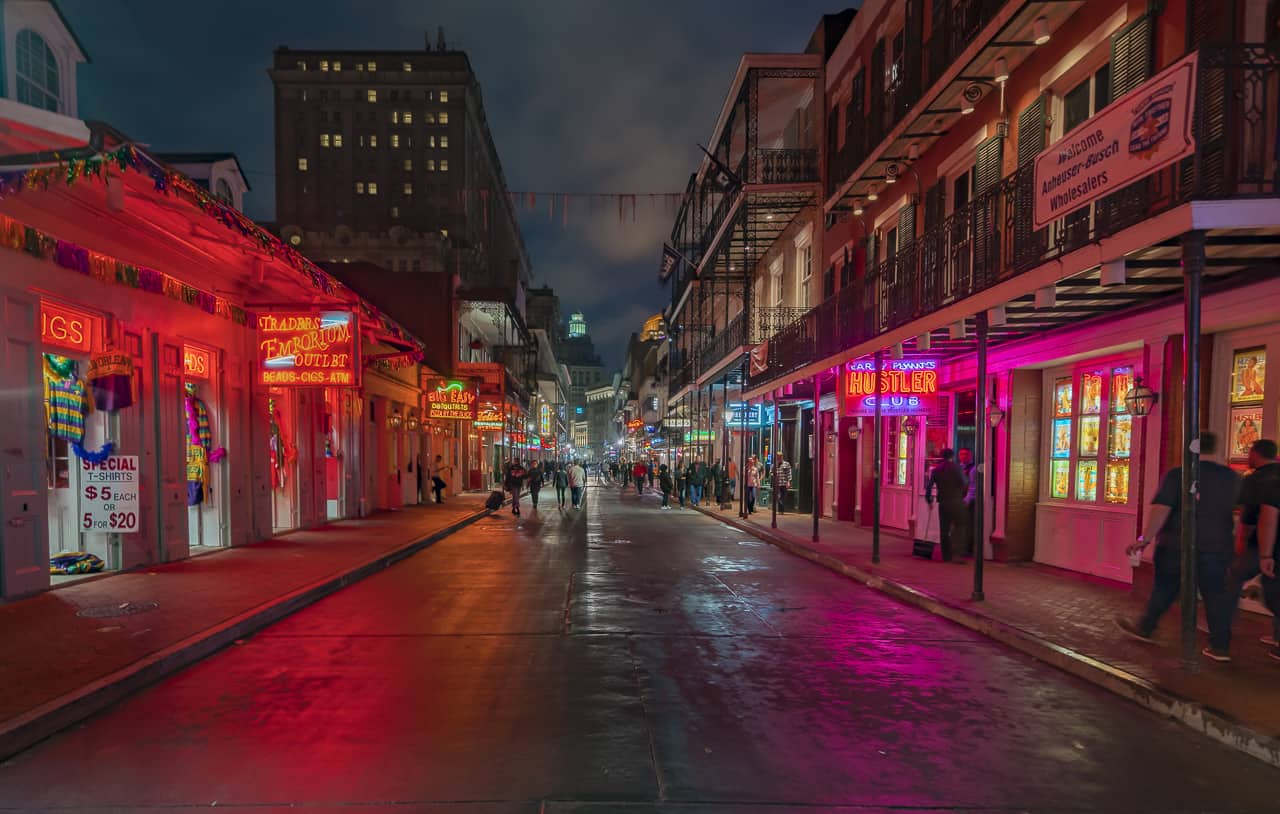 Book this New Orleans Haunted Pub Crawl to see all the haunted watering holes in the city. We started at Tujague's- The oldest stand-up bar in New Orleans. Here, you'll meet your local tour guide to begin a tour of fascinating and haunted in the city, including the infamous Lalaurie Mansion (as seen on "American Horror Story: Coven"), the Sultan's Palace, and naturally Lafitte's Blacksmith Shop.
New Orleans Jazz
The haunted tours end late in the evening, but you may only be in The Big Easy once in your lifetime, so head you may want to stay in the French Quarter tonight to feel the nightlife and live music scene.
Jazz is at the heart of the culture in New Orleans and there are jazz clubs scattered throughout the French Quarter, Bourbon Street, and Frenchmen Street. No visitor to New Orleans should miss seeing live music performed in New Orleans. We couldn't get enough of listening to Jazz every evening. The New Orleans musicians are some of the most talented on earth. Here are a few places to immerse in jazz.
Jazz Playhouse in the French Quarter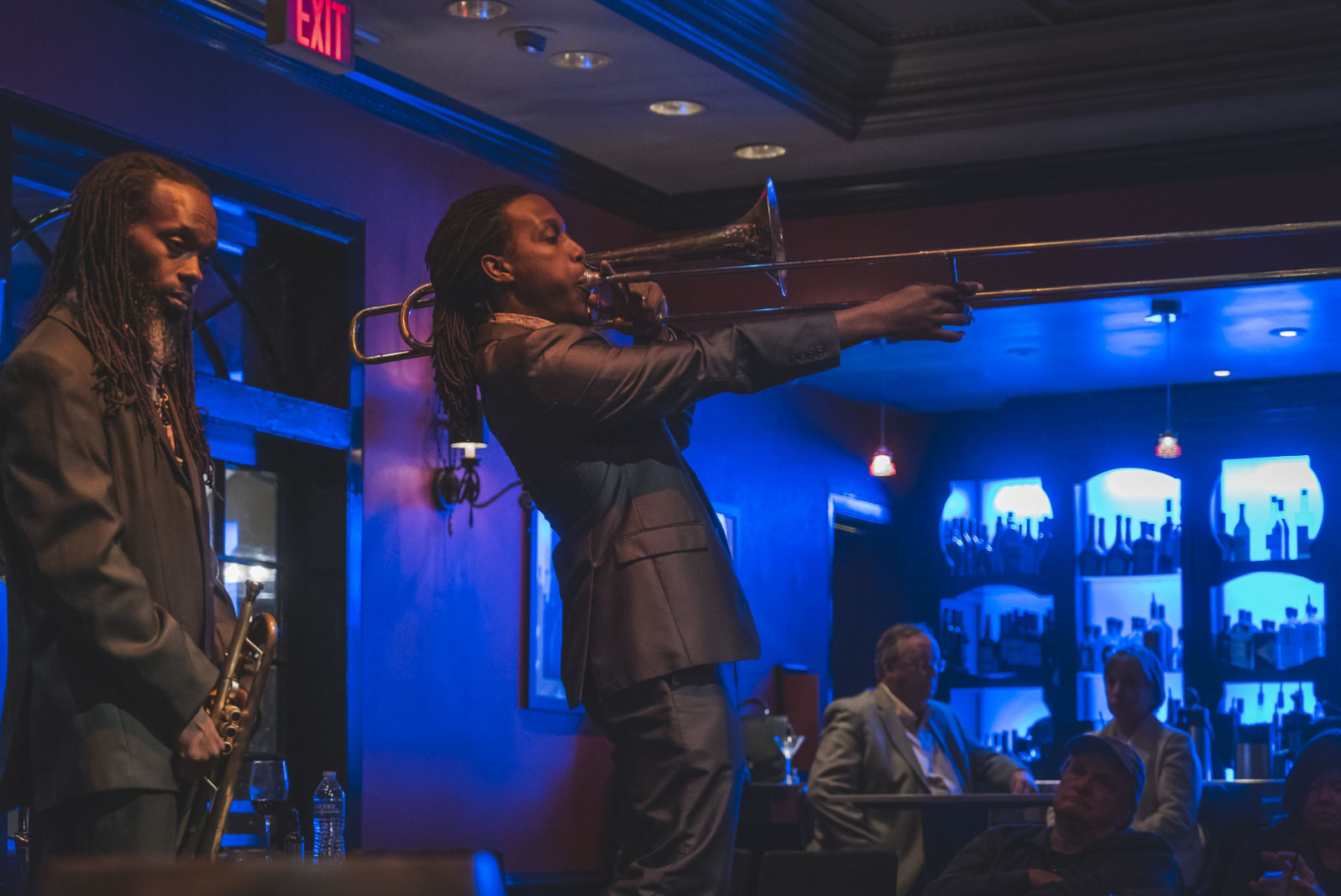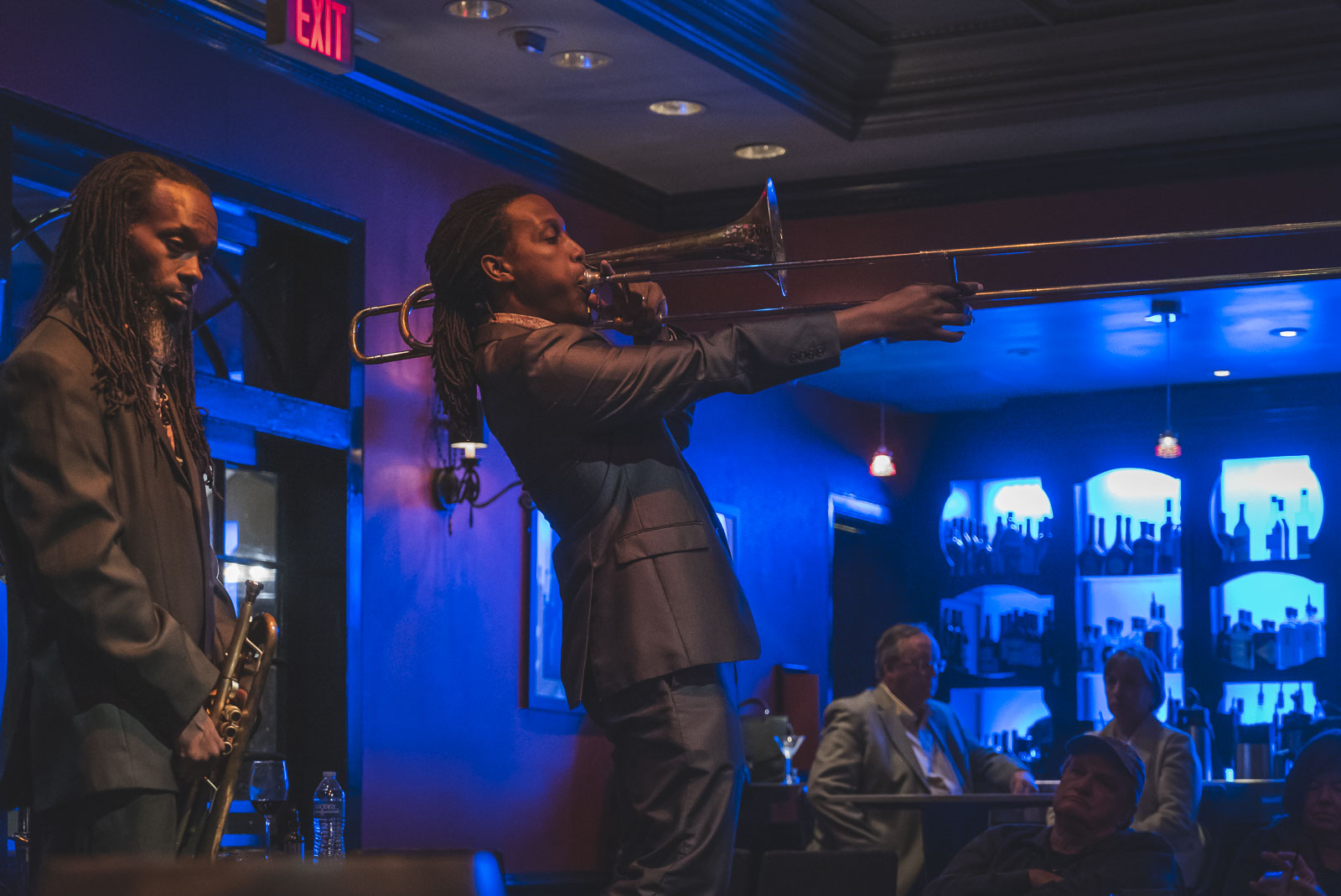 You can pop into any bar for a party or live music, you just need to follow the sound. But we suggest, heading over to The Jazz Playhouse inside the Royal Sonesta Hotel for some authentic Jazz. It is an intimate setting in an upscale location and you get the best musicians in town playing here. Enjoy the night as long as you like. New Orleans is the city that never sleeps so enjoy!
Preservation Hall
Located on St. Peters Street in the heart of the French Quarter, Preservation Hall is an intimate venue for New Orleans Jazz concerts. It's one of the most famous music venues in New Orleans. Make sure to book tickets in advance.
Live Music on Frenchmen Street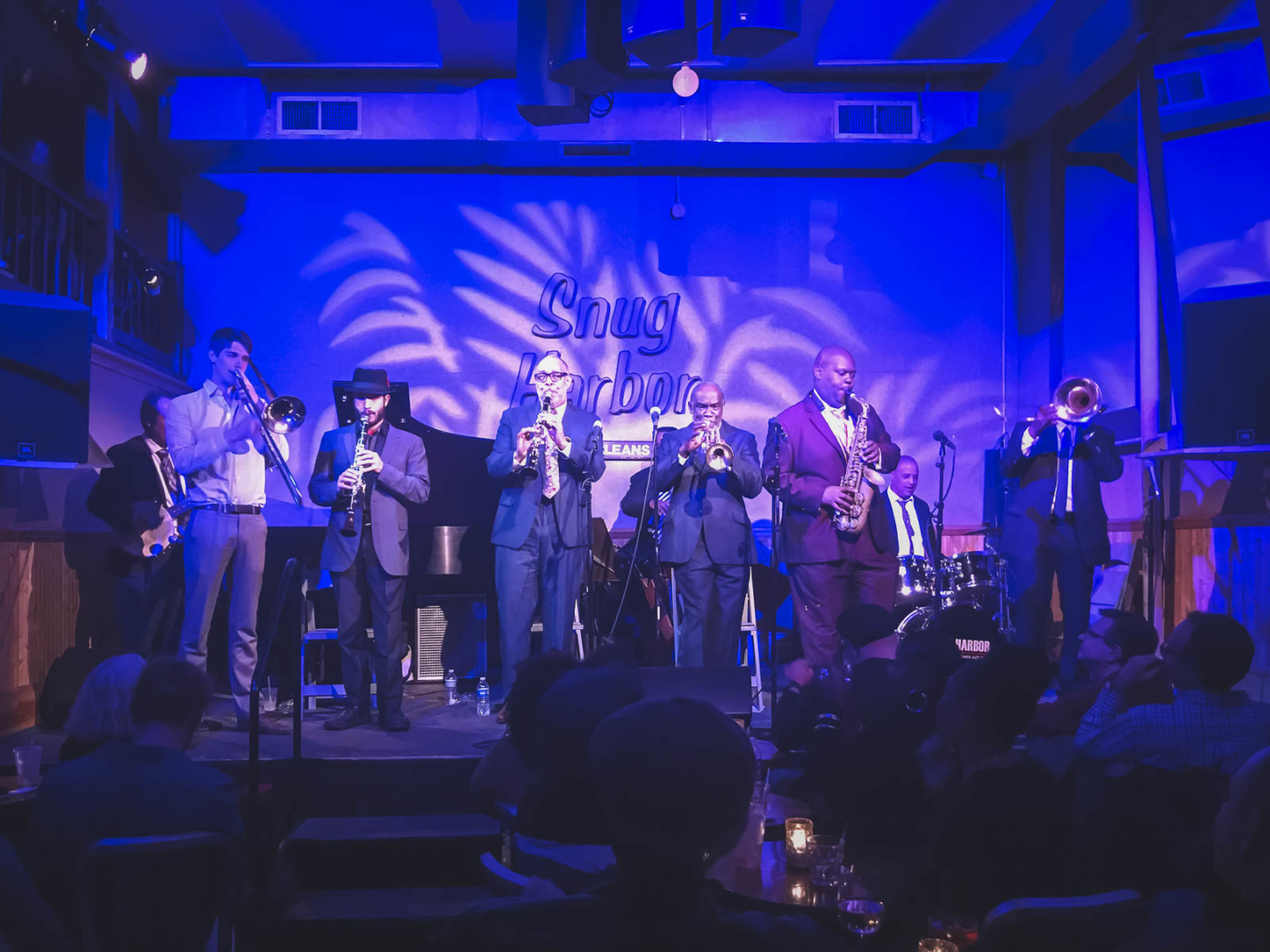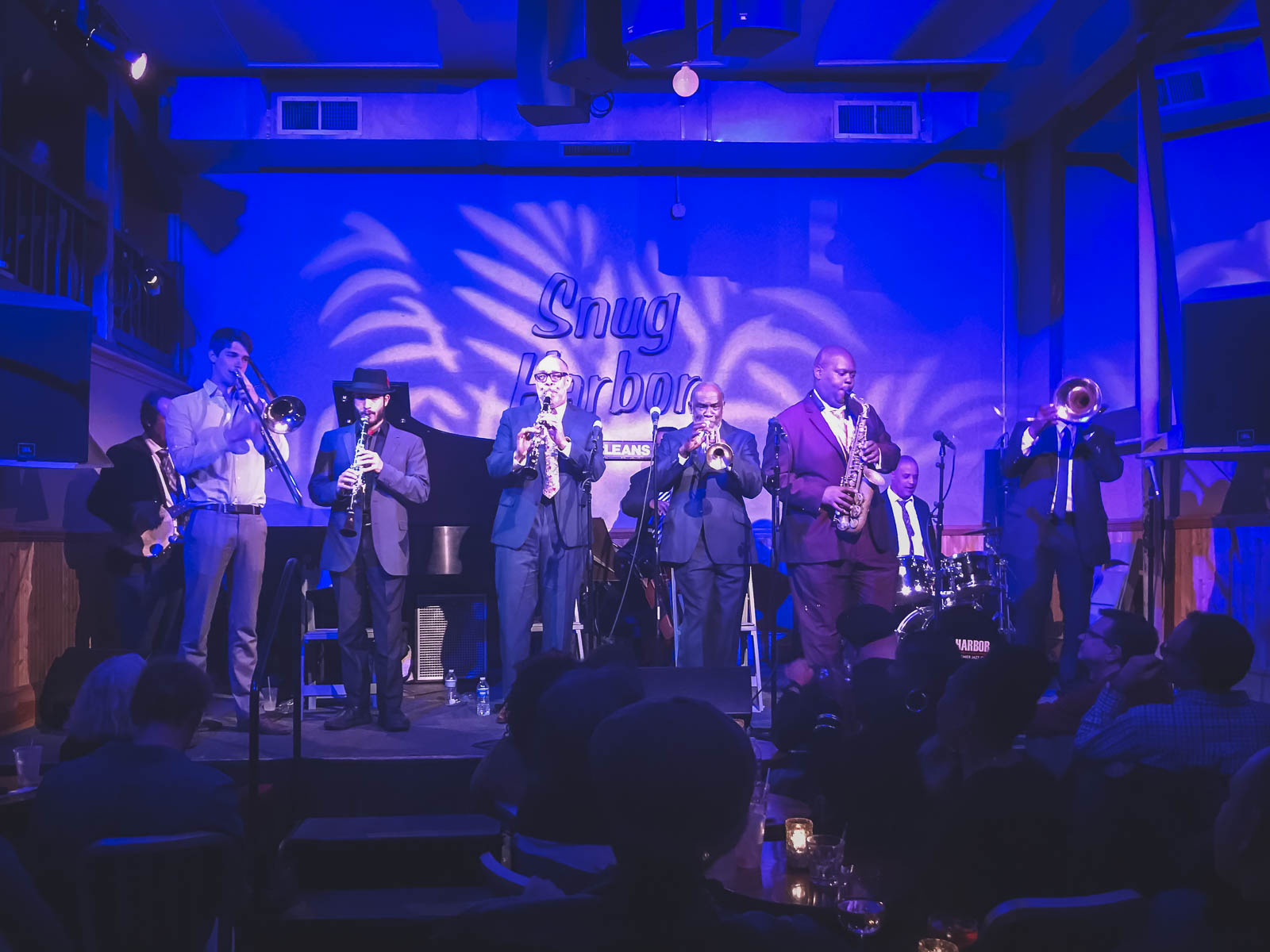 While the French Quarter is the most famous area of New Orleans, Frenchmen Street in Marigny was our favorite area for nightlife and live music. It is a great alternative to Bourbon Street with plenty of clubs to go club-hopping without all the kitschy touristy stuff. If you are looking for authentic jazz music this is the place to be. The short strip along Faubourg Marigny has some of the best music venues in the city.
Jazz Clubs like The Spotted Cat, Apple Barrel, The Blue Nile, and Maison and our personal favorite, Snug Harbor showcase talented musicians. New Orleans has one of the best music scenes in the entire world. I mean it! The Spotted Cat is one of the most popular clubs on Frenchman Street.
Jazz is such a huge part of NOLA culture, there is the New Orleans Jazz National Historical Park celebrating the evolution of Jazz. Located near the French Quarter in Tremé
Steamboat Natchez Riverboat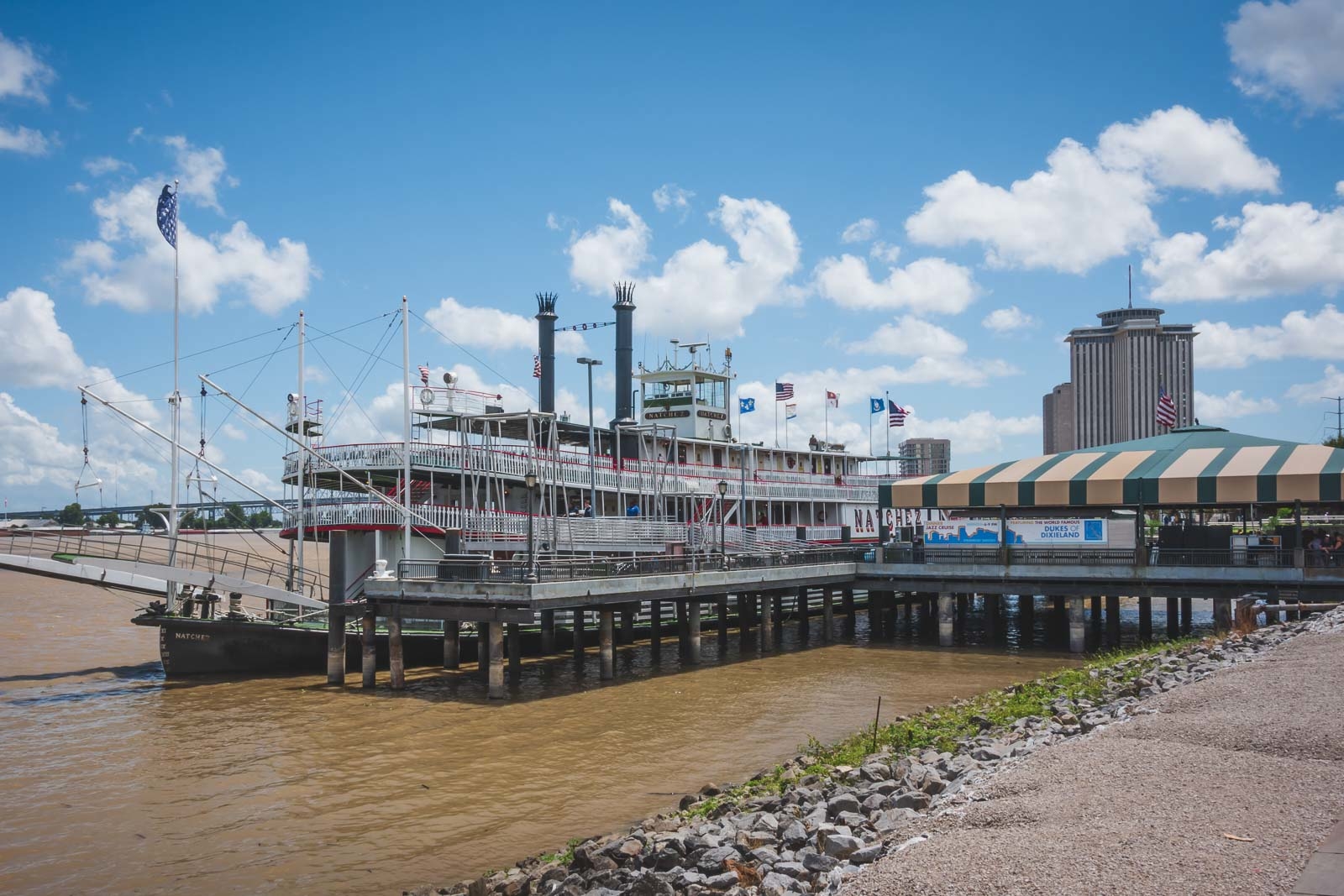 New Orleans is located directly on the Mississippi River and a trip to the Big Easy wouldn't be complete without a riverboat tour. The Steamboat Natchez Riverboat is one of the top attractions in New Orleans and with good reason. Cruise along the Mississippi complete with a Dixieland jazz trio to entertain. The Steamboat Natchez is the only steam engine left on the Mississippi giving a truly historic experience. I can only imagine how the early settlers felt navigating this great river. Book your Riverboat Cruise in advance here.
The trip begins with a musician playing the pipe organ as tourists stand in line under the big umbrella canopy. Once onboard the talented Dixieland band entertains from the main dining room and we are free to explore the boat from top to bottom checking out the nearly 100-year-old steam engine and giant wooden paddle wheel.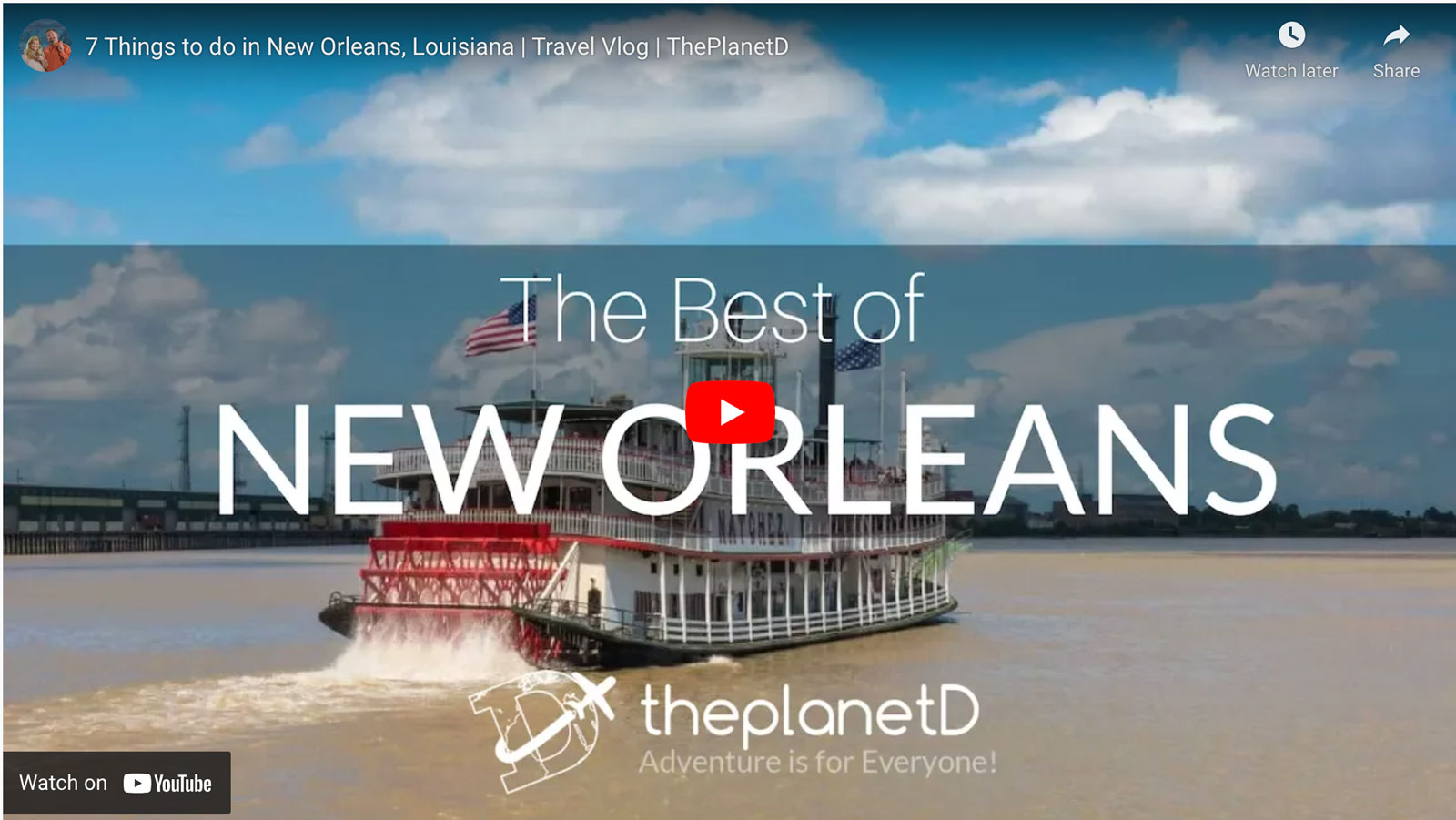 The two-hour tour on Steamboat Natchez gave us a glimpse of what life was like on the Bayou and a fabulous view of the New Orleans skyline. If you want something different, book an evening Jazz Cruise to tick off your music and sightseeing all at once.
the French Market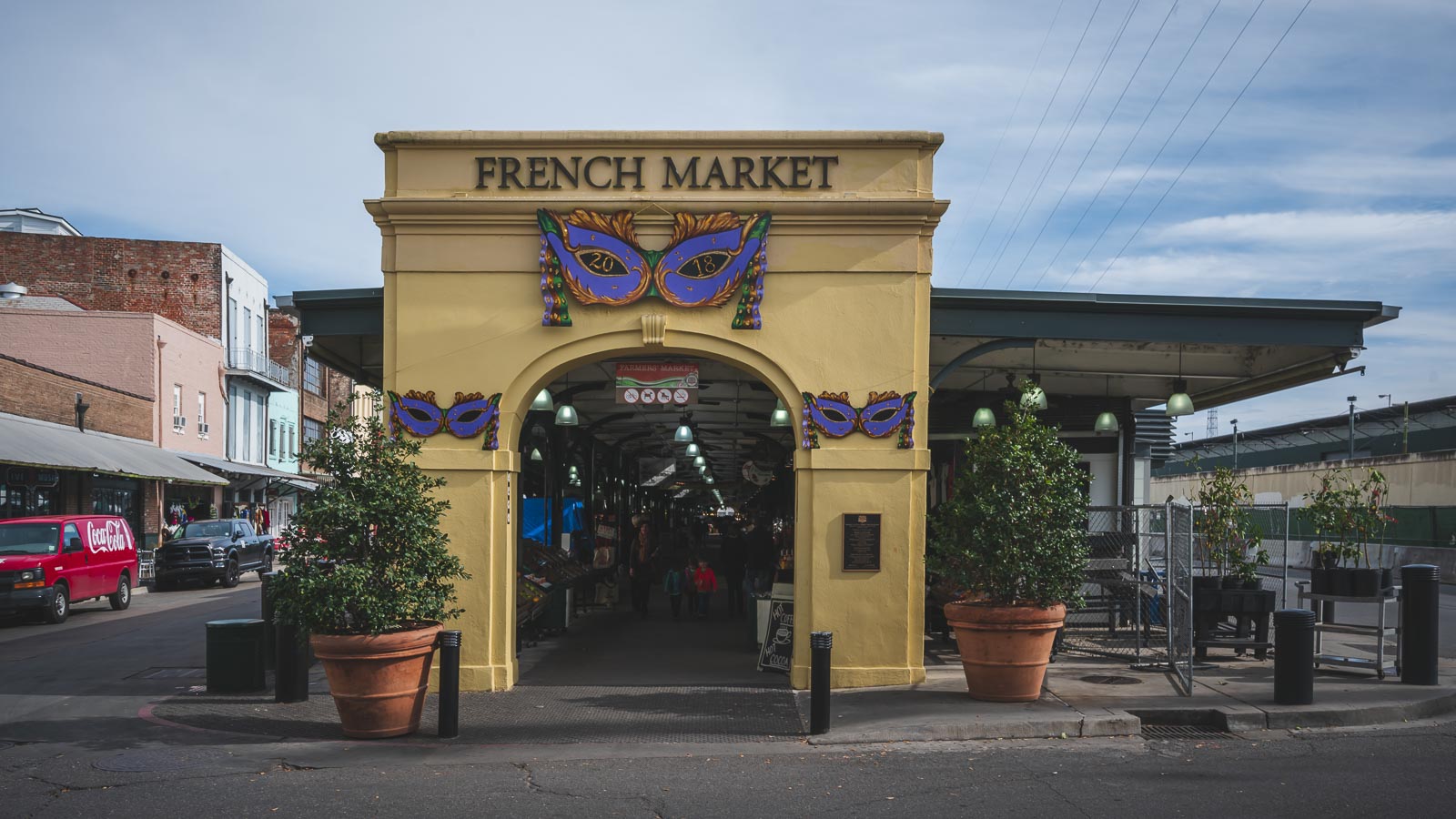 French Market is a historic open-air market that runs parallel to the waterfront and Decatur Street where you can shop for local art, jewelry, glass, and metal sculptures created by local artisans. It's a great place for travelers to pick up a mask or other New Orleans trinkets to remind you of your stay.
Cafe du Monde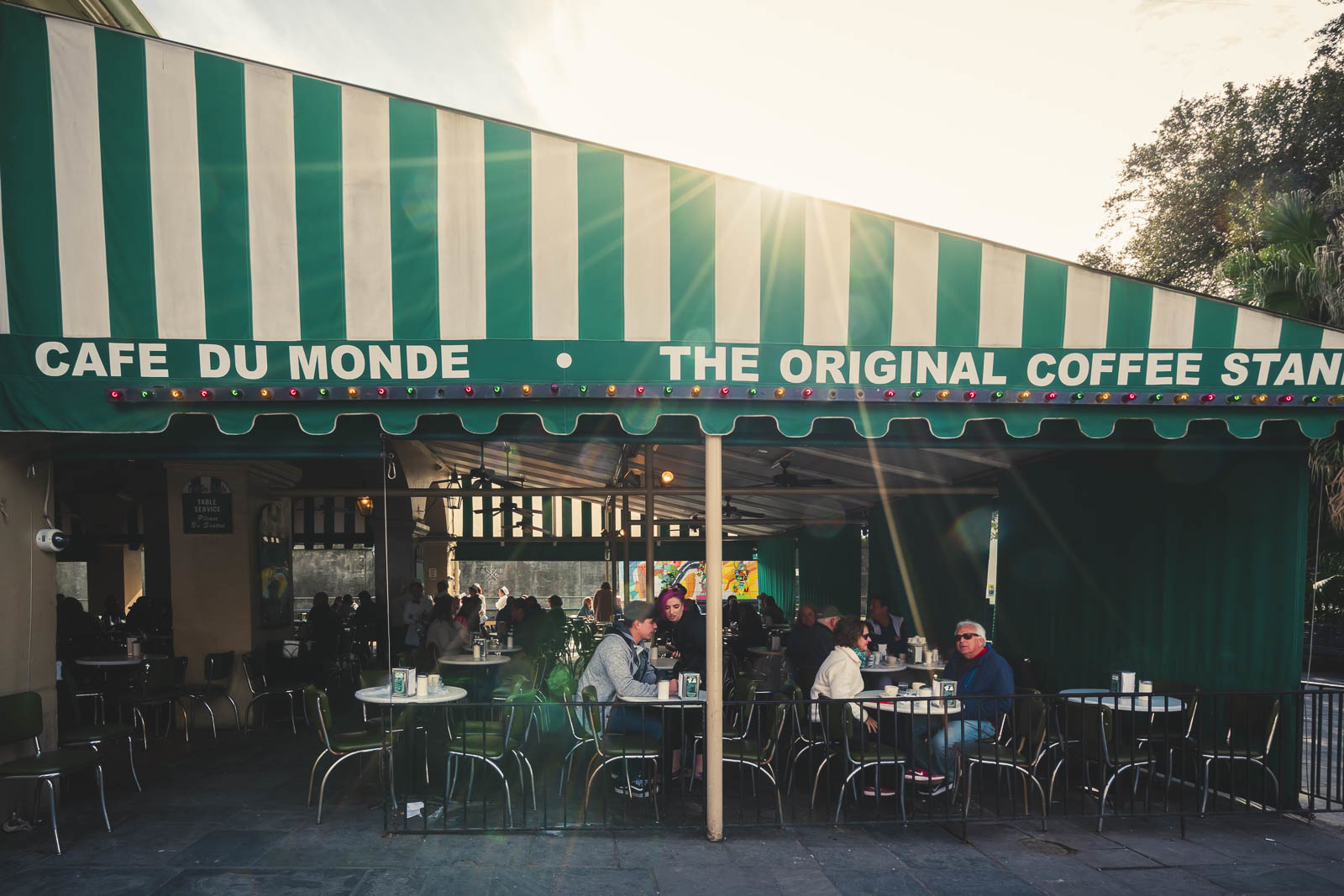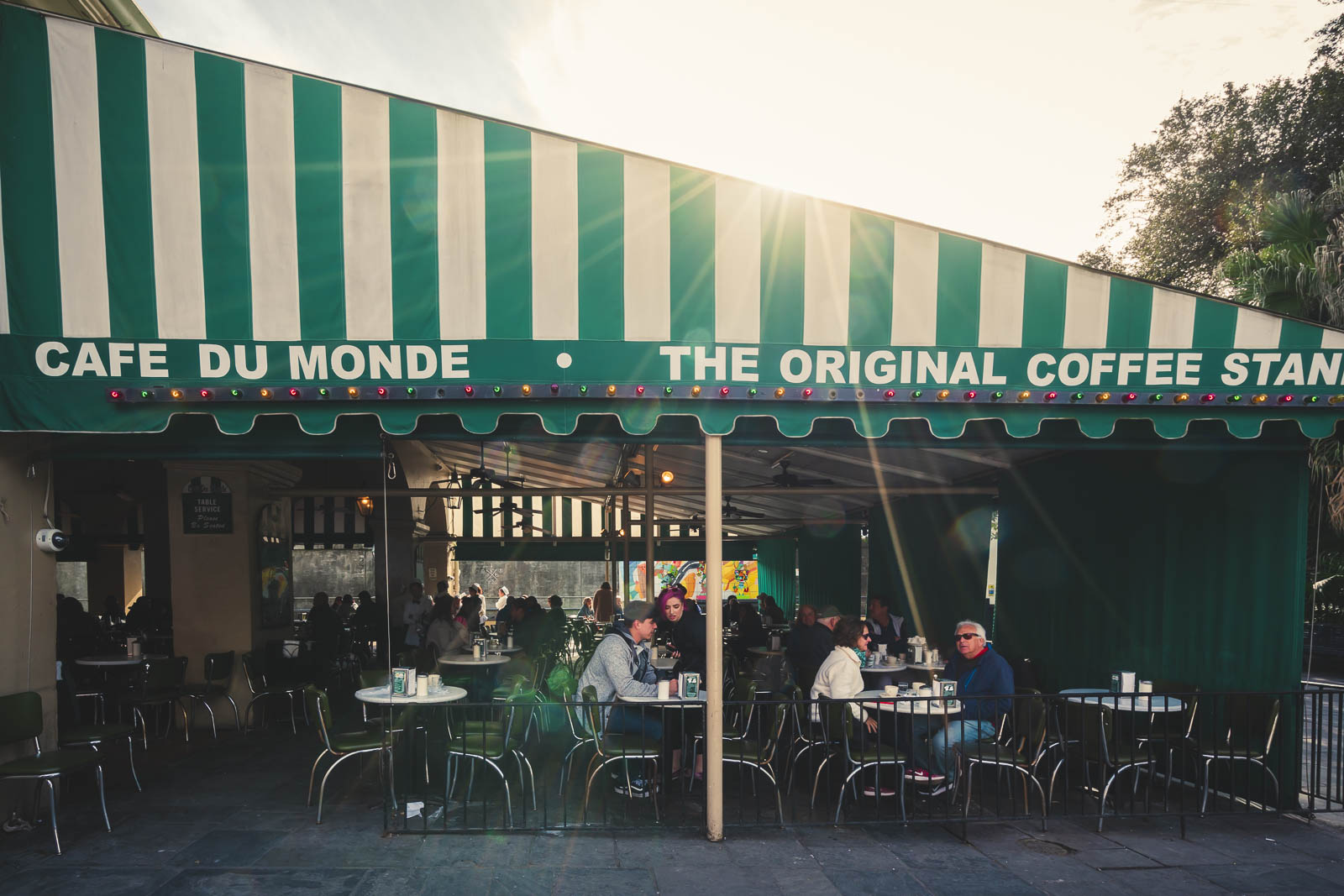 If you can't make it to Café Beignet, you can stop here at Cafe du Monde for beignets as well.
With a coffee in hand, head to the waterfront. The waterfront of New Orleans is an excellent place to spend the afternoon enjoying the breeze along the riverwalk along the Mississippi River leading to the Aquarium, the outlet mall, and the shops lining the French Quarter.
Mardi Gras World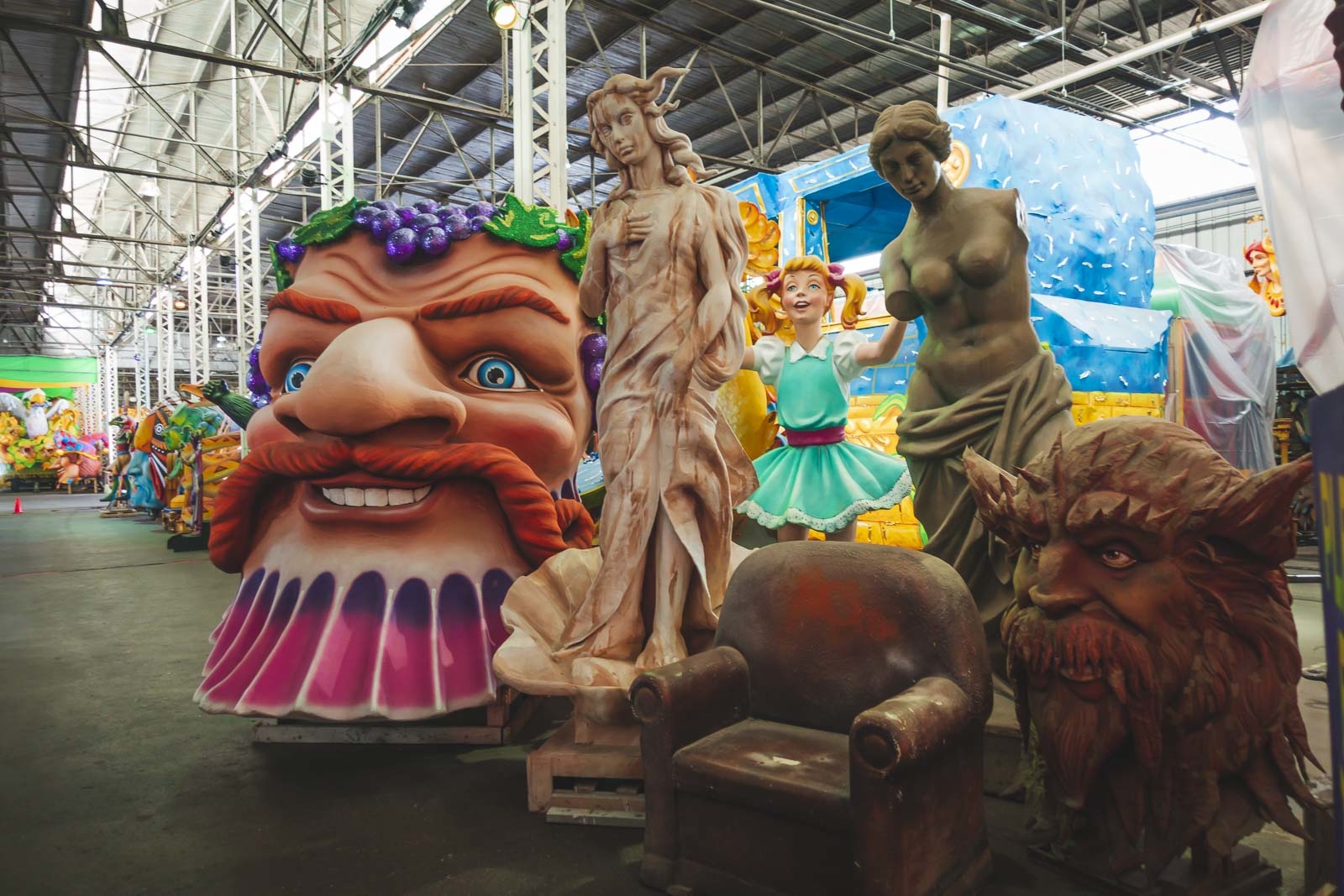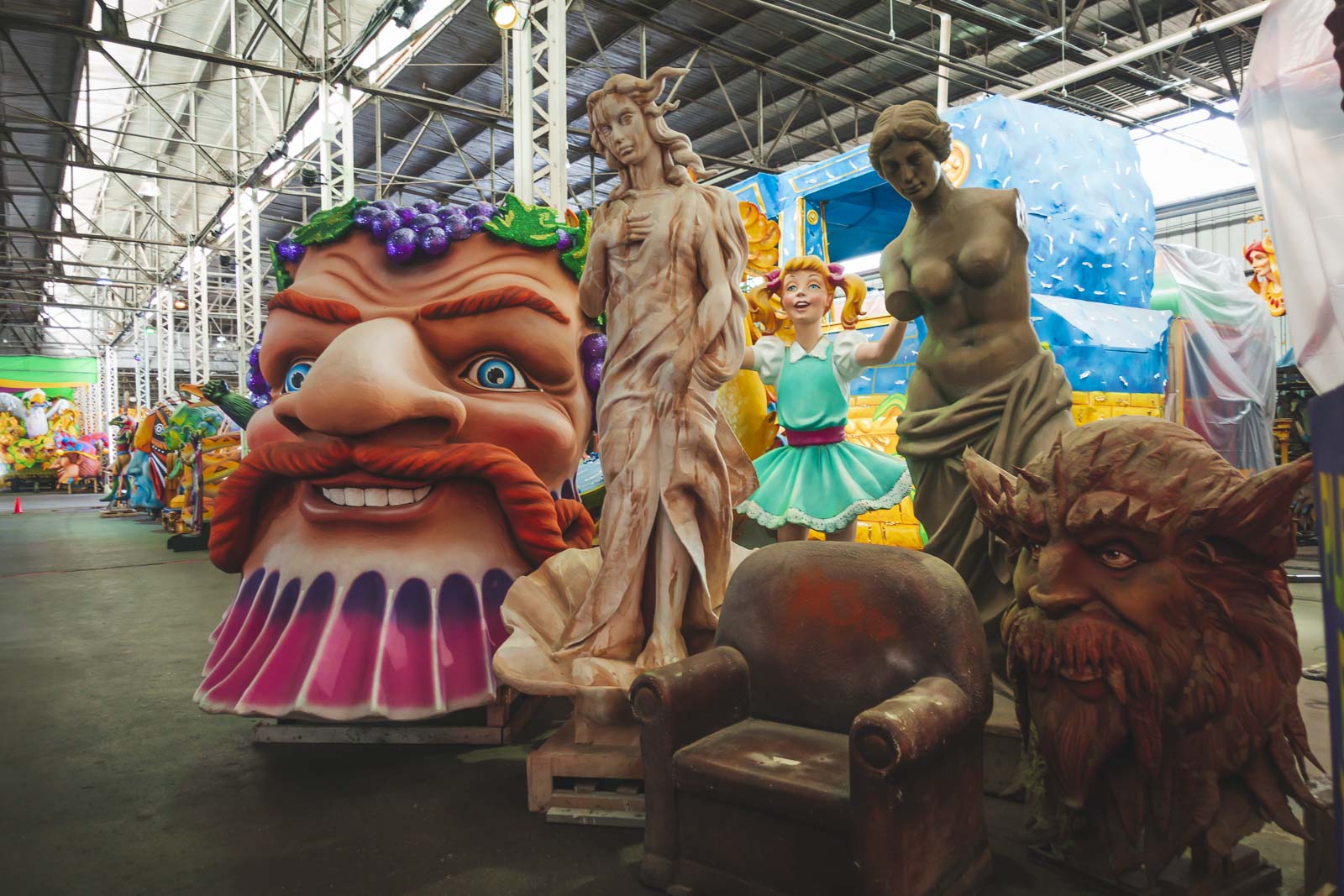 You don't have to visit New Orleans during Mardi Gras to experience Mardi Gras. Just a little out of the main quarter is the huge warehouse space of Mardi Gras World where you can see old Mardi Gras floats in storage and see artists working on next year's masterpieces.
There are free shuttles to and from Canal Street with your ticket purchase and it's a lot of fun to see the floats and costumes from festivals past on display. There are plenty of festivals in New Orleans all year long so make sure to look up what is happening during your visit. I guarantee there is something exciting going on.
the St. Charles Street Car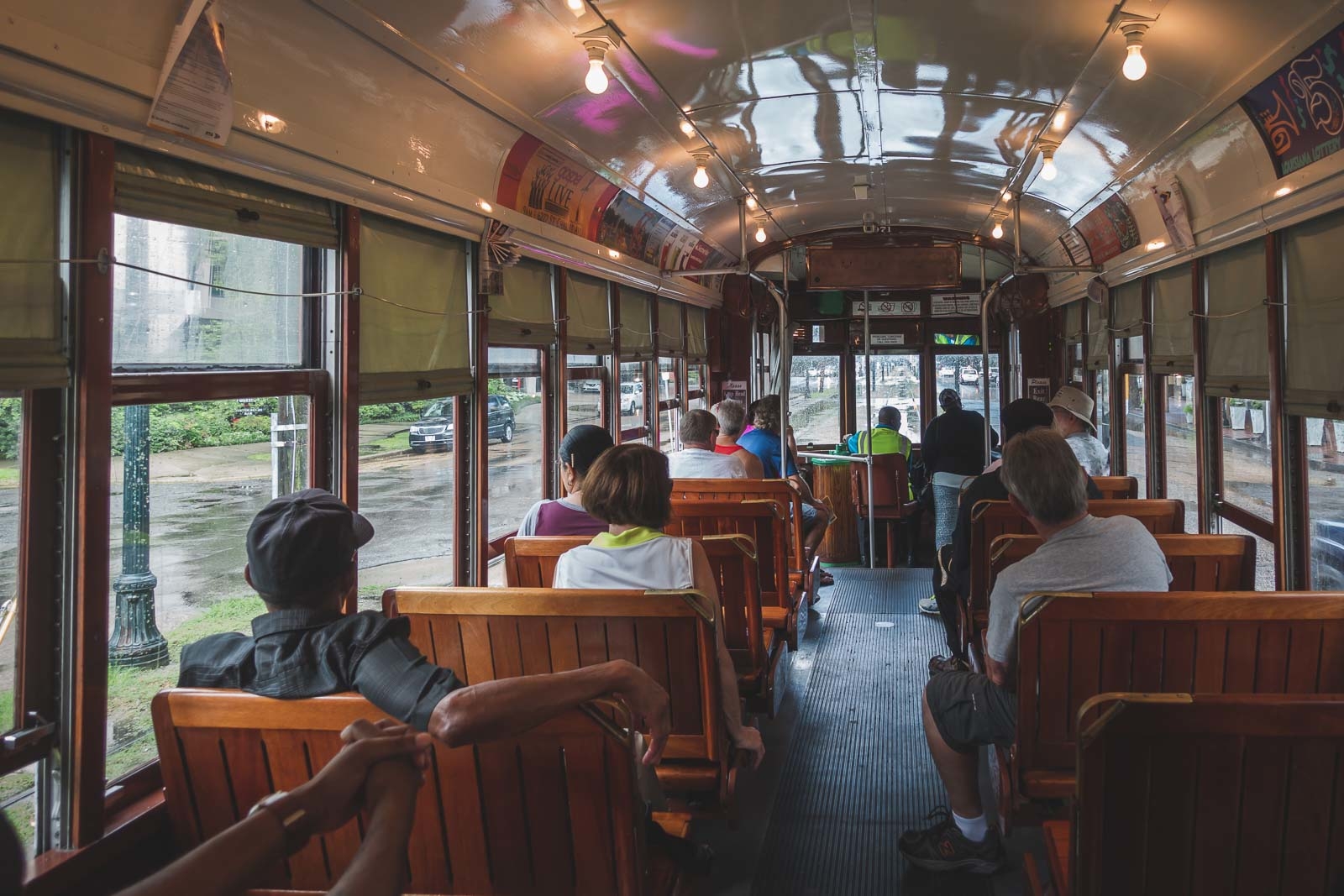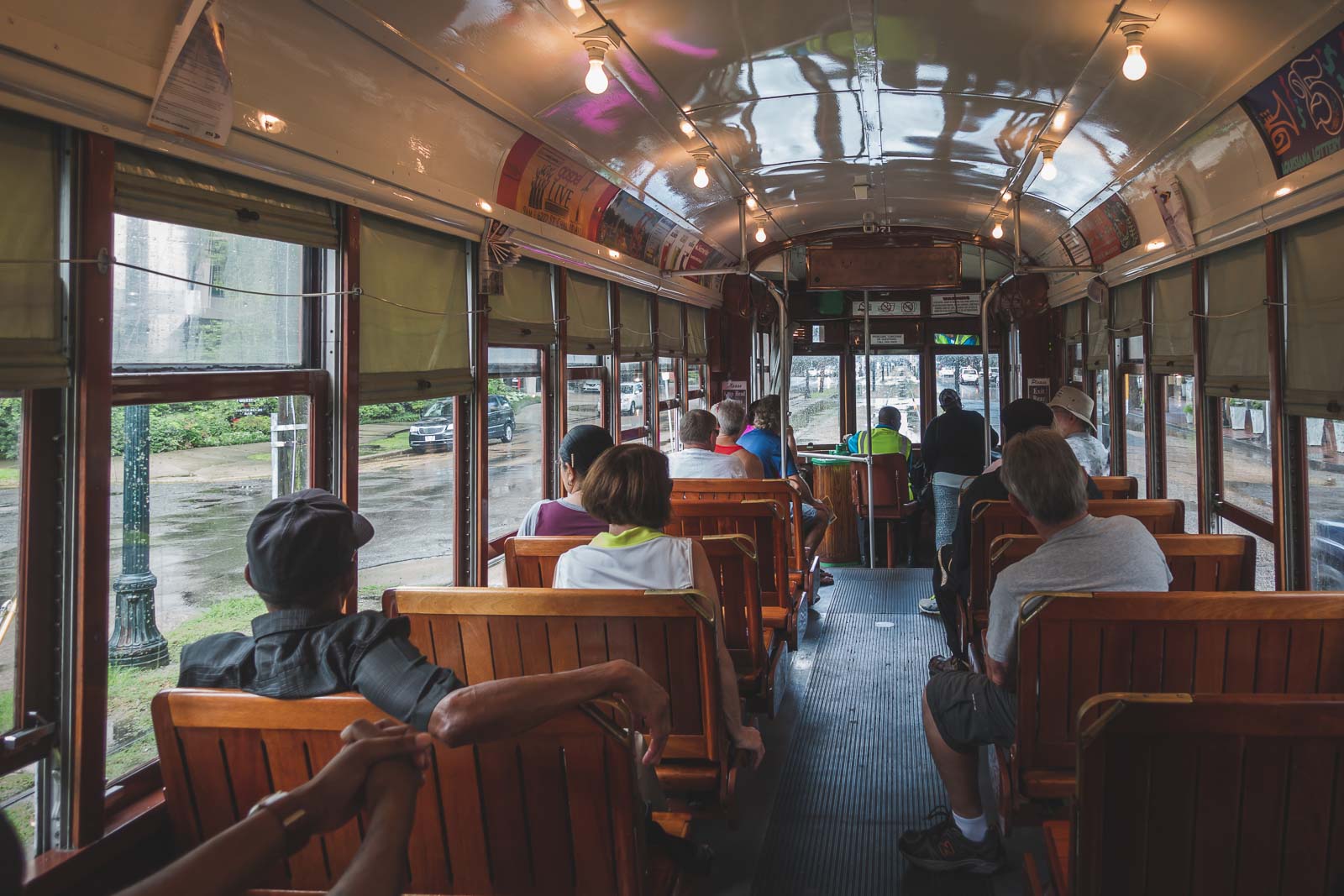 One of the most relaxing attractions in New Orleans is to ride the St. Charles line takes you directly to the Garden District and the cemetery is located just one block from the streetcar stop. Sit back and enjoy the view as you leave the city center for the quieter streets of the Garden District. Charles Line costs $3 each for an entire day transit pass.
Make sure to look up from your smartphone, this streetcar ride is beautiful taking you through tree-lined streets past gorgeous French and Gothic Style mansions. Tennessee Williams made the Streetcar Named Desire famous, and taking the St. Charles line feels as if you have stepped back in time into one of his plays.
Garden District Mansions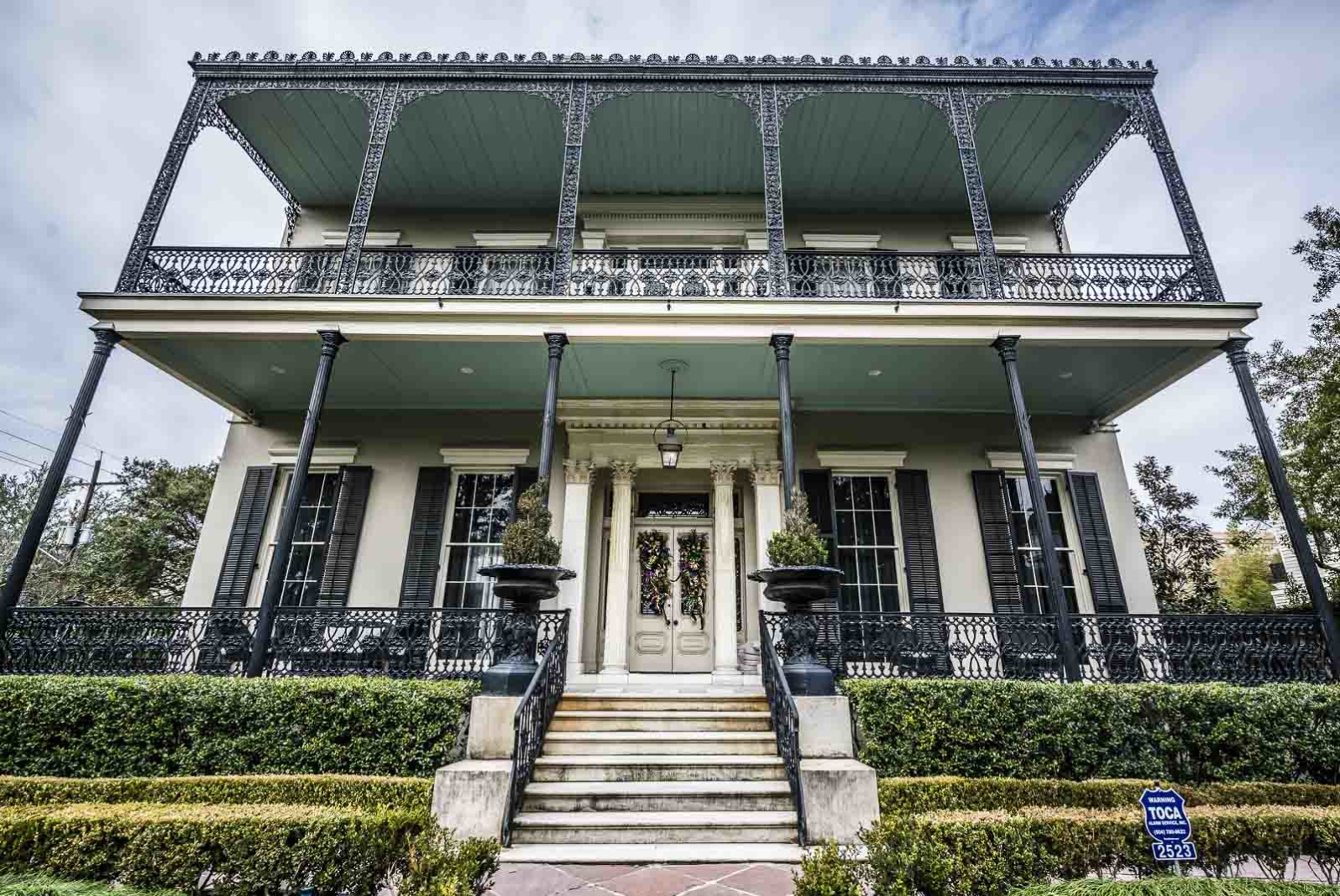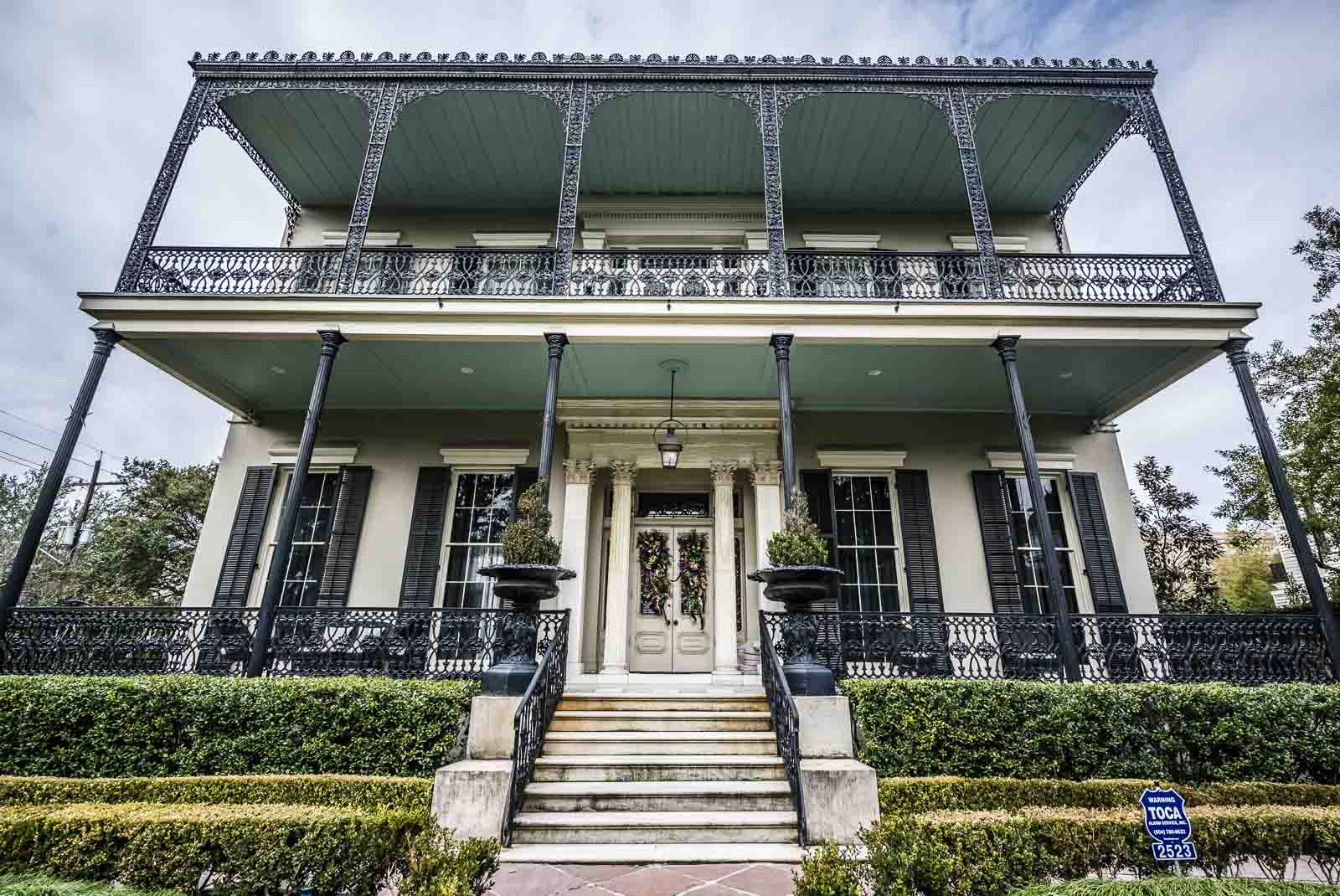 The Garden District is a beautiful place to spend an afternoon perusing the streets marveling at colonial mansions, sipping cappuccinos, and perusing the shops in The Rink, an old roller skating rink converted to boutique shops and gift stores. See the mansions and former homes of writer Anne Rice, Actors John Goodman and Sandra Bullock and many more famous people who have called New Orleans home.
New Orleans has been home to many movie shoots including Interview with the Vampire and the Curious Case of Benjamin Button. Most of which were filmed in the Garden District area. You'll recognize many a mansion from your favorite movies. It is the perfect setting for a movie. Picturesque, historic, colorful, New Orleans has it all.
Lafayette Cemetery No.1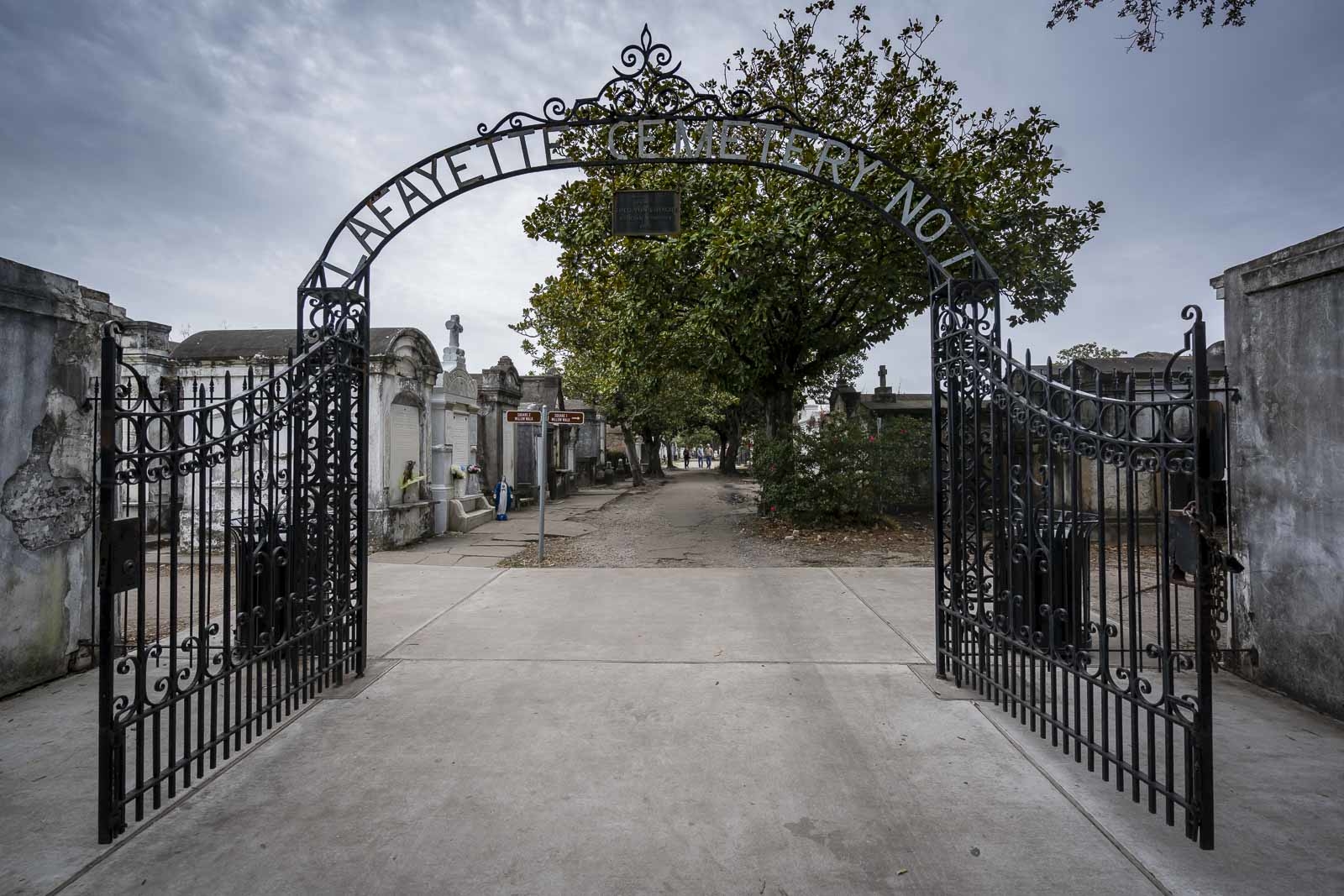 Another famous cemetery we visited was just a short streetcar ride from our hotel. The Intercontinental New Orleans is located just off Canal street along the St. Charles Streetcar line. The Lafayette Cemetery #1 is a cemetery is located in the picturesque Garden District and because it isn't a Catholic cemetery, you can tour this resting place of souls on your own without a guide. Read our complete guide at A Tour of the New Orleans Garden District
Commander's Palace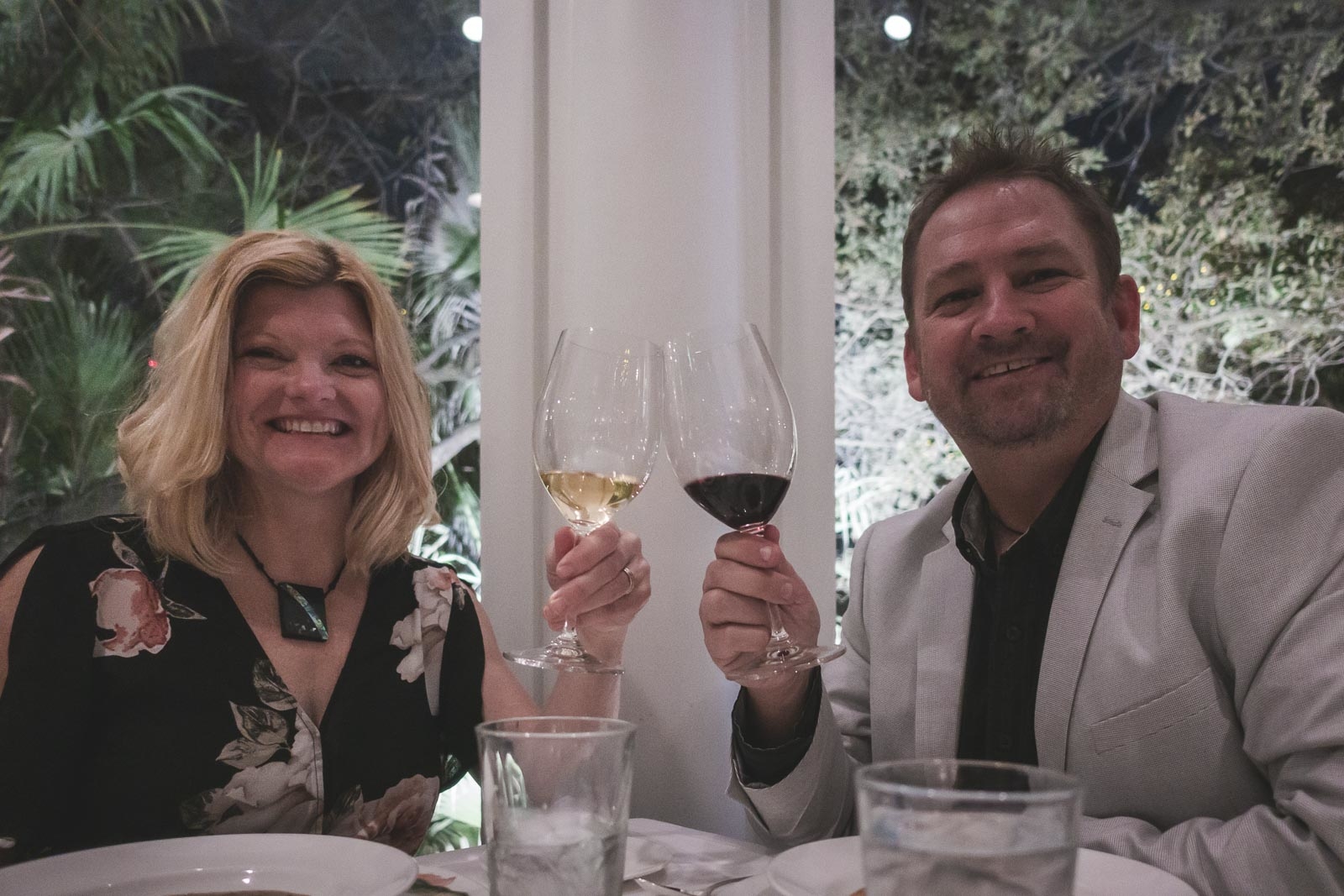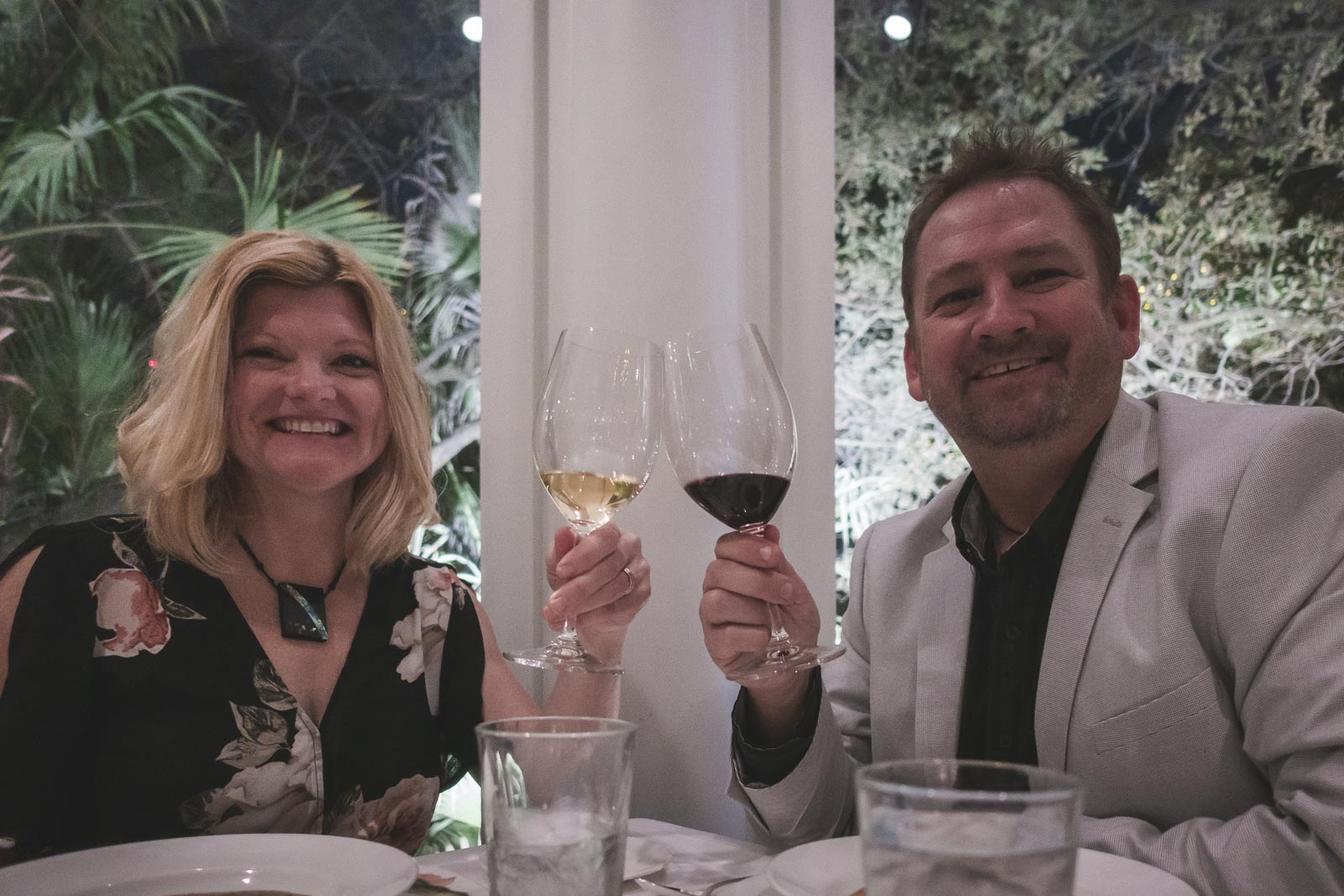 One of the most iconic places to eat in New Orleans is at Commander's Palace. Located across the street from Lafayette Cemetery #1 it's a good place to eat after you've explored the mansions and tombs. Set in an old plantation-style building on the corner of Coliseum and Washington Avenue, eating here is a must. The dress is more on the formal side, so make this your classy night out in the city. And make sure to book reservations, it's one of the hottest spots in town. You can make reservations here at their website
We toured this district with Welcome New Orleans Tours. You'll see Anne Rice's old house, and other famous celebrity homes sprawling in the Gothic Style. There have been many movies filmed here including Django Unchained, and Benjamin Button.
Oysters at Casamento's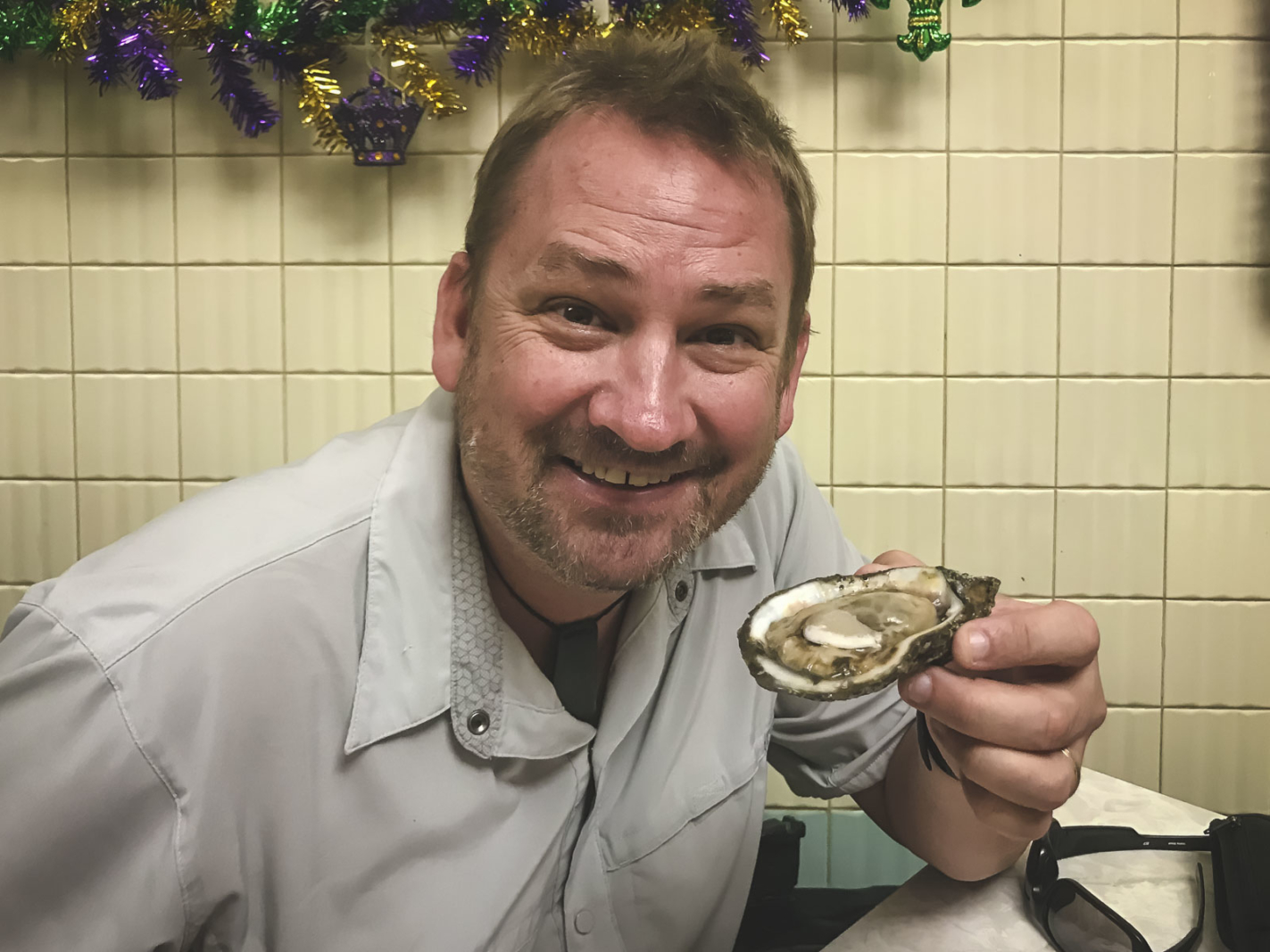 Casamento's is known for its chargrilled oysters and they are heavenly. We do love raw oysters but once we tasted chargrilled Oysters in New Orleans, we wondered why we didn't try them earlier. The chargrilled oysters with garlic and parmesan cheese were savory and satisfying.
Shopping on Magazine Street
While you are up in the Garden District, Magazine Street is just a short jaunt away. This is one of the premier shopping streets in New Orleans with six miles of shopping along this legendary street. Magazine Street runs parallel to St. Charles Avenue stretching from The French Quarter to beyond the Garden District.
Central Business District
Our Hotel was located here and we realized that had we not stayed in the CBD, we most likely would not have explored this part of the city. But for a part of New Orleans that feels more like the 21st century, this is a great location.
A few things to check out in the CBD are:

The Mercedes Benz Superdome – Home to the NFLs New Orleans Saints
Harrahs Casino
Lafayette Square – often filled with local artists and food vendors
The CBD is where you catch the Charles Avenue Streetcar
The Warehouse District – The Warehouse District is within the CBD and is fast becoming a destination unto itself.
the Warehouse District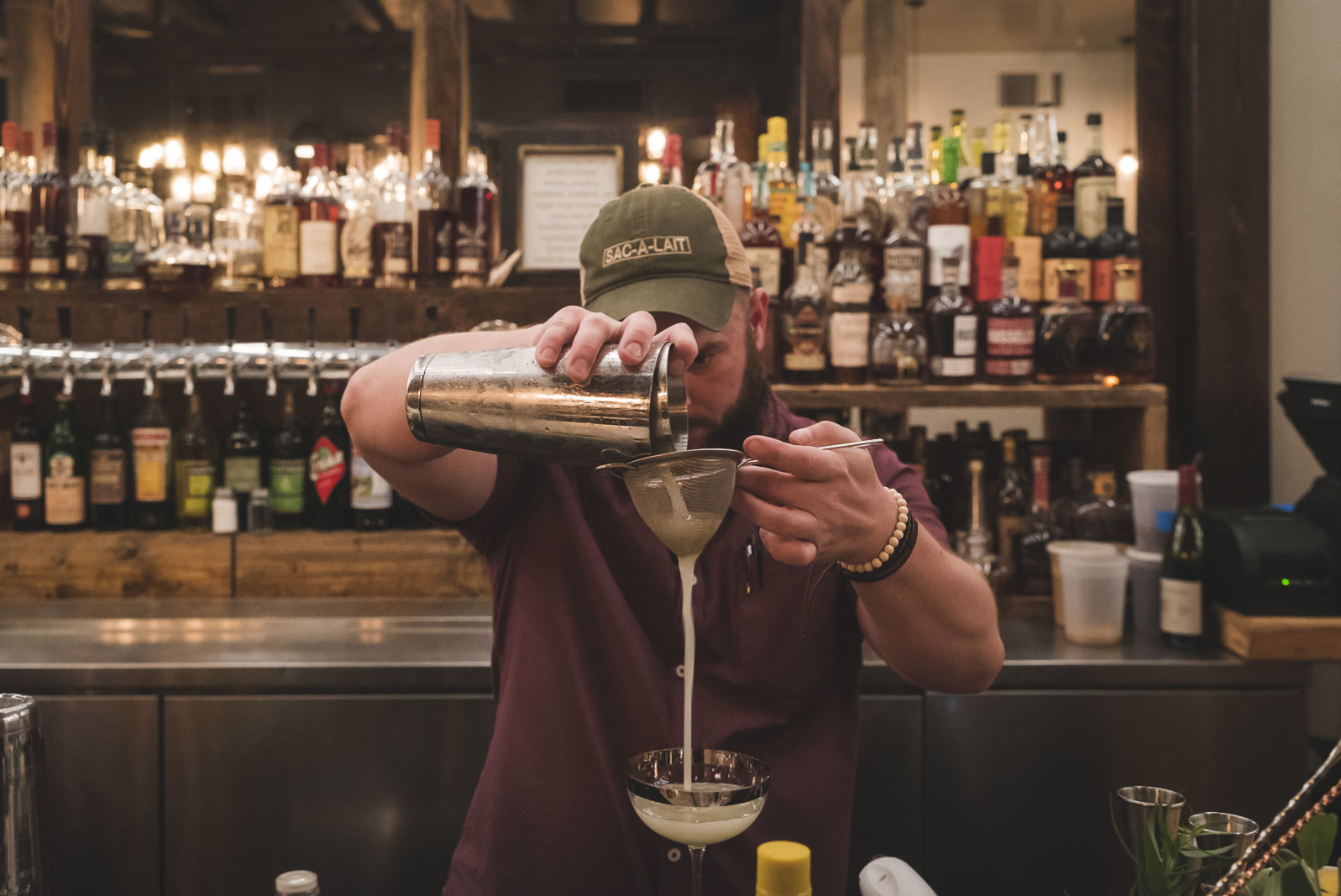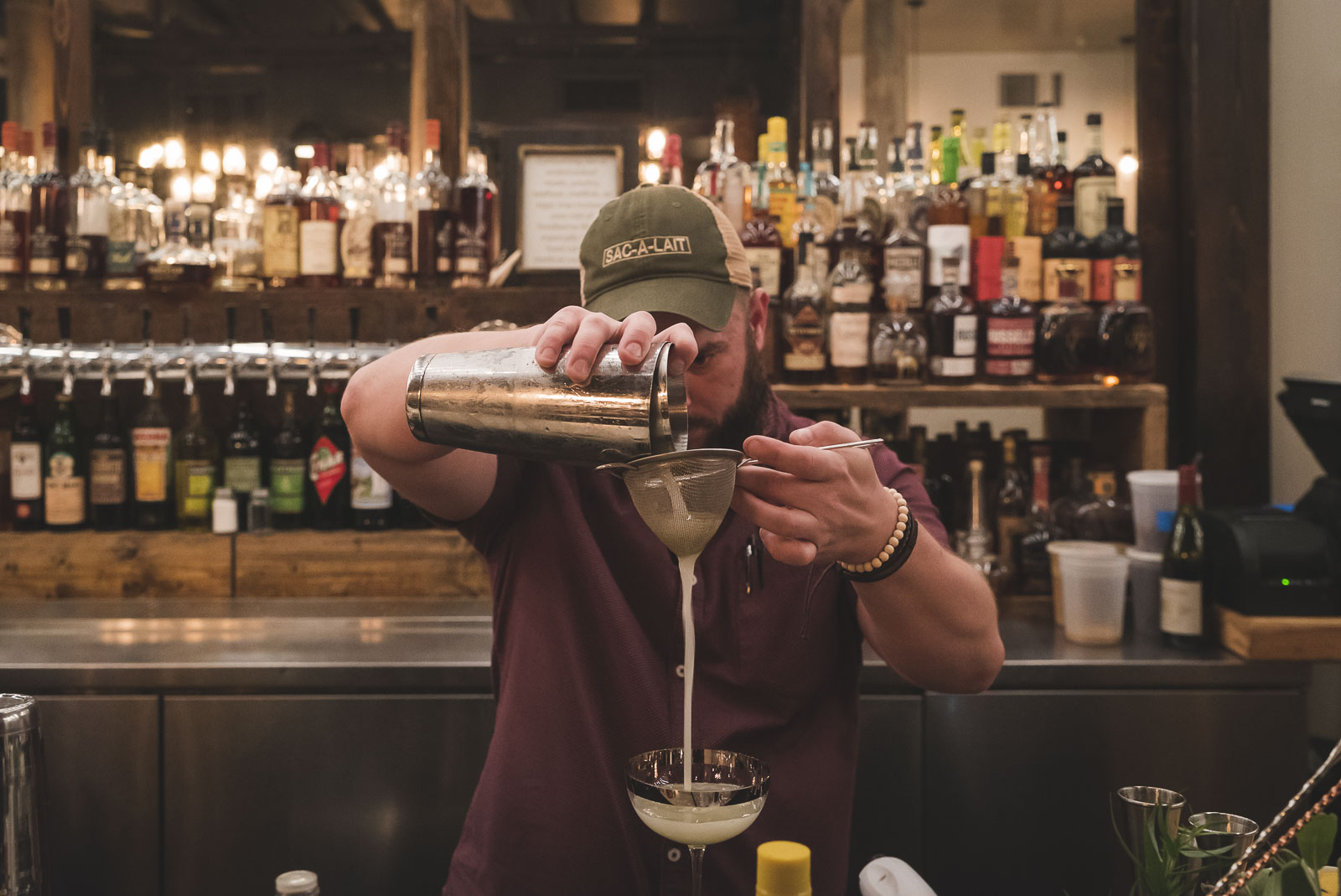 The Warehouse District is another great neighborhood in New Orleans is a funky neighborhood where you can enjoy signature cocktails. Make your way to another amazing eatery in the Warehouse District owned by Celebrity Chef Emeril Lagasse. He has roots in New Orleans as he was actually the executive chef at Commander's Palace in the 1980s.
National WWII Musuem
Located on Magazine Street in the Warehouse District, the National WWII Museum is an interesting stop to learn all about the American effort in World War II. It was designed by the author of Saving Private Ryan and the 4D movie Beyond Boundaries that is played in the museum is narrated by Tom Hanks. You don't have to be a history buff to get something out of this museum, but If you are a history buff, you will love it.
New Orleans Museum of Art and Sculpture Garden
With so many must-see attractions in NOLA, the New Orleans Museum of Art (NOMA) and Sculpture Garden may not be at the top of your list. But the sculpture garden is worth seeing. Spanning across 11 acres the gardens represent two giant wings.
The Sydney and Walda Besthoff Sculpture Garden is one of New Orleans's newest attractions and visitors can stroll through a serene environment of bridges and walkways connecting gardens and large-scale sculptures featuring a Mirrored Labyrinth, a sixty-foot-long mosaic wall ad LOVE Sculpture, and other modern art pieces.
NOMA has located at City Park. This tranquil setting is filled with 700 year old oak trees and the route from the French Quarter along Esplanade avenue houses picturesque oak trees lining the streets filled with Creole Cottages.
Day Trips
When visiting New Orleans a trip to a good old plantation should be in the cards. This tour gives a great taste of Louisiana Plantations and the swamp. The day starts at one of three plantations, Laura Creole, Oak Alley Antebellum, or Whitney Museums Plantation. You'll be picked up from your New Orleans hotel and taken to the plantation of your choice. After you have toured one of the plantations, you'll head out on a swamp tour where you'll explore the backwaters of the Louisiana Wetlands.
Oak Alley Plantation – When visiting Oak Alley Plantation you'll visit the Big House and exhibit to learn about the lives and struggles of slaves on the sugar plantation. As well as life after Emancipation. Oak Alley is one of the most popular thanks to its rows of majestic oak trees leading up to the plantation.
Laura Plantation – At this plantation, you'll visit the Big House and slave cabins plus the gardens as well as the Banana Grove. You'll have the opportunity to purchase arts and crafts and the gift shop and see the museum to learn about the daily lives on this sugar plantation.
Whitney Plantation – See the Creole cottage and last French Creole Barn with the oldest detached kitchen in Louisiana. There are thousands of first-person slave narratives giving a voice to the slaves who lived there.
New Orleans Hotels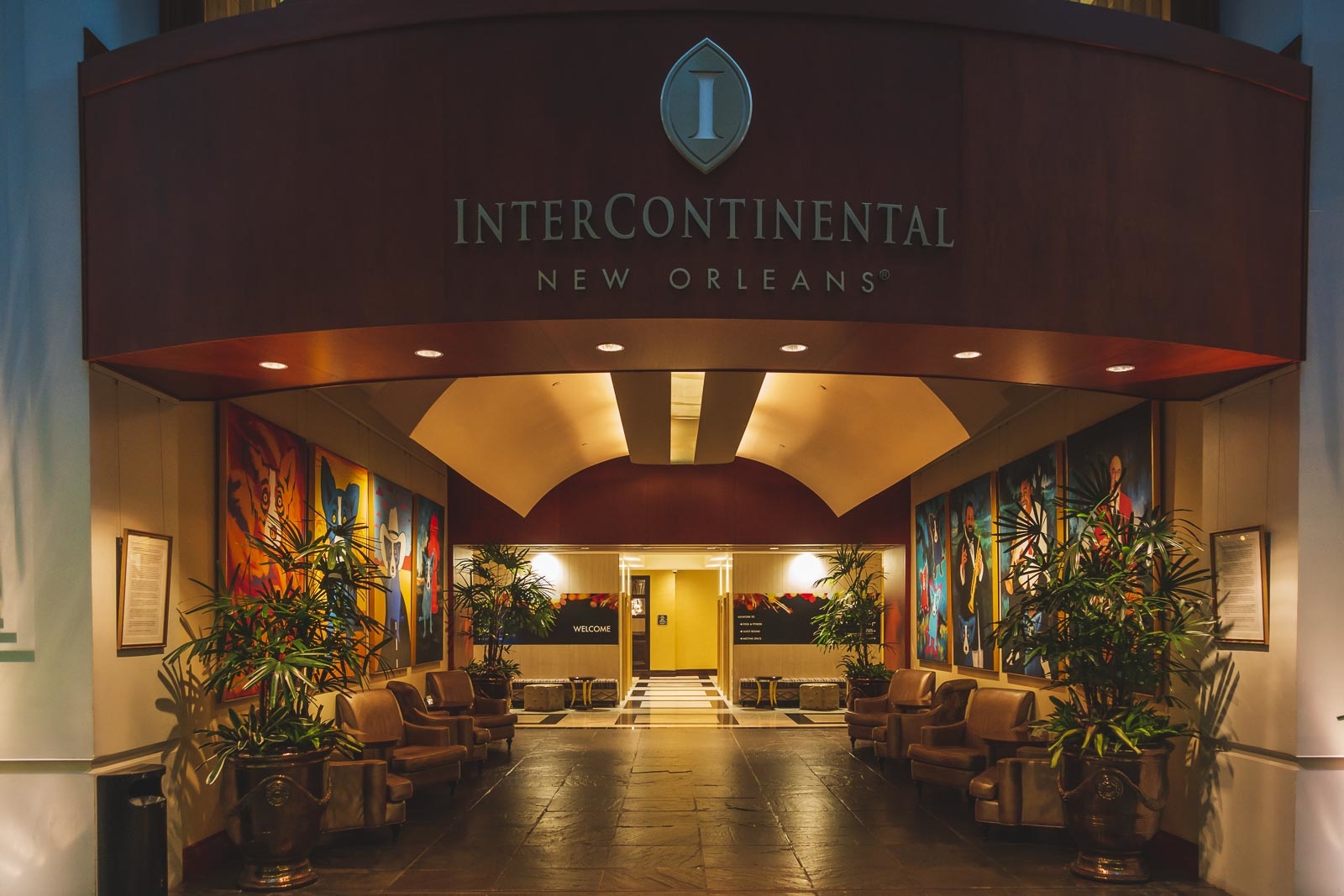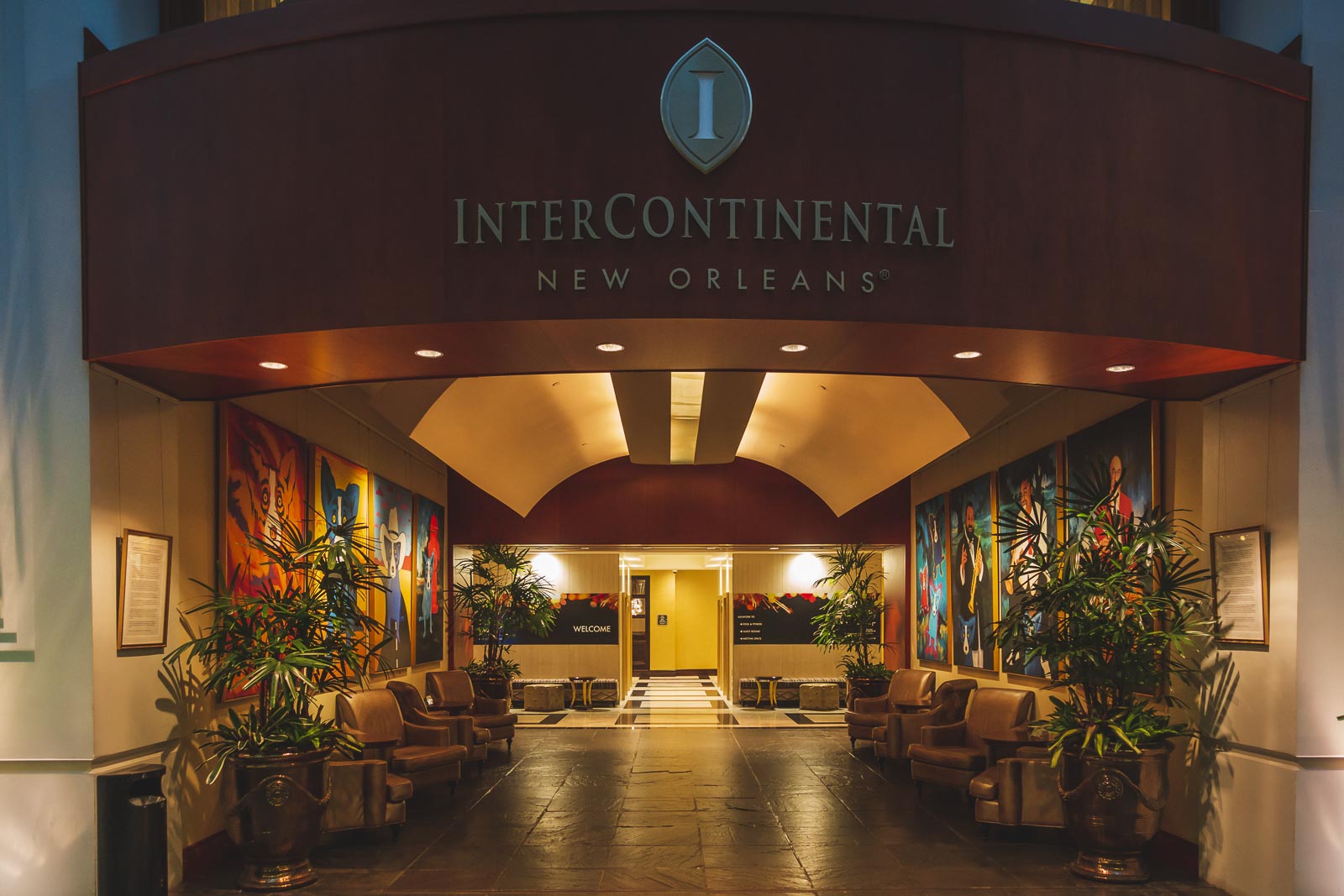 The InterContinental New Orleans in the Central Business District is just minutes from the French Quarter, we walked there every day. We couldn't have chosen a better location. We have stayed in the French Quarter before and while it is excellent to be close to all the action, we enjoyed being in the Central Business District to step away from the hustle and bustle. Plus we used our rewards through IHG© Rewards Club and got a sweet upgrade to the presidential suite!
W Hotel New Orleans – French Quarter – Staying at the W Hotel gave us the freedom to walk or take an Uber. Located in the French Quarter, but far enough away from the frantic energy and loudness, we had a tranquil stay in the heart of the action. Its modern design and New Orleans-inspired themed rooms made us feel like we were having an authentic and sophisticated NOLA experience.
Balcony Apartment on St. Charles Street – If you are looking for an apartment stay in New Orleans, this lovely apartment rental has its own balcony on St. Charles Street. The Streetcar is two stops to the French Quarter. It is newly renovated, sleeps four, and is the perfect place for people watching from the balcony.
Whatever you decide to do in New Orleans, you won't be disappointed. It is definitely one of our favorite destinations in America. While many people go to party and believe me, they know how to party, Dave and I had an amazing time learning about the city and its history, gorging on food, and walking through the streets. Once you visit New Orleans, it will be sure to pop to the top of your favorite destinations in America as well.
Have you been to New Orleans? Let us know what we missed so we can add it to our list of must-see things when we go back.
If you enjoyed all these must-see attractions in New Orleans, save it to Pinterest for future travel planning.