When we look back on the year that was, it's hard to believe that we travelled to 22 destinations on five different continents in 2017.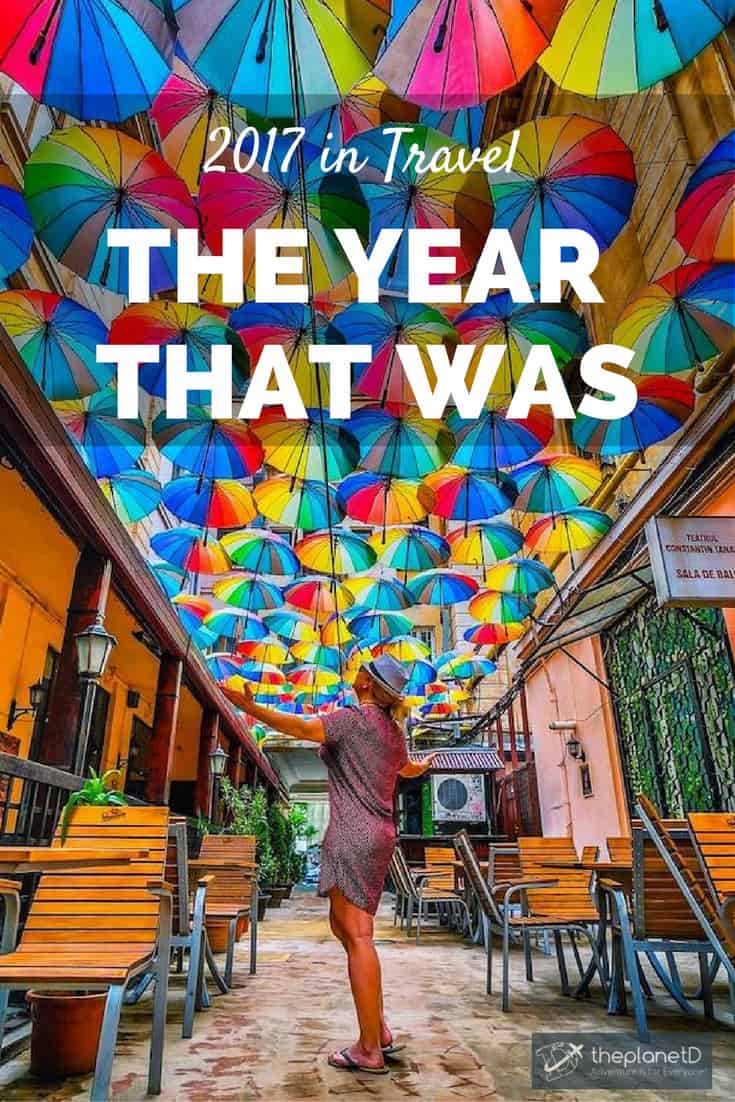 It was our plan to slow things down a bit, but when amazing opportunities come up, how can you say no? From horse treks in Kyrgyzstan to basking in the sun in Fiji, we had one adventurous year of travel.
 The Year that Was – Our Video Journey
Welcome to 2018!
We took the holidays off for the first time in years and barely spent a moment on the Internet.
Instead, we caught up with friends and family, worked on decorating our new place and had a blast finding new furniture after being full time nomads for the better part of eight years. We have settled into life in Toronto, but the will travels will continue.
What's ahead for The Planet D
On January 5th we leave for Puerto Rico for a rebuild trip with The Points Guy.
If you remember, we were named one of the Top 10 travel influencers of 2017 by Forbes Magazine and he was the number 1 guy! We are thrilled to finally meet him in person. And for a great cause!
What better way to bring in a new year by doing something to help others.
Puerto Rico is still suffering, but they are resilient.
While there, we will be doing some volunteer work, visiting a children's hospital we will be attending the Three Kings Festival to celebrate the rich culture, cuisine and holiday festivities of the island
Our first two months of 2018 travels will take us to Puerto Rico, Vegas, New Orleans, California and possibly Qatar. There are many destinations and adventures planned for the year. We will never stop traveling, but we are going to live a more balanced life.
A Life in Toronto
We look forward to writing about our transition from full time nomads to having a home base for the first time in 9 years in Toronto. Our last travels of 2017 ended on December 23 and we have only been in our home for 11 days. It has already been a huge transition as we shop for furniture and find the local supermarkets and coffee shops.
We look forward to sharing our stories of what life is like at home and abroad. And we look forward to collaborating with our travel community. Toronto has one of the best communities for travel bloggers, writers, YouTubers and influencers and we look forward to bonding with everyone.
So here's to the New Year and  ring in 2018, we thought we'd round up the best of 2017. It's always fun to look back and be reminded of the fun times we've had around the world.
2017 – The Year that Was
It was an epic trip in -30 degree weather where we drove snowmobiles from Quebec City to a small Cree community near James Bay.
January: 1000km Snowmobile Adventure to Northern Quebec, Canada
Located in the heart of Quebec City, the First Nations settlement of the Wendake People, is located just 15 minutes from the old town.
We were joined by Sebastian – one of the Chiefs of the Wendake and the head of Aboriginal tourism in Quebec for our 1000km journey that took us through three different Aboriginal communities; The Wendake, Innu and Cree Nations.
We learned of the traditional ways that the people of the north still live today and had a great adventure through Northern Canada.
Read all about it at: 1000km Snowmobile to Cree Nation
February: Jamaica
February is the perfect time to escape the winter and head for the Caribbean. One of our favourite islands is Jamaica. There are so many things to do in Jamaica and we had an amazing week of adventures.
We spent time on the South Shore of the Island and fell in love with its laid back attitude far away from the package tourists hanging out in the all-inclusive resorts.
Did you know you can go on safari in Jamaica and see their crocodiles on the Black River? We visited the Pelican Bar in the middle of the Caribbean and we went hiking up to Lover's Leap for incredible views of the South Shore.
Check out our full post at Feel the Vibe Jamaica
March: Scotland's North Coast 500
We have always wanted to visit Scotland and we love a good road trip. So the North Coast 500 was the perfect trip for us to take in Scotland.
The North Coast 500 is a 500 mile drive around the Northern Coast of the country offering amazing views and fun adventures. From wildlife tours, scotch tastings, coastal hikes and historic stops, two weeks was barely enough to scratch the surface of everything to see and do on the North Coast 500.
See the full beauty of the NC500
We visited battlefields, beaches and giant caves. We spied wild stags and the beautiful Highland cattle. We fell in love with Scotland and visited the land of our ancestors while learning about not only the country's history, but our own family history. 
Check out our Essential Guide to the North Coast 500
April: Virginia Beach
We didn't know the first thing about Virginia Beach when Matador Network asked us if we'd like to go and help them promote the area. We're always up for an adventure and love visiting new places, so naturally we said "sure!"
It turns out that Virginia Beach is an awesome American travel destination. The city has 35 miles of coastline, and the main tourist beach is a pristine sandy beach complete with a three mile boardwalk.
You could spend all your time at the beach, but you must do the adventures.
We went backwater kayaking, flew a WWII biplane, went out on an oyster boat and took on the high ropes at the adventure park. The food there is excellent with fabulous fine dining choices, distilleries and microbreweries.  If you want to relax or have an adventure, Virginia Beach has it all!
Read: The Best Things to do in Virginia Beach
Istanbul
We spent a lot of 2017 in the Istanbul Airport. We flew through it 6 times! The good news is we love that airport and adore hitting the lounge to chill out and wait for our flight.
Watch Istanbul Airport – Lounge Tour and you'll see why it's our favourite
In April we went to Istanbul to speak at the Inflow Travel Summit. We always love visiting that city, it is one of our favourites. Where old meets new and where Europe and Asia intersect, Istanbul is a must for adventurous travellers.
If you plan on going to Istanbul, you may want to read 12 Things to do in Istanbul
Tuscany
Haven't you always wanted to stay in a Tuscan Villa? We had the chance to meet the wonderful Elena, a woman that opened a 23 room Tuscan villa to tourists in the 1990s. She's straight out of the book "Under the Tuscan Sun!"
For a week we travelled around Tuscany sipping wine, taking in the landscape and even taking part in a cooking class with Elena at her spectacular villa. It is the ultimate romantic escape and every couple should visit Tuscany at least one in their lives.
See our full experience here: A Tuscan Villa in Chianti
Book your stay at Borgo Argenina 
May: Costa Navarino Greece
It was while traveling through Italy that we received an email from Costa Navarino to come and enjoy a few days at their property. We weren't sure if we wanted to go because we were on our summer vacation taking time to travel on our own away from the obligations of work.
But they were persuasive and talked us into a five-day stay at the luxurious resort.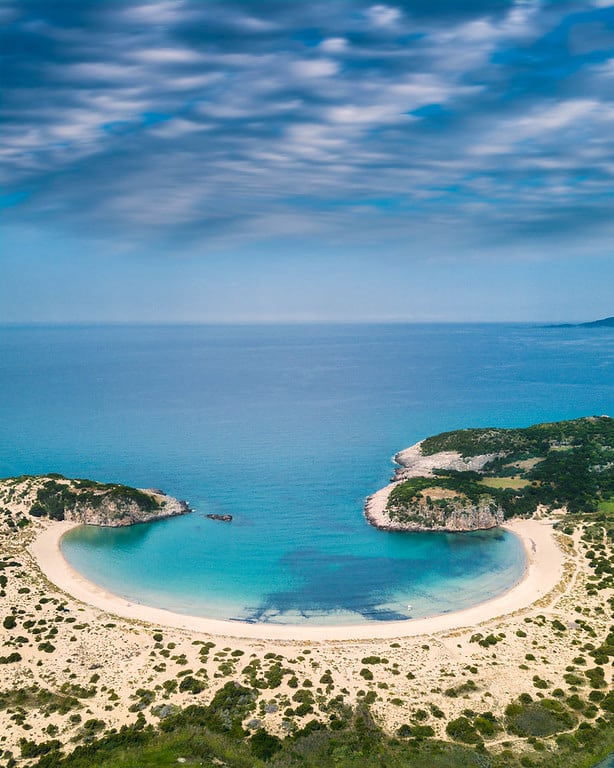 When we arrived were we ever glad we accepted. This is the ultimate luxury destination where Kings and Queens, Sheiks and Movie Stars frequent.
Not only is it luxurious, it is filled with cultural experiences, amazing ancient ruins, great adventures and a spectacular coast with the most beautiful beach we've ever seen.
See the adventures we had in Costa Navarino
Back to Italy
Dave and I got a wicked deal booking a car rental through Ryan Air. We paid $75 for a Fiat 500 for 10 days. The Fiat 500 is perfect for a road trip through Italy and we made a b-line for the Amalfi Coast. We always wanted to know what all the fuss was about. And it lived up to the hype!
We splurged on a $300 a night room overlooking the beach and Amalfi town and it was worth every penny. If you are going to stay in Amalfi, you need to do it right in luxury and in the heart of it all. The prices are outrageous, but you'll regret staying outside the city. It's amazing to wake up in the morning and sip coffee on your balcony while watching the sun rise over the most extraordinary settings in Europe.
See our tour of the Amalfi Coast on YouTube
Make sure you rent a car and take day trips to the surrounding towns. It is so much fun to drive and stop whenever you want to soak in the views!
June: Bucharest
From Italy we popped over to Bucharest to speak at another conference. Visit Bucharest ended up being an extremely successful conference bringing together hundreds of travel bloggers to discuss social media and the business of blogging.
But it also showcased the beauty of Bucharest and Romania.
The brainchild of Tudor Maxim, Visit Bucharest won awards for its innovative campaigns and created a fantastic travel experience for the people who attended.
We not only took part in rally car stunt training, Dave and I also rented a car and booted around Romania for a bit.
The last time we were here was during the Mongol Rally and we never did get to discover too many tourist destinations. We made sure to see the top sites this time around.
June: Bermuda
We had the privilege of visiting Bermuda to watch the Americas Cup race. Team Oracle invited us to watch them try to defend their title as they took on Team New Zealand in the ultimate race on water.
We learned all about the technology used to make these yachts zip through the water. The US Team Oracle was sponsored by Airbus who used their aeronautics technology from airplanes to create the latest innovations for yachting.
It was fascinating and fun and we got to visit beautiful Bermuda for the very first time.
July: We stayed Home
We took the month of July off to cat sit for my (Deb's) parents while they spent a month traveling the world. It was so much fun for us to be home and having a regular schedule. We loved it so much, it was the catalyst for us finally settling down and getting our place in Toronto.
Once you've been on the road for several years, you yearn for a place of your own.
August: Tanzania
We have had the good fortune of doing a few different safaris in Africa, but we had never made it to the ultimate safari destination; the Serengeti.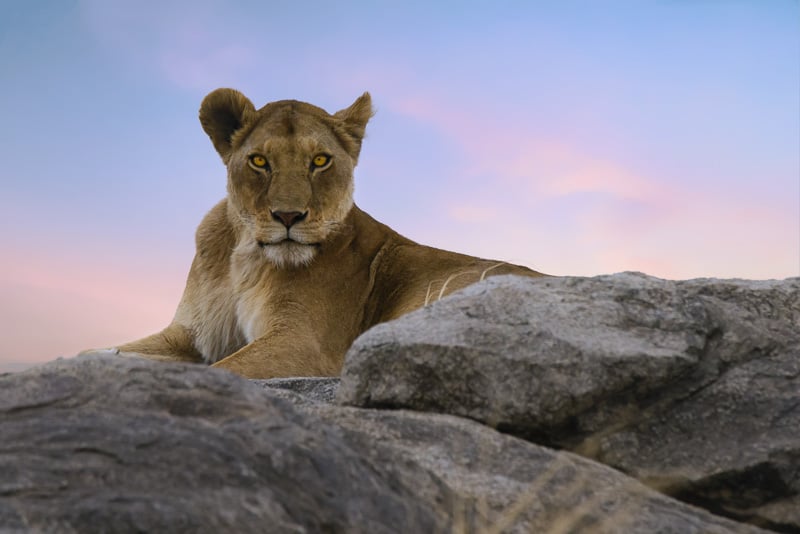 When Go Ahead Tours asked us where we'd like to tour with them next after finishing up a grand tour of Scandinavia with them, we decided to change things up a lot and go on a Wildlife Safari in Tanzania.
It ended up being the most fun we had all year. We had the most spectacular animal encounters where we saw 22 lions and cubs in one day, a leopard leaping into a tree, a cheetah and her cub hunting gazelles and the cutest baby elephants playing and fighting in the trees.
Our safari with Go Ahead was one of our most memorable travel experiences offering luxury, adventure and tented camping in Africa. We'll never forget the amazing trip with had.
Read all about it at: On Safari with Go Ahead – The Ultimate Wildlife Experenece
Book your own Tanzania Safari with Go Ahead Tours
August/Sept: Kyrgyzstan
From Tanzania we flew directly to Kyrgyzstan to work with US Aid to help promote tourism to the country.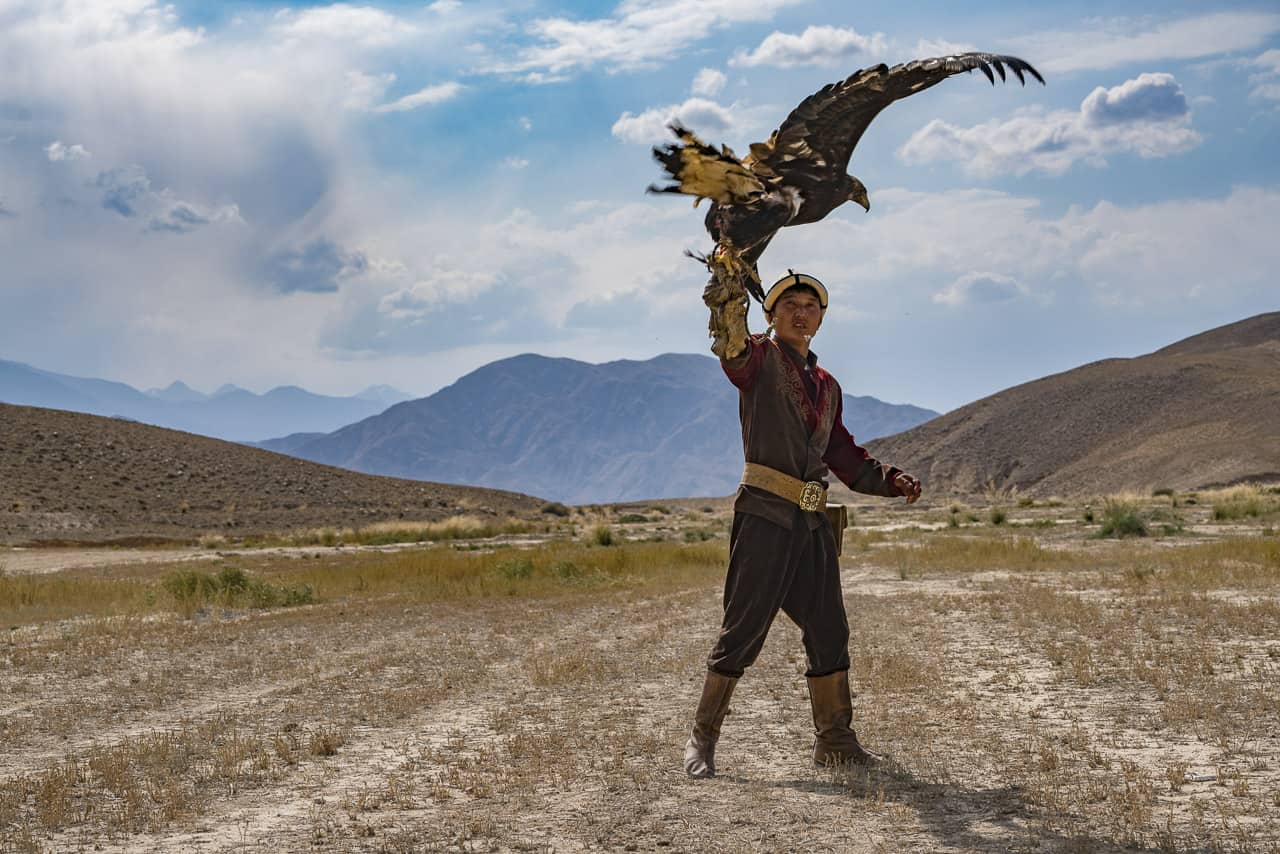 Kyrgyzstan is one of those off the beaten path destination that has yet to receive a lot of visitors. But that is about to change.
It is a beautiful destination with snowcapped mountains, glacier lakes and a rich culture. We watched eagle hunters at work went on a horse trek through the Jyrgylan region and learned how to make a yurt.
US Aid is mapping and charting new trekking destinations and in the future, it just may rival Nepal or Patagonia for hiking and backcountry travel.
To see all the amazing things we did in Kyrgyzstan read Issyk Kul Top 7 – What to do on the South Shore
For more information on Kygyrzstan visit Discover Kyrgyzstan 
October: Bhutan
When Dave and I trekked to Everest Base Camp when visiting Nepal, we always regret not booking a trip to Bhutan when we were so close.
Bhutan has a rule that tourists must spend $250 per person per day so at the time, it really cut into our backpacking budget. So we skipped it.
Cut to 7 years later.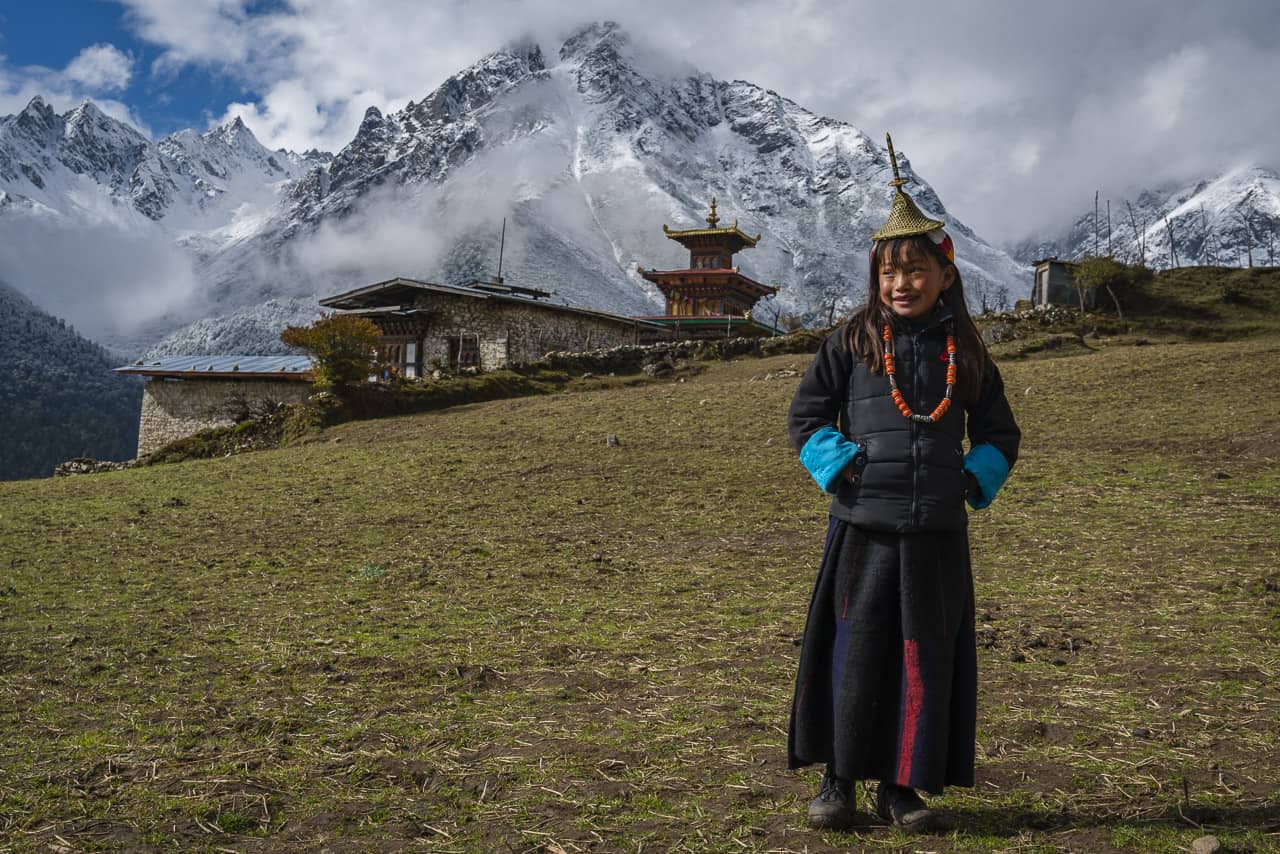 We finally made it to Bhutan. Gray Langur Tours contacted us after reading about us in the Forbes Top 10 Travel Influencers list and asked if we'd like to try out their inaugural tour to the Royal Highlander Festival.
The country was beautiful and we not only went to the Highlander Festival but we also trekked to the famous Tiger's Nest Monastery and explored Thimpu, Paro, Punakha and Laya.
Any enquiries can be made at Gray Langur Tours
November: California
We are excited to announce that we have been selected as advisors for the Visit California Tourism Advisory board.
We had our first meeting in November where we visited Sacramento for the very first time and spent two days exchanging ideas and advice on how California can work with online influencers and bloggers. We look forward to more meetings and visits to California throughout 2018.
November/December: South Pacific Cruise
We haven't had a chance to write about this yet, but for three glorious weeks, we sailed the South Pacific with Holland America on their Grand Asia and Pacific Voyage. It was an 80 day cruise, but we joined only for one leg that took us from Australia to Hawaii. In that past we haven't loved cruising, but this trip was different.
We loved being at sea and taking advantage of the spa, the gym and relaxing in the sun. This was the perfect way to end our year with a detox on the lavish MS Amsterdam.
We sipped coffee in the lounge each morning, joined in at the piano bar each evening and took part in great adventures in Sydney, New Zealand, Fiji, American Samoa and Oahu. Stay tuned for more in the coming weeks!
Check out Holland America's World Cruises
December: Washington D.C.
It was our final trip of the year in Washington D.C. Last year we went to New York City for Christmas fun with IHG Rewards Club and this year we explored another iconic American city.
We had no idea what to expect with Washington D.C. We expected it to be a dull political capital with not a lot going on. Boy were we wrong.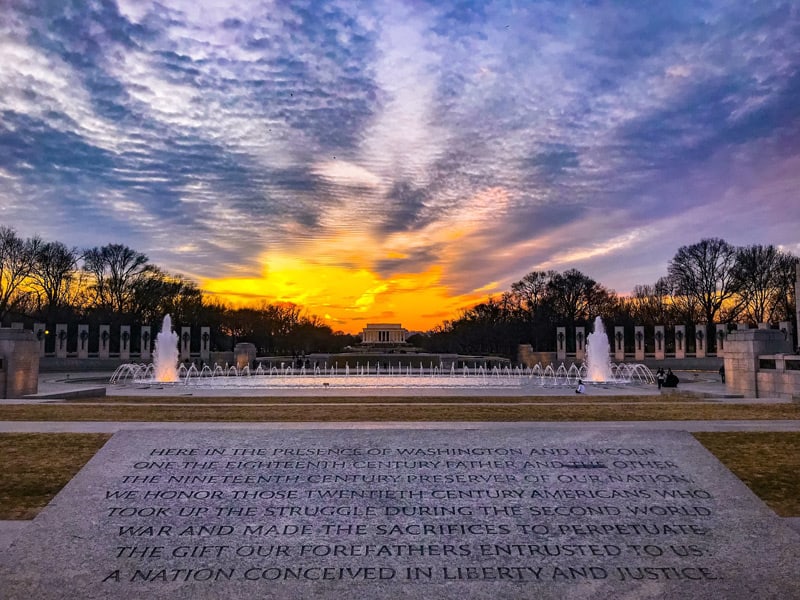 D.C. is probably one of the coolest cities in America. It's very walkable, there's a ton of history and many attractions to see. The monuments alone are worth the trip!
We managed to secure a private tour of the Pentagon and we popped into some of the most historic bars and restaurants in town. Staying at the new District Wharf had us in a central location where we could easily walk to downtown or take a short and affordable Uber ride to anywhere. Plus, there is a water taxi and subway nearby that gets you to all the major attractions.
How was your 2017? What plans to you have for 2018?
Will travels be in your future or are you like us and looking to become more grounded, making sure to spend more time with friends and family and take care of your health and happiness. Travel is amazing, but nothing can replace friends and family, health and happiness.
All the best to you in the year ahead!
---
Read Next:
How to Achieve Your Life Goals
From Travel Dream to Professional Travel Bloggers
10 Tips for Finding Work Life Balance
How to Live an Unconventional Life