The world-famous road to Hana is one of the must-do experiences when visiting Maui. It can be overwhelming deciding what to see, so we'ver rounded up all the road to Hana stops that we did on Maui's epic coastal drive.
The Road to Hana, aka The Hana Highway, takes you from the sleepy surf town of Paia to the peaceful town of Hana.
Driving the Hana Highway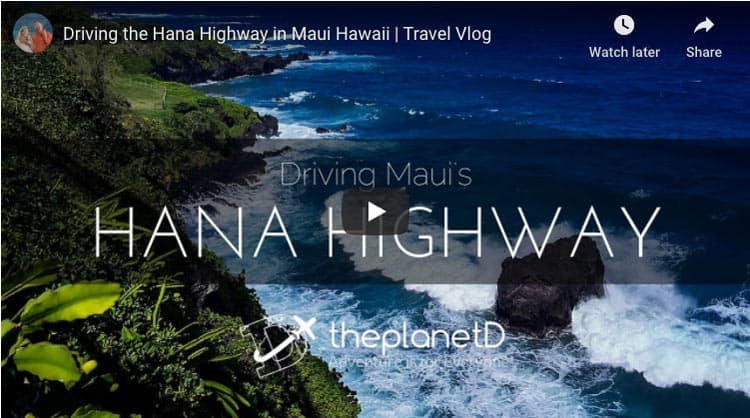 The Hana Highway is one of the island's most popular day trips, so it can get very busy fast.
We recommend leaving early and driving directly to Haleakala National Park which is about 30 minutes past Hana.
Once you have seen what you want there and around Hana, you can then spend the day slowly making your way back to Paia.
Traffic on the road to Hana from Paia to Hana is plugged and stopped later in the day.
Seeing the sights in reverse order, lets you enjoy the viewpoints and waterfalls at your own pace.
Plus, we found the views on the way back, way better than on the way out!
About The Road to Hana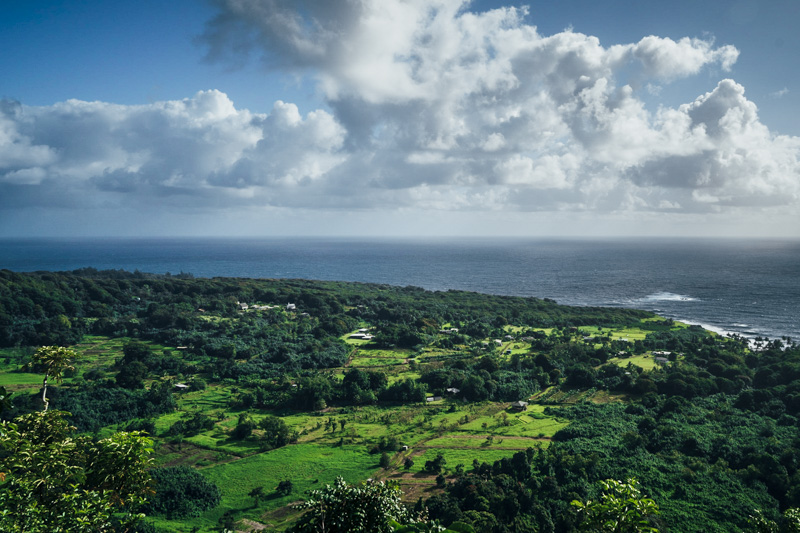 Maui's Hana Highway is considered one of the world's great coastal drives. It is only 45 miles (72 km) to Hana from Paia, but the drive can take an entire day when you stop at all the beautiful sights along the way.
The twisting road to Hana is filled with 600 hairpin turns crossing 59 bridges. The narrow road clings to the side of high sea cliffs and you often come face to face with oncoming traffic.
It's not for someone who is not used to driving, so if you don't have a lot of experience behind the wheel, we suggest taking a tour of the Hana Highway.
Making a base in Paia is a great way to start the day. Pick up a coffee at Paia Bay Coffee Bar and get a boxed lunch at CJ's diner.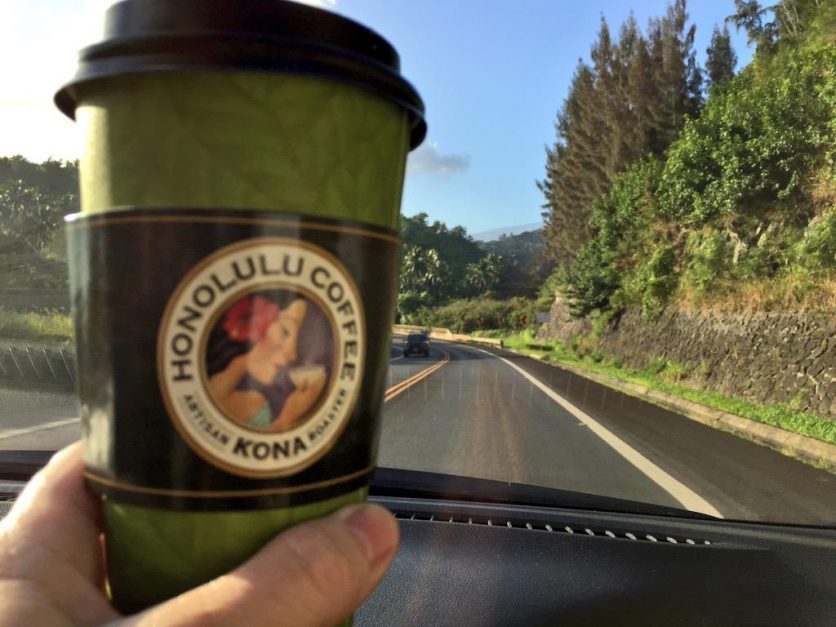 Starting in Paia, we hopped on Highway 36 towards Hana before it changes to highway 360 to Hana.
We suggest leaving early to beat the traffic. The Road to Hana can become overcrowded quickly. If you have two days, we recommend taking the full two days.
The coffee shops and restaurants don't open until 7 am, so if you want to pick up supplies for the day, we suggest doing it the night before and making a coffee from your hotel.
Haleakala National Park
This park houses the bamboo forest, the 400-foot high Waimoku Falls and the Haleakala volcano.
If you start here or plan to stay in Hana itself, this is highly recommended.
We then made our way back towards Paia for the rest of the day.
It was a great choice as we didn't' have to sit in traffic. Plus we had the Pipiwai Trail to the waterfalls and through bamboo forest all to ourselves.
We were grateful for our choice when we saw the long lines on the other side of the road.
Road to Hana Stops
Before you drive the Hana Highway, pick up The Road to Hana CD at any souvenir shop on Maui.
Turn it on in Paia and follow their recommendations as you go.
It gives a play by play of what to see and do on the road to Hana by following the mile markers along the route.
It is quite entertaining and you can listen to some local music as you drive.
Ho'Okipa Lookout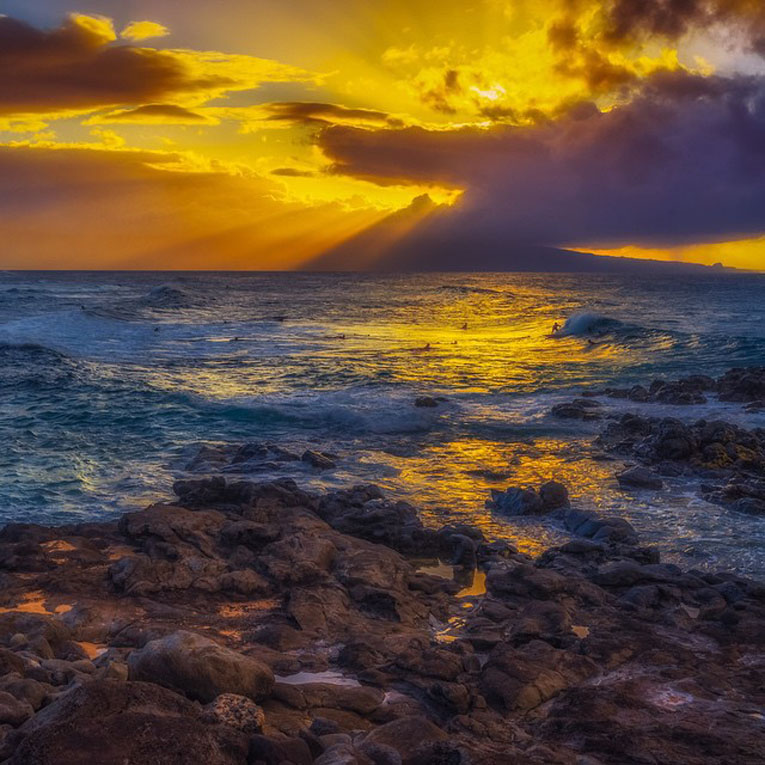 One of the first. stops outside of Paia on the road to Hana is Ho'okipa Beach Park.
You can't miss it because you'll see all the windsurfers shooting through the water.
The waves are huge here thanks to the perfect waves that break on its north shore.
So, if you are going to learn how to Kitesurf or windsurf, do what we did and go to Kahului Beach instead.
Twin Falls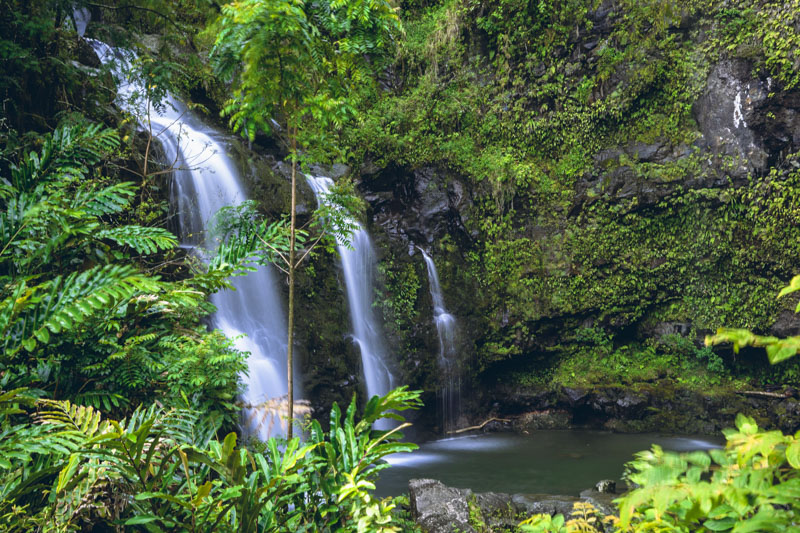 Twin falls is the first waterfall that you'll come across on the road to Hana. There are the lower falls and the upper falls and it is a short one-mile hike.
It's a great place for a dip in one of the pools. We didn't go for a swim but can you swim.
Garden of Eden Arboretum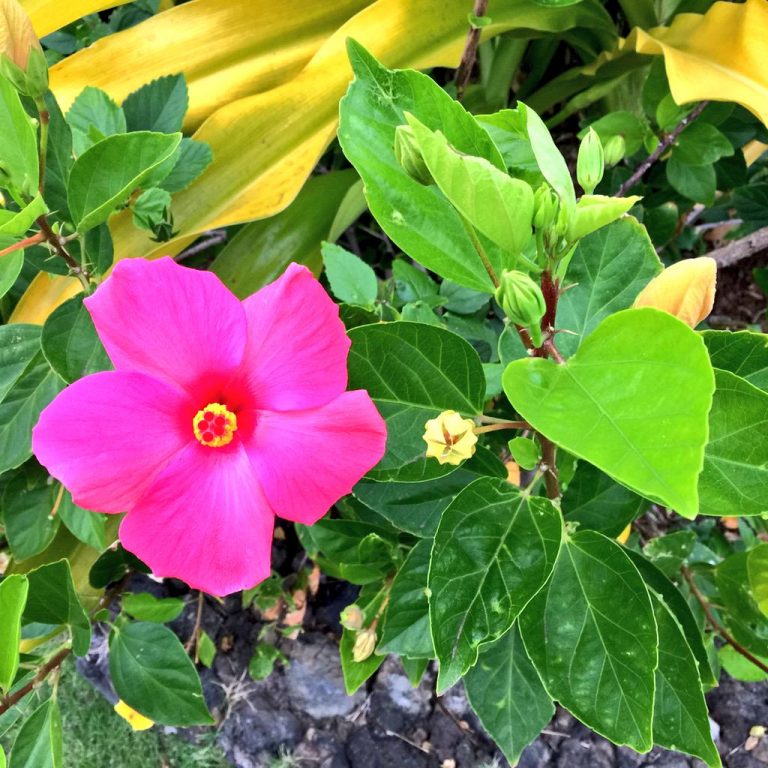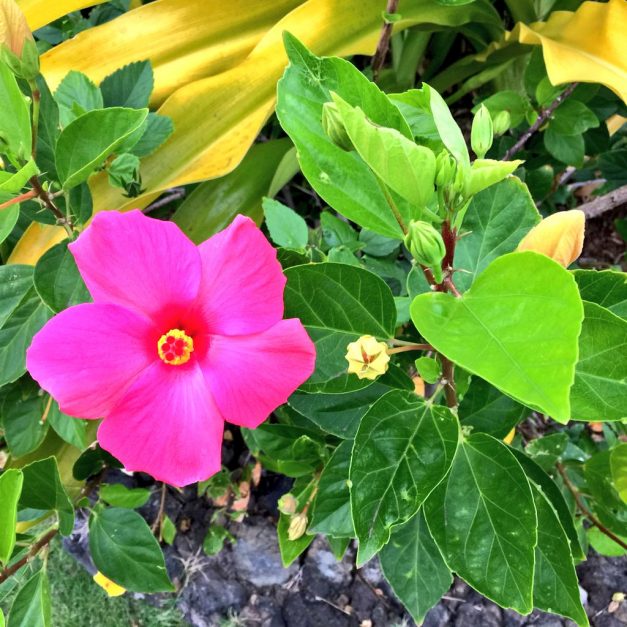 When driving the Hana Highway, it's easy to find the stops on the road as there are mile markers all along the road.
The Maui Garden of Eden is located on Mile Marker 10.
There is a charge of $15 to get in, so make sure you have the time to really explore the gardens.
There are 2 1/2 miles of maintained walking trails and you can see the Puohokamoa waterfalls from the Garden of Eden.
Ke'anae Arboretum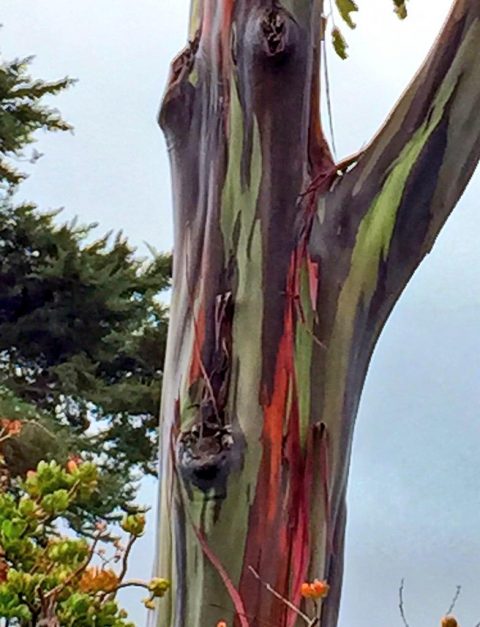 What is good about this stop is that it is free. The main attraction here are the rainbow eucalyptus trees.
We thought the Eurcaplytus trees of Maui were the coolest thing.
It's a short trail so it won't take up too much time on the Hana Highway.
Halfway to Hana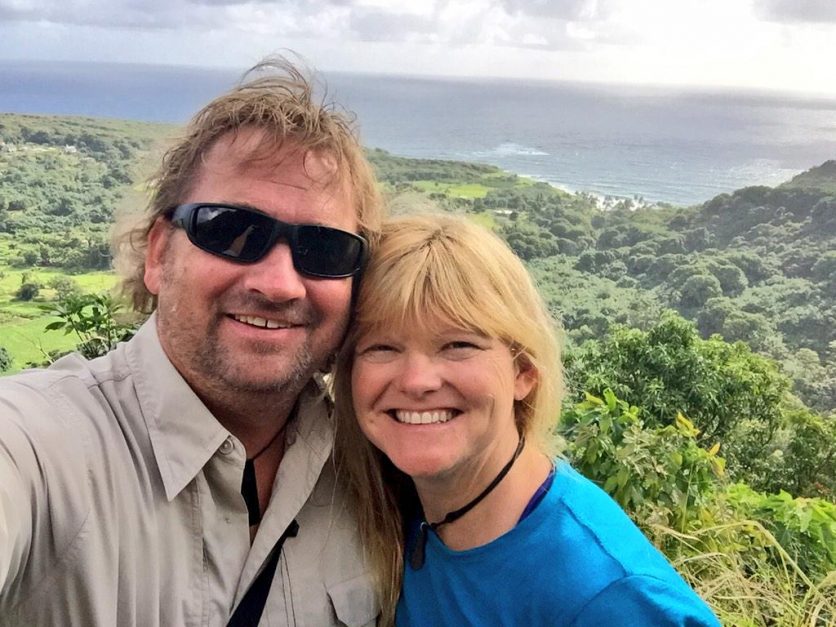 The road to Hana is short. If you leave early in the morning and drive directly, you can be through it in. 90 minutes.
But if you take your time, you might be ready for a short snack by the time you get to mile marker 17.
This little shop is known for its banana bread made from local bananas. They also sell Maui favorite "shave ice," ice cream and other snack bar favorites.
Hana Lava Tube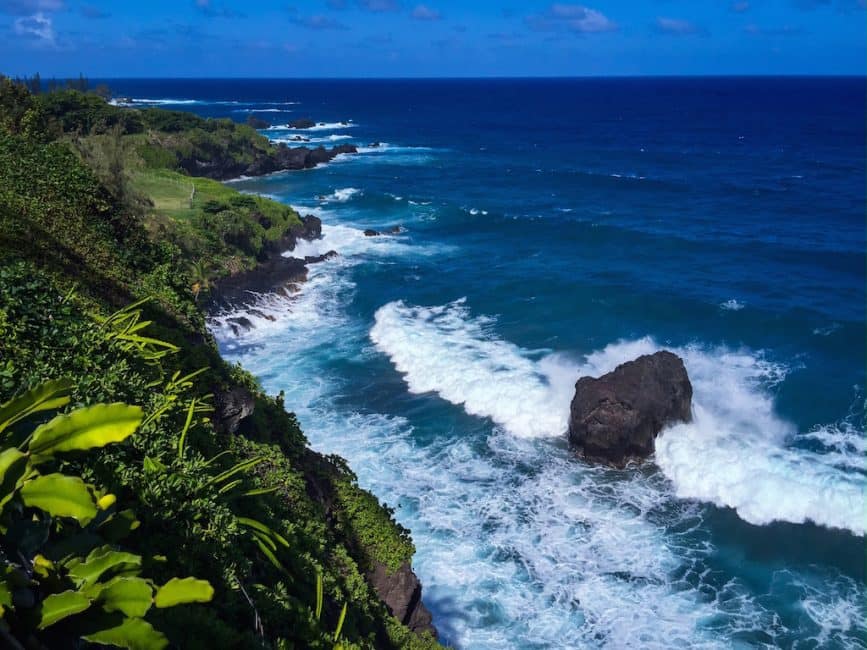 This is your chance to go inside a lava tube if you've never been. The Hana Lava Tube was formed by lava flowing to the sea for a two year period. As the outer layer cooled, the lava continued to flow inside creating a tube.
The entrance fee is $11.95 per person for a self guided tour. Give yourself an hour.
Wai'anapanapa State Park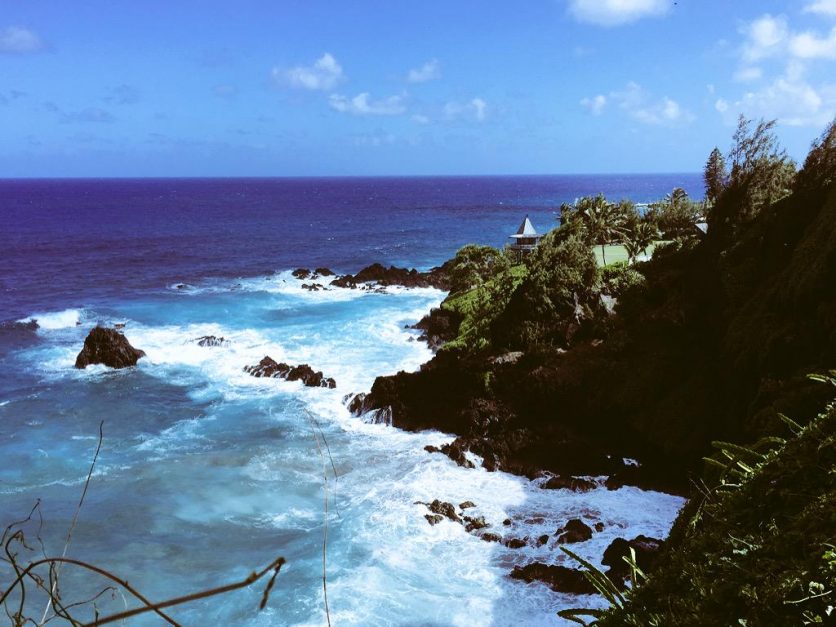 In a nutshell, Waianapanapa state park is where you get that classic photo of the Hana Highway.
With beautiful scenic viewpoints and a black sand beach, it is a must-stop for at least a photograph.
There's some hiking trails, caves and a blowhole to explore here.
Hana Town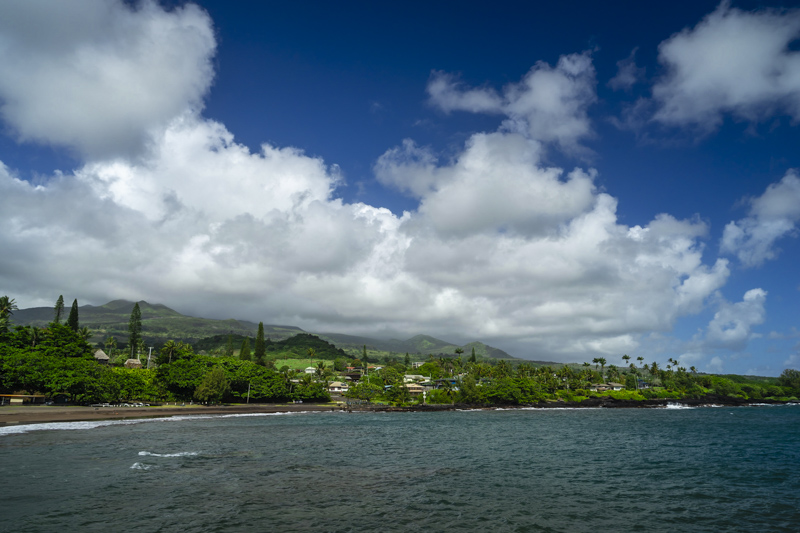 By the time we got to Hana Town, we honestly didn't know what to look for. It is a small town and we didn't really know what to do once we arrived.
But in retrospect, that is what makes it so charming, it is considered traditional Maui, I imagine this is what Paia was like a couple of decades ago.
But we have since learned that there are a few things to see like the cultural center and there is a spa.
We did grab snacks at the general store. Whenever we are on a road trip, we need food on hand.
Hamoa Beach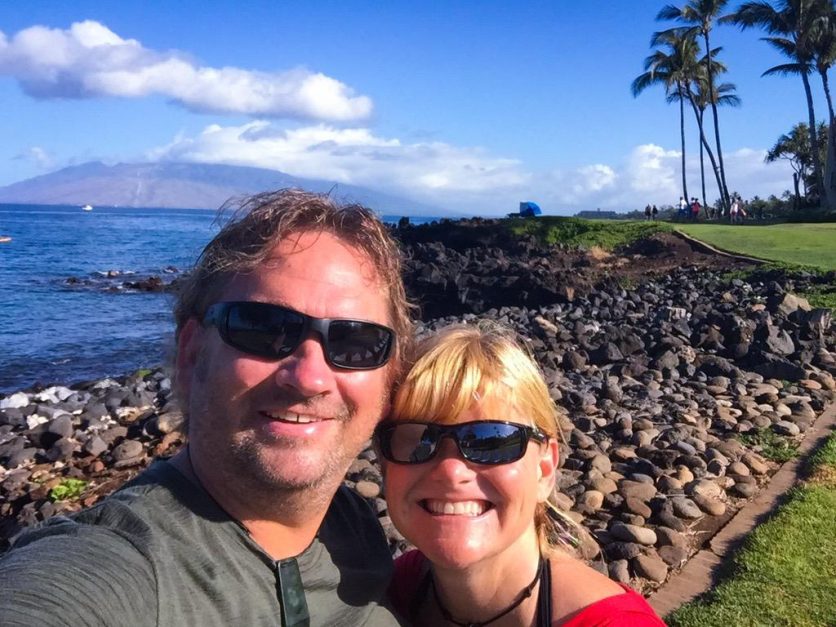 Hamoa Beach is that perfect crescent-shaped sandy beach that everyone is looking for.
There is a parking lot here, that fills up fast and you have to walk down a set of stairs to get to the beach.
The beach is owned by Hotel Hana Maui, so you will be sharing it with guests who have access to all the amenities. But there are restrooms open to the general public.
If you stay the night in Hana, this is a good beach to spend some time at.
Koki Beach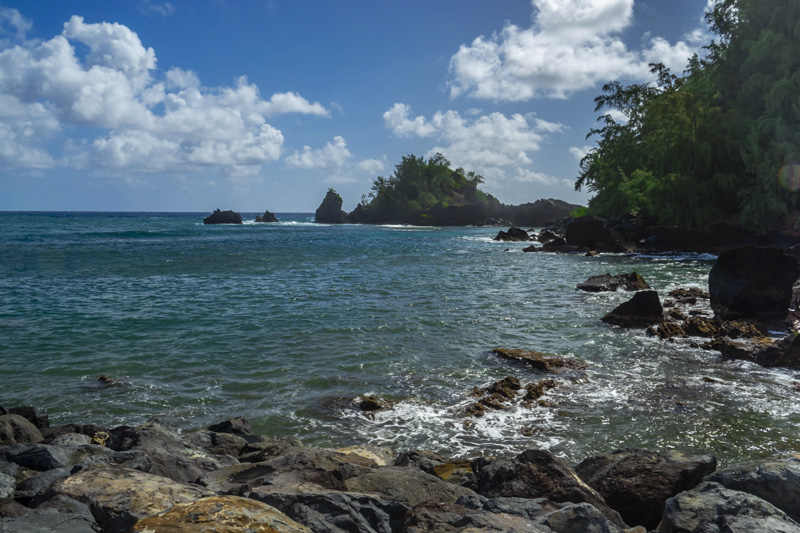 Koki Beach is a nice photo stop since it is a mixture of red, black and white sand.
It is not a suitable swimming area due to the strong currents, but it is a good photo stop.
Wailua Falls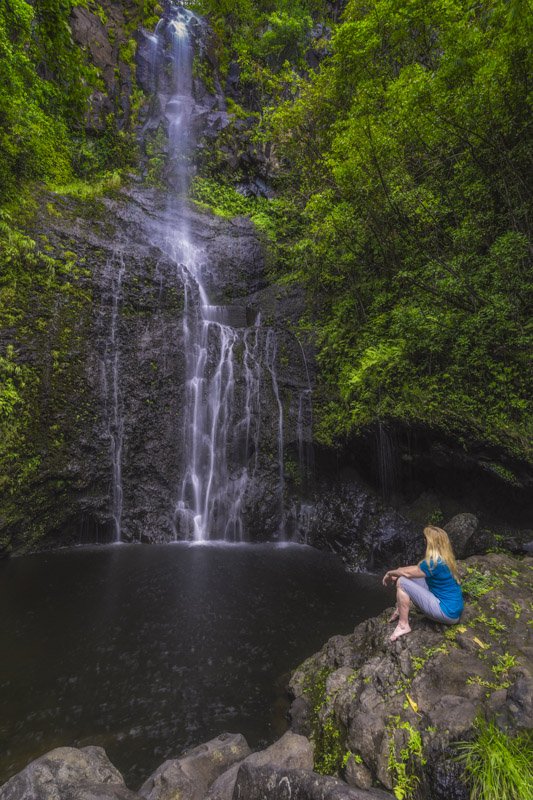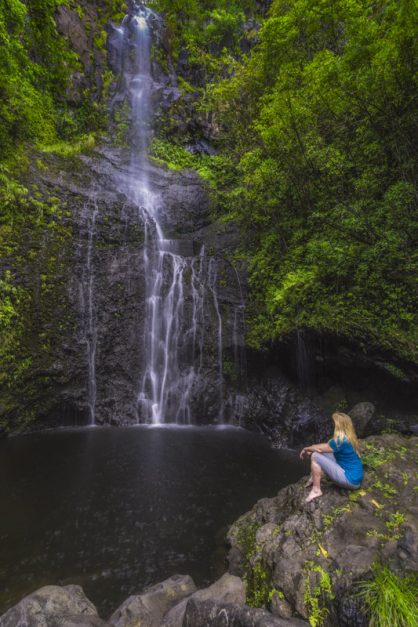 We stopped at many of the stops above on the way back.
Wailua Falls is considered Maui's most photographed waterfall and you can stop here for some photo opportunities. It's the most accessible falls on the road to Hana and it is a lovely cascade of 80 feet over a rocky jungle setting.
Haleakala National Park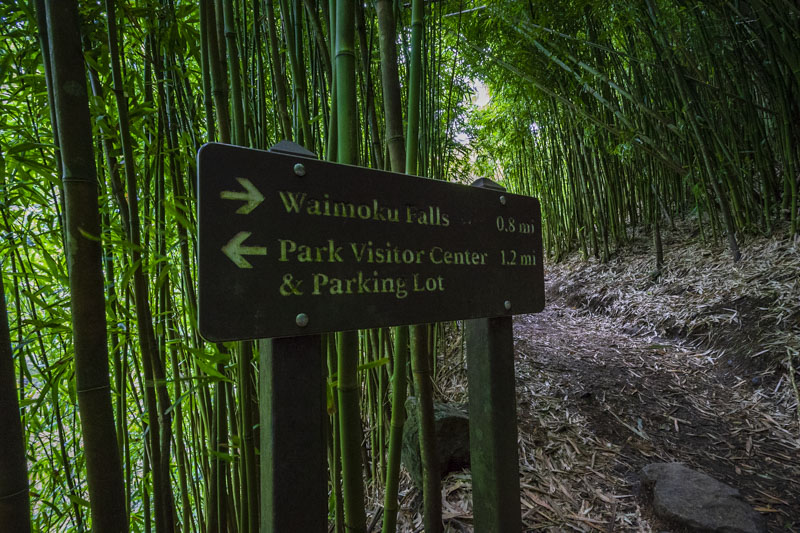 About a half hour drive past Hana is the Pipiwai Trail in Haleakala National Park.
Haleakala National Park was most definitely the highlight of our road to Hana trip.
It was where to drove directly to making stops on the way back to Paia instead of on the way out.
We really feel that this was the best option. We stopped for a few photographs along the way to have scenic views free from crowds, but we moved on as quickly as possible to stay ahead of traffic.
It was the right choice.
Pipiwai Trail
The Pipiwai Trail is an easy trail filled with scenic views.
The 4-mile hiking trail takes you to the 7 sacred pools, and an enormous bamboo forest before you reach your final destination at the beautiful and very high Waimoku Falls.
Bamboo Forest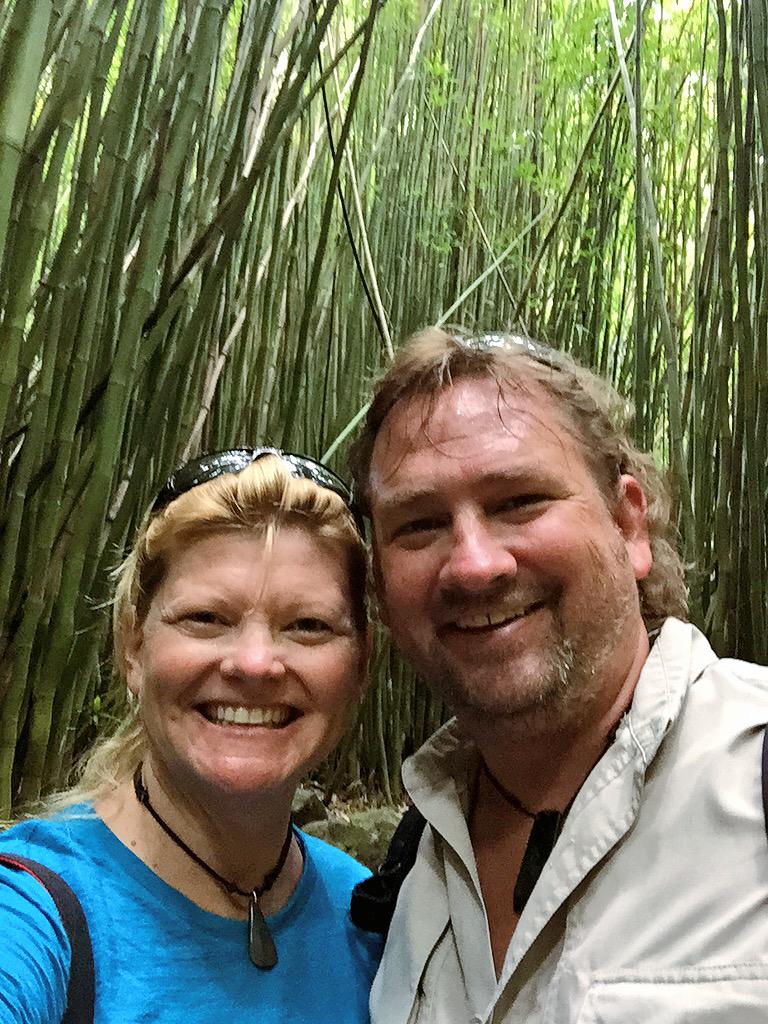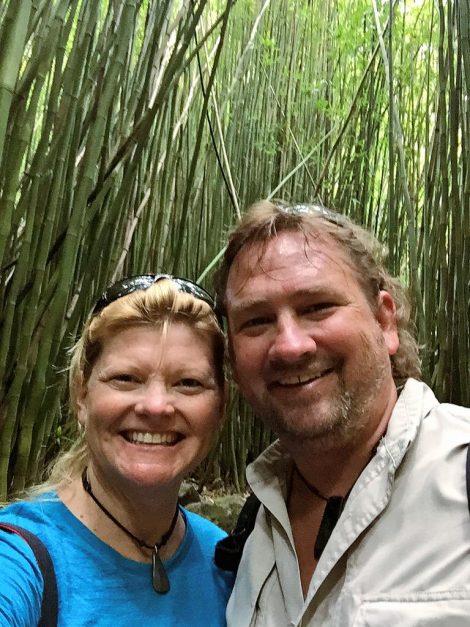 This was a highlight for us. We have never seen such a pristine bamboo forest outside of Asia. There is a boardwalk that cuts through the forest and walking trails.
The bamboo is stunning.
Waimoku Falls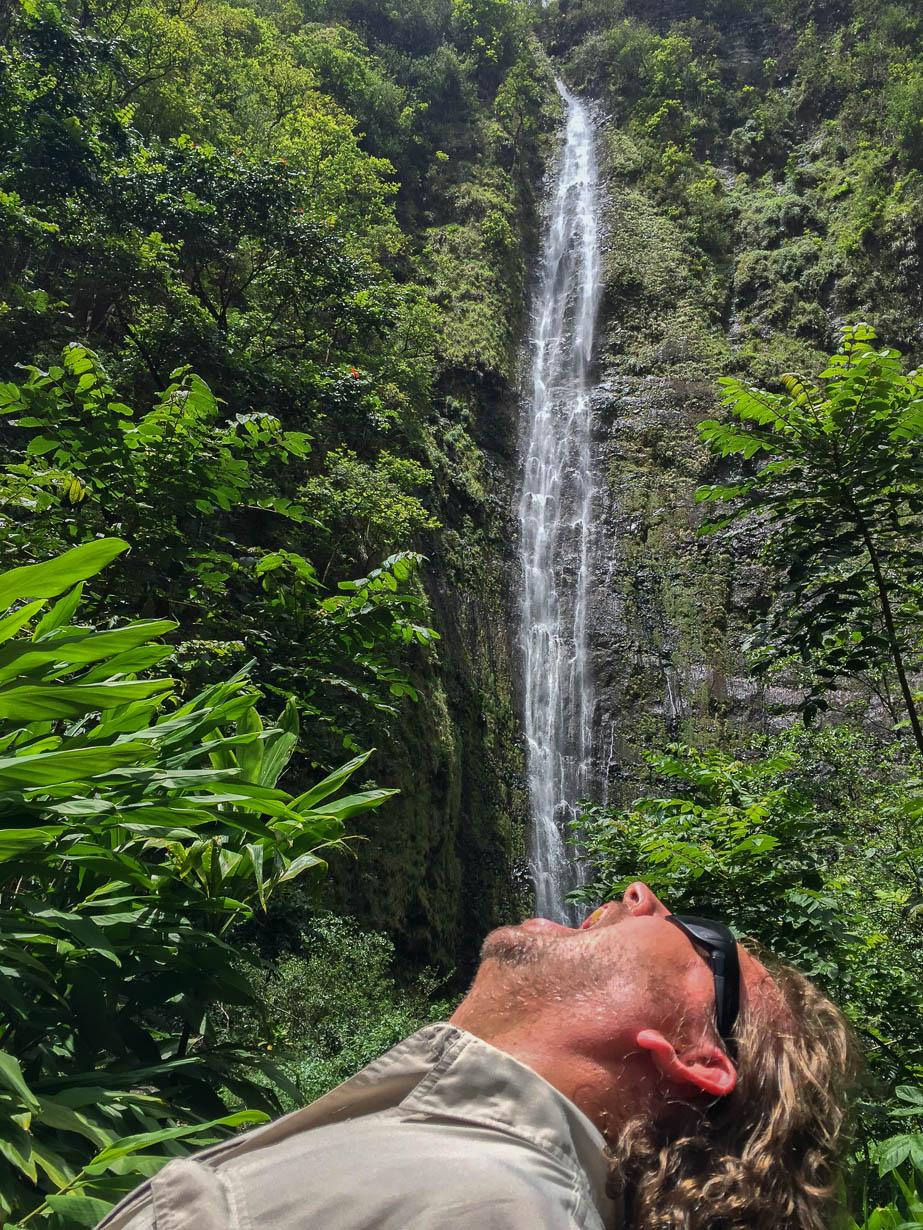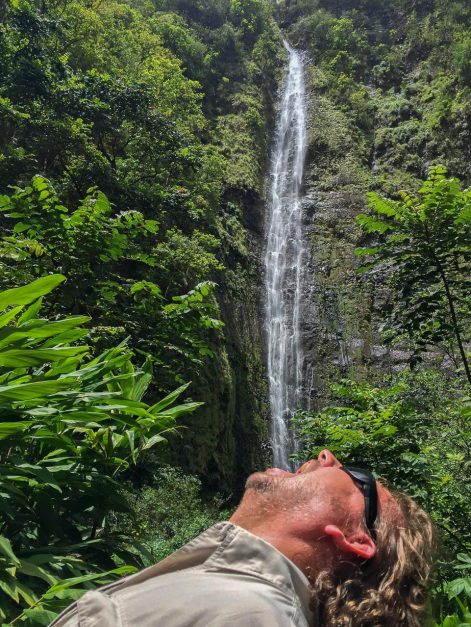 The end of the trail comes to the 400-foot high Waimoku Falls. It's postcard-perfect for photographs.
We recommend having water shoes as you'll be crossing streams. And obey the signs not to get too close to the falls. We saw other people ignoring it, but have heard that there have been deaths at these falls due to falling rock.
Seven Sacred Pools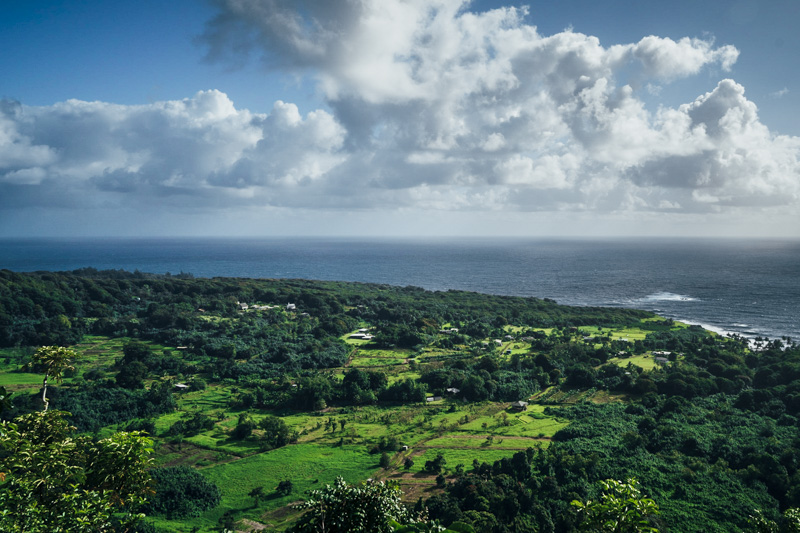 The Seven Sacred Pools (Also known as the Polls of 'Ohe'o) are one of the top attractions to see on Maui.
They can get very crowded, so it is worth getting there early. It is a lovely cascading steps waterfall. It is a short loop trail only 1km. But the trails are often closed due to
A three-day pass to the national park costs $15.
This gives you access to the Haleakala Summit so you could do that the following day.
Once you have finished up in the National Park it is time to make your way back to Paia. We recommend stopping as much as possible at any scenic lookout that you can.
We did most of the stops listed above on the way back. It was amazing to see the long line of cars stopped on the highway
Quick Tips for Driving the Hana Highway
Make sure to pick up The Road to Hana CD at any souvenir shop on Maui. Turn it on in Paia and follow their recommendations as you go. It plays some local music and it's quite entertaining to boot.
Stop in Paia to pick up a box lunch at CJ's Diner
Leave early, the roads are totally free and clear of traffic in the morning and you'll have the highway all to yourself.
Pack extra water
Make sure to have sturdy water shoes with a good grip for the waterfall trails.
We suggest taking 2 days to really explore the Hana Highway, one isn't enough to see everything. There are accommodations in Hana.
Drive directly to Hana stopping only for a few of the waterfall and scenic ocean views so that you can get to the park before the crowds.
Allow at least 2 to 3 hours in the park to explore the hiking trails and to make it out to the waterfalls.
Once you are finished in the park, make your way slowly back along the highway stopping at all the spots you missed on the way out.
Stop at the black sand beaches on your way back to Hana from the park to see the locals picnicking and surfing.
We found the highway to be a more scenic drive on the way back to Paia so enjoy your afternoon.
If you enjoyed this article save it to Pinterest for your future travel planning.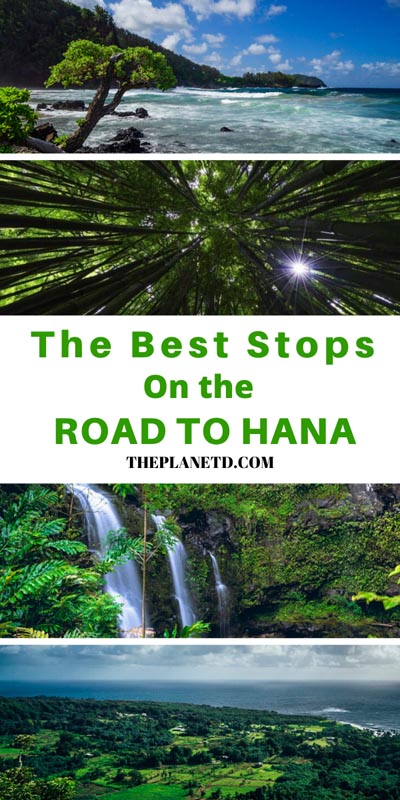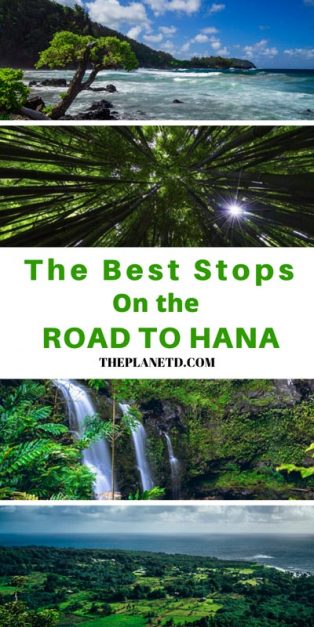 And thank you to the beautiful Fairmont Kea Lani for putting us up in their all-suites hotel in Wailea.
Read Next: