Maui's Hana Highway is considered one of the world's great coastal drives. The twisting road filled with hairpin turns crossing 59 bridges on a narrow road that clings to the side of high sea cliffs is a trip not to be missed. The Hana Highway takes you from the sleepy surf town of Paia to the isolated town of Hana.
The Road to Hana – Maui's Great Coastal Drive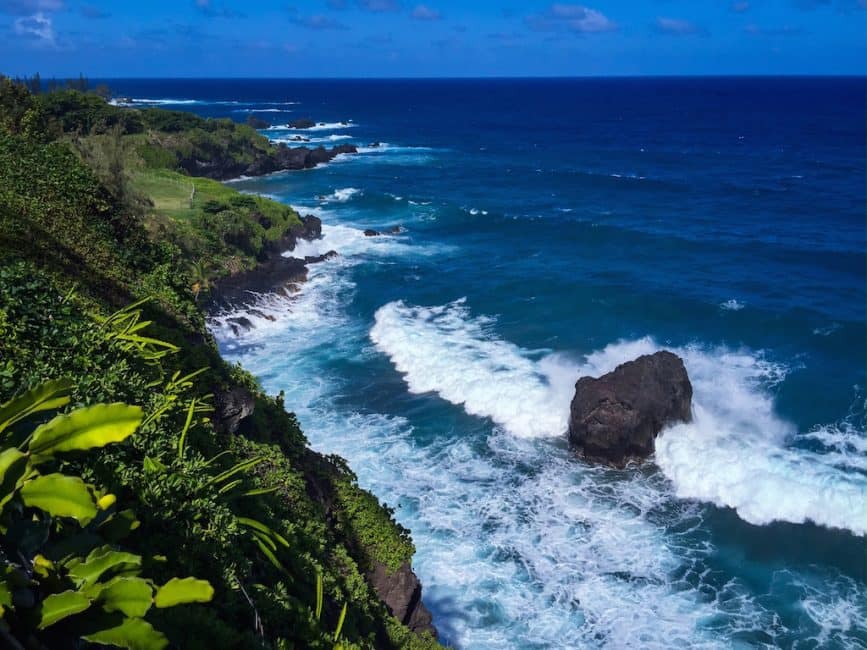 The scene is filled with lush forests, waterfalls, and sandy beaches.
There are many stops along the way to hike through forest trails or take a dip in quiet pools as you scramble across rocks in search of the perfect view of one of the many waterfalls.
But we found the real reward of driving the Hana Highway happened after the town of Hana.
Beyond Hana
Haleakala National Park is most definitely the highlight of the day.
A 45-minute drive past Hana, this park is a must stop. The 4-mile hiking trail takes you to the 7 sacred pools, and incredible giant tree in the middle of the path, and an enormous bamboo forest before you reach your final destination at the beautiful and very high Waimoku Falls.
Check out our latest video showcasing our drive on Maui's Hana Highway and Beyond.
Make sure to subscribe for weekly travel videos! 
Quick Tips for Driving the Hana Highway
Make sure to pick up The Road to Hana CD at any souvenir shop on Maui.  Turn it on in Paia and follow their recommendations as you go. It plays some local music and it's quite entertaining to boot. A Big thanks to Air Maui for lending us the CD for the day.
Stop in Paia to pick up a box lunch at CJ's Diner
Leave early, the roads are totally free and clear of traffic in the morning and you'll have the highway all to yourself.
We suggest taking 2 days to really explore the Hana Highway, one isn't enough to see everything. There are accommodations in Hana.
Drive directly to Hana stopping only for a few of the waterfall and scenic ocean views so that you can get to the park before the crowds.
Allow at least 2 to 3 hours in the park to explore the hiking trails and to make it out to the waterfalls.
Once you are finished in the park, make your way slowly back along the highway stopping at all the spots you missed on the way out.
Stop at the black sand beaches on your way back to Hana from the park to see the locals picnicking and surfing.
We found the highway to be a more scenic drive on the way back to Paia so enjoy your afternoon
And thank you to the beautiful Fairmont Kea Lani for putting us up in their all-suites hotel in Wailea.
Check out, Maui in Photos and How to Make Hawaiian Style Poke
You Might Also Enjoy