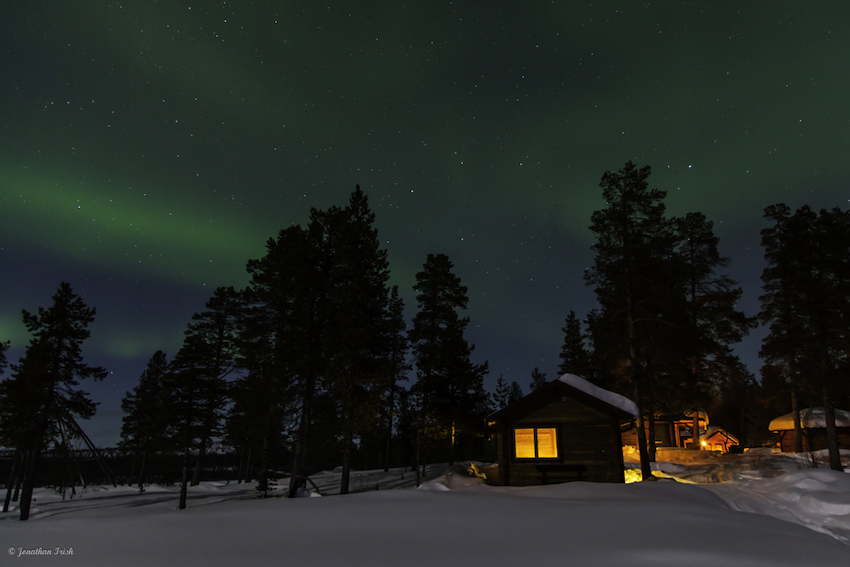 I've written about the Northern Lights (Aurora Borealis) before, but the last was in Iceland. I recently had the great privilege to travel to Sweden above the Arctic Circle on assignment for Nat Geo and go dog sledding (which is one of the most fun things I've done in all my travels….and another story for another time).
The Northern Lights of Arctic Sweden
I had expected to see the Northern Lights while in the far North of Sweden. But what I hadn't expected, and what ended up happening, was a nightly show of this beautiful nighttime phenomenon. Yup, that's right…I am sorry to rub it in, but I saw the Northern Lights EVERY night on my trip. I couldn't believe it….what luck!
Camping in Tanzania
If I can diverge for a second…bear with me. The first time I went to Tanzania, I was camping on the rim of Ngorongoro Crater, and I remember getting up in the middle of the night to go pee. While I was peeing, I looked up and there, in the window in front of me, which was completely open and was basically three feet from my face, was a zebra looking at me and watching me relieve myself.
I remember thinking: "Now that's East Africa. A guy can't even take a pee in the middle of the night without seeing some wildlife." Why do I bring this up now?
Because a similar thing happened to me in Sweden, only it involved late-night relief under the Northern Lights. Yup, that's Arctic Sweden….a guy can't even take a pee in the middle of the night without seeing the Northern Lights. But I digress…
How to Get the Shot
Now, you would think that, because I saw the Northern Lights every night I HAD to come back with at least one good shot, right? Well, not really. First, in order to get this shot, I had to stand in minus 20 degree (Fahrenheit) weather for hours at a time. That's COLD!
I wasn't even sure if my Canon 5d Mark II camera would operate at that temperature (Canon officially rates it to operate around +30 degrees Fahrenheit). Turns out, my camera worked great (despite a very short battery life in such cold weather).  
And then there's the issue with the motion of the Northern Lights, which move and transform quicker than one might think, and make long exposures sometimes challenging. All in all, it wasn't easy…but as photographers we aren't allowed to make excuses, just make pictures.
I really like this shot for many reasons. First, I like the warm glow of the sauna against the chilly snow. (yes, that's a sauna…and yes, I did go into it after spending hours in the freezing cold taking this shot). The warm glow of the sauna brings life to the image….it's not just trees and sky, people actually live here.
I also like the trees framed in front of the Northern Lights in the sky. Somehow, both the Northern lights and the trees are accentuated by their placement in the image. Which, by the way, is something I learned when shooting the Northern Lights….having a good foreground is really important. Lastly, I love the Northern Lights themselves, with the stars in the sky. It's an ethereal view, right?
Have you seen the Northern Lights? If so, where? And if not, when are you planning to? Gotta check this off the life-list….they definitely live up to their reputation.
Jonathan Irish is a seasoned travel photographer who has traveled to over 65 countries and specializes in photographs of people, landscapes, abstracts, and, above all, cultures abroad. His work has appeared in various National Geographic publications, and he is represented by National Geographic's Image Collection www.NationalGeographicStock.com/jonathanirish. When he is not traveling the world in search of amazing photos, he gathers inspiration from the other great photographers at National Geographic, where he is the Program Director for National Geographic Adventures  Jonathan lives in Washington, D.C.
Check out more of his photography at JonathanIrish.com
Follow his daily photography on Twitter at MagnumJI, 
Instagram at Magnumji
Facebook at Jonathan Irish Travel Photography and Pinterest
Read More
The Colorful Windows of Suzdal, Russia
The Taj Mahal in Black and White
The Magnificent Moscow Metro