The Rio Olympics are getting some bad press due to pollution, crime, corruption and doping. But we love Rio. And even though the games are facing an uphill battle, they are still going ahead. We hope they get their act together because Dave and I really enjoyed our time in Rio. We felt safe and found the people to be wonderful! While many of you are probably not heading to Rio to watch the games, we thought we'd share our Rio Tips to make the most of the Olympics from home!
Rio Tips
To all you sports lovers who will be watching the Olympics, we've got a couple of Rio tips to help you make the most of your time on the couch!
But first, let's get you in the mood with this video we shot for TravelSmith while in Rio showcasing all the best things to do in the City!
Subscribe to ThePlanetD and TravelSmith YouTube Channels for more travel tips!
 Rio looks like fun doesn't it? There is so much to do in Rio de Janeiro, we hope our video tips helped you out a bit.
Now, onto the Rio Olympics Celebrations
If you really want to delve into Brazilian culture while watching the Olympics, you have to make sure you have some food and drink on hand.
Rio Olympics Tip #1 – National Cocktail
The national drink of Brazil is the Caipirinha. This is a delicious and refreshing alcohol based lime drink that you must sip while watching the superhuman athletes compete in their events. Cachaca is a spirit fermented from sugar cane and it is delectable. Mix Cachaca with fresh limes, sugar and crushed ice and you've got yourself a Brazilian cocktail.
If you need a little more information, check out our latest video on How to make the perfect Caipirinha.
How to Make a Caipirinha
If you need the exact ingredients, here you go!
Check out everything Rio at our Travel Partner TravelSmith's Wonders of Rio
Wondering where to stay in Rio? We recommend somewhere on the beach, Copacabana, Ipanema, or Leblon. These are the three iconic beaches Rio is known for. They stretch for miles and they are all connected. If you want to stay a little farther away from the tourist area and closer to the Olympics venues Barra da Tijuca area of Rio is a great choice. This is also Rio's richest and newest area that is a very safe option for travellers. Barra da Tijuca is the heart of the 2016 Summer Games and there are plenty of hotel options and more nearby beaches.
We're purists though and there is nothing better than staying right where The Girl From Ipanema was written and in the historic Copacabana Beach Hotel.
Rio Food
Now finally, for your Rio Olympic snacks, you have to go carnivorous and eat a lot of meat. Brazilians love their meat, especially a Brazilian barbeque. So head out to  your local grocery store, pick up some prime cuts of meat, marinate them to perfection and then slice them off bit by bit. A typical Rio barbecue restaurant is known as a Churrascaria. It starts with a buffet menu that includes side dishes and salads and marinated delicious char-grilled, all-you-can-eat meat arrives at your table. Note to self, don't fill up on the buffet, the meat keeps on coming!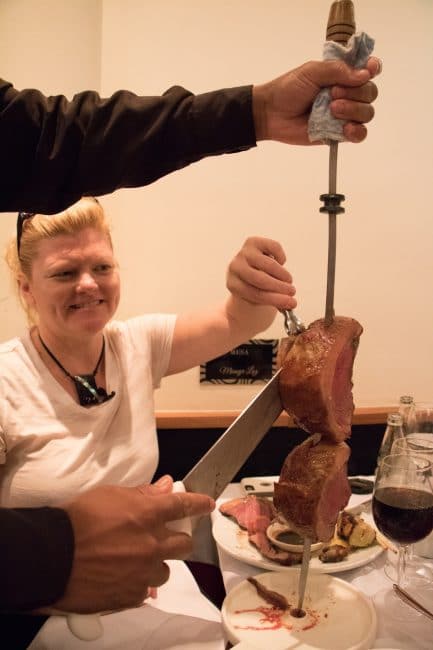 Other typical Brazilian foods include: finger foods like pao de queijo (bread with cheese), coxinhas (the Brazilian take on chicken nuggets), and pastéis (fried pastries with beef and cheese).
Don't worry about all the delicious food you are eating and don't feel guilty about how out of shape you are compared to the Olympians. Enjoy the moment and celebrate life the way the people of Brazil do. They know how to party and have fun.
Samba
Speaking of having fun, you must learn how to Samba Dance. You cannot go to Rio without checking out the nightlife in Lapa. Samba culture is number one there with amazing samba bands playing live music while couples show off their latest moves. One of the best places to go for a night of Samba is Rio Scenerium. It is four floors of awesome goodness with dancing, live music, food and cocktails. Make sure to visit this spot. It's located on an excellent walking street.
Enjoy our full article with video on flying over Rio to see Christ the Redeemer
Fast Rio Tips:

Make sure to take taxis wherever you go for safety; Especially at night.
Keeps cameras secured or in a bag when not using.
Use an over the shoulder RFID tote to hold all valuables. (This is much easier for anyone to snatch out of your hands.
Check out our post highlighting the top Travel Scams around the world. Don't fall victim to any of these.
Visit Christ the Redeemer in the morning before the tour busses arrive.
Visit Sugarloaf Mountain for sunset. Grab the spot you want at the top once you arrive and don't move. It gets crowded up there.
Don't go out on the beach in the dark. If you do, stay close to the lights on the path.
Be careful swimming in the beaches, there is a strong current.
Enjoy yourself. Rio is a big city and known for crime, but if you travel responsibly and act the way you would at home (meaning, don't walk down dark alleys, don't get drunk until all hours of the morning, and keep an eye on your belongings) you'll be fine. We didn't have any problems in Rio and loved it. We walked the streets at night, we went out to enjoy the nightlife and we were out at sunrise on the beach.