We have a post coming out at the TravelExperta today about our time visiting Tikal in Guatemala. We aren't lying when we say that it is our favorite ruin in the world. We wrote about Tikal in an earlier post about our Favorite Ruins of the World back in May.
Mexico, A Diverse Journey Through Central America, Continued
I started thinking about how I really need to visit Central America again in the near future. I love the energy there.  The music, the food, the people and the scenery.
We didn't get to spend a lot of time in Guatemala, we had only just entered the country and made it to Flores and Tikal when we received and email for Dave to come home and work.
We never have work in January, but that year, Dave had a very big feature film that started in the middle of winter and we were back home in the freezing cold after spending a couple of months in tropical paradise.
We haven't made it back and we really would like to.
So, to keep the theme of the day to accompany our post at the Travel Experta, I think that we will take a trip down memory lane to Mexico.
Bad Press
Crime, violence, fear. It is all over the news. But we found it to be very safe and friendly. We aren't huge partiers, so we weren't at the nightclubs every night, but we did start our trip on a package tour so we could have been targets, but we found everyone to be friendly and welcoming.
People are the same all over the world, most are good and true while only a small few cause problems. The media has certainly latched onto talking about crime in Mexico lately, are any of you in Mexico now and what is the situation like regarding crime against tourists?
Diving Time
When we took our trip to Central America, it was to dive. We were certified rescue divers and we wanted to go to Honduras to do our dive masters. But our trip started in The Yucatan Peninsula of Mexico.
We booked a package tour at a resort and spent a week with our diving club from Ontario. Believe it or not, it was cheaper for us to book a week long all inclusive vacation and simply not use our return ticket, than to buy a flight to Cancun. We stayed at a modest resort on the island of Cozumel.
Cozumel
Cozumel can be reached by ferry from Playa Del Carmen. It is quieter than Playa Del Carmen and Cancun, but it is by no means secluded or remote. We had been to the Riveria Maya before, so we had no need to visit the mainland again, until our week was up at our resort.  We were there to dive and dive we did.
The diving on Palancar reef is incredible. The visibility can range from 150 to 200 feet. You really have to pay attention to your gauges because the water is so clear, that you don't notice just how deep you are going. This reef was made famous by Jacques Costeau as one of his favorite diving destinations and I can see why.
Different Dives
There are 40 dive sites with popular areas being the horseshoe, caves and the gardens. We had several swim throughs at deep depths and the colours were bursting in the shallow waters.
We did a lot of deep dives. Being with a diving club, competition runs high. But it was the shallow dives that were my favorite. Our air lasted longer as we kept a mellow pace.
We stretched our time underwater for as long as we could and we ended our dive drifting over a field of starfish. There were so many of them in the sand, that I almost thought that the dive shops placed them there for tourists to think that they were actually real.
We saw trumpet fish, seahorses, sting rays, eels, barracuda's, and the coral was outstanding. . For one dive, we had a shark follow our same path for the entire 45 minute dive.
I couldn't tell how far away it was because of the clarity of the water, but it was clear and fairly close swimming just below us. We weren't nervous or scared, it was just minding its own business, probably just following the current like we were.
It was a week of solid diving and when it finally came to an end, we were ready for a break.  It was great diving, but we were happy to see the 25 other people we were vacationing with leave and be on our way to our Central American adventure. However, we didn't have the need to move on quite yet.
Playa del Carmen
We spent the next week in Playa Del Carmen at a Luxury hotel. Not because we were rich, but because we gave into a high pressure sales pitch for the first time in our lives and bought into a vacation club.
We were talked into going on the ferry back by them enticing us with 100 US each to come and take a look. They stayed true to their word and gave us 200 bucks, but not until we dropped  $1000 on an offer that was too good to be true.
We have never used one deal that they send us, but to this day we still get offers on discount cruises and holidays. We were so upset after our purchase that they let us stay for the week to try it out. So we figured we broke even.
With the $200 that they gave us for coming out, we had only dropped $800 for two of us to stay at luxury resort. We made the best of it and took full advantage of all the amenities.
You can read more about our stupidity on this subject and more at our post here at Strange Travel Experiences
I just loved the vibe of the street at night. Music, food, tons of tourist. At times, I really love a crowd. It had changed a lot since we had been there in 1999.
Then, Playa Del Carmen had a Senor Frogs, the pier and a few streets and dirt roads with vendors and markets. Now it has been built up almost to the point of Cancun, although it doesn't have the high rises.
I still loved walking along the cobblestone street and finding a great place to eat. The entertainment at dinner is second to none.
Talented Musicians
We went back a second night to watch a band and we noticed that they were down a member at the beginning of their set. Everyone had jostled around playing different instruments from the night before, and when their final band member arrived, they just switched back to playing their other instruments. They are truly talented.
We bought their CD of course. We always love supporting local artists, especially as good as these guys. They are in our ipod and we listen to them regularly.
We spent time on the beautiful beach drinking buckets of Corona as we worked on our tans,  and we didn't want to leave.  We were living the life of the Lazy Tourist and loving every minute of it.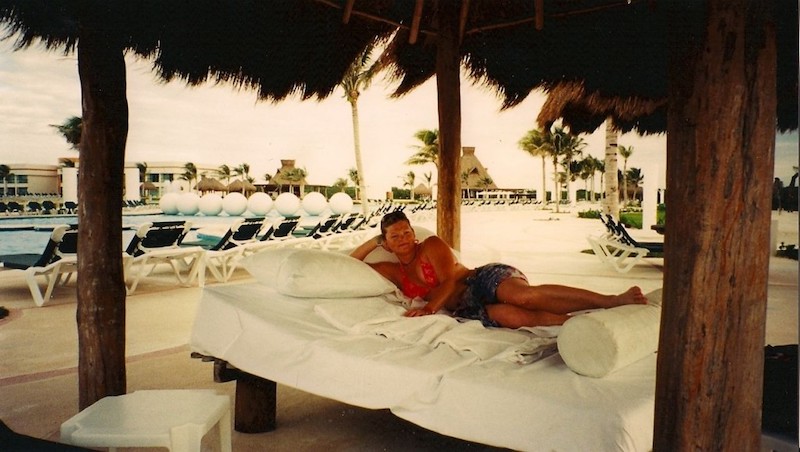 Relaxing in Mexico
We had already been to this part of Mexico before, so we didn't feel the need to go out and be tourists, we had been to Chichen Itza on a previous trip and since we had been diving solidly for a week, we just didn't feel the need to go and see much. Sometimes you just have to slow down and enjoy the moment and that is what we did.
We were going through funds quickly however (we just cut $800 out of our budget) so it was time to move on. We caught a bus south to Tulum.  These Mayan Ruins are not spectacular in our opinion, but the view and location certainly is. Situated on a high cliff overlooks the Yucatan Peninsula it is absolutely stunning and I can see why the Mayans decided to make this their home.
We weren't blown away by the ruins themselves though. It was over run with tour groups and we just didn't find them as spectacular as Chichen Itza and not even close to the Most Amazing Ruins of Tikal, but the location made up for everything. Besides, you can't go through travels comparing sites to every other place you have been you will end up not liking anything. We just simply didn't like Tulum for the plain fact that we didn't like it.
After spending some time in there, we headed south again toward the Belize border via Chetumal. I must say that Mexican Buses are super. They are clean, efficient and we even had movies to watch. We weren't paying for special tourist buses, that is just what they had. Contrary to popular belief the buses in Mexico are great.  We road in luxury and comfort all the way to the border.
Mexico is a very popular destination for Canadians to get away in the winter and rightfully so. It is beautiful, warm and truly paradise. And hey, maybe one day we will take up our vacation club on their offer and actually make our money back.
Read More
Extraordinary Cenotes in Photos – Discover Mexico's Underground Caves
How Mexico City Proved Me Wrong