So the hottest craze in Hawaii is playing on the stand up paddle board. We've been hearing a lot about it in recent years and have been intrigued by the endurance races that we've heard about throughout the Hawaiian Islands.
When we had the chance to give the stand up paddle board a shot while vacationing in Maui, we jumped at the chance.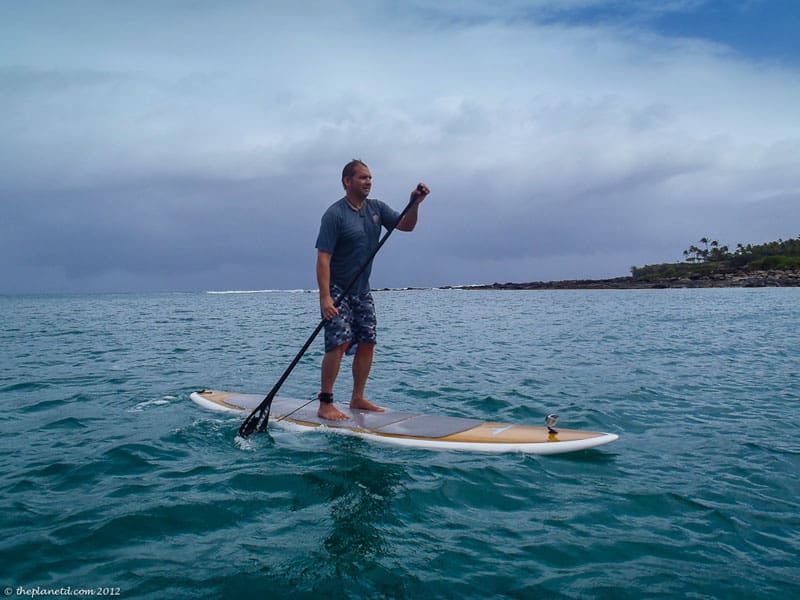 Stand Up Paddle Board Maui
It was 9:00 am when we met our guide Kahi of Tiki Man Stand Up Paddle Boarding on the beach of Napili Bay.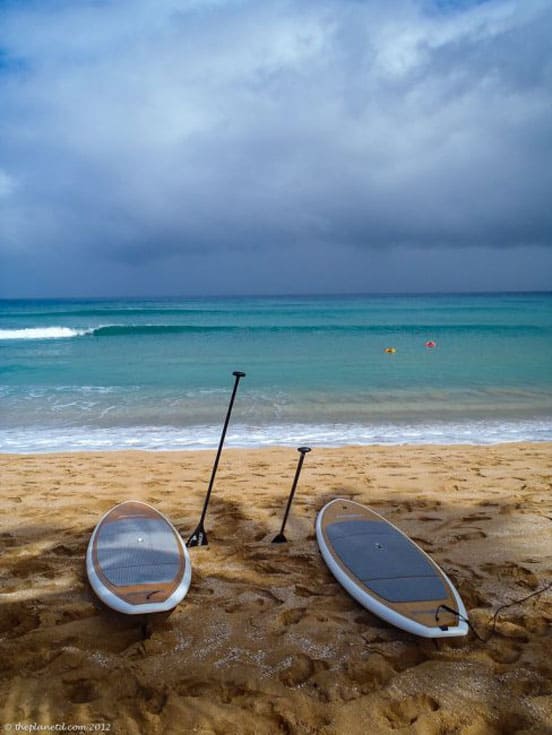 With the waves being higher than usual, we were a little intimidated to head out on the water and we started to wonder if this was such a good idea. Everyone told us that Napili Bay is usually smooth as glass but a strange weather pattern had caused the waves to swell. Not knowing what to expect, we were a little worried but we put our faith in our guide and decided to enjoy the morning.
Our lesson consisted of a quick introduction to the boards, instruction on popping up from a kneeling position and going over a few strokes.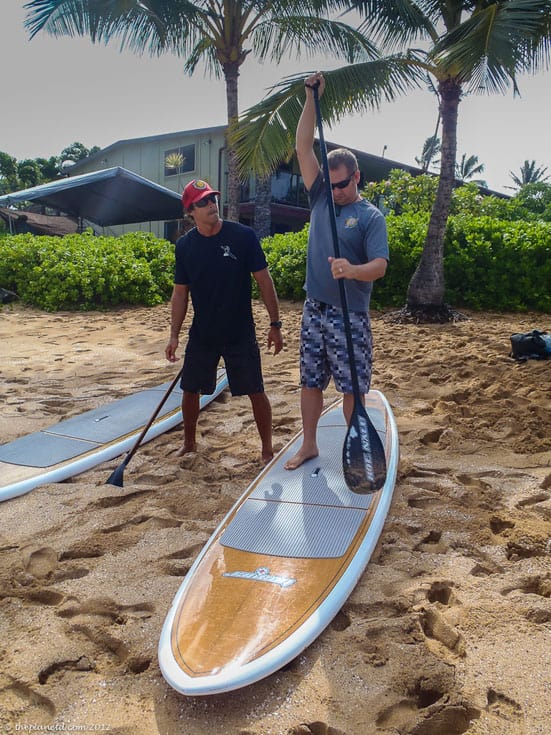 Tips for Stand Up Paddling Boarding
To turn to the right, you paddle on the left hand side of the board and to turn to the left, you paddle on the  right.
If you want to turn quickly, you drag your paddle and then do two quick back paddles on the same side that you want to turn towards.
Keep your knees slightly bent for balance
Don't lean too far forward or too far back or too far on either side for that matter. Stay centered on the board.
Be sure to engage your stomach muscles to stay upright
Look straight ahead not at the board
If you do fall, hold on to your paddle
Have a great time!
Pretty straight forward eh?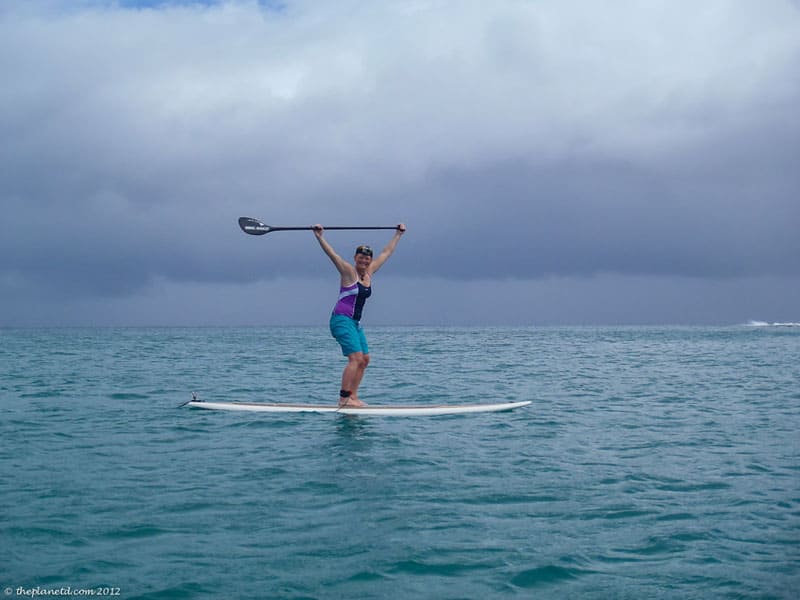 Time to Stand Up and Paddle Board
There is really no better way to learn something than to jump in with both feet. It wasn't long until we were on our boards paddling out to sea.
The easiest way to get through the breaking waves is to paddle on your knees. Plus paddling on your knees fees more secure than standing up, so it's a great way to get comfortable on the board. Once you are out in calmer water and you feel secure, you have to put your hands down in front of you (like standing on all fours and then jump quickly to an upright position. Make sure to land in the centre of the board.
Kahi told us to make ourselves fall in to the water as quickly as possible to get it over with. As soon as we felt the sensation of falling in, we wouldn't be afraid and we'd be ready and able to get on with paddling. It was very good advice.
The anticipation of falling in is worse than actually falling, so I jumped off the board and instantly felt better. The water was pleasant and by having my ankle strap attached to the board, I know that I wouldn't be far away from the safety of a floatation device.
In Case you Missed it, here's a video of our stand up paddle boarding experience. You get to see some of our spills and thrills.
Stand up Paddle Boarding is Easy
If you have ever tried surfing or snowboarding, you will find stand up paddle boarding very easy. I'm not quite sure what I expected, but I didn't expect it to be so easy. We felt very secure on the board while paddling and I felt as if I could do this all day.
Kahi told us that people love it for cross training. It is an amazing core workout and it isn't hard on the joints like running. You get a full body workout because you are using all your muscles to balance on the board while staying in a constant squat to steady yourself. Plus, you also work out your arms, shoulders and back while paddling. It's like paddling while standing on an exercise ball for two solid hours.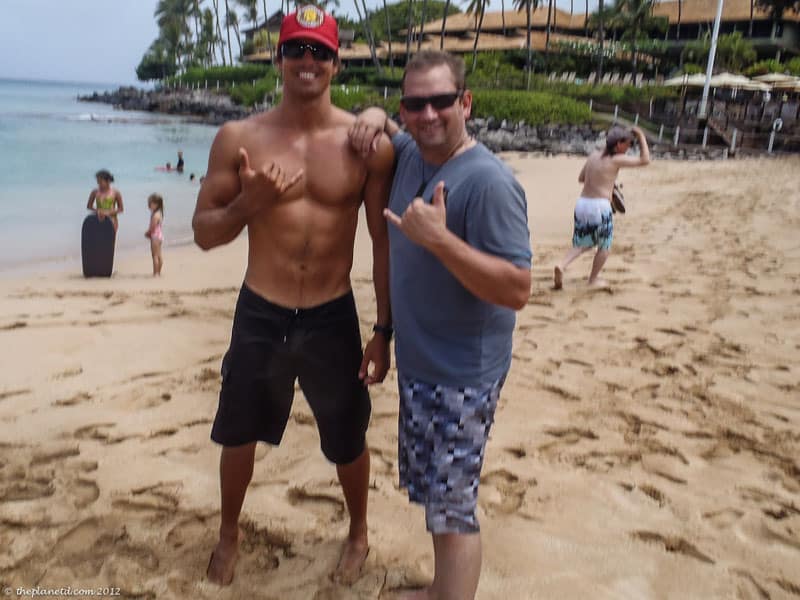 What's so amazing is that it is so much fun, you don't feel like you are working out. The scenery is beautiful, catching a few waves and swells is a thrill and paddling along the coast is simply a good time. You don't notice how much of a work out it is until you are finished and you start to feel your tight abs and thighs later in the night.
Stand up paddle boarding is an excellent way to get in shape and have fun at the same time, and the best thing is, all you need ia a body of water nearby. We liked it so much that we're definitely going to take up paddle boarding wherever we go in the future.
Who knows, maybe we'll be taking part in one of those inter-island races that we've heard so much about in Hawaii. It could be our next great adventure!
---
Read More
The Best Way to See Maui – Helicopter Tour of Maui
The Road to Hana and Beyond – Maui's Great Coastal Drive
SaveSave