Exploring Alaska's Tri Valleys by ATV
We have had a jammed packed itinerary here in Alaska.
Three days into our trip and we have already been on the riverboat, panned for gold, took a scenic flight over Mount McKinley, enjoyed a history tour of Denali National Park and rode the Midnight Express from Fairbanks to Denali.
The Midnight Express is Princess Cruise's train that travels through the great Alaskan Countryside.
Other cruise lines cars are hooked onto the train powered by Alaskan Rail, but Princess owns the best five cars in the back.
What makes these cars so special? Well only Princes Cruises passengers are able to walk to the back of the train and stand on the viewing platform outside. We can watch the rail tracks sweep away behind us with a completely unobstructed view.
Watching the Alaskan scenery is a thrill in itself, but today's adventure takes us on an ATV tour with Black Diamond ATV Adventures.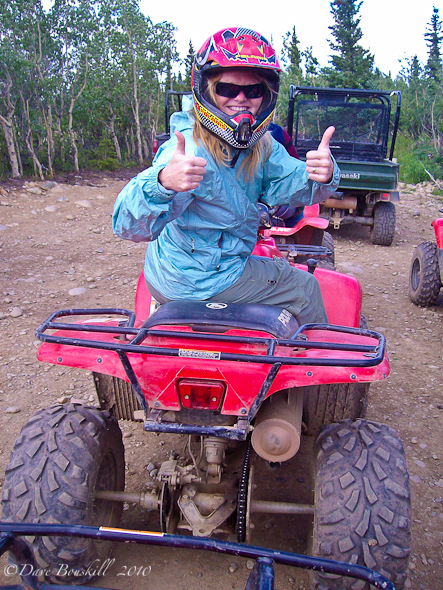 After watching our safety video and signing our wavers we chose our helmets and donned our gloves to get ready to drive our own ATV into the back country.
These guys have some pretty strict rules and if you don't pass the driving course set up at the beginning of the trail, you don't get to drive your ATV.
A woman was taken off her machine during our tour and ended up riding shotgun in the jeep with our guide.  S
he couldn't handle the ATV and was wobbling all over the track.
She would have been a danger to herself and to others, so it was no ATVing for here today.
Never fear, if you aren't allowed to drive, you will be given a full refund.
The ATV Adventure wasn't exactly the great Alaskan adventure we were looking for.  We were expecting a little speed, lots of mud, some epic climbs and long drops.
What we got was a follow the leader drive that felt more like a mellow trail ride and discovery experience.
It was cool to drive our own machines.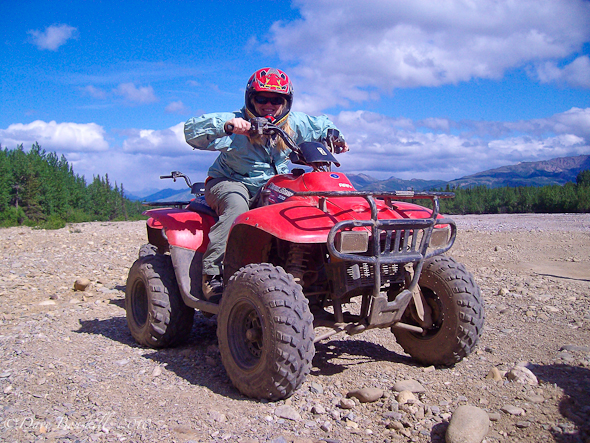 Unfortunately we never made it over 20 km/hour and we were forced to ride single file behind a jeep that paced us through the trails.
While it was cool to man my own ATV, I would have loved to let loose a little more.
Even if they would have sped it up 10 km or so it may have been more exciting.
Our tour took us through the Tri Valleys.
As a couple of people that mainly hike or cycle through the terrain, it was great to be able to relax and cover a lot of ground with very little effort.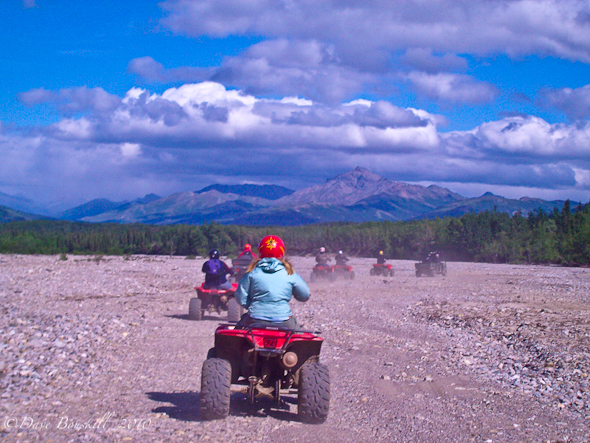 The mellow ride allowed for us to enjoy the beautiful scenery though.
We would drive from valley to valley and stop for a short talk on the history and geology of the area.
The only problem was that we stopped and talked a little too often.
An adrenaline-filled ATV adventure would be more fun and exciting with only a couple of stops to chat and learn about Alaska.
A Few Alaskan Facts

Alaska is mainly desert. All of the rivers are glacier fed and there is very little precipitation in the state.
The permafrost is a mere 2 feet under the topsoil and the evergreen trees have adapted to sprouting their roots in very shallow dirt.  Instead of sending the roots deep into the earth, the trees spread outwards and join one another's systems.
These  spruce trees can easily be over 100 years old, but they don't grow high or wide looking like a very young tree.
Every tour that we have been on has been chalked full of information and we have felt that we are coming to understand and learn about the traditional and modern ways of life up here in Alaska.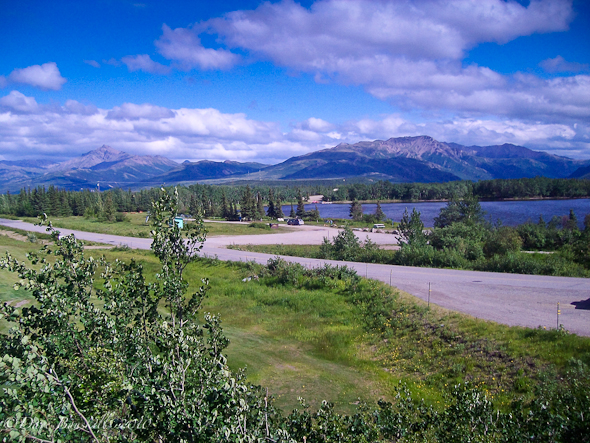 We moved on through the trail checking out the beautiful panoramic view of the Alaskan Mountain Range and we even saw the beginning of the Canadian Rocky Mountain Range.
We didn't see any moose during our tour, but luckily we were treated to a sighting right in front of our terrace when we arrived back to our hotel in Denali.
Standing on the riverbank, a mother and her new calf were munching on the leaves of the trees.
To see a mother and a calf in the wild is a rare experience and we have had the luck to witness it twice.
While our ATV Adventure wasn't the thrill ride we were looking for, it was a beautiful scenic drive through Alaska's rugged terrain.
Now that I have had a taste of driving an ATV, I am ready to hit my brother up on our next visit and take his ATV out for a spin.
You Might Also Enjoy