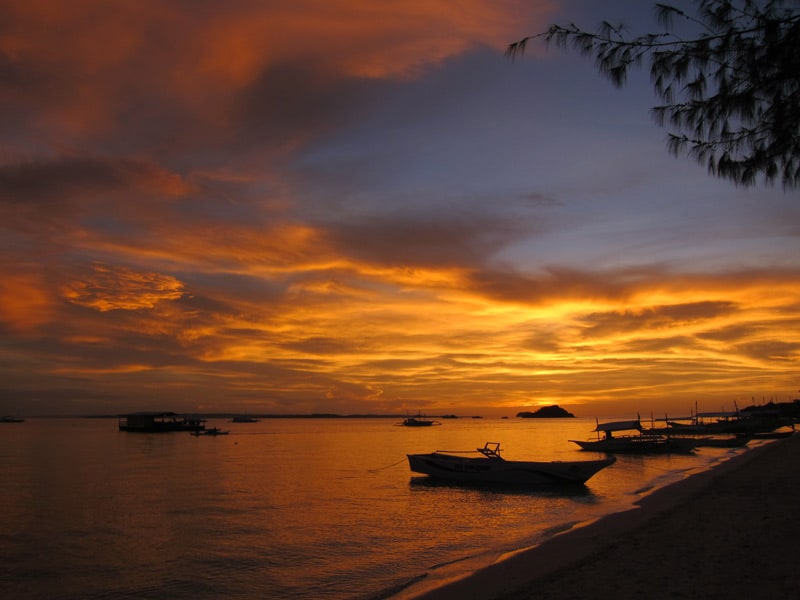 The Philippines is a former Spanish colony, just like a big part of South America. This gives the Philippines a unique feeling nowhere to be found elsewhere in Asia!
If you are "temple" tired, the Philippines is the perfect place to catch a fresh breath of air as it has some of the best beaches; the water is so blue and makes a beautiful contrast with the white beaches. If you're looking for postcard perfect places, just visit the Philippines.
This Philippines travel guide will help you plan your next vacation.
Fast Facts
Philippines power voltage is 220 V 60 Hz; Power sockets A, B & C
The Philippine currency is the Philippine Peso (PHP) and is around 44 PHP for 1 USD
Travellers are requested to pay an airport tax when departing from Manila's Ninoy Aquino International Airport, Cebu City or Davao.
If you are going to Mindanao (southern Philippines) where some areas are predominantly Muslims, dress conservatively.
If drivers refuse to switch on the meter, get out and catch another taxi as this is a common ploy taxi drivers in Manila indulge in with foreigners.
Water is NOT potable in Philippines. Drink only bottled water. If you order a mixed drink at a bar, ask that ice not be added, since it may have been made from tap water.
Budgeting
Accommodation
Budget – Budget hotels in the Philippines may cost you between $13-38 USD/night. Rooms within this category would come equipped with a fan or air-conditioner and a single bed.
Mid Range – In the Philippines, a mid-range hotel may cost you around $40 USD. Rooms are equipped with a private bathroom with hot water.
High End – You can experience the luxury of high-end hotels in the Philippines starting around $150 USD. Most of the cottages in these high-end hotels are kind of chic apartments, coming along with a separate living area. Apart from the accommodation, you might be getting a buffet breakfast and fitness center.
Check out our favorite booking platforms Booking.com, Tripadvisor and Air B&B for the best deals on accommodation in the Philippines.
Food
Lechon Manok – Lechon Manok is the street-styled roasted chicken that can easily be found around the streets of the Philippines. You can have it for dinner or as a snack with the drinks.
Puto Bumbong – Puto Bumbong is sticky rice with purple color and generally served with butter or margarine. You can also add crushed coconut mixed with sugar as a topping.
Bibingka – Bibingka is an egg-based dessert which is served on a banana leaf. It is generally eaten along with another famous Filipino cuisine, Puto Bumbong.
Sisig – Sisig is a pork-based dish cooked along with the chicken liver. Once cooked, it can be seasoned with red peppers and golden lime (calamansi).
Halo Halo – Halo Halo is quite popular as the summer dessert in the Philippines. It is made up of skimmed milk and crushed ice while adding some fruits, corn, coconut, or sweet beans.
Transportation
Flights: Philippines Airlines flies direct from many major cities, including Los Angeles, New York, and London.
You can check for the best flights to the Philippines on Skyscanner.
Buses: Public buses are common in the major cities can start around $1.
Taxis/Uber: A taxi ride in the Philippines may cost you somewhere around $1, but you can also opt for other ride options like Uber and Lyft, which are relatively cheaper.
Car Rental: You can rent a car with a starting price of $30 per day.
You can also compare prices here.
Places to Stay
L' Fisher Hotel – Located in downtown Bacolod City, this high-end hotel is nearby to tourist places like Capitol Park and Lagoon, The Negros Museum, and Bacolod Public Plaza. You'll also enjoy amenities such as a spa and fitness center.
Cummings Highlands – This beautiful hotel is located on Tablas Island and has a view of the water. You'll have access to beachside dining and outdoor activities.
Efrena Beach – This beachside hotel is the perfect place to spend a few days relaxing. They offer a garden, restaurant, bar, free Wi-Fi, and an airport shuttle.
Packing Tips
The Philippines has a tropical climate with three noticeable seasons namely the wet and rainy season (June-October), the cool but dry season (November-February) and the hot and dry season (March-May).
June to August is the typhoon season. Pack lightweight cotton clothing that will allow you to add a layer if you get too cool and a lightweight rain jacket for the rainy season.
Sarongs – From protecting yourself from the hot island sun, to being used as a towel or keeping warm on a cool night, sarongs are a must-have on your caribbean vacation. On any trips to churches and temples, use it to cover up.
The protection basics – Travellers should stock up on the essentials: sun block, mosquito/insect repellant containing DEET or a pyrethroid insecticide. A hat, sunscreen and sunglasses will protect you from the strong Philippine sun
Personal safety products – Before leaving for your trip, make sure to pack some personal safety products, like money belts and locks, so that you can keep your valuables safe on your trip. Also, avoid bringing anything flashy, like rings or necklaces – less is always more.
A tropical wardrobe. This should include—for both men and women—shorts, T-shirts, breathable rain gear, a warm jacket or fleece, sturdy footwear, and a wrap. Casual clothes with natural fibers – linen, silk, cotton – work well in the heat and humidity.
See our packing tips: packing tips
When to Go
The best time for you to visit the Philippines is between November and April. The weather stays dry during this period, and you can quickly get access to the beautiful islands and other major attractions.
The temperature remains on the higher side during March and April. For this reason, many tourists choose to visit between December and February.
Things to Do
Adventure
Scuba diving – The Philippines has numerous places to scuba dive. You can enjoy scuba diving through World War II shipwrecks in Coron Palawan.
Skywalk – The Skywalk allows you to walk on translucent glass (strapped to a safety harness) while getting a birds-eye view of the city.
Edge Coaster – The Edge Coaster requires you to walk through the edges of the hotel while stunning you with a 360-degree view of Cebu.
Culture
Banaue rice terraces – Banaue rice terraces are often considered the "eighth wonders of the world." The rice terraces are almost 2000 years old and stunningly carved into the Ifugao mountain range.
Rizal Park – This historical park in Manila is fun to walk around while you're in the city.
Sights
Malapascua Island – This is one of the most famous islands found in the Philippines and has amazing beaches.
Chocolate Hills – This area has strange green mounds throughout the landscape that are unique to see.
Booking Resources
Whenever we travel to we make sure to start with these companies.
We have tried a lot of different ones over the years and all of these have consistently proven to be the best when it comes to offering great prices.
We have used every one of these personally and continue to do so.
Booking.com: This is our go site to when comparing prices for accommodation. It is usually the has the cheapest prices, not to mention you get free cancellation and you are guaranteed the best price.
Trip Advisor: What we like about Trip Advisor is that we can look at all the reviews and then book our accommodation.
Air BnB: Airbnb is the main search engine we use when we are looking for a home or apartment rental. It is the best way to stay in areas that offer a more local feel.
Skyscanner: This is the first place we check for flights. It consistently comes back with the cheapest and best options. It allows us to compare a lot of airlines to get the best price.
Hostelworld: With one of the largest databases of hostels in the world, Hostelworld is the go-to site when you are looking for budget accommodation.
Rome 2 Rio: If you want to see how to get somewhere by plane, train, bus, ferry or car Rome2Rio lays it all out for you as well as related costs. I love how they show it all to you on a Google Map and it works offline.
Get Your Guide: For all your day trip and city guide needs, we use Get Your Guide. It has the world's largest collection of things to do with more than 30,000 activities in 7500 destinations.
World Nomads Insurance: When traveling you should always have travel insurance. We do.
Related