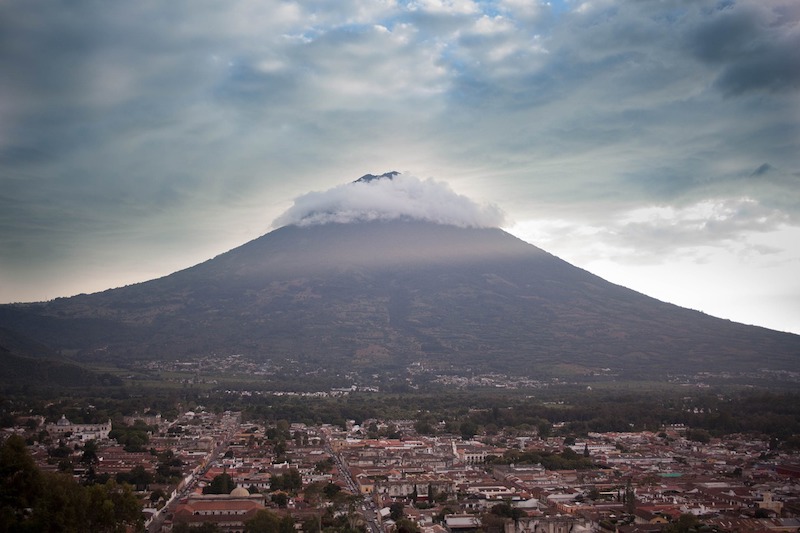 Guatemala, although small, is famous for its cultural attractions and natural beauty. Mayan ruins lay hidden deep in lush jungles while beautiful colonial towns can be found sprawled over the highlands.
The beauty of this country is not the only intriguing part, it is also one of the most budget friendly destinations in the region, with low prices for just about everything from handicrafts to food and hotels.
In the end, this Guatemala is a cultural rich country with spectacular rainforests, ancient Mayan cities, stunning lakes, friendly people and one-of-a-kind artisan handicrafts.
This Guatemala travel guide will help you plan your next vacation.
Fast Facts
Guatemalan power voltage is 120 V 60 Hz; Power sockets A, B, G & I
The Guatemalan currency is the Guatemalan Queztal (GTQ) and is around 7.50 GTQ for 1 USD
Beware of Chikungunya, a viral disease transmitted by the bite of infected mosquitoes. This outbreak continues to affect parts of the Caribbean and Central America. Symptoms can take up to 12 days to appear, but usually begin within 3-7 days after being bitten by an infected mosquito. Symptoms generally include fever and joint pain; other symptoms can include fatigue, headache, nausea, vomiting, muscle pain, and rash.
Guatemala has some of the most beautiful artisan work in the region and for very reasonable prices. If you want to pick up some artisanal crafts, head to one of the many artisan markets in Antigua.
Avoid Guatemala City – the city itself does not have the best reputation and although it is okay for a layover to get to your next bus, many people avoid spending too much time there.
American dollars are accepted as legal currency in Guatemala.
Drink only bottled water, which are readily available throughout the country. Also try to avoid using ice or confirm that it was made with purified water before drinking iced beverages.
Budgeting
Accommodation
Budget – Budget hotels in Guatemala start at $10 US per night and can include private rooms, shared bathrooms, and be close to public transportation.
Mid Range – Mid-range hotels may start at $70 per night and offer free high-speed internet, meeting rooms, free breakfast, and free parking.
High End – Luxury hotels in Guatemala start at $200 per night and offer a wide range of amenities, including minibars, spacious rooms, lounges, spas, fitness center, and full-service laundry.
Check out our favorite booking platforms Booking.com, Tripadvisor and Air B&B for the best deals on accommodation in Guatemala.
Food
Food:
Pepian – This dish is a traditional chicken stew.
Rellenitos – This tasty meal is a fried plantain filled with beans, chocolate, and cinnamon.
Enchilada –This typical snack can be found topped with eggs, lettuce, onions, cheese, and veggies.
Tapado – This stew is made with coconut oil, rice, plantain, fish, and shrimp.
Elote loco – You'll commonly find this snack with grilled corn cobs slathered in mayonnaise, ketchup, and cheese.
Noodle tostadas – This is a quick meal of noodles topped with tomato salsa, guacamole, radishes, and onions.
Gallo beer – If you're thirsty, you'll find this in almost every bar in Guatemala.
Transportation
Getting to:
Flights: The main airport in Guatemala is La Aurora International Airport. Some of the airlines that fly directly to La Aurora International Airport include British Airways, KLM, Qatar Airways, Turkish Airlines, Air France, and many more.
You can check for the best flights to Guatemala on Skyscanner.
Transportation:
Buses: Guatemalan buses come in three classes – camionetas, Pullmans and pricier shuttles. Bus fare in Guatemala starts at $1.
Taxis/Uber: Plenty of taxis cruise most parts of Guatemala. Some of the popular taxis operating in major towns of Guatemala include Uber, Yellow Taxi Express, Checker Taxis, White Taxi and many more. Taxi fare in Guatemala costs about $1 for a distance of 1 kilometer.
Car Rental: There are many car rental services in Guatemala, including Avis Guatemala, Thrifty Car Rental Guatemala, Alamo Europcar, and Hertz Guatemala Rent A Car. On average, a rental car in Guatemala cost $161 per week ($23 per day).
You can also compare prices here.
Places to Stay
Barcelo Guatemala City Hotel – This hotel is just 3 km from La Aurora airport, and it's equipped with first-class amenities.
Jungle Lodge Hotel – Located in Tikal City, this hotel has everything a traveler might be looking for in a hotel. Its strategic location allows for easy access to airports. The hotel also offers top-notch amenities such as bars, spas, pool, and it is pet-friendly.
Quinta Maya Hotel – Located 3 km from Mundo Maya International Airport, this hotel offers a courtyard café, a pool, and a restaurant.
Packing Tips
Personal safety products –Petty theft and armed robbery are the most serious threats to traveller in Guatemala. Before leaving for your trip, make sure to pack some personal safety products, like money belts and locks, so that you can keep your valuables safe on your trip.
Poncho / Rain Jacket – if you plan on visiting during the rainy season, it is best to bring some collapsable (to save space) rain gear to shield yourself from the common afternoon downpours.
Pack good walking shoes – jungle paths, cobblestone streets, dirt roads are no fun with strappy sandals, so make sure to back a good pair of walking/hiking shoes and of course, a pair of flip flops.
The protection basics – Travellers should stock up on the essentials: sun block, mosquito/insect repellant containing DEET or a pyrethroid insecticide, sunglasses and a hat. Bugspray is particularly important if you plan on heading into the jungle for some trekking.
Sarongs – From protecting yourself from the hot island sun, to being used as a towel or keeping cool on a cool night, sarongs are a must-have.
A light fleece jacket – Even if Guatemala is considered as the country of "eternal spring," it still can get quite chilly in the evenings. Pack a fleece sweater to keep you warm on those nights or if you plan on heading to the highlands.
See our packing tips: packing tips
When to Go
Guatemala has a tropical climate with alternating wet and dry seasons. The proximity to the equator means that temperatures vary in relation to elevation father than with the changing of the seasons.
Warmer weather can be found on the coat and in the jungles while the high lands can get chilly. The rainy season lasts from May to October while the dry season runs from November until April.
Things to Do
Adventure
Whale watching – The best spot for this adventure is the Pacific Coast of Guatemala.
Climbing Pacaya Volcano – This is the most active volcano in Guatemala.
Culture
Coban Folkloric Festival – Features parades, rodeos, and traditional art exhibitions.
Feast of St. Thomas – This features parades, traditional dances, and fireworks.
Sights
Wildlife tour at Rio Dulce – Here you'll enjoy the emerald green waters, waterfalls, and wildlife.
Tikal tour – A beautiful ancient Mayan city with pyramid ruins.
Booking Resources
Whenever we travel to we make sure to start with these companies.
We have tried a lot of different ones over the years and all of these have consistently proven to be the best when it comes to offering great prices.
We have used every one of these personally and continue to do so.
Booking.com: This is our go site to when comparing prices for accommodation. It is usually the has the cheapest prices, not to mention you get free cancellation and you are guaranteed the best price.
Trip Advisor: What we like about Trip Advisor is that we can look at all the reviews and then book our accommodation.
Air BnB: Airbnb is the main search engine we use when we are looking for a home or apartment rental. It is the best way to stay in areas that offer a more local feel.
Skyscanner: This is the first place we check for flights. It consistently comes back with the cheapest and best options. It allows us to compare a lot of airlines to get the best price.
Hostelworld: With one of the largest databases of hostels in the world, Hostelworld is the go-to site when you are looking for budget accommodation.
Rome 2 Rio: If you want to see how to get somewhere by plane, train, bus, ferry or car Rome2Rio lays it all out for you as well as related costs. I love how they show it all to you on a Google Map and it works offline.
Get Your Guide: For all your day trip and city guide needs, we use Get Your Guide. It has the world's largest collection of things to do with more than 30,000 activities in 7500 destinations.
World Nomads Insurance: When traveling you should always have travel insurance. We do.
Related