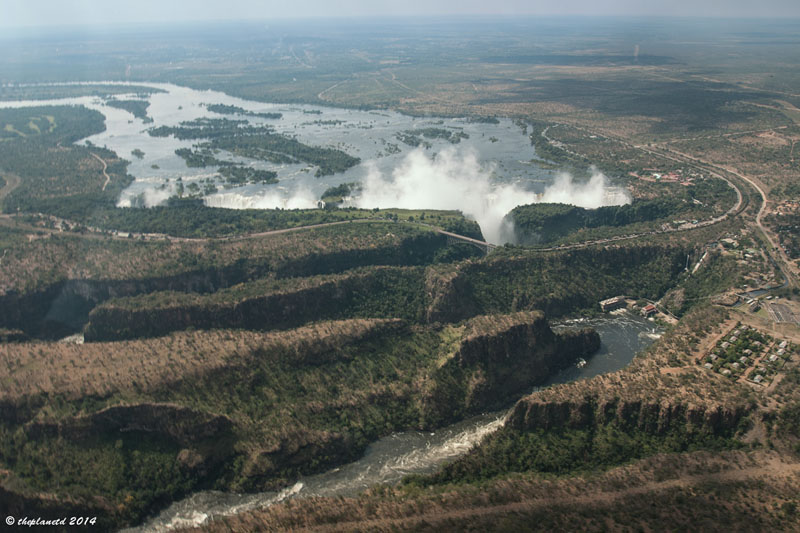 The Smoke that Thunders is a suitable name for this impressive waterfall.
You can hear the roar from afar and feel the power when you are up close. Located in Livingstone, Zambia on the Zambezi River, Victoria Falls is one of the top sites to see in all of Africa.
The world's largest waterfall by sheer volume, it dwarfs our beloved Niagara Falls in Canada.
Zambia, once known as Northern Rhodesia, is a former British colony and also the adventure capital of Africa! 
This Zambia travel guide will help you plan your next vacation.
Fast Facts
Zambia power voltage is 230V 50Hz;  Plug C, D & G
The Zambia currency is the Zambian kwacha and is around 5,000 ZMK to 1 USD
Single and double entry visas can be obtained at the airport, border crossings or your local Zambian embassy. Multi-entry visas must be obtained in advance from an embassy.
Beware of Chikungunya, a viral disease transmitted by the bite of infected mosquitoes. This outbreak continues to affect parts, Africa. Symptoms can take up to 12 days to appear but usually begin within 3-7 days after being bitten by an infected mosquito.
Symptoms generally include fever and joint pain; other symptoms can include fatigue, headache, nausea, vomiting, muscle pain, and rash.
Travelers spending a lot of time outdoors or visiting game parks have an increased risk of being bitten by a tsetse fly which can cause African Sleeping Sickness. Remember that these flies: bite during the day, are attracted to bright, dark colors and can bite through lightweight clothing.
Camouflage or military clothing is not permitted so don't pack it
The water is not potable; drink only bottled water.
SIM Cards can be bought in major cities. Airtel, MTN and Vodafone are the carriers and prices are very reasonable.
---
If you are traveling for a short time, we use KnowRoaming International SIM for all our travels.
Readers Receive a 50% Discount with our promo code DDSave50. You can order here and have it delivered or find out more at our post. Prices start at $3.99 per day for unlimited Internet.
Budgeting
Accommodation
Food
Transportation
Getting to Zambia:
Flights:
You can check for the best flights to Zambia on Skyscanner.
Transportation:
Buses:
Taxis:
Car Rental:
Uber:
Packing Tips
Zambia has a tropical climate modified by altitude (elevation).
It has a dry season from May to the end of October and a wet season from November to April.
During the wet season, some areas become inaccessible and many camps in Kafue, Lower Zambezi, and more remote parks are closed. 
The dry season is divided into the cool dry season (May to August) and the hot dry season (September and October).
Waterproof bag – the bag has two functions, protecting your stuff from the rain and also from the dust, especially if you're traveling to drier regions.
Footwear – especially important if going you are heading on a safari! Pack a pair of lightweight, durable, waterproof and comfortable shoes and also a pair of flip-flops or sandals that you can change into after a long day of sightseeing.
Protection from the elements – pack sunscreen, sunglasses, a hat, a loose sarong or wrap to cover yourself from the sun and bug-spray to prevent getting bitten by a mosquito (that might have malaria!)
Layers – pack the basic tropical clothes and make sure to include long pants, long-sleeve tops and some warm clothes for those chilly nights.
Avoid packing dark colored clothes – tsetse flies are drawn to dark colors, like blue and black clothing, and their bite can give you African Sleeping Sickness. Stick to light, neutral colors but avoid packing white clothes as they will get dirty and dusty pretty quickly.
Pack for Humidity – for humid weather it is best to pack fabrics that breathe as much as possible and natural fabrics, like cotton, linen or rayon (avoiding silk, wool and polyester). Clothing should be loose and comfortable to encourage the flow of air and allow moisture to evaporate
See our packing tips: packing list for smart travel.
When to Go
Things to Do
Adventure
Culture
What not to Miss
Places to Stay
Check out our favorite booking platforms Booking.com, Tripadvisor and Air B&B for the best deals on accommodation in Ireland.
Booking Resources
Whenever we travel to we make sure to start with these companies.
We have tried a lot of different ones over the years and all of these have consistently proven to be the best when it comes to offering great prices.
We have used every one of these personally and continue to do so.
Booking.com: This is our go site to when comparing prices for accommodation. It is usually the has the cheapest prices, not to mention you get free cancellation and you are guaranteed the best price.
Trip Advisor: What we like about Trip Advisor is that we can look at all the reviews and then book our accommodation.
Air BnB: Airbnb is the main search engine we use when we are looking for a home or apartment rental. It is the best way to stay in areas that offer a more local feel.
Skyscanner: This is the first place we check for flights. It consistently comes back with the cheapest and best options. It allows us to compare a lot of airlines to get the best price.
Hostelworld: With one of the largest databases of hostels in the world, Hostelworld is the go-to site when you are looking for budget accommodation.
Rome 2 Rio: If you want to see how to get somewhere by plane, train, bus, ferry or car Rome2Rio lays it all out for you as well as related costs. I love how they show it all to you on a Google Map and it works offline.
Get Your Guide: For all your day trip and city guide needs, we use Get Your Guide. It has the world's largest collection of things to do with more than 30,000 activities in 7500 destinations.
World Nomads Insurance: When traveling to Thailand you should always have travel insurance. We have found the best bang for your buck is by far World Nomads.
Related