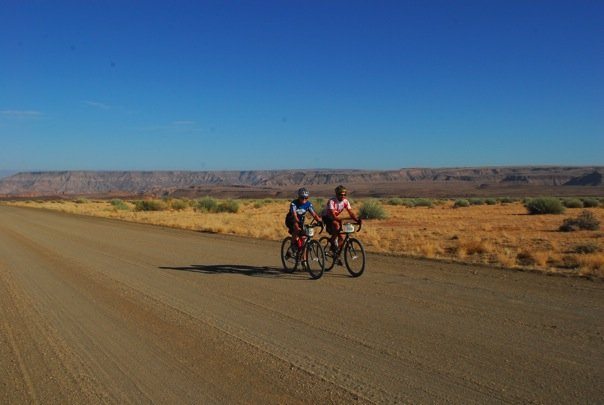 Lions stalking Blue Wildebeest under the cover of sun-burnt savannah grasses. Desert elephants – smaller than most, and with unusually wide feet – adapted to the blowing sands of the Kalahari.
Termite mounds as tall as my house, and people that throw incomprehensible pops and clicks into their speech at seemingly random times.
This Namibia travel guide will help you plan your next vacation.
Fast Facts
Namibia power voltage is 220V 50Hz; Plug D & M
The Namibian currency is the Namibian dollar and is around 13 NAD to 1 USD.
Beware of Chikungunya, a viral disease transmitted by the bite of infected mosquitoes. This outbreak continues to affect parts, Africa. Symptoms can take up to 12 days to appear but usually begin within 3-7 days after being bitten by an infected mosquito. Symptoms generally include fever and joint pain; other symptoms can include fatigue, headache, nausea, vomiting, muscle pain, and rash.
Travelers spending a lot of time outdoors or visiting game parks have an increased risk of being bitten by a tsetse fly which can cause African Sleeping Sickness. Remember that these flies: bite during the day, are attracted to bright, dark colors and can bite through lightweight clothing.
Namibia banks, as well as Wilderness camps, only accept US Dollars, GBP Sterling, Euro and South African Rand in cash. Travelers' Cheques in any of the above currencies are also acceptable. MasterCard and Visa are usually accepted throughout Namibia.
The water is not potable; drink only bottled water.
Best Sim Cards: We use KnowRoaming $3.99 per day Unlimited data. There are other unlimited plans for up to 1 month so check out KnowRoaming for details. PlanetD readers receive an extra 50% off using promo code DDSave50
Budgeting
Accommodation
Budget: You can find a variety of hostels and guest houses for 150-450 NAD per night. These come with free breakfast and Wi-Fi, simple private rooms or dorms, an outdoor pool, and close locations to nearby shops and restaurants.
Mid-Range: For mid-range, expect to pay around 600-750 NAD per night. These hotels come with private rooms, an outdoor pool, a casual hotel restaurant, free breakfast, and a lounge area.
High-End: For five-star hotels, you will pay around 3,500-13,000 NAD per night. Take in the best with private suites with flat-screen TVs and fireplaces, free breakfast, a hotel restaurant and bar, spa services, and activities like birdwatching.
Check out our favorite booking platforms Booking.com, Tripadvisor and Air B&B for the best deals on accommodation in Ireland.
Food
The cuisine in Namibia is influenced both by indigenous groups as well as British, African, and German settlers from the colonial period. Oshifima (millet paste) served with meat and vegetables is a popular meal. Other common meals include oshiwambo (beef, spinach, and maize meal), braaivleis (meat barbeque), and potjiekos (meat, chicken, and fish stew).
Head down to the coast to get fresh seafood or look for street vendors that sell kapana (spicy meat strips). There are more restaurants where you can sample more Namibian cuisine. In total, expect to pay around 100 NAD per day for food.
Transportation
Getting to Botswana
Flights: There are 8 airports in Namibia, but the Hosea Kutako International Airport is the main airport to fly into and is 28 miles from the capital of Windhoek. You can check for the best flights to Namibia on Skyscanner.
Getting Around Botswana
Buses: Buses come in two main forms: the minibuses that go throughout towns or long-distance buses that travel between cities and include meals. Reservations should be made at least 72 hours for long-distance buses. Travel from Windhoek to Oshakati in 10.5 hours for 450 NAD
Taxis: Taxis are another way to get around. A typical taxi ride through the capital of Windhoek will cost about 12 NAD.
Car Rental: To rent a car, you generally need to be at least 25 years old and will need a U.S. driver's license that has been valid for a year. Prices average at 1,070 NAD per day.
Uber: There is no Uber, but there is the rideshare app Lefa, which operates similarly to Uber.
When to Go
The best time to visit Namibia is between July and October. During these months, temperatures are pleasant (high 60s/low 70s) and there is little rainfall, which makes it the best chance to see wildlife.
Packing Tips
The climate is typically semi-desert with hot days and cool nights. Midsummer temperatures may rise to over 40 degrees Celsius.
Winter days are warm, but dawn temperatures may drop to freezing. The coast is cool with low rainfall and fog that prevails from late afternoon until mid-morning. The rainy season lasts from October to April.
The rest of the year is dry and cloudless. Rejoice, Namibia averages 300 days of sunshine a year!
Waterproof bag – the bag has two functions, protecting your stuff from the rain and also from the dust, especially if you're travelling to drier regions.
Footwear – especially important if going you are heading on a safari! Pack a pair of lightweight, durable, waterproof and comfortable shoes and also a pair of flip-flops or sandals that you can change into after a long day of sightseeing.
Protection from the elements – pack sunscreen, sunglasses, a hat, a loose sarong or wrap to cover yourself from the sun and bug-spray to prevent getting bitten by a mosquito (that might have malaria!)
Layers – pack the basic tropical clothes and make sure to include long pants, long-sleeve tops and some warm clothes for those chilly nights. Make sure to pack parka and scarf / gloves for winter
Avoid packing dark colored clothes – tsetse flies are drawn to dark colors, like blue and black clothing, and their bite can give you African Sleeping Sickness. Stick to light, neutral colors but avoid packing white clothes as they will get dirty and dusty pretty quickly.
Pack for Humidity – for humid weather it is best to pack fabrics that breathe as much as possible and natural fabrics, like cotton, linen or rayon (avoiding silk, wool and polyester). Clothing should be loose and comfortable to encourage the flow of air and allow moisture to evaporate.
Things to Do
Adventure
Namib-Naukluft National Park: Come to the largest game park in Africa. Included are parts of the Namib, the world's oldest desert, as well as the Naukluft mountains.
Spitzkoppe: Climb these granite peaks in the Namib desert. Featuring paintings created by the Bushmen, see art from the past while climbing the rock formations.
Culture
Volunteer to work with Cheetahs and wildlife conservation.
Windhoek's Christ Church: Step inside this historical German Lutheran Church in Windhoek. Constructed in 1907, it is the oldest Lutheran church in Namibia and is considered a symbol of the city.
What not to Miss
Etosha National Park: See lions, zebras, giraffes, leopards, and more at this national park. One of the best places to see wildlife, you can also head to the salt pan in the middle of the park, which is the largest one in Africa. Camping is available in the park.
Fish River Canyon: One of the most popular places in Namibia, Fish River Canyon is the largest canyon in Africa and the second largest in the world. Go camping, hike through the Fish River Hiking Trail (53 miles long in total), or just take in unparalleled views of the canyon.
Places to Stay
Windhoek Gardens Boutique Hotel: Stay right in the city center of Windhoek at this hotel. Just a short trip from Christ Church and the National Museum of Namibia, the hotel comes with brightly decorated rooms with minifridges, an outdoor plunge pool, a pub, and a hotel restaurant with terrace seating.
Hakusembe River Lodge, Gondwana Collection Namibia: When in Rundu, stay at this great lodge. Relax in wood-furnished bungalows, sleep in canopied beds, dine at the riverside restaurant, swim in the outdoor pool, go fishing, take a champagne river cruise, or relax on the sun loungers. Kids 5 and under stay free.
Protea Hotel by Marriott Walvis Bay: Stay next to the Atlantic Ocean at this hotel. The Walvis Bay Train Station is just 7 minutes away on foot, which is perfect for those who want to explore more of the city. Or you can stay inside and enjoy free breakfast and Wi-Fi, a hot tub, golf, room service, and a hotel restaurant and bar.
Check out our favorite booking platforms Booking.com, Tripadvisor and Air B&B for the best deals on accommodation in Ireland.
Booking Resources
Whenever we travel we make sure to start with these companies.
We have tried a lot of different ones over the years and all of these have consistently proven to be the best when it comes to offering great prices.
We have used every one of these personally and continue to do so.
Booking.com: This is our go site to when comparing prices for accommodation. It is usually the has the cheapest prices, and get free cancellation and you are guaranteed the best price.
Trip Advisor: What we like about Trip Advisor is that we can look at all the reviews and then book our accommodation.
Air BnB: Airbnb is the main search engine we use when we are looking for a home or apartment rental. It is the best way to stay in areas that offer a more local feel.
Skyscanner: This is the first place we check for flights. It consistently comes back with the cheapest and best options. It allows us to compare a lot of airlines to get the best price.
Hostelworld: With one of the largest databases of hostels in the world, Hostelworld is the go-to site when you are looking for budget accommodation.
Rome 2 Rio: If you want to see how to get somewhere by plane, train, bus, ferry or car Rome2Rio lays it all out for you as well as related costs. I love how they show it all to you on a Google Map and it works offline.
Get Your Guide: For all your day trip and city guide needs, we use Get Your Guide. It has the world's largest collection of things to do with more than 30,000 activities in 7500 destinations.
World Nomads Insurance: When traveling to Thailand you should always have travel insurance. We have found the best bang for your buck is by far World Nomads.
Related