It was July 2016, when I set my feet on to the Mexican island Cozumel, I was visiting on a cruise to Cozumel that departed from Miami five days earlier.
Cruise to Cozumel, My Day in Paradise
It was 9 in the morning when I started realizing that I had to leave bed to start exploring that beautiful island, we were supposed to start leaving the cruise at 10, that means I should be ready in an hour.
Since my cabin didn't have windows, my first thoughts were targeted towards getting to the 10th deck to get a better view of the surroundings. So I quickly grabbed an omelet and some  french toasts from the breakfast buffet and headed to the top deck just to be startled by the view. I found the cruise settling in front of a small dock jammed with colorful buildings and bungalows and everything else was green despite the small town facing the coastline.
The best way to explore the island is renting a scooter, it's cheap, fast and not so hard to ride. If you can't ride one you could just ride any of the micro buses you will be seeing everywhere. The vast majority of the 100,000 inhabitants of Cozumel live in a small town called 'San Miguel', it took me a 10 min drive to start mingling with locals houses, houses over there were simple one or two floors tall, different colors and most of them had scooters parked in front.
Scooter costs only $20 all day including insurance. If you are doing a cruise to Cozumel, it's a great way to explore the island. 
They were interrupted every now and then with schools, shops, churches or government buildings. As you start approaching the beach you will start to recognize that houses are getting bigger and even more luxurious, I understood from the locals that businessmen buy houses here and rent them on holidays, I even started to spot some five-star hotels. After 30 minutes of riding I had my first stop at the coral reef monument, I parked the scooter and started to explore the area on foot, I found my self entering a small plaza opposing the shore, it was quite wide surrounded with trees and small shops and bars. I grabbed a bottle of soda and started shopping souvenirs and some local handmade stuff.
Their market had lots of choices that made it hard to decide what you should choose to take home to remember your trip with, but all of the items agreed to one important term; colors. Everything they sold was full of colors varying from masks, Mayan temples, rugs, blankets, jewelry, t-shirts, hats and small statues. I wandered for half an hour then ended up buying a hand crafted blanket, a bracelet with the Mexican flag and their famous 50cm diameter mariachi hats, with VIVA MEXICO sewed on it.
Going to the Caribbean? Check out our Top 6 Caribbean Adventures

After an easy ride I arrived at my destination, to enter a 5-star beach. It's the stereotype you have about honeymoon beaches, bungalow umbrellas along the shore, comforting chairs and bed resting in their shades and hammocks for the lazy. Around the corner you could see a big pool, people swimming and a DJ spicing it up. I chilled around for sometime then rented snorkeling gear. I forgot to mention that Cozumel is one of the best snorkeling destinations in the Caribbean. I jumped into the water to find unexceptionally cold. It was a blessing to defy the rising temperatures. If you have more time in Mexico and love snorkelling, you may want to try swimming with whale sharks, it was our favourite adventure.
The water had a wide collection of rare marine species, you could see fish swimming around you everywhere, colorful reef on the sea bed and if you're lucky you could spot turtles or starfish. I have snorkeled a lot but that was a fascinating experience. Later on the beach I rented a kayak with a glass bottom,which will give you a unique experience to sea the sea underneath.
Have you done a Cruise to Cozumel or Mexico? You may want to read The Fathom Cruise Experience
I didn't feel the time until people started telling me that my time has finished. So I took a shower and started my way back to the dock.
If you like a cruise to Cozumel, You'll want to try these 8 Caribbean Water Sports 
Took my stuff and found my way back the scooter, I was now in the mood for some water, so I checked the map to know that I have a 15 minute ride along the coast to reach the beach. Before I started moving I grabbed a mango from a street stall for $2. A Mexican old man gave me a bag with a mango peeled and cut into 6 big pieces and it was YUMMY!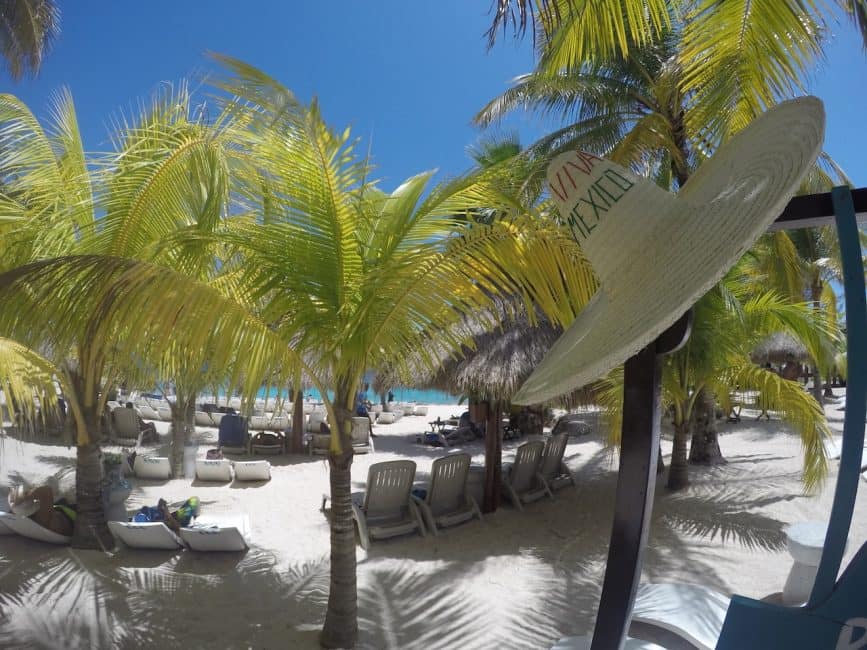 Who could visit Mexico without eating an authentic Mexican meal?  That's why I found my way to a vibrant restaurant and bar called Tres Amigos, their menu was big so I wasn't ready to order except after 15 minutes of being seated on a sea-facing high table. I ordered a steak taco, chicken burrito and for appetizer nachos -of course- with guacamole and chili sauce. The plates were big I couldn't finish them, but as I had expected it was the best Mexican meal I had in my life.
Like Cruising? Check out Discover Your Adventurous Side on a Carnival Cruise
As soon as I stepped out of the restaurant I saw a five person band playing some folk tunes, I learned from them that they called their traditional music Ranchera, the biggest of them was a violinist – on a side note I have been practicing violin for two years now – so I was eager to play with them, after hard trial I was finally able to convince them to teach me a tune and we could perform it together, actually It wasn't a successful performance I failed badly at it, but it was a fun way to end my day and Cozumel before getting back on the cruise.
Yousef Hisham, an 18 year old Medical student, traveler and aspiring writer based in Egypt.
Check out Youseff at his travel blog Traveler in Coats
You can also follow him on Tumblr
And on his social channels: Instagram and Pinterest and Twitter @yousefhisham
You Might Also Enjoy