Exploring shiny new cities is nice but hiking around the 250 million-year-old rock formations of Zion National Park is intoxicating. This park of mystic origins sits in the western state of Utah. There are numerous trails throughout the park and even the Zion Canyon scenic drive that lets you experience the canyon during the winter months from inside a vehicle.
Zion Canyon National Park
Note: Some activities and trails may be affected by COVID-19. Check for closures and restrictions before planning your trip to Zion. Please Check with the NPS website for current conditions.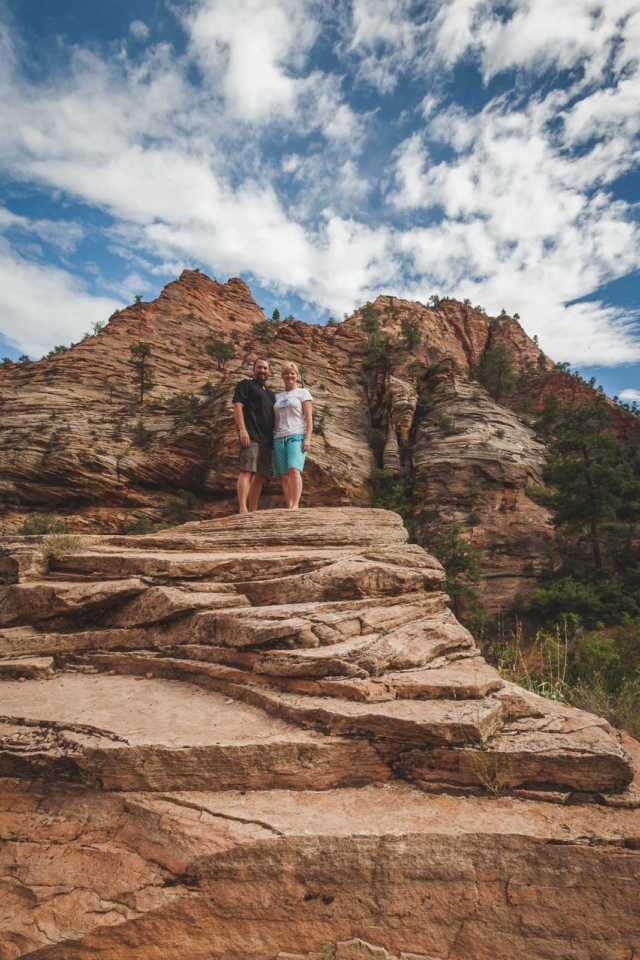 Zion National Park has a park shuttle bus service that can drop you off at the different trails so you don't have to hike to your hike. Alternatively, you can take the Zion Canyon Scenic Drive across the valley floor along the Virgin River if you're not in the mood to hike. You should note that access to the valley floor road is closed during the busy months.
You can get permits to camp in the park if you do a long hike like the West Rim Trail. You can also camp on the canyon floor at the South Campground when you visit Zion for a truly unique experience. However, if you just want to be able to explore more of the park without staying in the wilderness then the Zion Lodge is an option.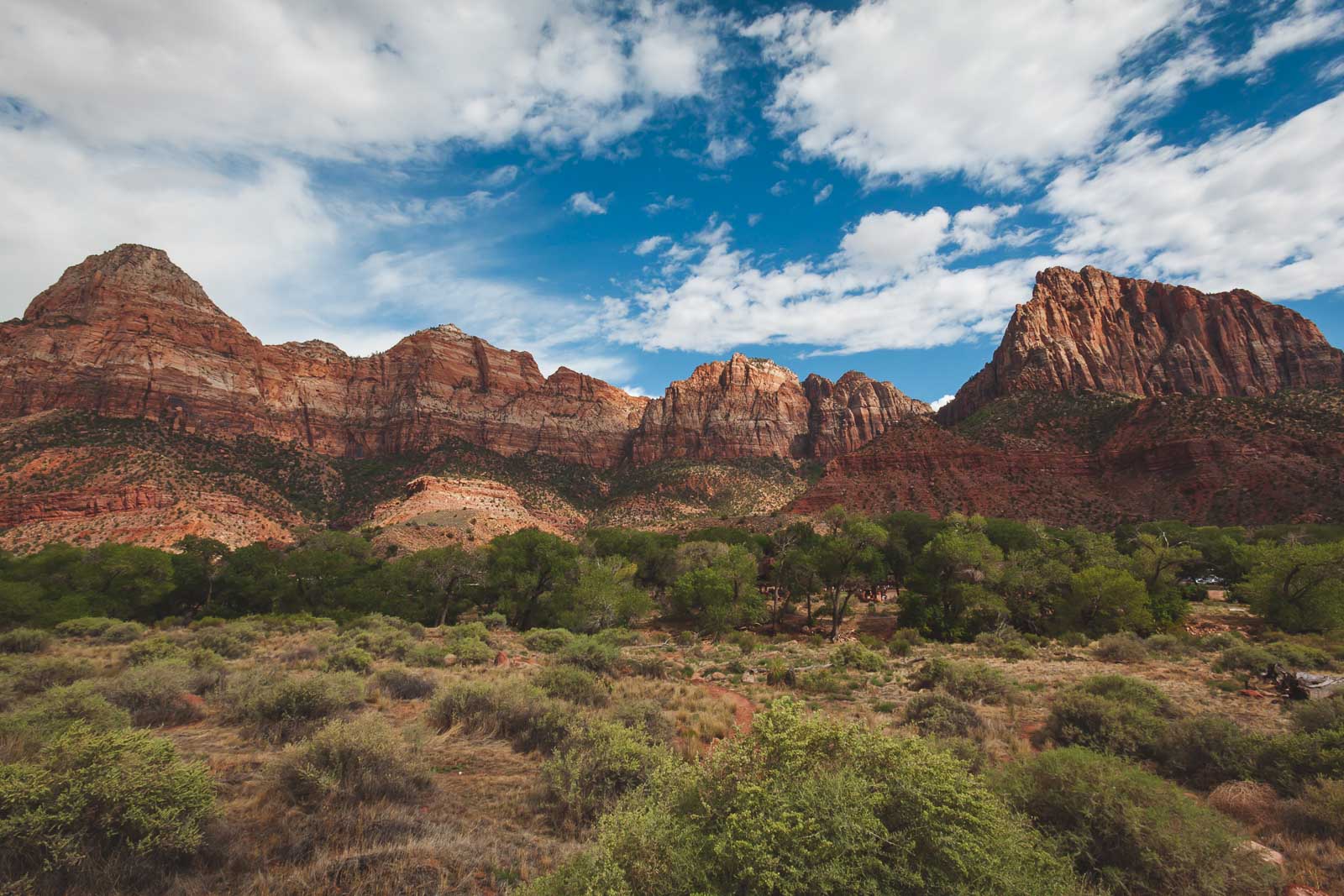 Zion Lodge has historic lodges you can rent or you can book a room instead, either way, you have access to typical United States amenities. The lodge sits near the Zion Visitors Center and provides you with close access to many of the day trails. Up next we're going to tell you about the best 10 greatest hikes in Zion National Park.
Important Conditions Update: Weeping Rock Trail, Observation Point via the East Rim Trail from Weeping Rock and Hidden Canyon are currently closed. Please Check with the NPS website for current conditions.
East Rim Trail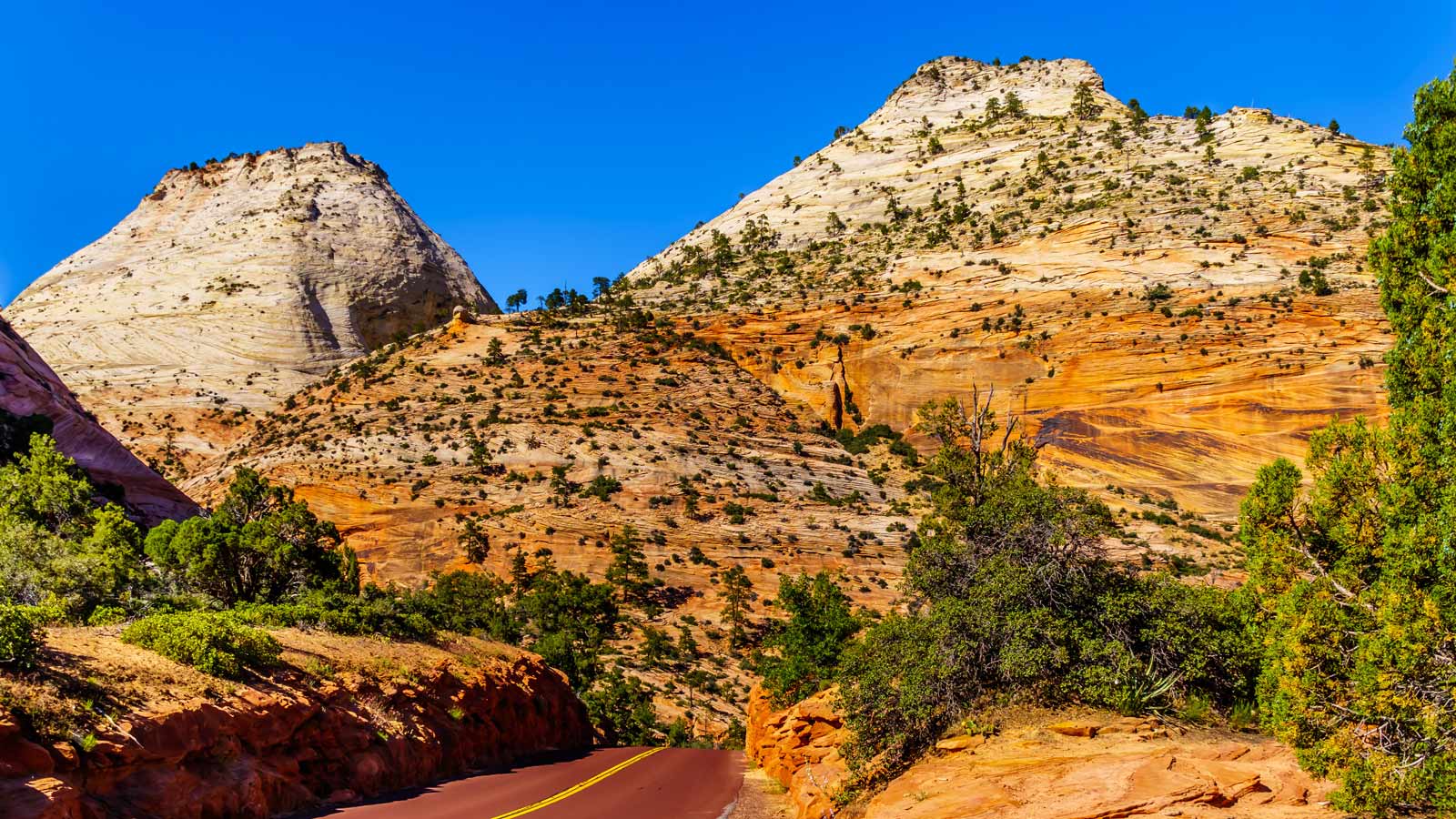 If you're looking for a full day of hiking, you're going to want to check out the Zion Canyon East Rim Trail. The trail is a 22-mile out and back hike in one direction and will get you into all sorts of nooks and crannies of the canyon's east rim. You will be going up an incline of approximately 2000 feet if you choose to climb up the trail from Observation Point.
Alternatively, you can climb into the canyon by starting your hike from the East Entrance. If you start from the East Entrance you're going to be climbing up about 1000 feet and then you'll be climbing down about 2400 into Echo Canyon. The Echo Canyon descent is one of the most stunning descents you've ever experienced.
The descent will take you all the way to Weeping Rock. You can do the hike from Weeping Rock upwards instead of hiking downwards. If you choose to do that then get off at Zion Shuttle Stop 7 to Weeping Rock. If you decide to hike up, then you'll find the East Rim Trailhead right by the entrance to the park.
One thing to note is that parts of Weeping Rock do occasionally experience inclement weather so it is best to check the conditions before heading out. You don't want to be sliding around on an icy trail into canyon walls.
Length of Hike: 22 Miles Out and Back
Difficulty: Moderate to Difficult
Shuttle Stop: Zion #7
West Rim Trail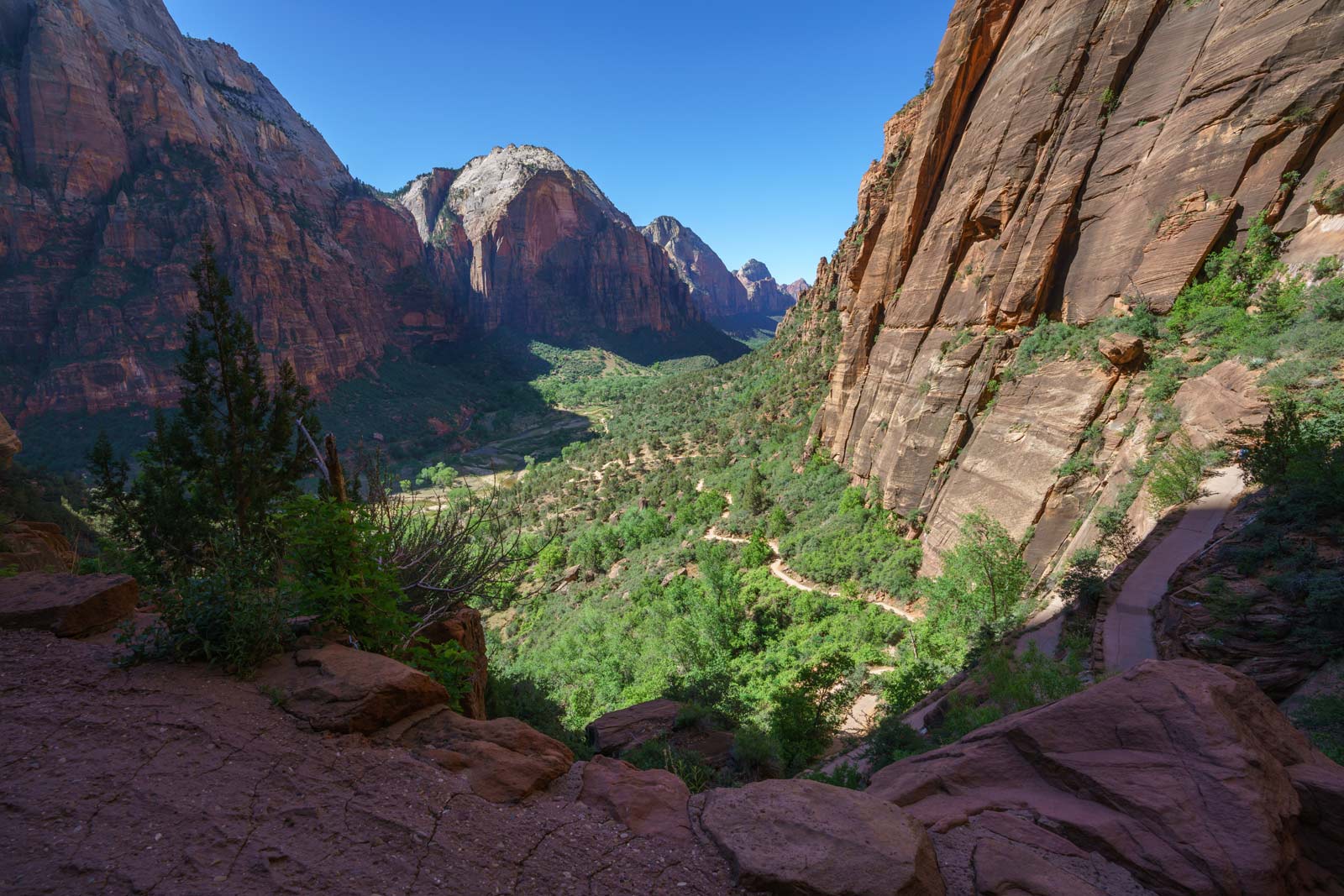 Backpackers alert, this is the perfect trail for you at Zion canyon. The West Rim Trail is approximately 14 miles long and is good for a two-day hike. That's not to say it's impossible to do it in one, but if you want to hike and enjoy your surroundings then a two-day trip might suit you.
You can camp at one of the camping sites along the way. You have your choice of eight camping sites, but do note that they can fill up during the summer months.
You can start your hike off at Lava Point, which is near the West Rim trailhead and at an elevation of 7900 feet. From that point, you get to see expansive views of the area and Wildcat Canyon. On your way down you're going to pass pretty springs and meadows as well as gorgeous forests of pines, aspen, and juniper.
From Lava Point, you'll get into Potato Hollow. Things get really steep when you hit Cabin Spring because that's where you'll start descending into the Grotto. The trip down is almost 5 miles and you'll be changing elevation to the tune of 2500 feet. There are camping sites along the way, but note that you do need a permit if you're planning on camping.
To get to the West Rim Trail to climb from the top down, you will have to drive from Springdale or take a private shuttle. If you're going to start from the Grotto Trailhead and climb from bottom to top, you can use the Zion shuttle route. You will need to get off at Zion Shuttle Stop 6.
Length of Hike: 14 Miles
Difficulty: Moderate to Difficult
Shuttle Stop: Zion #6
Observation Point Trail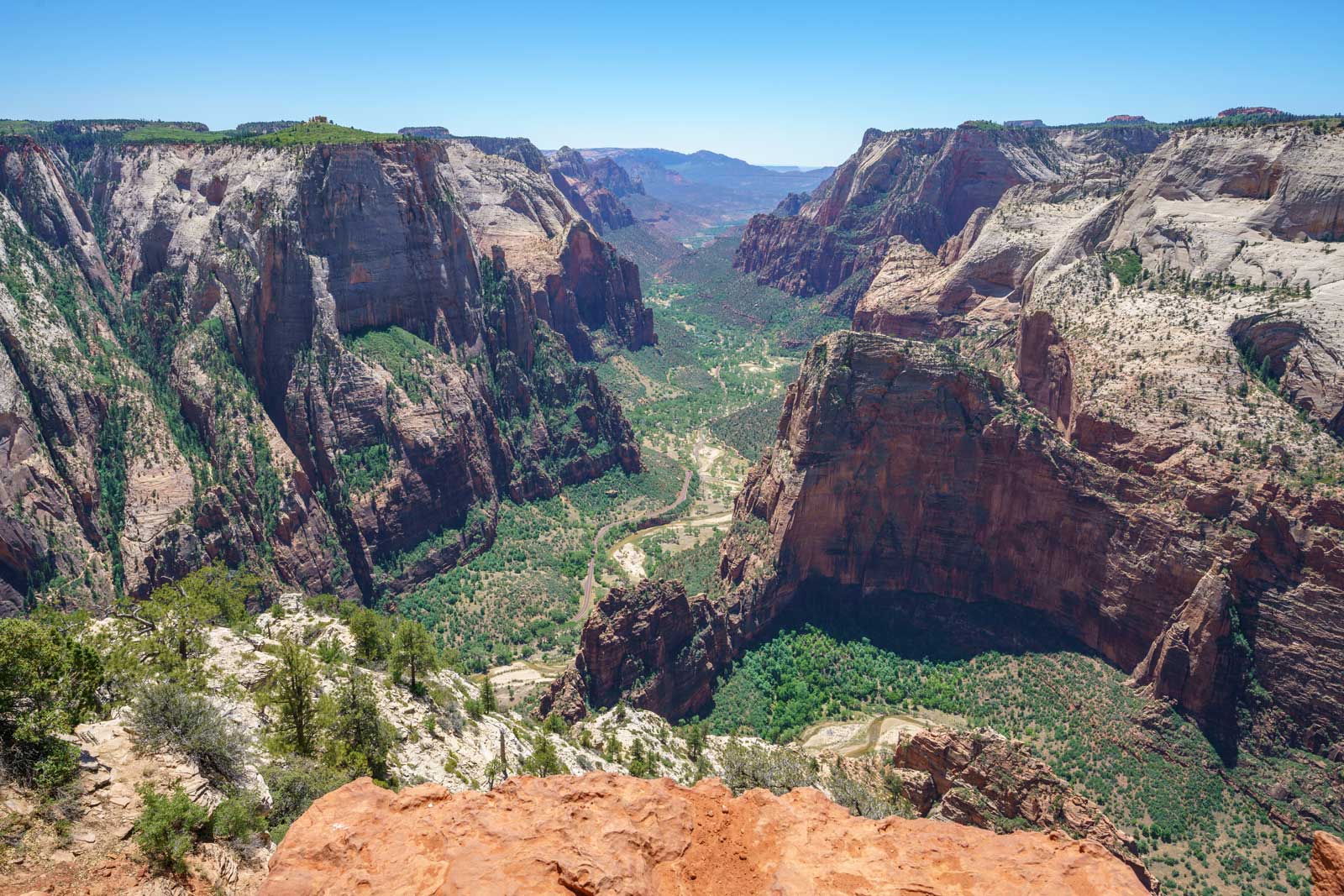 For a hike that's going to give you a great workout with more than 2000 feet in elevation by the end, you've got to head to Observation Point. This is one of the most popular trails and from start to finish, you get incredible views of the canyon and the park.
Despite the steep incline for the entire hike of Observation Point, you don't quite feel it due to the switchbacks.
Observation Point Trail ends with you staring deep into the pit of the canyon. It is both exhilarating and a little frightening. To get to Observation Point, you'll want to first get to the East Mesa Trailhead.
You can get to East Mesa Trail by taking the Zion hikes shuttle and get off at stop number 7 and then start your hike from there. This is one of the trails that a majority of the people do, so you might want to get one of the first shuttles out to Observation Point to avoid crowds.
Length of Hike: 8 Miles
Difficulty: Difficult
Shuttle Stop: Zion #7
Angels Landing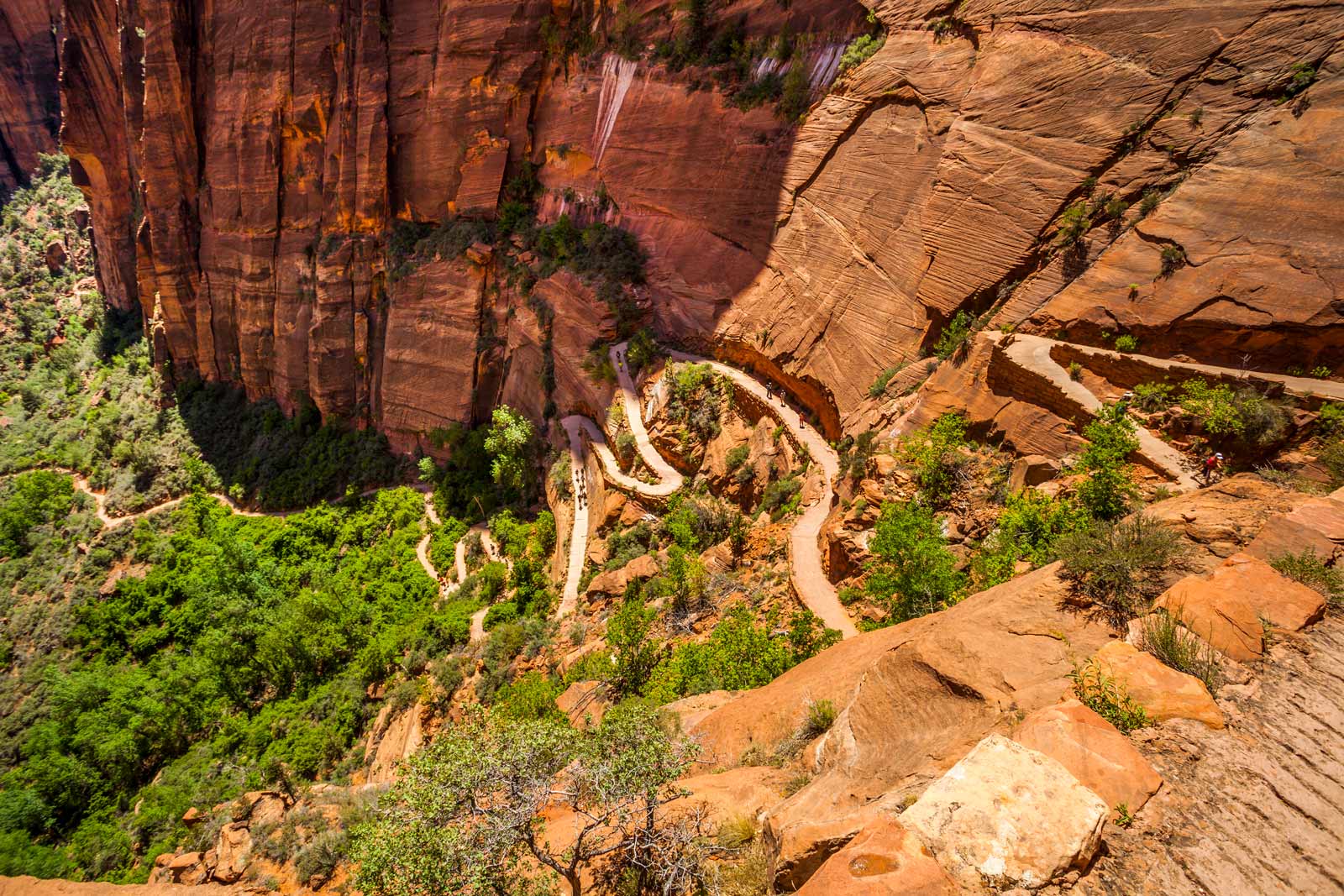 If you're looking for about a dozen trails rolled into one then Angels Landing is one of the best hikes for you. This is one of the favorite hikes in Zion and is iconic for many reasons. One of the biggest reasons is the fact that you see almost all the moods of Zion National Park.
For the first part, you get to visit what is called Refrigerator Canyon, aptly called so due to the cool night temperatures you experience there. After there you're going to be going up a bunch of switchbacks that can be a little difficult due to their steep nature. They're called Walter's Wiggles, which is a rather cute name for a set of switchbacks that require a lot more than cute wiggles to get past.
Once you do your thing at Walters Wiggles, you're going to end up at Scout's Lookout – this is where you stop and turn around if you're not a major thrill seeker.
You can enjoy the beautiful scenery of Angels Landing as that's what hiking is all about. If you're into adventure you don't have to stop here. You can keep going, but be forewarned that the next part is difficult and you're going to be climbing a narrow ridge with the assistance of chains.
This heart-pounding climb will get you to the top of Angels Landing and here you get a totally amazing 360 view of the whole canyon as you stand suspended in the middle of it.
You can get to the Angels Landing Trail by getting off at Shuttle Stop 6. Since this is one of the trails that folks travel hundreds of miles to get to, it's always busy. That means the earlier you go, the more breathing room you'll have.
Length of Hike: 5.5 Miles
Difficulty: Difficult
Shuttle Stop: Zion #6
Emerald Pools Trail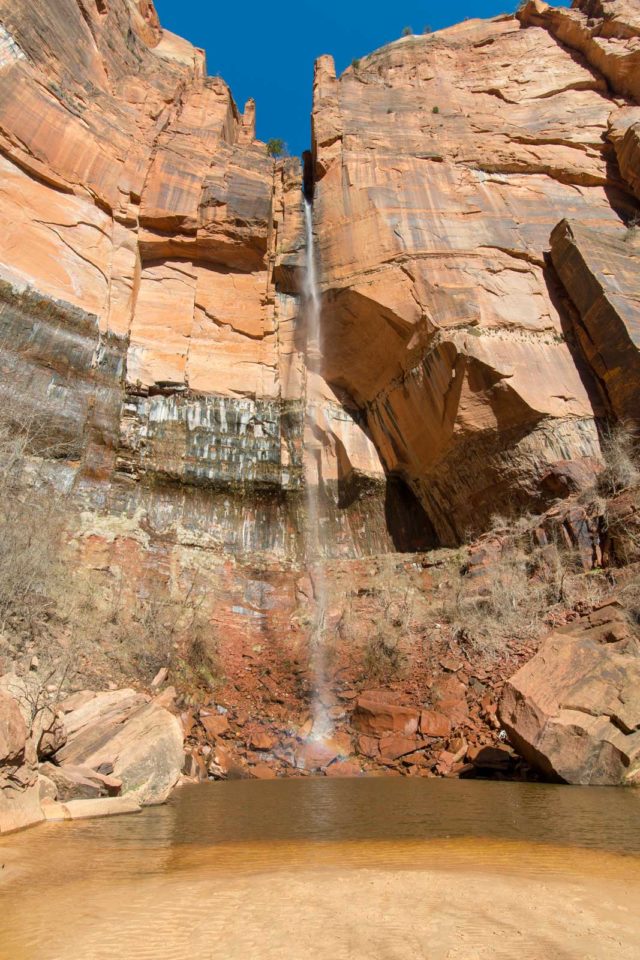 Anything with the word emerald in it seems intriguing, and in the case of the Emerald Pools trail, it certainly is. You will be treated to views of three emerald mirror pools on this hike. Hiking here is perfect for both amateurs and experts as you can do the trail in an easy way or a hard way.
The easy way will have you taking a short paved trail out to the Lower Emerald Pool Trail. This section is just over a mile long but the Lower Emerald Pools is the location of a beautiful waterfall. where you can experience a gorgeous waterfall. You can continue on from there to Middle Emerald Pools falls and just relax and take it in.
To make this trail more difficult and up to adventure seeker levels, you can climb up the Upper Emerald Pools. You can take the park shuttle and get dropped off at Shuttle Stop 5 to start this trail.
Alternatively, if you get dropped off at the Kayenta Trail, which is at Shuttle Stop 6, you can also hike down to the Emerald Pools Trail. Getting off at Kayenta Trail has the advantage of making the whole trek longer for you if you want to spend more time out there.
Length of Hike: 3 miles
Difficulty: Easy to Moderate
Shuttle Stop: Zion #6
Canyon Overlook Trail
If you've got kiddoes, the Canyon Overlook Trail is probably going to be your best bet for hiking Zion Canyon. There are no steep 2000 feet inclines on the Canyon Overlook Trail, but rather just 100 feet maximum.
This hike will happen on the east rim of the canyon and it's just long enough to get a good walk without anyone complaining of tired feet. You're looking at about ½ mile to the overlook and ½ mile back. To get to the Canyon Overlook you can just park your car and climb up.
Length of Hike: 1 Mile
Difficulty: Easy
Access: Highway 9, look for trailhead
The Narrows Hike and Riverside Walk Trail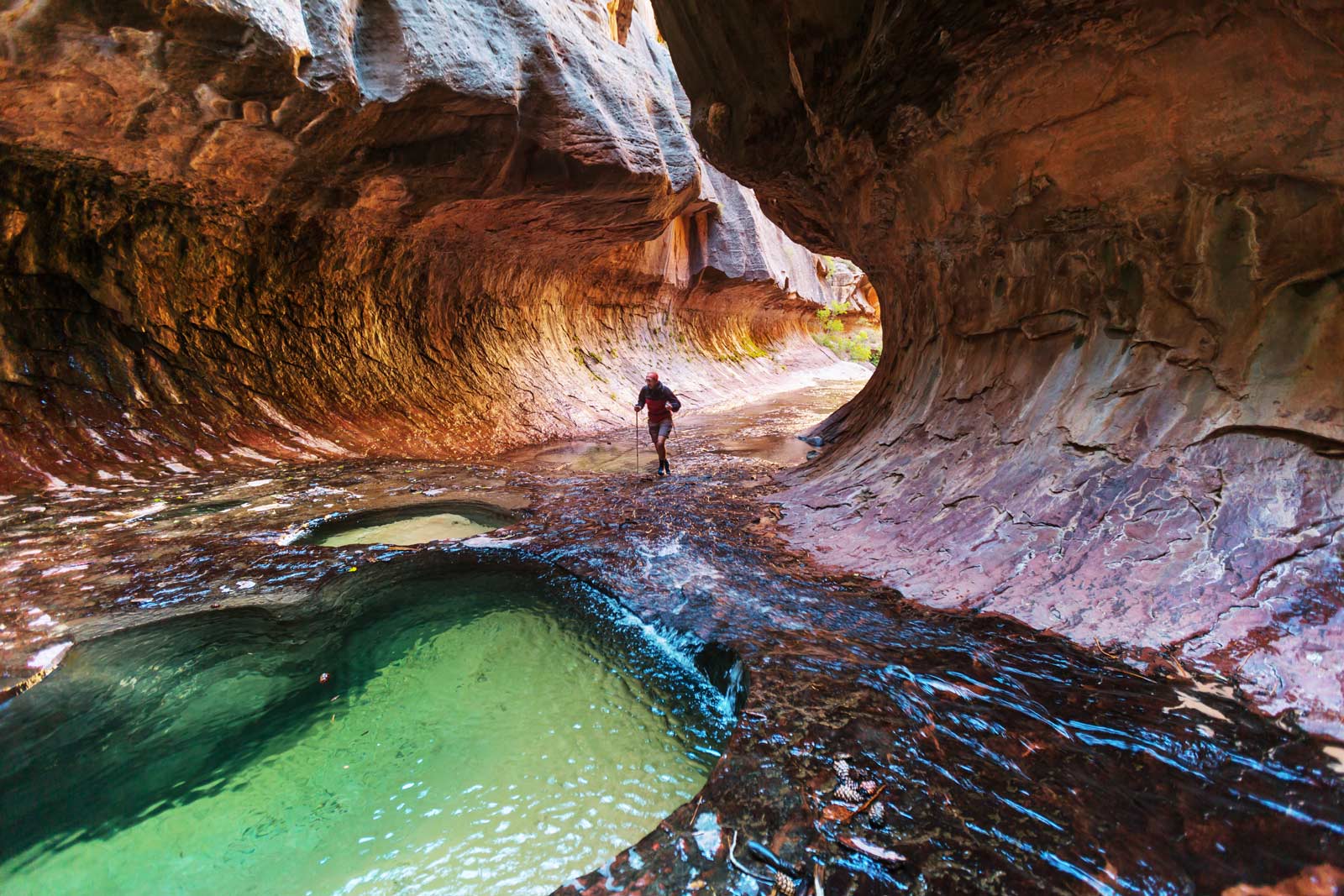 The Zion Narrows is a popular hike and for good reason. You'll be hiking across the beautiful Virgin River while surrounded by the Zion Canyon walls when you do The Zion Narrows trail. The Narrows trail can be as difficult or as easy as you want it to be.
It all depends on whether you hike it going from the Zion Narrows top-down or from the bottom up. If you want to do a descent then you can head to Chamberlain Ranch and hike down. This is a difficult hike and ideal if you want to commit to a 16-mile trek. Most people that do it, make it an overnighter and stay at one of the campgrounds.
If you want to make the hike an easy day hike then you can go from the bottom up by starting at the Temple of Sinawava which is located at the Riverside Walk. The reason it's easier this way is that you can turn around and come back whenever you want.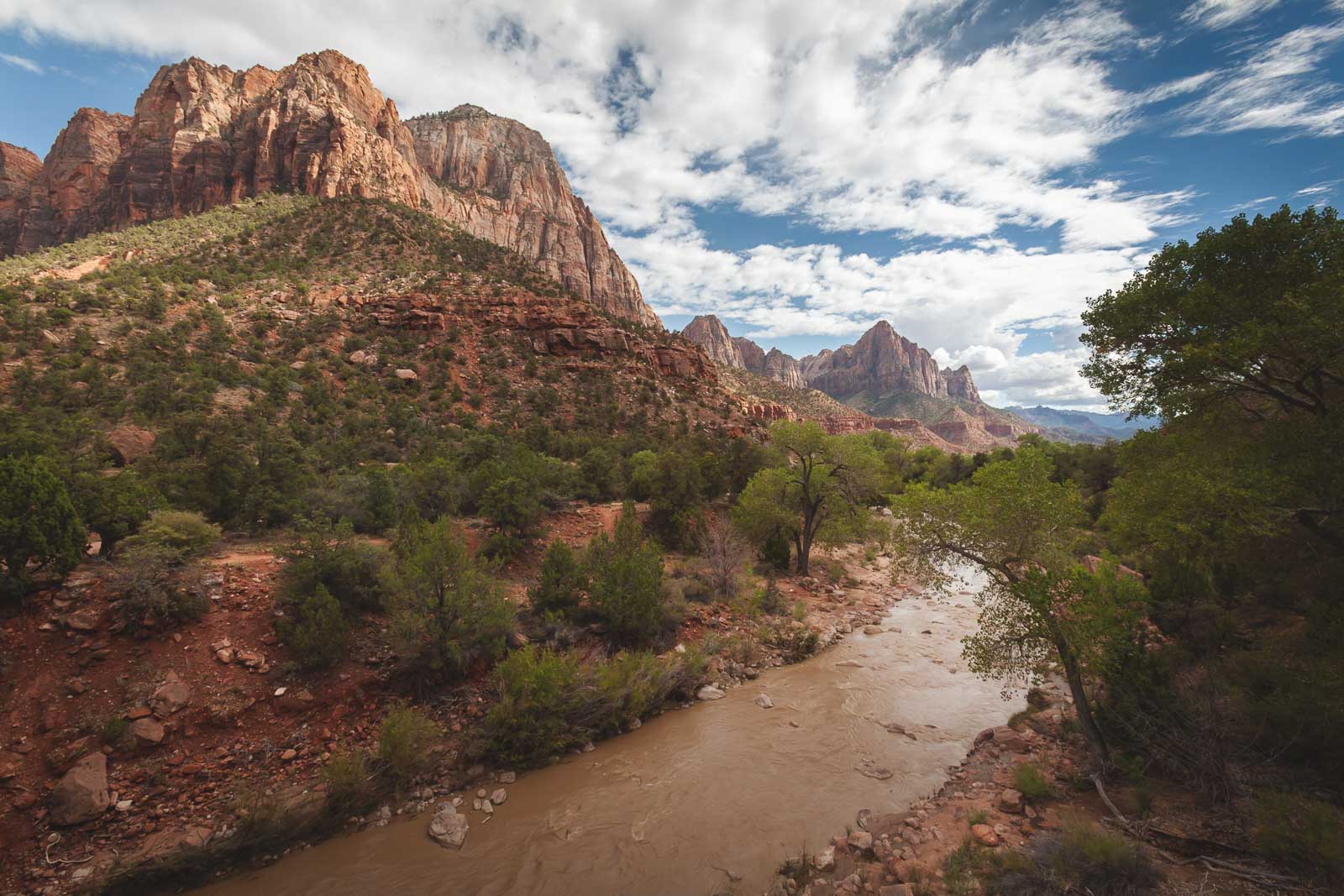 The top down version is one of the favorite hikes in the park for people that love a challenge but the Riverside Walk is perfect for taking it easy. The Temple of Sinawava can be found if you take the shuttle bus to Shuttle Stop 9. The Riverside Walk itself is just a mile long if you want to keep things super simple.
If you are going on a bigger adventure and need to get to Chamberlain Ranch Trailhead, you will need to use a private shuttle service.
Length of Hike: Top Down: 16 miles, Bottom Up: 12 miles
Difficulty: Moderate to Difficult
Shuttle Stop: Top Down: Chamberlin Ranch, Bottom Up: Shuttle Stop #9
Weeping Rock Trail
This is the easiest hike in all of Zion National Park. You will at the most experience an elevation of 100 feet. This day hike is great for children but note that the trail is quite narrow so you can't take a stroller onto it. One of the things we love about this trail is the hanging gardens.
You will go over a small bridge and near that bridge are some 'secret steps' that will take you right up to the stream running underneath the bridge. There are also some spectacular views of the Great White Throne, which you'll often see on material about Zion National Park. You can access Weeping Rock Trail from close to the Visitor Center.
Length of Hike: 0.5 Miles
Difficulty: Steep uphill
Shuttle Stop: Zion #7
The Hidden Canyon Trail is not as well known as the other hiking trails in Zion National Park. That's probably because it's got the difficulty level of the Angel's Landing Trail without the same payback. There are some major drops as you climb the rock face but you do have the assistance of chains bolted into the rock as you climb.
This is a short trail with the Hidden Canyon distance being 3 miles long. You'll experience an elevation gain of 940 feet. Some of the fun stuff as you climb are stone steps carved into the rock as you climb. You will climb into a smaller tree-filled canyon before you enter the Hidden Canyon itself.
The real fun of this trail is the fact that you get all of the stunning surroundings without the crowds. You can get to Hidden Canyon from the Weeping Rock Trailhead which is at Shuttle Stop 7.
Length of Hike: 3 Miles
Difficulty: Easy to Moderate
Shuttle Stop: Zion #7
Subway Hike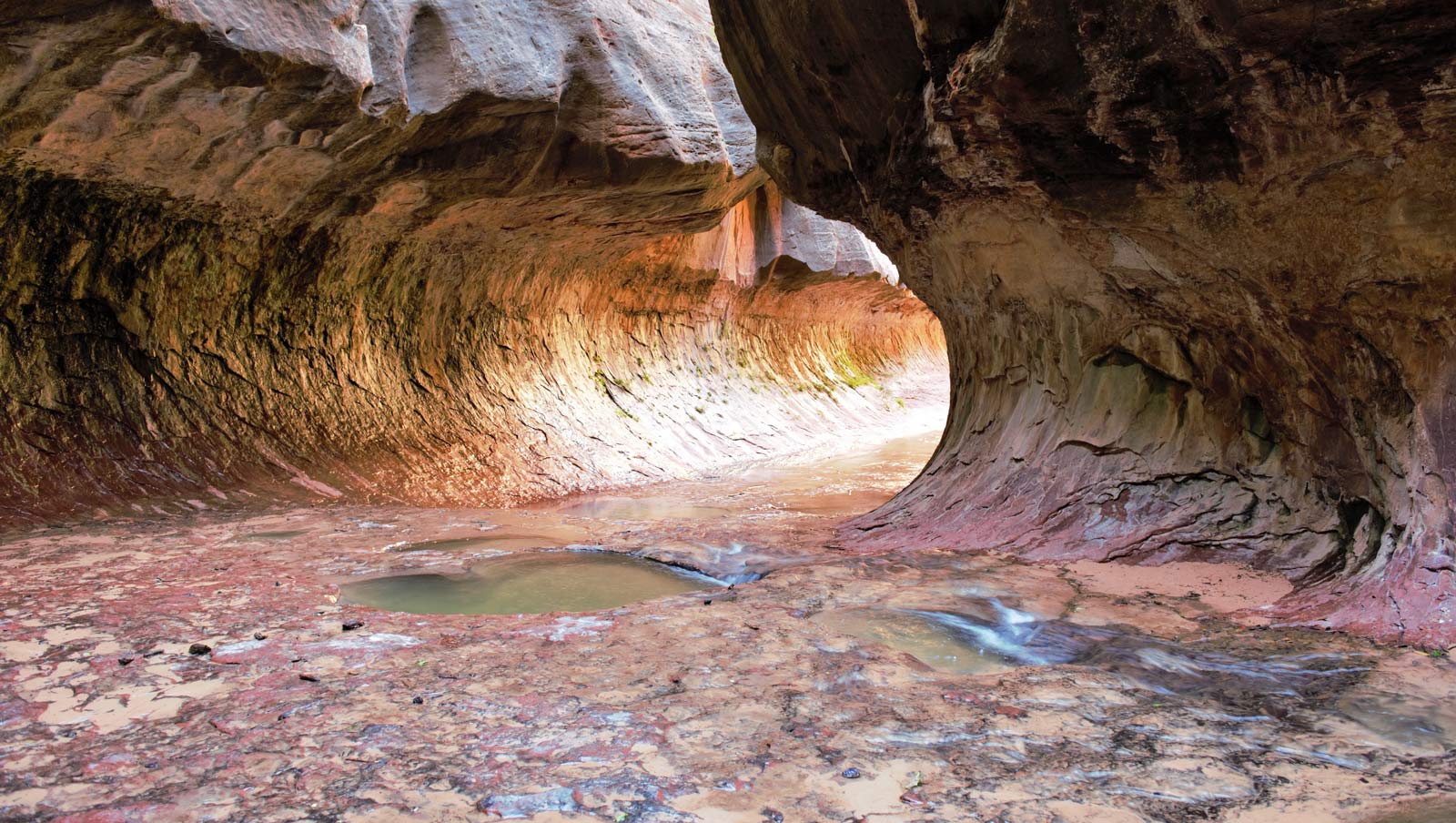 The Subway Hike is not the most popular hike as it is a strenuous hike and is for serious hikers and canyoneers only. This slot canyon hike involves wading and swimming through water.
You don't need to rappel but you will be climbing down waterfalls and steep rock faces. All of that is why it's called a semi-technical trail and the subway distance is 9.5 miles.
If you have the ability to hike it, you won't be disappointed. You'll be hiking the left fork of North Creek and cold water is the name of the game most of the way. The reason it's called the Subway trail might have to do with the fact that when you get to the end of the trail, the canyon walls close down around you into something that looks like a subway tunnel.
You can access the Subway trail at Kolob Canyon and you'll need a wilderness permit to hike it. You can get a permit at a Zion National Park visitor center. Despite its difficulty, this is one of the park's day hikes. The hike doesn't fall under the park's shuttle system so you'll need to get a private shuttle out there.
Length of Hike: 10 Miles
Difficulty: Difficult
Permit: A permit is needed for this hike.
Read More About US National Parks
Frequently Asked Questions
What are the best hikes in Zion National Park?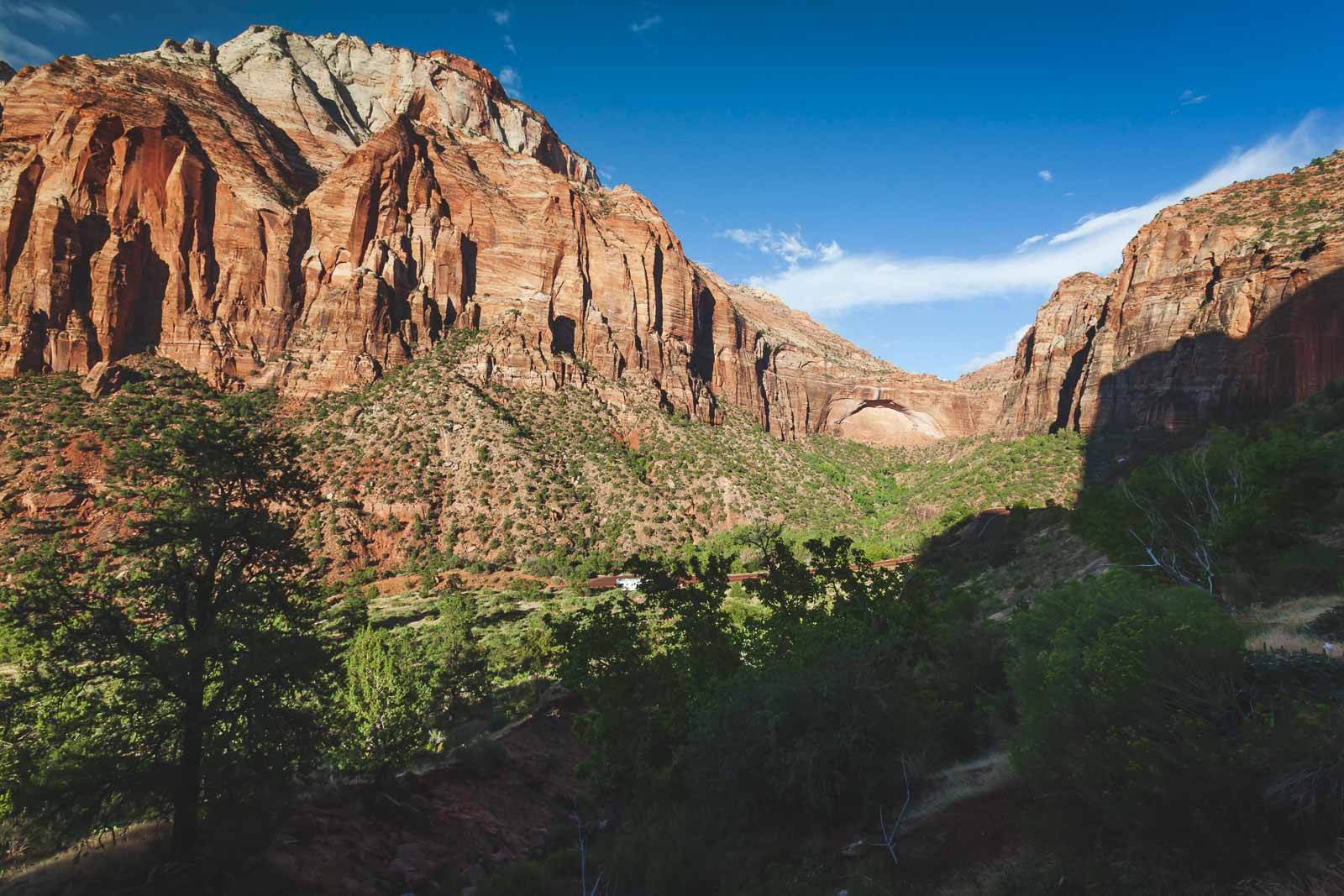 Emerald Pools Trail
The Emerald Pools hike is one of the best hiking trails among all national parks. That's because you've got numerous natural pools to explore which makes the hike out of this world. The Lower Emerald Pools are also the site of a beautiful waterfall. The Upper Emerald Pools is a magical world of natural pools, waterfalls, secret rock alcoves, and more. This day hike is one of the most pleasant hikes in Zion.
Watchman Overlook Trail
To get your hiking experience without having to do too much hiking, you can head to the Watchman Trail. The Watchman trail distance is just 3 miles and within that loop, you get to see views of large swaths of the park. You also get a nice comfortable view of Angel's Landing without having to make the rather scary hike for yourself.
While you hike the Watchman Trail, you get to sneak into another world. You're surrounded by pink sandstone and babbling brooks as well as greenery worthy of a hobbit forest. You don't need to take a shuttle to get to this trail. The trail begins just a short walk from the visitor center.
What can you not miss at Zion National Park?
You should visit Wall Street in the Narrows Hike. You will never feel so big and small at the same time. Wall Street in the Narrows is the point where the walls of the canyon come so close together that you're literally walking through what feels like a tiny slit.
You have to hike along the Virgin River for about 6 miles before you hit the narrowest point, but it is well worth it. As a side note, do not swim in the Virgin River no matter how hot or excited you get. Nor should you drink water from it either.
What hike should I do in Zion?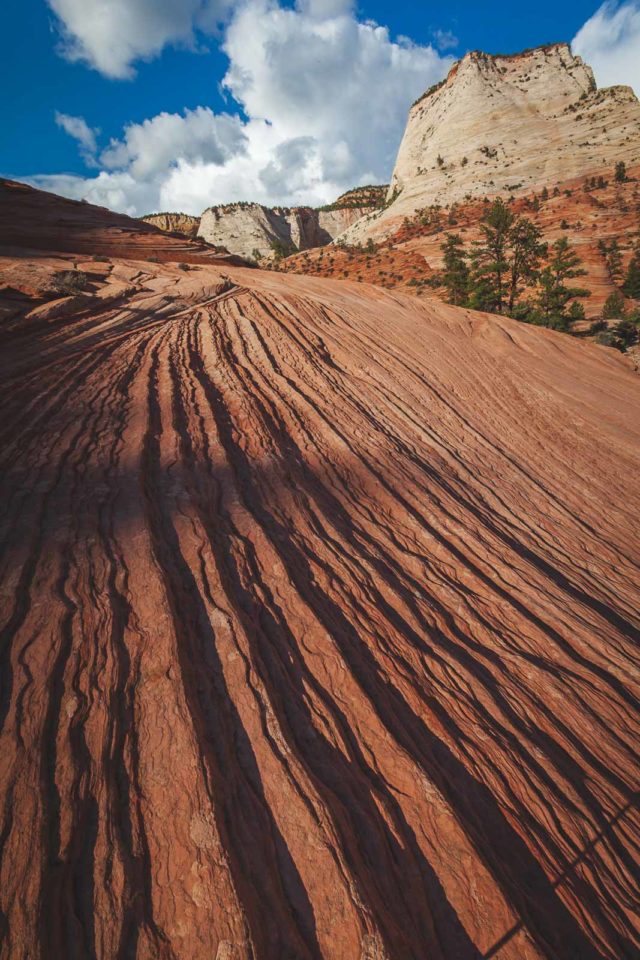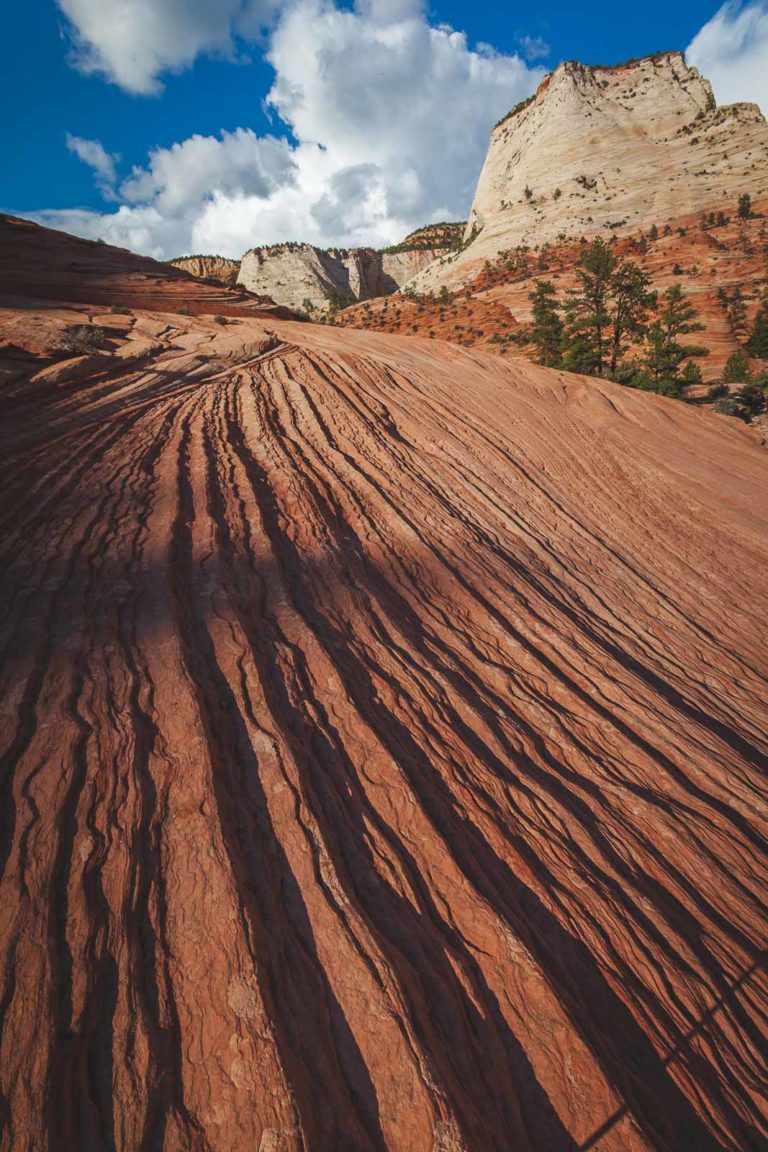 The most accessible trail at Zion National Park is the Pa'rus Trail. That's due to its flat landscape which makes it easy for everyone to trek. It is wheelchair accessible and also good for biking or blading.
Regardless of what you're doing, you're assured of lovely views on this short hike. You'll travel down the paved road and go over storybook bridges that cross rivers and through cottonwood forests.
The Pa'rus Trail is located just north of the Visitor's Center and can be done in less than half a day by almost everyone. The trail is about 3.5 miles long. If you're at the visitor's center you don't need to take a shuttle but if you're elsewhere, you can hop on the shuttle bus and get off at Shuttle Stop 3 at Canyon Junction.
Other major hikes include Angels Landing, Observation Point, and Emerald Pools which means there are lots of crowds. If you want to have a different sort of experience you can check out Bryce Canyon and Orderville Canyon. These trail canyon hikes will be quieter so you can really experience the ruggedness of Zion.
What is the most dangerous hike in Zion?
The Angels Landing Trail has got to be the most dangerous hike in Zion. It has an incredibly steep climb and the trail leads to a plateau that is more than 1000 feet in the sky. Angels Landing distance is just 2.4 miles one way and you don't need rock climbing gear but the elevation gain is 1500 feet.
Another reason this trail is a dangerous one in the world of Zion hiking is due to the last part where you have to hold onto chains as you cross. The views from Angel's Landing are worth it, but only if you can stomach the strenuous climb and views of the drop too.
A close second to that hike is the Bridge Mountain hike. Few visitors ever make it out to Bridge Mountain because its a particularly difficult hike and requires some level of expertise.
There are steep climbs with no chains bolted in to help you along. You have an elevation of around 6800 feet and so it's clearly not your everyday climb. Bridge Mountain is actually an arch more than it is a bridge and so its name has been changed to Crawford Arch but folks still call it Bridge Mountain.
And these are the best hikes in Zion National Park to plan for your visit. When you take a road trip through the United States, make sure to add Zion NP to your list.
Explore More National Parks