Our best experiences in Alaska right here for you!
If you want a real Alaskan Adventure, the Ketchikan Zodiac tour is amazing.
We manned our own zodiacs through open water witnessing whales and bald eagles in their natural habitat.
We zipped and whizzed through the choppy waters and felt the thrill of speeding along the rugged Alaskan coastline.
1. Ketchikan Zodiac Adventure, Alaska
During the tour, we stopped at a bush camp for hot chocolate and marshmallows as we warmed our chilly fingers by the open fire. On our way back we stopped to see the totem poles on display in the town of Ketchikan and dodged out of the way of a floatplane coming in for a landing. I have never had so much fun on the water.
2. Heli, Hike and Rail in Skagway
For a little taste of everything at once when visiting Alaska, we found the Heli Hike and Rail trip to be the perfect sampler.
The tour starts off with a helicopter ride flying through the mountains and diving down towards the glaciers for a bird's eye view of the Juneau Ice Fields.
We were then let off at a wilderness trail where we took a nature hike to learn about the flora and fauna of the Tongas National Forest.
It's a long way back to Skagway, so instead of having the choppers come back out to get us, we hitched a ride on the Historical White Pass Railway that comes all the way in from the Yukon Territories.
3. Flying Over Mount McKinley
I don't think that I have witnessed as spectacular scenery anywhere as we did from the plane circling Mount McKinley.
In a tiny 9 seater 9-seat 1966 De Havilland Beaver bush plane we set off for our tour around North America's highest mountain.
This has to be one of the most scenic flights on earth and the ride will give you a little bit of a thrill as you fly so close to the mountain you feel as if you could reach out and touch it.
Although our pilot Jim told us that it is an optical illusion, we were actually much farther away than it looks.
For more information visit Fly Denali
4. Cruising Through Glacier Bay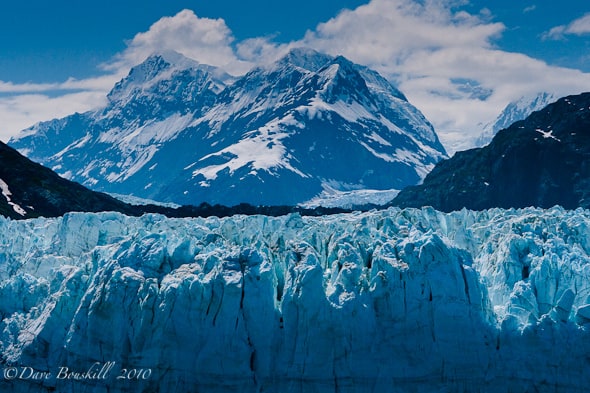 There is only one way to witness the glaciers of Glacier Bay and that is on a boat.
We had the luxury of being on Princess Cruises and we booked a spot at the sanctuary at the back of the ship where we could witness the scenery in comfort and away from the crowds on deck.
The ship spends the day circling in the middle of the bay to give you views of all the surrounding glaciers.
We heard the sound of glaciers breaking off and falling into the water and we saw a grizzly bear walking along the shore.
To witness Mother Nature at her mightiest is an awe-inspiring sight.
5. Horseback Riding
You can't go to Alaska and not explore it the good old fashioned way, By horse.
I imagined what it must have been like for early settlers to ride their steeds through the untamed landscape.
As I daydreamed of being a real cowboy and wondered what it would be like to take part in an early wagon train or trail ride, old ranch songs played in my head.
Get Along Little Doggies, Dave and Deb are in Alaska.
6. Whale Watching
You are almost guaranteed 100% to see whales when whale watching in Juneau. You are almost guaranteed 100% to experience rain when visiting Juneau as well, it's the wettest place in America.
So, this is a good place to go and see some whales as the excursion goes no matter what the weather. Juneau is the best place on earth to spot Humpback whales and we saw plenty of them.
We also saw Harbour seals and plenty of Bald Eagles, Amazing.
There are so many more things that you can do in Alaska.
We visited Denali National Park, we panned for gold, took a riverboat cruise and rode ATV's. For a real rip-roaring adventure, Alaska is the place to go.
Alaska and Antarctica have been a dream and we couldn't have done either without the help of Quark Expeditions and Princess Cruises and are forever grateful.