It's a big year coming up and it just got bigger! So much so that we need your help! We've been scouring the Internet looking for our next great adventure and we can't make up our mind. We've been wrestling between two destinations and we can't decide. So, we want you to help break the tie.
Getting there with a little help from our friends
As you know, we've been test-driving (and loving!) the American Express Gold Rewards Card, and this season, the good folks at Amex Canada have generously provided 300,000 bonus points for us to spend on an epic adventure anywhere in the world.
So how will we use those points? While the destination is up to you, our readers, Amex's TripFlex option makes redeeming travel points easy. Once we have a chosen destination, we'll use our American Express Gold Card to book our flights and vacation package. Once the charges are posted to our account, all we have to do is call up American Express and have them pay off the travel spend with our points.
TripFlex covers travel expenses like hotels, transportation and vacation packages, including taxes! It doesn't matter where we book or if it is a last-minute deal. Virtually any travel spend qualifies. There is no rush either. We may be staying in Europe for a few weeks after our trip, but we don't have to hurry to call American Express. And our points never expire. So let's get started on our next adventure.
Choice Number 1
Kite Surfing School in Spain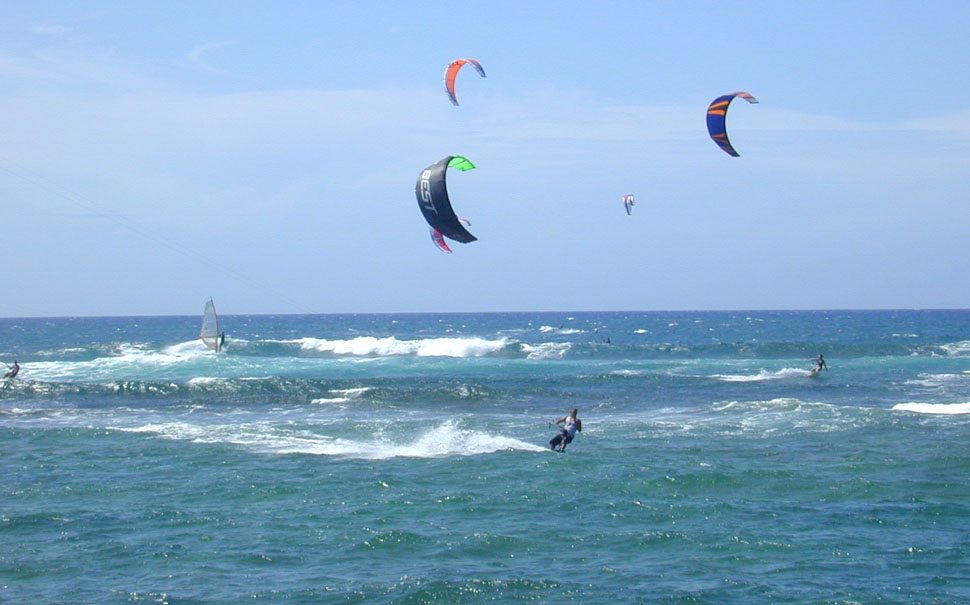 We've wanted to take Kite Surfing lessons ever since visiting Mui Ne, Vietnam in 2003. Nothing looks cooler than someone hitting the waves and flying through the air. We've never had the time or the money to invest in an entire week of learning this thrilling sport, but now's our chance. Last year after studying Mui Thai in Thailand, we stumbled upon a beach where they taught kite surfing courses. We asked ourselves "Why didn't we do this instead?!"
Pros – It's active, it's exciting, we'd have a great story to tell and we've always wanted to do it.
Cons – We've already been to Spain. We visited Spain two years ago and spent a couple of weeks driving around the country.
Debate: Sure, we may have been to Spain before but the course does take place in the far south of Spain in Tarifa at the Strait of Gibraltar, a place that we have never been before. Then again, I'm pretty afraid of the thought of kite surfing and being swept out to sea. What if I end up all alone adrift at sea, heading towards Morocco? However, we love trying something new and this is a great way to whip us back into shape. One week trying to conquer the kite board will help us work on our tans and tone our muscles to be ready for our European summer abroad.
Choice Number 2
Sea Kayaking in Croatia
Imagine paddling on crystal clear blue waters of the Mediterranean Sea while witnessing the glorious coastline of Croatia. Croatia is a hot-ticket item right now. It seems to be at the top of everyone's list of countries to visit. We'll be paddling from island to island where we'll be swimming, snorkeling and kayaking for seven days in Paradise.
Pros: We've never been to Croatia before and we have always wanted to go. We've heard it can be very expensive and this is our chance to see it on points! We just got back from Kayaking in Antarctica and we loved every minute of it.
Cons: We just got back from paddling in Antarctica and maybe it is too soon to go from one paddling trip to another. Not only may we be tired of paddling, but also maybe our readers could be tired of hearing about it. It's not exactly high adventure. We'll be paddling about 20 km a day, but in the islands of the Mediterranean, how rough and tumbling can the water be? We –and you – may want something more exciting.
Debate: Croatia is supposed to be an outstanding destination and we haven't met anyone who didn't love it, so it would be awesome to use our points and enjoy every minute to the fullest. Sure we just finished paddling in Antarctica, but that would make paddling in Croatia all that more amazing. We'd be confident and comfortable and be able to enjoy the moment in the warm sun while pretending we are part of the rich and famous. We'll experience a little decadence with a bunch of adventure. Plus, by kayaking we'll be able to explore several different islands and it's a great workout.
Your Help
So, you've heard our debate and you can probably understand our dilemma. We need you! What would you like to hear about: Our high-octane experience at Kite School in the South of Spain or our paddles through the stunning scenery of Croatia?
Vote Now, we have to decide by next week and have our trip booked for April!
To start earning your own travel rewards, head over to American Express Canada  today to apply for your own Gold Rewards Card. By signing up, you'll receive 15,000 points when you spend $500 on the card in the first three months, they'll waive the first year's fee and you'll automatically receive all the great benefits of this card instantly.