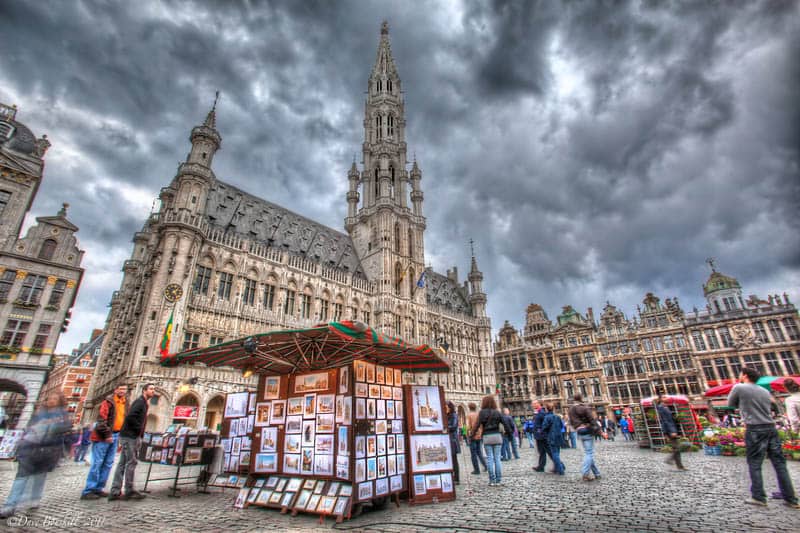 Belgium is probably not on many people's radars, apart from a quick trip to the capital of Europe, traveler's often skip this amazing country.
Many may say Brussels is boring but that could not be farther from the truth.
Brussels is the capital of Europe so it has all the food that the world has to offer. It is also one of the gourmet capitals of Europe, boasting many different restaurants that have garnered coveted Michelin Stars in gastronomy.
Outside of Brussels, lies marvels like Les Ardennes, a region of extensive forests and rolling hills, vibrant, eccentric and beautiful cities like Antwerp and Ghent.
It has a coast that beckons beach loungers and extreme sports aficionados, like surfers and kite surfers. This Belgium travel guide will help you plan your next vacation.
Fast Facts
Belgium power voltage is 230 V 50Hz; Plug E
The Belgian currency is the EURO and is around 1 Euro to 1.35 USD
Be careful when ordering food in tourist hotspots! A common trick is to offer you items which you might presume are free (bread rolls for example), which then end up on your bill!
Most restaurants will not serve you tap water so if you order water, presume that the waiter will come with a bottle of water and charge you for it!
Get ready to drink beer!
Skip the cheap Juplier brand and try one of Belgium's famous beers. Beer in the country varies from a pale lager to lambic beers and Flemish red. In fact, there are approximately 180 breweries in the country. Our recommendation?
Why not try a Trappist beer, brewed by monks!
If you are traveling for a short time, we use KnowRoaming International SIM for all our travels.
Readers Receive a 30% Discount with our promo code DDSave30. You can order here and have it delivered or find out more at our post.
Budgeting
Accommodation
Food
Transportation
Getting to Belgium:
Flights: You can check for the best flights to Belgium on Skyscanner.
Transportation: Be adventurous! Belgium has an excellent transportation system that is also pretty cheap so why not hop on a train and check out what Belgium has to offer.
Some recommended spots are: Ghent, Antwerp, Flanders Fields, Les Ardennes, and Oostende.
Metro: Day passes for the metro will save you money over the cost of a single ticket. A single metro ticket is €2.10 while a day pass is around €8 euros.
Visitors can also opt to buy a MOBIB Basic card and refill it with 5 or 10 rides.
STIB also has an app for Android and iPhone users that informs travelers of next departures in real-time as well as the timetables.
Buses:
Taxis:
Car Rental:
Uber:
Packing Tips
Packing for Belgium can be tricky due to the unpredictability of the weather.
Brussels has a temperate climate with four seasons spanning the whole year.
Temperatures are relatively mild during the whole year with the average low at 1°C in winter and only 23°C in summer.
On average Belgium receives more rainfall than the United Kingdom and slightly less than the Netherlands with the rainiest months being in July and in December.
Rain gear – weather can be incredibly unpredictable. It can be pouring rain and then half an hour the sun is out and there are no clouds in the sky.
Make sure to always carry either a raincoat or an umbrella so that you do not get caught in the rain.
Warm clothes – the weather, even in the summer, can range from 15°C to 25°C degrees with temperatures dipping once the sun goes down. Make sure to bring warm clothes, like a sweater or even a light jacket.
Walking shoes – Opt for closed toes shoes that are also waterproof, just in case.
Many cities in Belgium are covered in cobblestone streets that are incredibly uneven, so leave those high heels at home!
These streets can also be dirty, that paired with the possibility of a downpour, means that travelers should pack dark colored walking shoes – leave those nice white sneakers or suede shoes at home!
Rethink the summer clothes – the chances that you will be able to rock that beautiful summer dress or romper is slim. Limit the summer clothes to a few key pieces, instead pack spring/fall type clothes.
See our packing tips: packing tip for Europe list for smart travel.
When to Go
Things to Do
Adventure
Culture
What not to Miss
Places to Stay
Check out our favorite booking platforms Booking.com, Tripadvisor and Air B&B for the best deals on accommodation in Ireland.
Booking Resources
Whenever we travel to we make sure to start with these companies.
We have tried a lot of different ones over the years and all of these have consistently proven to be the best when it comes to offering great prices.
We have used every one of these personally and continue to do so.
Booking.com: This is our go site to when comparing prices for accommodation. It is usually the has the cheapest prices, not to mention you get free cancellation and you are guaranteed the best price.
Trip Advisor: What we like about Trip Advisor is that we can look at all the reviews and then book our accommodation.
Air BnB: Airbnb is the main search engine we use when we are looking for a home or apartment rental. It is the best way to stay in areas that offer a more local feel.
Skyscanner: This is the first place we check for flights. It consistently comes back with the cheapest and best options. It allows us to compare a lot of airlines to get the best price.
Hostelworld: With one of the largest databases of hostels in the world, Hostelworld is the go-to site when you are looking for budget accommodation.
Rome 2 Rio: If you want to see how to get somewhere by plane, train, bus, ferry or car Rome2Rio lays it all out for you as well as related costs. I love how they show it all to you on a Google Map and it works offline.
Get Your Guide: For all your day trip and city guide needs, we use Get Your Guide. It has the world's largest collection of things to do with more than 30,000 activities in 7500 destinations.
World Nomads Insurance: When traveling to Thailand you should always have travel insurance. We have found the best bang for your buck is by far World Nomads.
Related