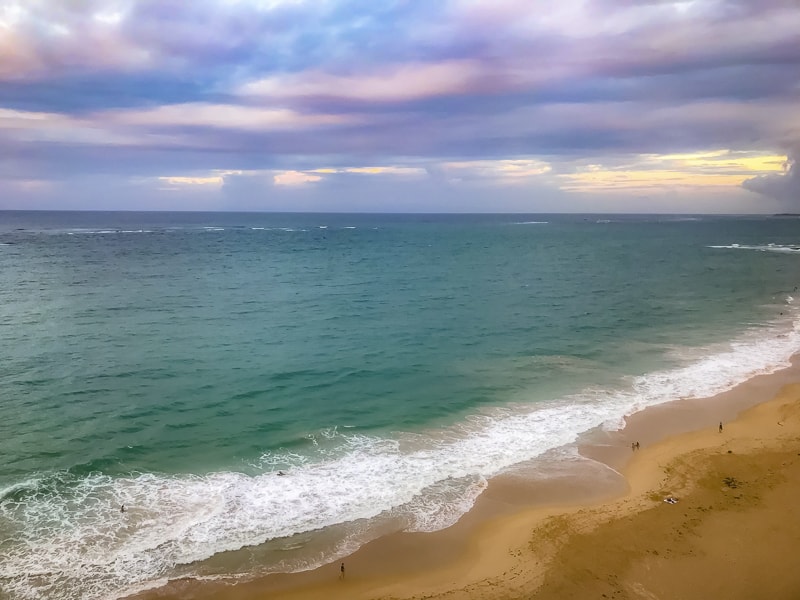 Puerto Rico is a Caribbean island located east of the Dominican Republic. Some may not know that Puerto Rico is part of the US.
Due to this, you do not need a visa, nor do you need to exchange currency, which makes traveling much easier. Known for its beaches, palm trees, colorful colonial buildings, and waterfalls, it makes a great vacation spot.
This Puerto Rico travel guide will help you plan your next vacation.
Fast Facts
Power voltage is 120 V at 60 Hz.
The official currency is the U.S. Dollar.
The best way to get around San Juan is by bus, while a car is best for other areas.
You do not need a visa to enter.
The sales tax rate is 10.5%.
Puerto Rice has the same cell phone providers as the US. If you are from the US, you do not need a SIM card.
We use KnowRoaming $3.99 per day Unlimited data. PlanetD readers receive an extra 50% off using promo code DDSave50
Budgeting
Accommodation
Budget: You can find cheaper options for hostels and budget hotels priced at around $35-$70 per night. Stay in dorm-styled rooms and enjoy a shared kitchen, free Wi-Fi, and prime locations. The Conturce Hostel in San Juan even comes with its own library.
Mid-Range: For mid-range hotels, expect to pay around $100 to $200 a night. Amenities include air-conditioned private rooms and suites, an outdoor pool, fitness center, a hotel restaurant and bar, and rooftop terraces.
High-End: Upscale hotels will cost around $250 to $900 per night. Experience the best of Puerto Rico with polished rooms and suites, infinity pools, live DJs, spas and hot tubs, fine dining, fitness centers, golf courses and tennis courts, and beach access.
Food
Puerto Rican food is a unique mix of Spanish, African, Taíno, and American cuisines.
Popular dishes include asopaode pollo (chicken and ham mixed with rice and seasonings) and pastelón de carne (meat pies).
Those who want to try something a little different can look for dishes like lengua rellena (stuffed beef tongue). Puerto Rico has a variety of street vendors where you can eat tasty snacks.
Try an Empanadilla (beef turnover in fried dough) or some Pinchos (chicken kebab marinated in barbeque sauce).
Once you're done exploring for the day, there are many restaurants and cafes where you can dig into more Puerto Rican cuisine. In total, expect to pay around $30 per day for meals.
Transportation
Getting to Puerto Rico: The San Juan International Airport is the main airport and is just a 30-minute drive to the downtown area. If you're heading to Ponce, the Mercedita International Airport is the best airport to use and is just 3 miles from the city center.
Flights: You can check for the best flights to Puerto Rico on Skyscanner.
Compare Flights to Puerto Rico Below
Trains: Puerto Rico has electric trains that have the fares of a bus but operate much faster to take you throughout San Juan and neighboring cities.
Very popular with locals, take a trip from San Juan to Bayamon in just 30 minutes. Fares are a flat $1.50.
Buses: Buses are a cheap way to get around Puerto Rico, especially when in major cities like San Juan.
Fares are about $0.50 to $1.50. If you">
Trolley: When in Old San Juan, look for the trolley, which runs throughout the city from 7 AM to 7 PM. These trolleys come in two different models, open-air and enclosed. The trolley is free of charge.
Taxis are an alternative way to get around and charge a minimum of $3 per trip. Take a ride from the San Juan Airport to Old San Juan, for example, for about $19.
Rent a car: Renting a car is considered one of the best ways to get around Puerto Rico, especially if you are traveling outside of major cities. To rent a car, you must have a U.S. license and be at least 21 years old, though some rental companies will not take you if you are under 25. Prices start at around $40 per day.
Uber: You may occasionally find Uber services in Puerto Rico, but it is mostly limited to San Juan. Note that you will not be able to get an Uber to pick you up from or drop you off at the airport.
Packing Tips
Puerto Rico is located in the Caribbean so expect hot and humid conditions. But it can get breezy at night.
Walking Shoes: Bring a pair of sturdy walking shoes to keep your feet.
Sunscreen: Protect your skin from the beautiful sun with some sunscreen.
Layers: While the weather is usually sunny during the day, the nights can sometimes get colder, so be sure to bring at least one sweatshirt or jacket.
Swimsuit: With so many beaches and waters to explore, make sure to bring a swimsuit with you.
Smart casual clothing – There are a lot of dining options and high-end accommodation. Bring something that you feel good going out on the town in.
See our packing tips: packing list for smart travel
When to Go
April to June is the best time to go to Puerto Rico.
For those who want a tropical vacation, June is typically the hottest month of the year and also has the famous outdoor street food fair in Old San Juan.
The average temperature year-round is low 70s to upper 80s Fahrenheit.
July to September tends to have better hotel rates and fewer crowds, though be warned it is also during hurricane season.
Things to Do
Adventure
Bioluminescent Mosquito Bay: Head down to see this unique bioluminescent bay. Take a guided boat to the bay, preferably at night, where you can kayak in the glowing water and get a once-in-a-lifetime experience.

Culture
San Juan National Historic Site: Come see a piece of San Juan history at this popular tourist attraction.
Featuring a 16th-century citadel once used to protect San Juan from enemies (Castillo San Felipe del Morro), three-fourths of the original San Juan city wall, powder houses, and forts once used by the soldiers, there are many things to explore here.
What not to Miss
Cueva Ventana: Take a hike to see this large cave on top of a limestone cliff. Located in the forest of Arecibo, go with trained biologists to learn more about the cave and its history and see beautiful views of the Rio Grande de Arecibo valley below. Make sure to bring your camera.
Places to Stay
La Concha Resort – Luxury Resort on the main beach of San Juan.
Acacia Boutique Hotel: Stay in this beautiful 1920s villa in the Spruce neighborhood in San Juan. Just a short walk from the beach, the hotel comes with private rooms (standard to deluxe), a hotel bar and restaurant, a hot tub and outdoor pool, and free Wi-Fi.
Hotel Meliá: Come stay at this 19th-century hotel in Ponce. Just two minutes from the Ponce Cathedral and the city plaza, this three-star hotel has numerous things to enjoy, including your choice of standard or deluxe private rooms, a rooftop bar, room service, and outdoor pool.
Booking Resources
Whenever we travel to we make sure to start with these companies.
We have tried a lot of different ones over the years and all of these have consistently proven to be the best when it comes to offering great prices.
We have used every one of these personally and continue to do so.
Booking.com: This is our go site to when comparing prices for accommodation. It is usually the has the cheapest prices, not to mention you get free cancellation and you are guaranteed the best price.
Trip Advisor: What we like about Trip Advisor is that we can look at all the reviews and then book our accommodation.
Air BnB: Airbnb is the main search engine we use when we are looking for a home or apartment rental. It is the best way to stay in areas that offer a more local feel.
Skyscanner: This is the first place we check for flights. It consistently comes back with the cheapest and best options. It allows us to compare a lot of airlines to get the best price.
Hostelworld: With one of the largest databases of hostels in the world, Hostelworld is the go-to site when you are looking for budget accommodation.
Rome 2 Rio: If you want to see how to get somewhere by plane, train, bus, ferry or car Rome2Rio lays it all out for you as well as related costs. I love how they show it all to you on a Google Map and it works offline.
World Nomads Insurance: When traveling you should always have travel insurance. Other travel insurance we recommend is Allianz and American Express.
Get Your Guide: For all your day trip and city guide needs, we use Get Your Guide. It has the world's largest collection of things to do with more than 30,000 activities in 7500 destinations.
Related