Dave and I fly a lot. After 7 years on the road, it's been awhile since anyone has been waiting for us when we arrive home. Our families are used to it. They are actually a bit blasé when it comes to our world travels. We may not have crowds with signs welcoming us home, but each time we land at Toronto Pearson, I can't help but come out beaming when I see the crowds of people searching for their loved ones. It warms my heart. I often wonder what their stories are? How long has it been since they've seen the person that is about to step through that door? Are people coming home for a celebration or is it a tragedy that brings them to the airport?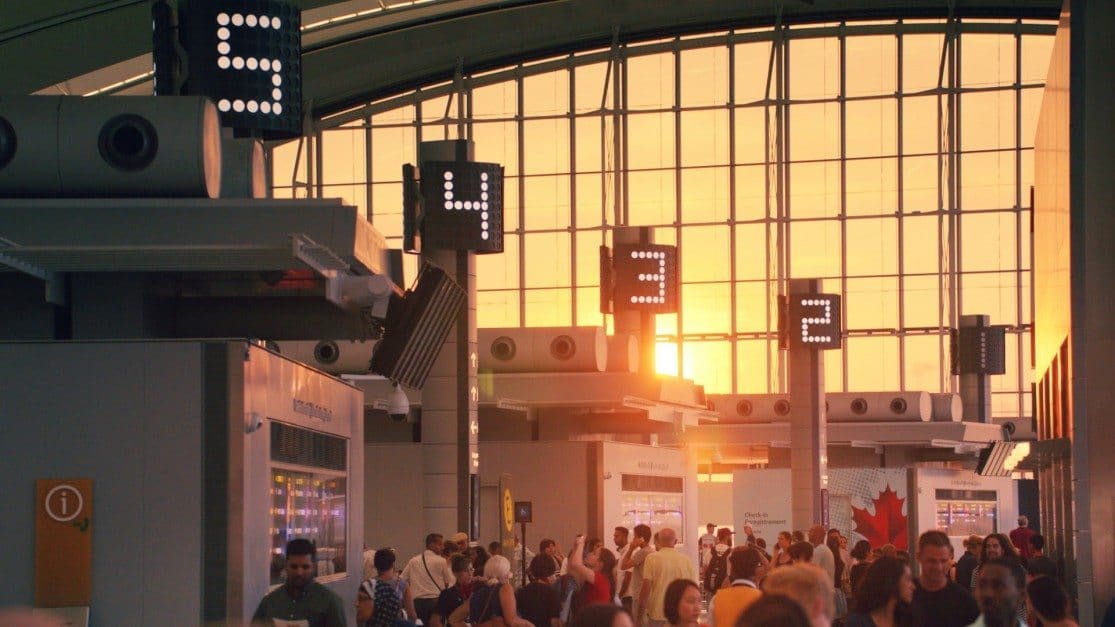 As a storyteller, I make up scenarios in my mind as we whisk through arrivals and head to our car. Many times their faces are etched in my memory and I hope that they have a happy outcome. I've watched people say tearful goodbyes and scream joyful hellos. The airport is one of the most emotional places to be on earth making it the perfect setting for a heartfelt drama.
A Real Life Love Actually
During the holidays I re-watched one of my favourite Christmas movies, Love Actually. The airport scene at the end definitely brings happy tears to my eyes every time. It's amazing to me that nobody has thought of capturing these real life moments on film before. Until now! The CBC series Hello Goodbye launching this January is a touching series showcasing the stories from people in Canada's busiest airport. We had the chance to watch a couple of episodes, and Hello Goodbye accomplishes exactly what Love Actually did in the movie, only this time it's true life.
Remember this scene?
Hello Goodbye
The ten episode series airs Fridays at 8:30pm ET on CBC  and runs from Jan 8 to March 10.  I like how they hired a professional psychotherapist who operates a practice in Toronto rather than a hired actor. You can tell that host Dale Curd is in tune with the people he's talking to. He knows what questions to ask without prying too much. Instead he lets them tell as much or as little of the story as they like. Curd's approachable manner makes strangers open up telling their most intimate stories of love and loss.
Episodes of Hello Goodbye are a mix of stories submitted in advance and stories discovered in the moment on location. Only 20% of the scenes showcased are submitted in advance giving the series a raw and honest feel. I had a difficult time telling the submitted stories and discovered stories apart. The entire episode feels off the cuff and unrehearsed.
The format starts with Dale talking to people about their story. He asks them what brings them to Canada's busiest airport and they freely let him into their life. It is at this time that we get to meet the people, discover why they are at Toronto Pearson and have them share their personal feelings. It is moving, funny, and heartbreaking depending on the situation. The camera then pulls back to let the travellers and loved ones have their personal moment letting the reactions and emotions play out on their own. What's interesting is once the moment is over, they don't follow up with more interviews.  The people have either arrived, left, said yes to marriage or sometimes don't receive the reaction they were hoping for. It is real life after all. As we watch them walk away, we wonder, how will things unfold in the future? We may never know.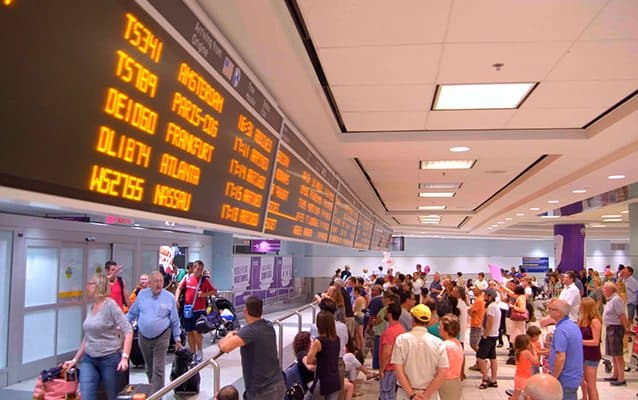 Just like the people I see when Dave and I arrive home on our own, I am left with thoughts about their lives. Will things work out? Will they live happily ever after? Life is unpredictable and one can never know. Unlike fiction, not every story has a proper ending. Instead, Hello-Goodbye captures a moment in time and we're left to wonder what the next chapter will bring.
In a world of Kardashians and TMZ videographers chasing down stars at the airport trying to embarrass them with silly questions, Hello Goodbye is a breath of fresh air showing the bonds of family, joyful moments, and grief that one feels with loss and love. It moved me to tears on many occasions. The soundtrack blends beautifully with the story and the truth coming from each person resonates with you long after the credits roll.
For more information on check out the Hello Goodbye website and Follow Hello Goodbye on Twitter and Facebook.