Meet Dave and Deb of The Planet D
2014 Gold medal winners for Best Travel Blog & Best Illustration of Travel by the Society of American Travel Writers
Our Story
Hi we're Dave and Deb from Toronto, Canada. Married for 16 years we've have always lived a life less ordinary. It was only a year into our relationship that we relocated from Toronto to Vancouver to pursue our dreams of being famous musicians. While things didn't exactly go as planned, we did fall into the booming film business instead. Dave as a Rigging Gaffer and Deb as a Make-Up Artist.
It was after moving back to Toronto, that we decided to buy a house and focus on our careers. The Toronto Film Industry was busy back then, and summers were spent working on Hollywood Blockbusters as part of the crew. Dave worked on films like X-Men, Chicago and The Incredible Hulk. We ended up working 14 to 16 hour days and dreaming of next vacation. Having months off at a time during the winter, we escaped the Canadian cold to explore such exotic lands as Asia, Africa, South and Central America.
How Travel Saved our Marriage and Transformed our Lives: Click to read our Story
Read more about our passion for travel and why we can't seem to settle down at our post Why We Travel and Have you Realized Your Potential
Soon, travel defined us more than our careers. In 2004 we took a seven month trip through South East Asia and knew that we would one day we would figure out a way to make travel a regular part of our lives. We brainstormed many ideas from being dive masters to owning a bar or running cycling tours. Nothing stirred a passion in us but we kept searching until we found what made us both happy.
It was signing up for the Tour d'Afrique, (the world's longest cycling race) in 2008 that we finally took the step to turning our passion into a full time career. Deb was women's champion of the race and Dave won the prestigious title of Cycling Every "Fabulous" Inch of Africa  from Cairo, Egypt to Cape Town, South Africa. Since Africa we started our travel blog and have gone on to drive 14,000 km from London, England to Ulanbataar Mongolia in an ill suited car over rough terrain in the Mongol Rally, and reached the bottom of the world as we explored Antarctica by kayak, on foot and even camped on the continent.
Living by our motto "Adventure is For Everyone" we aim to prove that you don't have to be an uber-athlete, adrenaline junkie or a part of the ultra rich to be an adventurer!
Travelling slow and spending weeks at a time each country, we've have managed to immerse ourselves into the culture and have made new friends. We've explored all seven continents in over 80 countries and have done exciting adventures from Summiting Mount Kilimanjaro and trekking to Mount Everest Base Camp in Nepal. We've Practced Yoga in India, Studied Muay Thai in Thailand and joined the Adams Peak Pilgrimage in Sri Lanka.
Travel as a Couple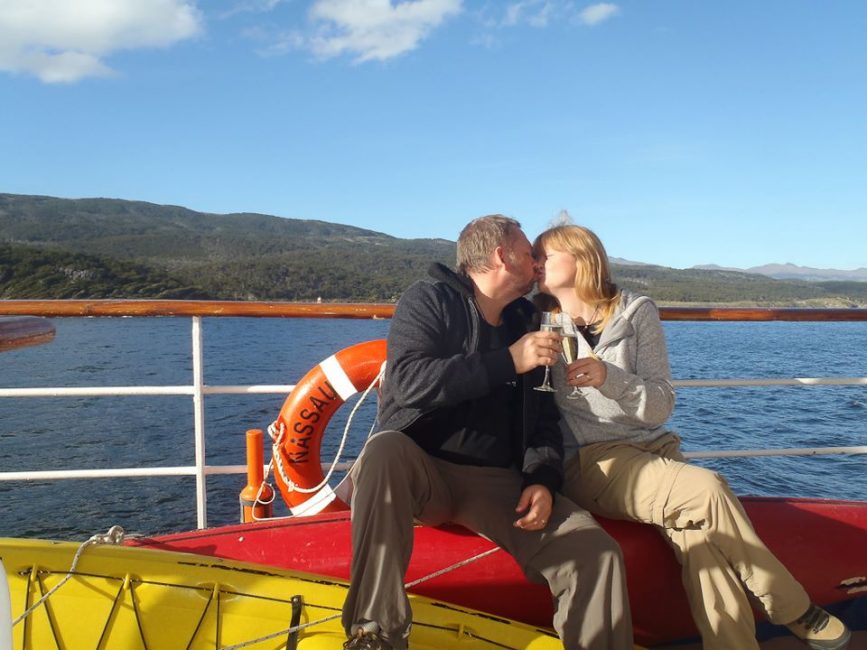 We love being together. For years we searched for ways to work, travel and live together, and never thought that we'd ever find a career we loved or a way to spend more time together. But by never settling and constantly looking for ways to have a better life, we have finally fulfilled our dreams. And now, we want to show that ordinary people can live extraordinary lives. We aren't special, we aren't independently wealthy and we aren't superhuman. We are just two regular people who believed that everyone has the potential to live their dreams.
Living and Working in Travel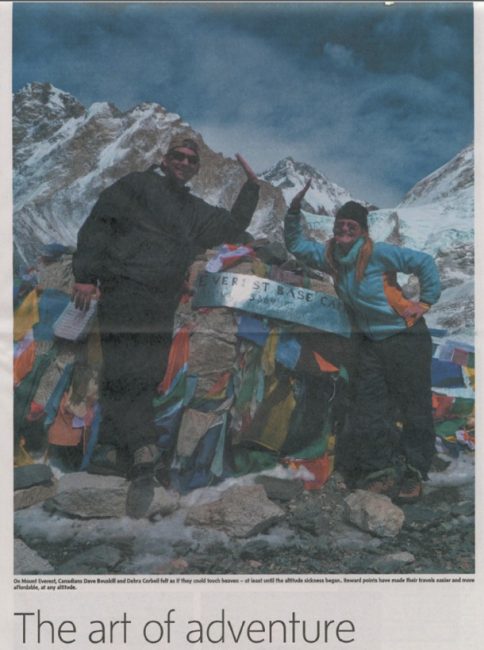 In five years, we have reached far beyond our expectations and make a living out of this travel blog and as full time adventurers.
We are proud to be American Express Canada 2014 Ambassadors and Expedia.com ViewFinders. We've been working with companies who also believe that everyone should be happy and reach for the stars. American Express has featured us as Real Life Potentialists where they encourage everyone to realize their potential and live the life they want. Expedia.com showcased our story in their ongoing Expedia Find Yours Campaign. Travel changed our lives and we believe that if you are open to possibilities, travel can change yours too.
We also have partnered with HouseTrip as their HouseTrip Diplomat Video Bloggers for 2013 and have loved the challenge of creating stories about living local in apartments around the world.
The travel will never stop for Dave and Deb. One of the questions we always get, is when will you have enough? Our answer is never. We searched so long for this. We always wondered what it was like to have a job that you loved and to be fulfilled. We finally found that and we're never letting it or each other go.
Check out more of their Adventures Here!