We have wanted to do a canopy tour for years and we finally got our chance with St. Kits Zipline
Ever since hearing of our friends doing it in Costa Rica over a decade ago, it has been on our bucket list. While we have gone ziplining a couple of times in our lives one being in Africa over Victoria Falls' great Gorge, we have yet to zip over that beautifully lush rainforest.
Until Now
St. Kitts Zipline
When Marriott Resorts invited us to take part in adventures on the island, we were thrilled to hear that we would be ziplining in St. Kitts.
Waking up to a beautiful sunny day, we met our host Laverne who escorted us to Sky Safaris. It was Sunday morning and the Sky Safari staff was on "island time" so we waited around for over an hour.
Your on Island Time Now
That is what it is like in the islands. St. Kitts is young when it comes to tourism so you must learn to relax like the locals and go with the flow.
Laverne did her best to keep us occupied by taking us for a walk in the rainforest and telling stories of her childhood. They used to spend their entire days playing in the rain forest and getting into trouble. We all marvelled at the fearlessness of children and wonder how any of us made it through those years without serious injury.
St. Kitts Zipline Tour
When some of the staff started trickling in, a guide named Superman took us on a tour of the old Sugar Plantation that the company sits on to pass the time.
How Sugar Cane is made
We learned how sugar was made, the process that it went through to be turned from sugar cane to sugar crystals and we learned how difficult the conditions were for the slaves. It was hot and dangerous work.
The slaves suffered greatly during the growth of the West Indies. This sandbox tree below was pointed out as a tree that colonists used to punish slaves by tying them face first to its spikes, How horrific.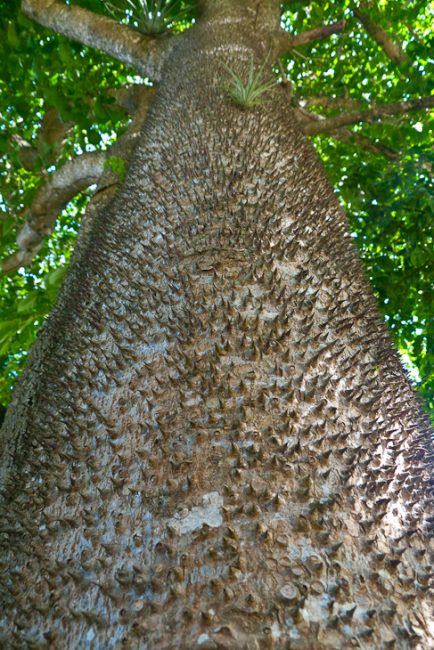 Monkeys on St. Kitts?
We also learned that the monkeys of St. Kitts are not native to the island. They were brought here by scientists for AIDS research and now they out number the human population five to one, wreaking havoc and causing problems.
We also learned that the monkeys of St. Kitts are not native to the island. They were brought here by scientists for AIDS research and now they out number the human population five to one, wreaking havoc and causing problems. But they are cute aren't they?
Enough History, Let's Zipline
It was late in the morning when we finally got started and the sun was hot. Luckily we were under the jungle canopy and didn't feel the suns beating heat too much. However the humidity was out in full force.
We joined in with a later group that didn't seem too thrilled to have us along, but we made the best of it and smiled our way through the instructions from our guide Dr. Dre
There isn't a lot of technique involved in ziplining here in St. Kitts. The harness is a full body harness and all you have to do is sit down and enjoy the ride. You don't even have to hold on if you don't want to. The only piece of advice that you need to remember is to bend your legs, stick your feet up and lean way back when you come in to the end of the line.
Full on Adventure
There aren't any hand brakes or automatic stops for this ziplining adventure. Your stopping device is a spring at the end of the line that you barrel into at full force, but that is part of the fun!
The practice run is the most jarring of them all as the line is fast and the landing is hard. But once you go up to the longer and higher lines, the landing is far more graceful.
See our Video: St. Kitts Zipline Adventure
After everyone's practice run, we were loaded into the back of the jeep with our own trolleys in hand. We took a bumpy drive up to the top of the mountain where we started with the De Boss. The longest and highest zip line at 1000 feet above sea level and 1350 feet long. It has a great little drop at the beginning of the line that takes your breath away, but you relax quickly and the thrilling ride begins as you swoop over the lush green forest.
Just enough to Satisfy.
There are five zip lines in all at Sky Safaris and you definitely feel satisfied with the experience.
We whizzed over zip lines called the Mango Tango and Brimstone Blast, the latter named after the old fort on the island. One of the most well preserved forts in all the Caribbean and you are treated to a clear view of it at the start of the Brimstone Blast run.
Each zipline gets a little shorter in length, but they are no less thrilling.
The final zip line is a quick 500-foot double line called River Rocket. Here is where you can race your friends or take each other's pictures or video in mid-air.
We didn't think of this and didn't end up riding the final line with each other. It would have been a blast to shoot video of Dave zipping along beside me, but I did catch an fun shot of him coming in.
So before we knew it, our zip lining adventure was over, but we were filled with delight for having finally accomplished a zipline over the canopy.
Sky Safaris can be booked at the tour desk of the Marriott St. Kitts
---
Read more