It is with great pleasure to announce that Dave and I have been chosen as American Express Ambassadors for 2013. We've been working with the great people at AMEX for nearly two years and are so excited to become brand ambassadors to showcase all the benefits that American Express Cardmembers receive with their membership.
Our First Assignment as American Express Ambassadors
Naturally our first assignment was to experience Canada's best winter party. Winterlude takes place annually in our nation's capital and American Express has been a proud sponsor for the past eight seasons!  We were sent to Ottawa for three fun filled days to sample the Amex Delights Winterlude package. Amex Delights is one of the many perks that American Express Cardmembers are offered throughout the year. It is an online program providing special offers and experiences for American Express Cardmembers. The Winterlude package offers a two-night stay at the Fairmont Château Laurier and tickets to the incredible opening night gala dinner and fashion show.
See what's new at Amex Delights today.  I saw a spa package, the perfect occasion to beat the winter blues.
The American Express Plaza Premium Lounge
Our trip started early at Toronto's Pearson International Airport where we breezed through security with our American Express Cloud 10 Pass and relaxed in comfort at the American Express Plaza Premium Lounge. We've been in a lot of lounges around the world and the Plaza Premium lounge ranks up there as one of the best. It's quieter than other airport lounges and has a much better spread of nibblies, not to mention the free wifi that is always a must for any business traveller. Platinum cardmembers receive annual access to 600 lounges all around the planet.
The Fashion Show
Feeling like movie stars, we waltzed into the Ottawa Convention centre for our pre dinner cocktails of sparking wine while we showed off our new duds bought specially for the event. Being full time travelers' makes for a sparse wardrobe, so whenever we have the opportunity, we love to dress up.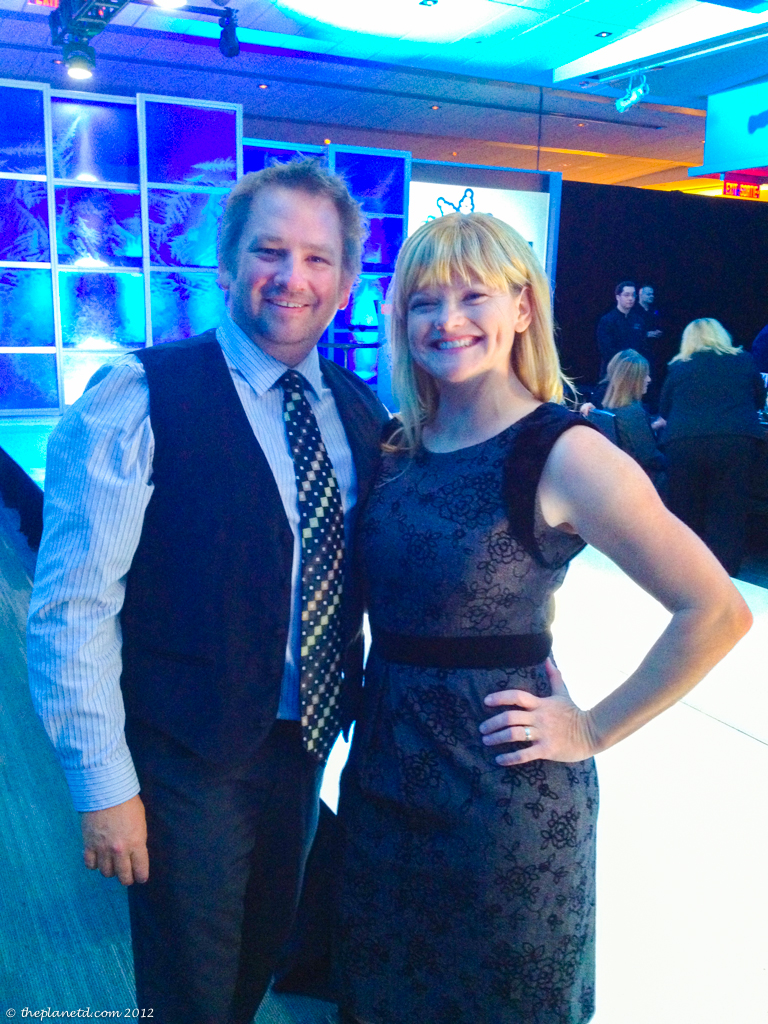 Once the reception wound down, it was up the escalators to the dining room where we had premium seats right beside the runway. While we enjoyed the fine cuisine by Chef Marc Lepine we were treated to a fashion show featuring Lucian Matis' 2012-2013 Black Label Collection. As avid watchers of America's next top model, we scanned the models faces to see if they took Tyra's advice to be 'fierce' while they strutted the runway.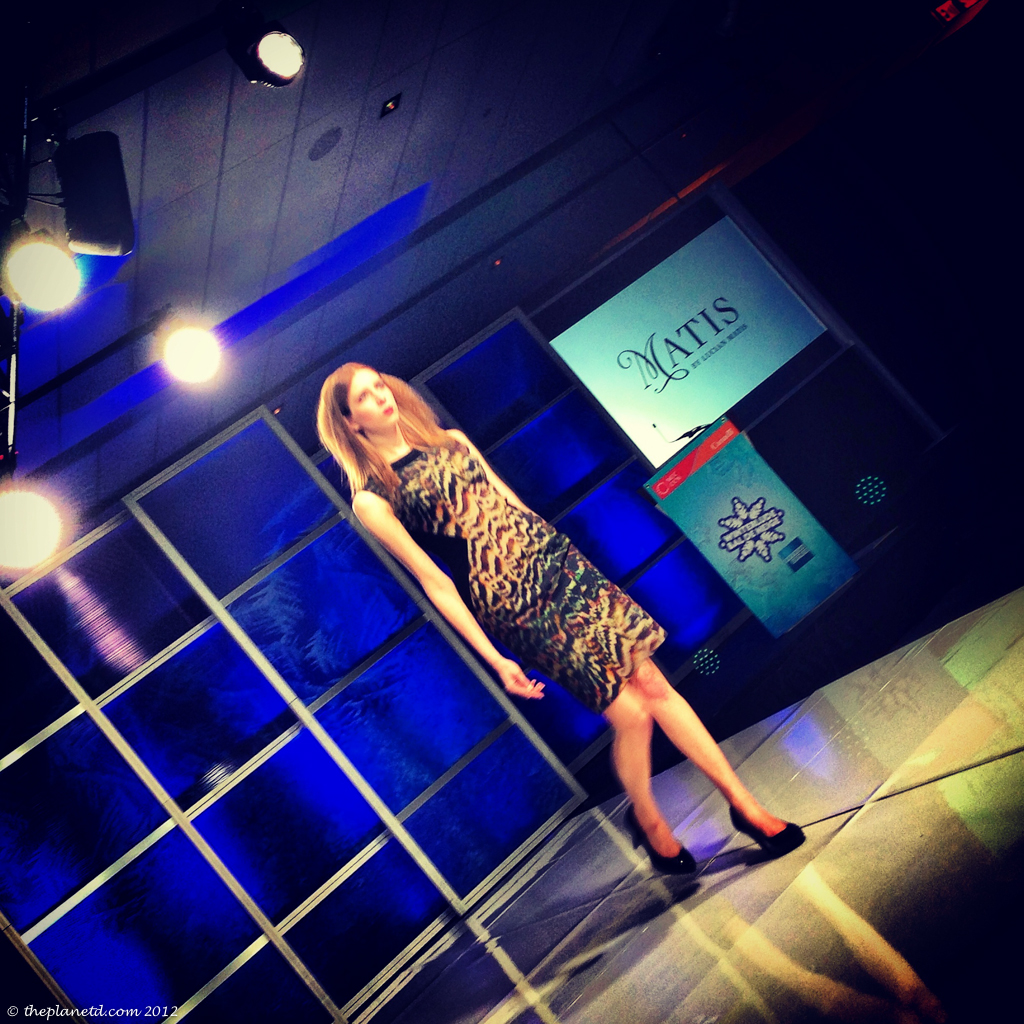 Yes, indeed, they owned the floor!
We thought that we were sitting at a table filled with media since our seats were so good, but as we got to know our dining companions over Black trumpet mushroom-crusted beef strip loin with black garlic mayo (sounds delicious doesn't it?) we found out that they were all American Express cardmembers who had booked the event themselves!
Skating on the Rideau Canal at Winterlude
The weekend wasn't all glamour and glitz though, the highlight of attending Winterlude is to be able to skate on the Rideau Canal, the world's longest skating rink. The weather turned cold just in time and at 2:00 pm on Friday, they opened the entire canal for everyone's enjoyment. It was just in time for Winterlude to kick off.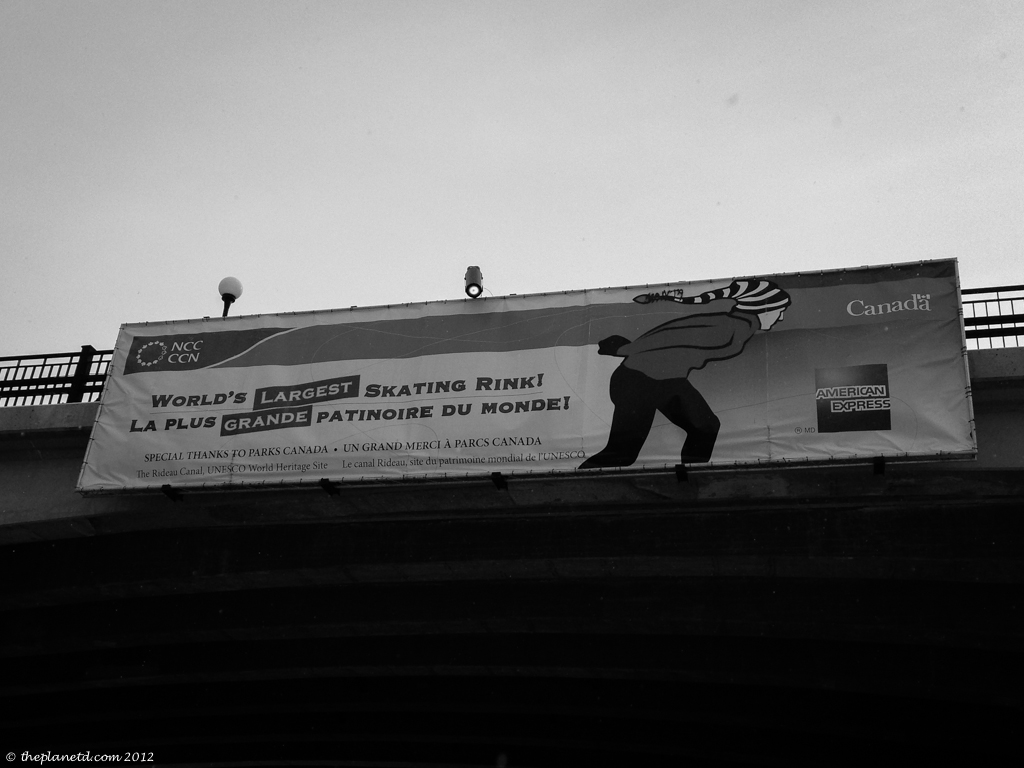 We rented our skates right on the canal and took off down the 7.8 km stretch of ice. The American Express lounge can be found at kilometre marker 3.2 and we took full advantage of the free hot chocolate, photo booth and wooden benches under the covered tent to protect us from the cold.
Ottawa was a chilly -15? Celsius and taking a break from the cold is always welcome. American Express truly understands what it's like to enjoy the great outdoors. Canadians are a hearty bunch, but we love our hot chocolate breaks too.
While we were at the lounge, we had to take part in the Canadian tradition of indulging on a Beaver Tail. Part of the Amex Delights package gives cardmembers a free voucher for this tasty treat and it gave us the energy to continue on for a couple more hours.
Oh to skate on the Rideau Canal, it's many a Canadian's dream and after decades of wanting to do it ourselves, we finally had the chance!
Winterlude Ice Sculptures
There was plenty more ice to enjoy though as we later took a stroll through the Crystal Garden at Confederation Park to watch the ice sculpture artists at work. They are truly a talented bunch and to see the craftsmanship that goes into their work is astounding. How does one turn giant blocks of ice into intricate works of art?
After an afternoon of food and fun, we walked the short distance back to the Fairmont Chateau Laurier where we enjoyed the coziness of the historic building dating back to 1912. We've been to Ottawa on several occasions and have always taken a stroll through this legendary building that has seen the likes of Princess Diana, Ronald Reagan and Benny Goodman grace it's hallways. Now it was our turn to stay at this grand palace adorned with Tiffany stained glass windows.
The weekend felt like a fairy tale. We love exploring Canada and nothing is more Canadian than attending an outdoor festival while staying in one of our most historic hotels located directly on the canal facing our beautiful parliament buildings.
Winterlude runs to February 18th and you still have plenty of time to take a drive to Ottawa and enjoy all things Canada. With dozens of displays, grand outdoor performances and the Snowflake Kingdom, the biggest snow playground on the continent there's something to do for the entire family at Winterlude.
Big thanks to American Express Canada for allowing us to experience Winterlude and we look forward to bringing you more exclusive experiences throughout 2013. Follow American Express Canada on Facebook for more updates and exciting offers.