It was a sad day when we pulled into Juneau on our Alaskan, Princess Cruise. Today we were supposed to go dogsledding on a Mendenhall Glacier. Instead, we went Whale watching in Juneau. Don't feel bad for us, it's a good second choice!
When we stepped out onto our balcony, we saw that the rain was coming down hard. The clouds were grey and the sky was low.
Whale Watching Alaska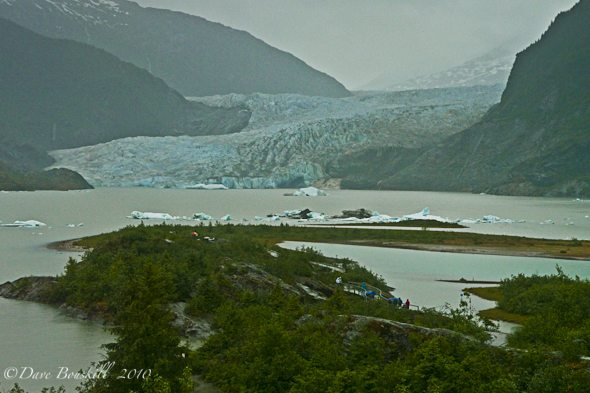 We walked down to the excursion desk outside.
Trips were being canceled everywhere, and unfortunately, ours was one of them.
Juneau is the wettest place in America according to the locals and the science link that we just sent you to.
Who would have thought? Apparently, the dog sledding excursion is canceled regularly here.
Note: If your excursion is canceled you will receive a full refund by Princess Cruises and you can get on another trip if there is room.
Whale Watching Juneau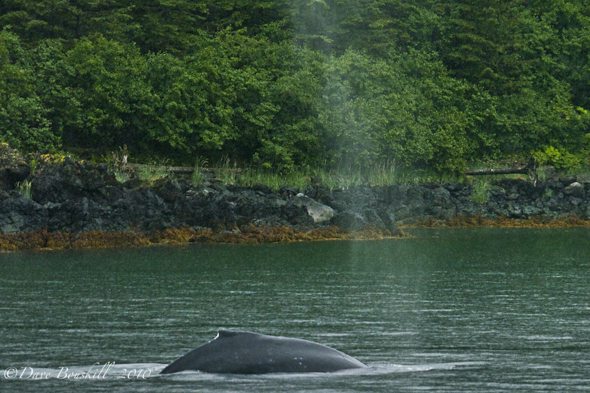 Juneau is one of the best places on earth to spot humpback whales. In fact, they are so sure that you will spot a whale, that if you don't, they will give you $100 off the price of your excursion.
We climbed into the bus where our driver told us several facts about Juneau.
Some people love a running commentary, but we found that every excursion had way too much talking.
It is great to feed us facts, but people also love a little silence to take in the moment and the views. It is like the guides are told to never ever leave a moments silence.
We did learn a very cool fact though…The Birdman of Alcatraz AKA: Robert Stroud killed a man named Charlie in Juneau for viciously beating his girlfriend Kitty… And that is how he ended up in Alcatraz.
Mendenhall Glacier Park
We started our trip at the Mendenhall Glacier Park headquarters.
The rain was coming down hard, but the ice still had a beautiful blue hue about it. We braved the frigid rain and walked around for a closer view.
This is one massive glacier, but it was incredible to see just how much it has receded in the past 100 Years. Since 1910, it has lost 1.75 miles (2.8 km)
That's a lot of ice melting especially when you factor in how thick the glacier is.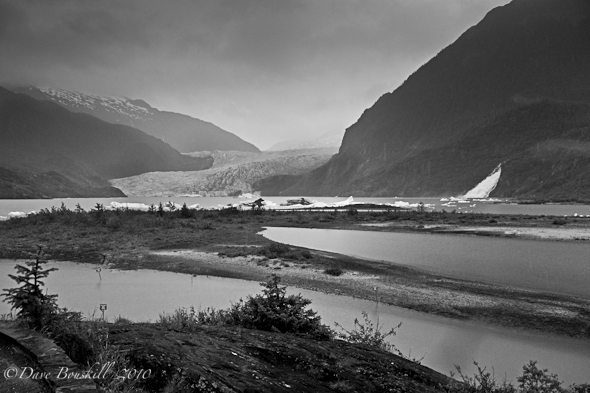 We would love to see this glacier when the sun is out, but it was interesting to see even in the rain.
The information center was a great place to warm up and enjoy photos from years passed.
We spent an hour at the glacier which in this weather was more than enough time and then it was off to watch the whales.
The boat was a pleasant warm ride and it was a good size for whale watching.
While heading out to the bay, we sat inside enjoying complimentary hot chocolate and donuts.
But once we spotted the whales, we were up on deck taking in the view.
Whales and More Whales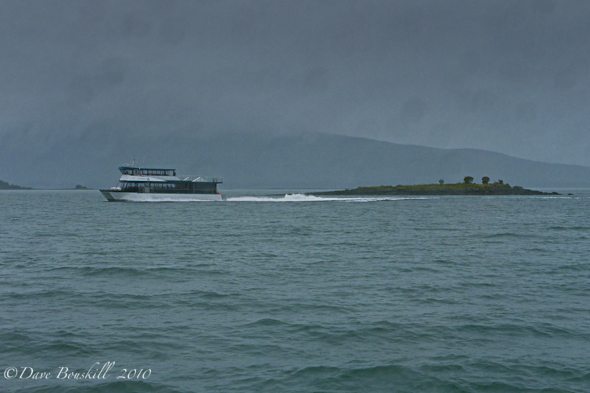 The best place for watching is up on the top deck.
Find yourself a corner spot and you will be able to see both the front of the boat and the side.
Most people are very good about letting everyone see, but sometimes it can be a little rush to see the whale before it dives.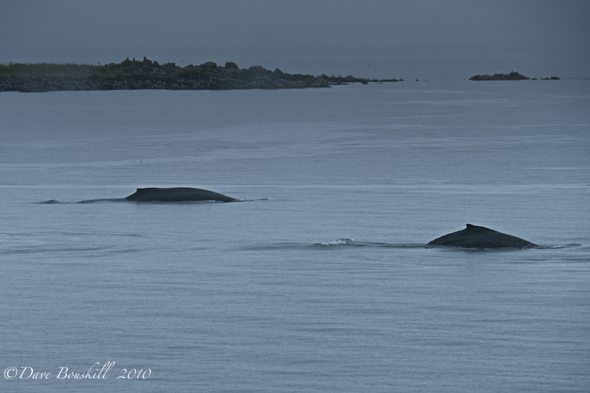 Apparently, we had an excellent day of whale watching.
We saw anywhere from 9 to 12 whales that day.
It is difficult to be sure as the whales dive and don't come up for a while.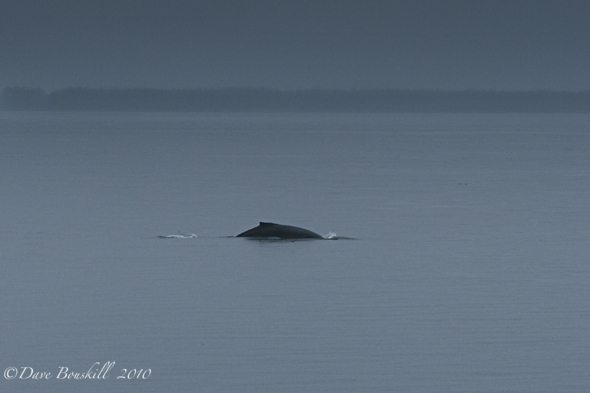 Sometimes we could be looking at the same whale hundreds of meters away.
We saw several traveling together, which apparently is not common as well.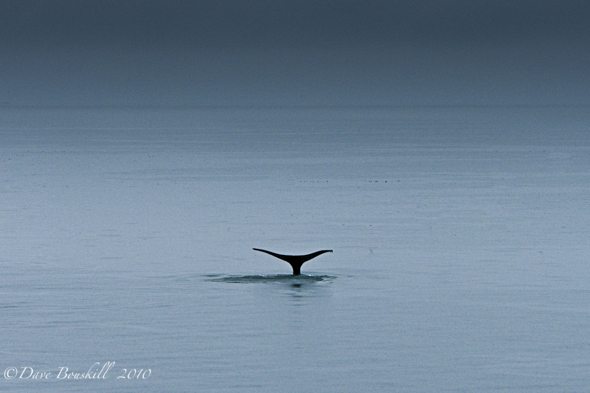 We lucked out and had some excellent views of whales flukes breaching into the air before a very deep dive.
Whales weren't the only thing we saw on our Juneau marine adventure.
Eagles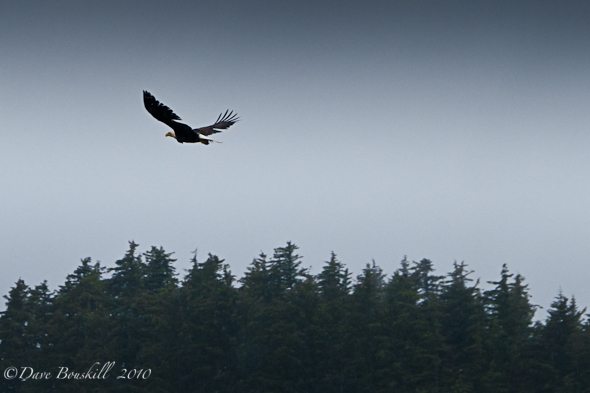 We spotted several bald eagles, Stellar Sea Lions and harbor seals.
We were lucky that the stellar sea lions were still in the bay.
Stellar Sea Lions
Normally they would have migrated farther north at this time of the year.
But our fantastic guide explained that the bull male was probably not large enough yet and needed to pack on some more weight to fight of other males before heading out.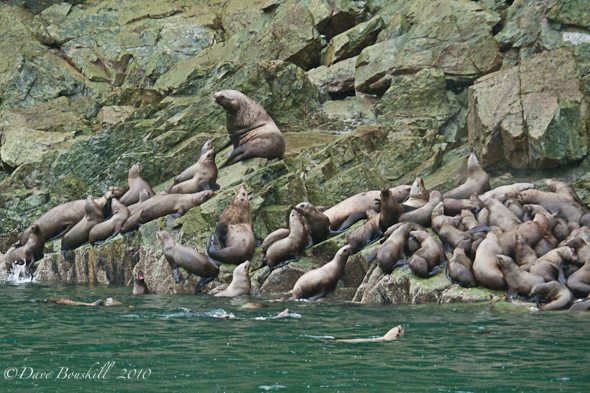 The colony was a lot of fun to watch.
We can never get enough of these peppy ocean mammals. They are so cute and energetic.
On land, they look a little awkward but get them in the water and they are graceful ballerinas.
A group of eagles were perched on a large rock island in the middle of the bay.
We counted 12 in all and were surprised to see them all sitting in a row. I always thought that eagles were solitary birds.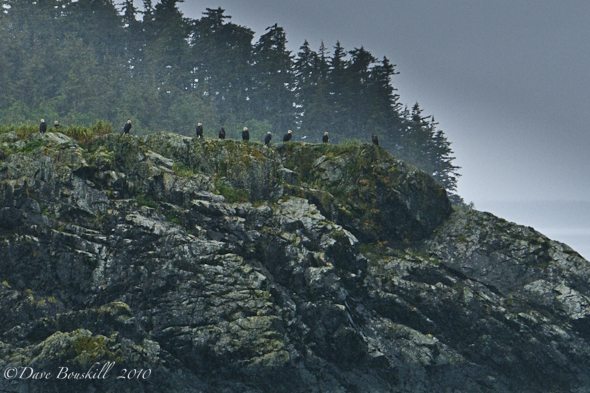 Harbour Seal
I tend to think that Dave and I were the only ones to see the harbor seal.
I looked out the window as we were moving on to another location, just in time to see them before we passed. I showed Dave and we watched for only a few seconds.
Nothing was announced on the speaker so I called our guide over to ask her about them.
She said we were very lucky (they may be trained to say that, but we will take it!)
Harbor Seals are very elusive and she has only seen them once before. I guess if we turned around it would have been too late, they would have dived already and been long gone.
See our photostory: The Flora and Fauna of Alaska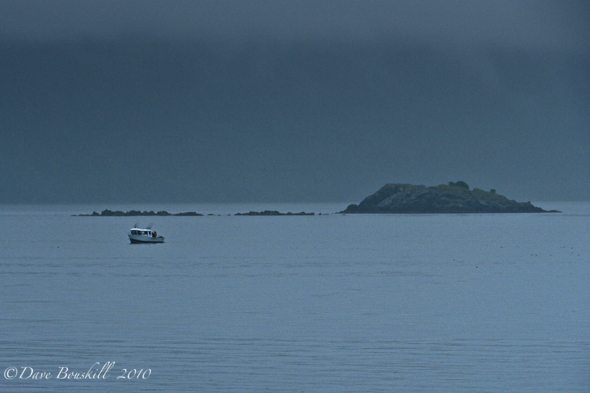 The Whale Watching excursion is probably your best bet for Juneau.
It goes out in all weather and you will almost certainly see whales.
It is a relaxing excursion, but thrilling when you happen upon these great creatures.
The whole family can enjoy this trip.
Read More:
UnCruise – The Best Alaskan Cruise