Chengdu is known as one of the most laid-back cities in China and it certainly lived up to its reputation.
The fifth largest city in China it is a thriving metropolis with a small town laid back feel.  Yes, I said it.  A city with a population of 13 million can have a small town laid-back feel to it.
Chengdu
China has big cities; massive cities to be exact and parks play an important role in society.  People go to the parks to get away from the hustle and bustle of city life. It's their city breaks from the concrete jungle in a quiet oasis of trees and greenery.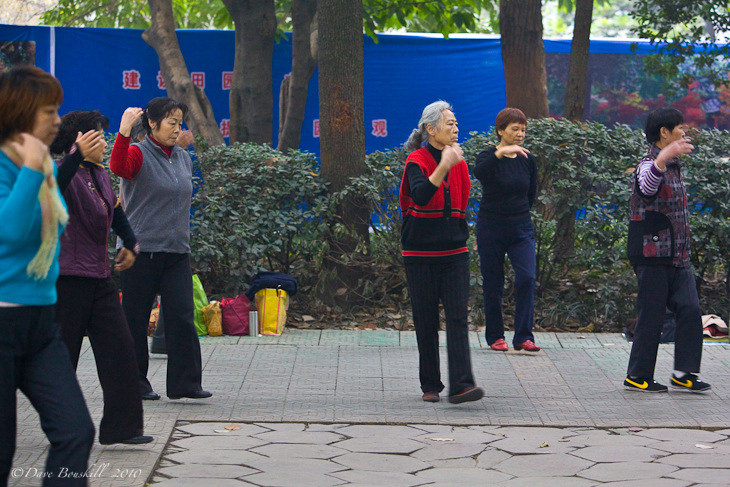 Chengdu takes hanging out in a park to a whole new level.  Smiling faces dance and sing.  And when I say dance and sing, I don't mean singing to themselves all alone in a quiet corner. No, people sing loud and proud.  Karaoke machines are set up all over the park as people sing songs performing them with passion and vigor belting them out like a Vegas headliner.
Dancers dressed in costumes lead the way as older men and women follow along at the sidelines.  They know every step and have serenity in their face filled with pure happiness.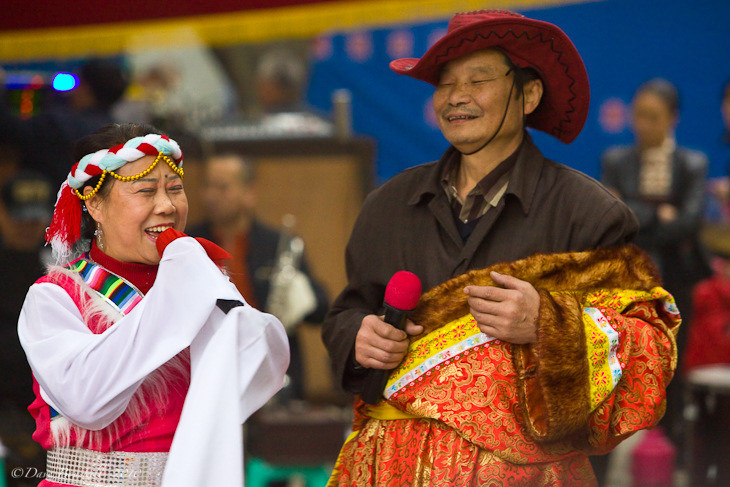 Men walk their birds in trapped elaborate cages and listen to them sing. Others practice calligraphy with wet brushes while they write ancient poems on the sidewalk only to have their works of art evaporate into thin air. Children learn to draw as they sit quietly re-creating the parks monument and women even leave notes on trees with their stats and phone numbers in search of a husband.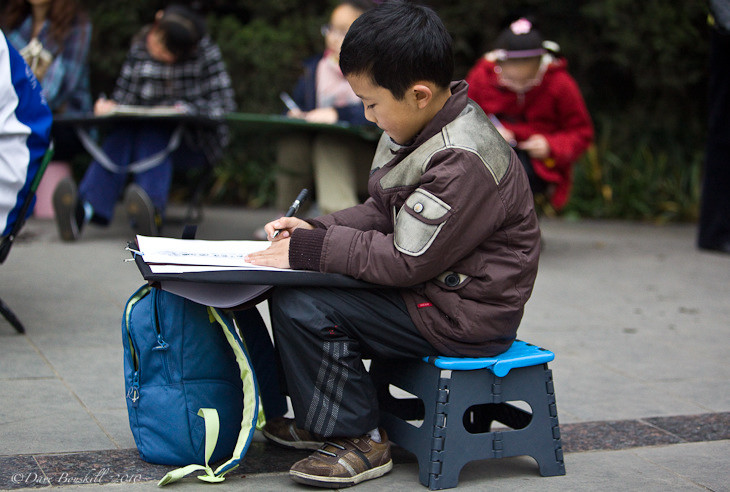 Joining the Fun in People's Park
We were welcomed with open arms.  A badminton match was going on, but they stopped it briefly to invite me to play a few rounds.  I could have played all day and they would have allowed me to, but I had to move on to see what else was in store and they had to continue their fierce competition.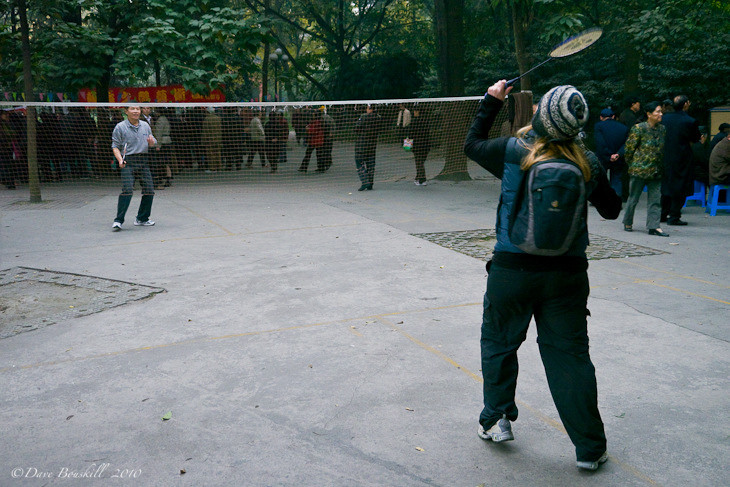 When we turned another corner, a man ran up to us inviting us into the circle of people.  We dutifully followed having no idea what we were getting ourselves into.  We thought it was going to be some sort of line dance, but as it turns out, we were taking part in a walk off.
This large crowd was strutting their stuff.  All we had to do was walk arm in arm and strut with attitude.  Needless to say, Dave and I had no problem.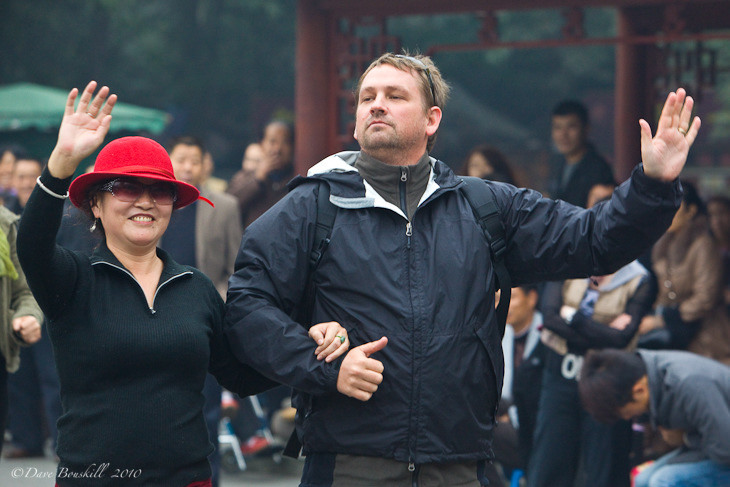 Every section of the park was alive with energy.  Everyone was dancing to different music but with as much enthusiasm as the next.  One place was filled with older people line dancing to traditional music, others were ballroom dancing and others still were club dancing in the middle of the park. Loud house music played as people gyrated their hips and shook their booty's to the music with no embarrassment or fear of being judged.
Busy all Week
This is where Chengdu residents come to let loose.  I asked if this only happens on a Saturday, but no. It happens on Sundays and Mondays and Thursdays too.  The retired people spend all their time in the park and a dance can happen any day of the week.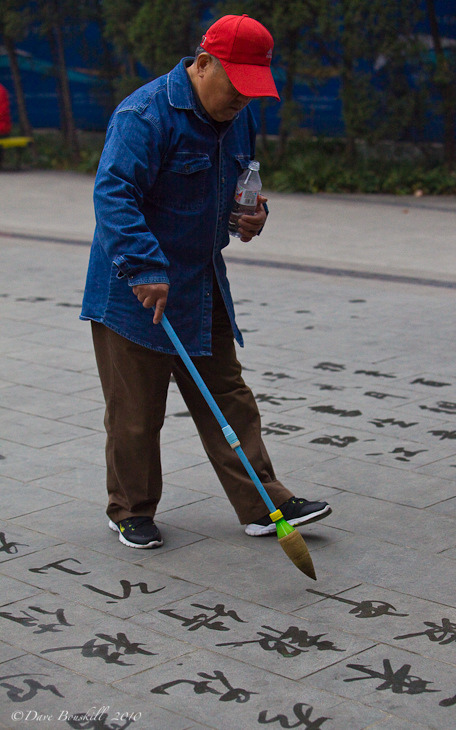 Chengdu is one happy town.  They are thought to have the most beautiful women in all of China due to the lack of sunshine leaving their skin milky white.  They are also very equal in the opportunity with men and women sharing work and house chores.
Unlike many places in China, men can cook in Chengdu.  They also have some of the best food in China.  As a part of the Sichuan province, their food has spice.  The Sichuan hot pot is world famous and it gives it's residents a fiery and spunky personality that they are proud to tell you about.
The Sichuan dishes keep them healthy against the constant dampness and heats up their immune systems, but the Chengdu tea relaxes and calms the nervous system. Tea is the Ying to the Sichuan dishes Yang's.
China is fascinating to us.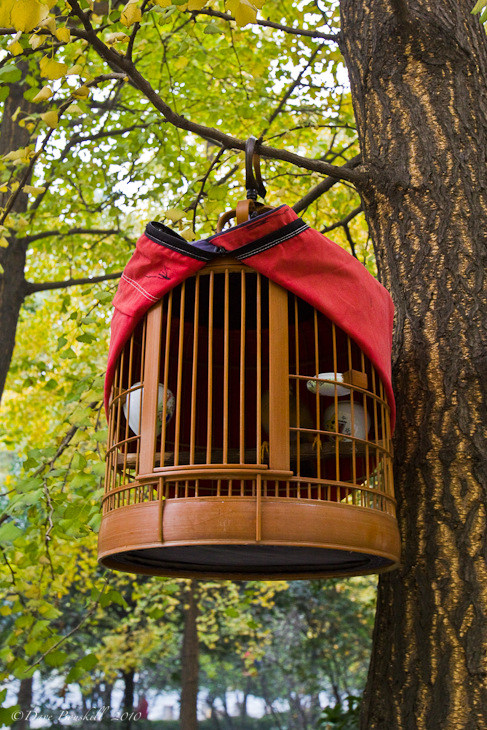 We had preconceived notions of what it would be like.   We expected people to be solemn and serious, but everyone is jolly and friendly.  We expected people to be suffering and working hard, but they are happy and take days off to enjoy life and each other's company.
This isn't the repressed society that we imagined.
China is on the verge of becoming the world's superpower and financial leader and its citizens seem ready to enjoy life and step into their new role as the next global powerhouse.
–
Note: This tour is sponsored by Intrepid Travel an excellent bridge between independent travel and group travel. With a 12 person maximum per group and a 1 person minimum, you are guaranteed departure and a real opportunity to experience local culture and lifestyle.  We are taking part in the Grand China Tour from Hong Kong to Beijing and sharing our experiences and observations on the differences between independent and group travel.
---
Read More
Where to Get Off the Beaten Track in China
Top 10 Things to Do in Shanghai, China
Spectacular Mutianyu Great Wall – Your Travel Video Coffee Break
Why You Should Travel Off the Beaten Path in China
SaveSave
You Might Also Enjoy