Be transported to the Peruvian Rainforest on this Sustainable Journey.
The Colorful Peruvian Amazon Rainforest – A Sustainable Photo Journey
Life is pretty good when you wake up in a comfortable bed, fully refreshed and ready for the day. Then again, life is extra good when waking up to hear the lyrical sounds of birds, munching peccaries, howler monkeys and other amazing creatures across a rainforest canopy.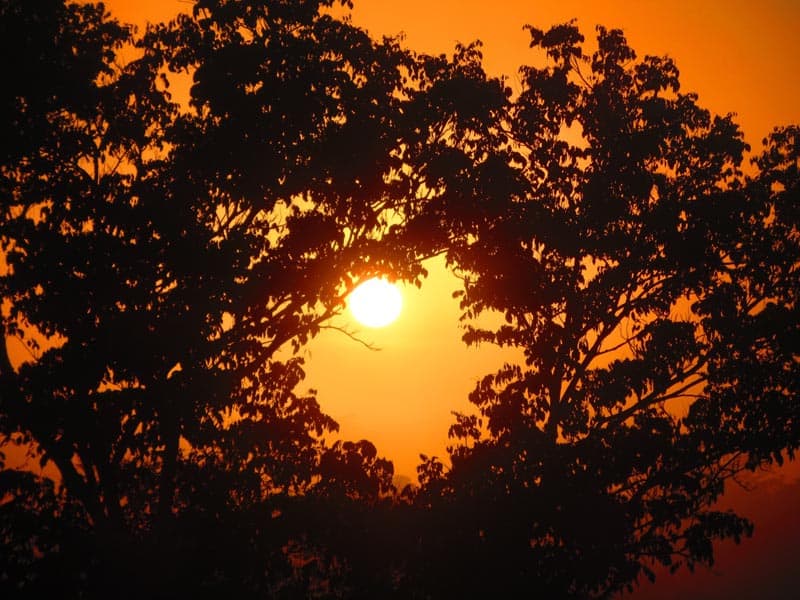 In other words, one gets a new an appreciation of color when the surrounding hues are reflected in the rocks and a new appreciation of life when waking up with the rainforest of Peru.
The Peruvian Amazon Rainforest
A recent photography safari through Tambopata National Reserve in Peru marked my second visit to the Amazon and third visit to a rainforest ecosystem.
I must admit I love more each time I witness an ephemeral animal sighting or gain a greater understanding of the sometimes harsh, and other times remarkable, mysteries of the rainforest.
Puerto Maldonado
Upon arriving at Puerto Maldonado, I was greeted with the familiar warm, dirt scented and humid air that demarcates the Amazon from other ecosystems.
I was excited at the prospect of the more scientific safari I was about to embark on in this relatively undiscovered part of the Amazon.
Would we get a chance to see a wild jaguar attracted to the scent of Calvin Klein's
The Rooms
From the main lodge, there are four above-ground bridges that extend to the individual rooms. The standard rooms offer open-air rainforest views, full private bathrooms, hammocks, sitting areas furnished by local artisans, and very comfortable beds (with mosquito netting).
Superior rooms offer electricity and free WiFi.
Having had the privilege to also participate in the back-of-house tours, I can say without hesitation that these rainforest lodges are some of the best equipped and sustainable I've seen, including:
Sustainable Rainforest Accommodation
• communications powered by solar energy,
• safe exposure to a balanced rainforest ecosystem,
• maximized natural light,
• Brazil nut (or lemongrass) biodegradable soap and shampoo provided,
• use of biodegradable cleaning products,
• trash management separated into one of five categories: biodegradable, plastic, glass, paper, or metal,
• provided rubber boots to keep lodges clean, and
• naturalist-led kayaking, hiking and mountain biking adventures.
Wildlife of the Peruvian Rainforest
As lovely as the sustainable lodge and surroundings were, it was the wildlife that rendered this trip most memorable for me.
The capybara's strong paws up close (through the professional camera), the great black hawk amused by something in the water.
The Cormorant figuring out its next move and the grand looking Orinoco Geese.
I loved spying  the peccaries looking for grub or getting up close with the smiling caiman.
And I'll never forget the little frog who patiently posed for his perfect shot, or the "24-caret" gold-colored frog who curiously looked into the camera before leaping away.
The Science of the Peruvian Rainforest
Wildlife is abundant in the Peruvian Amazon and Pedro, Jeff and Phil were eager to share their passions, knowledge and experiences.
But, for all the photo opportunities that were near and around Refugio Amazonas, the science was centered at another remote lodge, the Tambopata Research Center (TRC).
The 18-room TRC, which is run as part lodge / part macaw conservation center, has been supporting research in this pristine part of Tambopata National Reserve / Bahajua-Sonene National Park for the last 20 years.
TRC lodge sometimes sponsors local Peruvian scientists, but during our stay, I had a chance to talk with international macaw biologists and ecologists as well as graduate students from Texas A&M University (a sponsor of TRC) who were visiting TRC for their fieldwork.
There was exciting research all around, however our fieldwork was at hand.
Two experiments were top of mind for Jeff and Phil.
First, they endeavored to capture video footage of jaguars with the use of weatherized sensors, flashes and cameras. They had thought through the idea for months and great care was taken to set up the expensive equipment in a "high traffic" area. For eighteen hours, we anxiously awaited overnight back at TRC. Would we see an ocelot, puma, or even a jaguar?
Unfortunately, no one had noticed the numerous leaf-cutter anthills that were about 20 feet away from the cameras!
Camera Equipment fell to the Elements
Little did we know that during those eighteen hours, there was a fiesta of leaf-cutter ants chewing through anything and everything that was plastic or rubber on or around the equipment.
The only picture that was taken was that of a moth (who was probably thinking something offensive as it flew by the sensor and flash!)
While Jeff was thinking about his camera insurance coverage, we needed to press on to the second experiment.
2.To determine the effectiveness of Calvin Klein's Obsession for Men in attracting wild animals, specifically jaguars, in the Peruvian Amazon.
Back in 2010, the Wildlife Conservation Society (WCS) determined that this scent above all others was most effective in attracting certain species in and around the Maya temples of Guatemala.
But would it work for Peru?
Over the course of a month, an outdoor camera was placed in full view of two socks – one carrying the Calvin Klein scent and the other "control" sock with no scent.
After collecting and reviewing the month's video, it showed that while many wild animals had passed (peccaries, jaguars, etc.) none bothered to even notice the scent.
So, two experiments gone awry, but such is the nature of science.
For me, a person who loves nature, the opportunity to combine a rainforest safari with photography and scientific discovery was a penultimate experience that I will treasure for years to come.
About Irene Lane

Irene is the founder of Greenloons – a premier online resource dedicated to inspiring people to think different, be different and travel different – in ways that help to ensure a more sustainable planet. An advocate of social empowerment, financial viability and environmental preservation, Greenloons is the only company that connects mindful travelers with unique, meaningful and eco-certified travel experiences all over the world. Drawing upon her professional and personal experiences to address authentic ecotourism from community, ecological and financial points of view, Irene is a frequent conference speaker, blogger and radio talk show guest. Join the Greenloons community on Facebook. Follow the discussion with Greenloons on Twitter.  Be inspired by travel on Pinterest.
Read More:
A RAinbow Feel to Earth, Hiking Rainbow Mountain Peru
Be Transported to Peru – A Journey Down the Amazon
Things to do in Peru – Top 12 Adventures