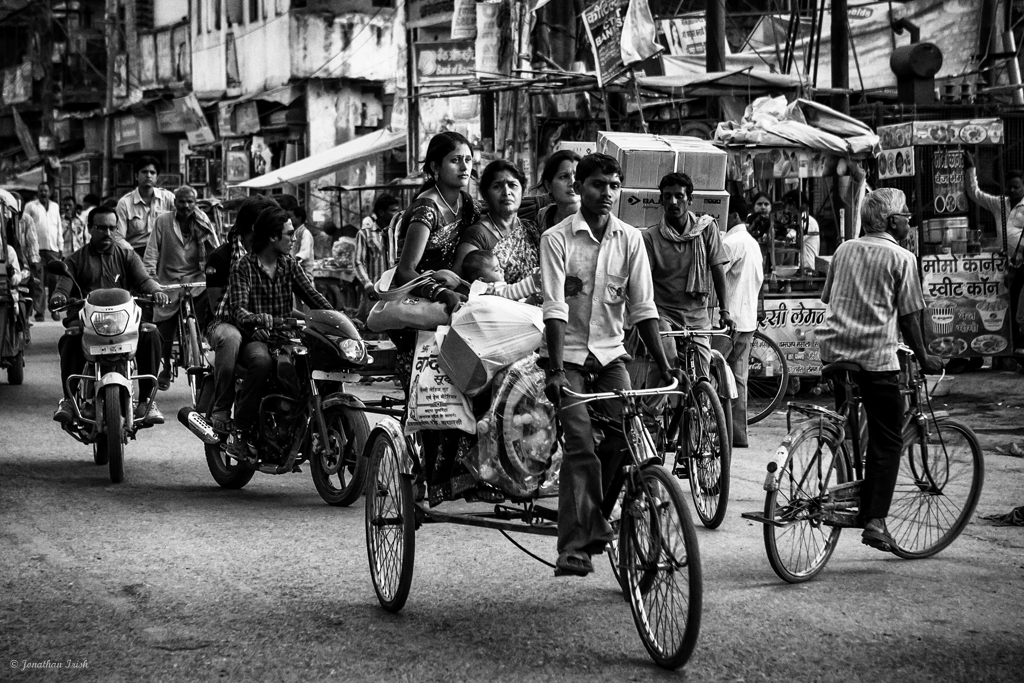 Have you ever driven, or been driven, on the roads in India? It's a crazy experience. I don't think foreigners could ever fully get used to the craziness that takes place on the average street in India. India makes New York City look like Jackson, Mississippi. Seriously. First of all, the roads are terrible….full of potholes, rocks, and other miscellaneous debris. Then there's the fact that the roads were never meant to accommodate so many people…so they are often 2 single lanes that are WAY over packed with traffic. Now, for good measure, throw in the different types of transport vehicles that use the roads….like trucks, cars, mopeds, motorcycles  tuk-tuks, pedi-cabs, bicycles (two and three wheel), street vendors, people walking (often three abreast!), and any other man, machine, or animal powered contraption you can imagine. Then, don't forget that cows are sacred and have the absolute right to lay right down in the middle of the street, which they oh-so-often do, causing mass slowing-down and near misses. Lastly, we can't forget about the general abuse of the use of the  car horn by seemingly everyone in India. Everyone expects everyone else to move, but no one wants to yield the way, and they use their horn non-stop in order to voice their displeasure with the audacity of someone who thinks they are going to go in front of them (the nerve!). It is a screaming, honking, loud mess….and one of the most entertaining and interesting things I've ever had the pleasure of watching. Seriously, I love it…it's better than any TV show you could ever watch. I seriously remember sitting in the front of the bus driving back to Delhi and being amazed at what was taking place in the windshield…..couldn't take my eyes off of it.
Varanasi is no different. In fact, the ancient city is so old, and a protected city (read: no widening of lanes to accommodate new vehicles), that it might be even be one of the worse as far as traffic goes (although I hear Mumbai is on a whole other level). Now, don't let this stop you from going to India and experiencing this amazing country for yourselves. I highly suggest a visit. Just be forewarned that you are in for a crazy experience….which is virtually guaranteed in India. But that's also what makes it so special.
For this image, I wasn't trying to capture the craziness of the driving experience in India, but more the daily life. And I think this image captures it well. I see families with babies and groceries heading home on a bicycle, men on motorcycles driving to work (perhaps), vendors on the side of the road selling their wares. This is very much daily life in India. I think the only thing missing here is the ubiquitous cow laying in the middle of the street (I do have photos of that, if you care to see them).
Have you been to India, and if so, is this a familiar sight?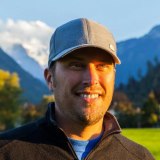 Jonathan Irish is a seasoned travel photographer who has traveled to over 65 countries and specializes in photographs of people, landscapes, abstracts, and, above all, cultures abroad. His work has appeared in various National Geographic publications, and he is represented by National Geographic's Image Collection www.NationalGeographicStock.com/jonathanirish. When he is not traveling the world in search of amazing photos, he gathers inspiration from the other great photographers at National Geographic, where he is the Program Director for National Geographic Adventures  Jonathan lives in Washington, D.C.
Check out more of his photography at JonathanIrish.com
Follow his daily photography on Twitter at MagnumJI, 
Instagram at Magnumji
Facebook at Jonathan Irish Travel Photography
and Pinterest