In a landlocked country in central South East Asia, there is a tiny piece of paradise on a stop between two popular destinations. Vang Vieng, Laos is a little town on route 13 between the major cities of Vientiane and Luang Prabang.
Vang Vieng, Beauty and Relaxation in Laos
It is a place where you can lose yourself relaxing by the river, riding a bike through incredible scenery, exploring remote caves, or simply lazing in old opium dens watching the latest bootleg Hollywood release.
Forget about the commercialized hill tribe treks in Northern Thailand. Here, you are staying among the villagers, and a short walk will take you into the rugged countryside.
Incredible Karst formations jut out from the land and contain many hidden caves, waterfalls, and lagoons that surround this tiny village along the Nam Song River.
We went to Vang Vieng intending to stay a day or two to break up the trip to the World Heritage site Luang Prabang.  Our plans changed, however, and we found ourselves extending our stay for several more days.
Going Down the River
After discovering a charming guesthouse overlooking the water, we did what everyone does once they have settled in: we rented inner tubes and went for a ride on the river.  For $2, a pickup truck up will drive you and your tube upriver to a drop-in point.
Then it is into the water for a 3hr ride surrounded by towering cliffs, deep blue skies, and lush green vegetation.  It is a place of incredible beauty.  We lazily rode the slow current with nothing to do but to watch life unfold around us.
Clever entrepreneurs have set up floating bars to sell Beer Lao to the passing tubers.  You can pull up to the side of the raft and have a nice cold drink to break up the trip.  If you are having trouble steering towards your destination, never fear, they have long poles ready to pull you in.
Adventure on the River
There are rope swings, high cliffs, and bamboo platforms just waiting for an adventurous type to take a jump.  Drunken travellers awkwardly splash into the water as local children show up everyone by flipping and somersaulting with impressive skill.
Tanned, shirtless men wade in the water searching for their prey.  Armed with bamboo poles and wearing snorkeling masks, they herd fish toward their nets.
They locate a school of fish and smack their poles on the surface of the water, leading the disoriented fish to their traps.  It is hard, cold work, but they smile as we pass.
Sarong clad women wash their clothes on the shore, people hunt for kelp to fill their colourful baskets, and herds of water buffalo graze on the bank. I see a lady washing a mound of lettuce down river from the buffalo and I make a mental note not to order a salad at dinner.
Our long lazy ride is anything but boring.
Time for Dinner
By twilight, we reach the end of our journey, sun burnt and hungry.  We change for dinner and head out to the many eateries to enjoy a movie while we dine on pizza and beer Lao.
Great food is easy to find in Vang Vieng.  We have our choice of Indian curries, Italian pasta, spicy Thai, Western staples, and of course traditional Lao dishes.  Cafés are lined along the two main dirt roads.
The market is bustling with activity, but we decide to pass on dinner here.
We are not sure how safe the food is, as we notice beef Kebabs baked from the sun displayed on milk crates, dried bananas laying on a tarp covered in flies, and chickens roaming freely through the alleys.  My husband Dave wonders: how do they know who owns which chicken?
We venture down to a bar by the river, drawn by music turned up to 11.  It sounds like quite the party is happening, but when we arrive, the place is empty except for the staff.  We decide to stay anyway and have a drink on the dock, enjoying the cool breeze as we lay on cushions placed on a woven mat.
Kayaking
The days pass casually and we become motivated to try some kayaking.  After hiring a guide at one of the many shops, we set out for a tour of the river and caves in the area.  The scenery is breathtaking thanks to the enormous cliffs that line our route.
It is an easy paddle as we make our way through the gentle rapids.  We stop at Sleeping Cave, a large cavern used in wartime for locals to hide in.  It is dark, and we use old headlamps with exposed wires leading from their giant battery packs.
Careful not to get a shock, we use their strong beams to explore its main chamber and several passages.  After sliding in the mud, wading in the chilly water, and stumbling in the dark, we thankfully squeeze our way through the tiny opening that leads to the fresh air and open space.
Back at our boats, a small food stall is playing Latin music and I wonder, am I in Asia or Central America, as I salsa to the beat. On the river it is peaceful, and the seclusion from other people is a nice change from the busier tubing route.
Vang Vieng is dotted with many caves and they can take a couple of days to explore.  We rent bicycles and head out with guidebook in hand to search for a few.  Following the signs, we ride through a field until we come upon a makeshift ticket window.
Local children man the booth and for a small fee, they guide us through the cave.  A young girl grabs an ancient headlamp and signals us to follow.  We walk deep into the forest and approach a group of boys on the path.
Having read about scams in my guidebook, I worry that she has duped us and has really taken us into the woods to be mugged.  I grip my daypack as we continue to walk, but my paranoia is unfounded and soon we enter an unimpressive cave part way up a cliff.
Discovering a Lagoon
Thankful to be on our way, we continue to ride along a gravel road, exploring some dirt trails and paths through the woods until we come across an emerald green lagoon.  This crystal clear pond, surrounded by forests and cliffs, is a refreshing stop on a hot day.
We eat a hearty and delicious noodle soup at a small food stand, enjoy a few swings on a rope into the cool water, and talk with a young monk from Vientiane visiting a near by wat.  I am surprised when he takes down his robes and jumps in for a swim.  Are monks allowed to do that?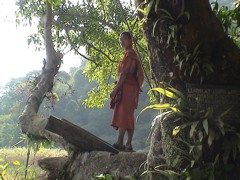 Our time abruptly ends when we see a snake over a meter long swimming in the water.  Everyone quickly scurries out of the lagoon and nobody dares to go back in.  With the day pressing on, we say goodbye and it is back on our bikes to return to the village, refreshed and armed with a new tale of a near death encounter!
Local children join us for a while, running along side and holding on to our seats.  I ride slowly so that they can keep up and they never seem to tire.  At a crossroads, we go our separate way and wave good bye, uplifted by their laughter.
A unique vehicle passes us, filled with passengers.  It is a tractor with an attached wagon, but its front tire reaches far in front.  It rides through the bumpy road with ease, and then when it comes to a river, it plows right through it, keeping everyone dry and avoiding the need to build an expensive and sturdy bridge.
It's an ingenious invention that shows how well the people have adapted to their surrounding land.
Warm Locals
It is such a pleasure to visit Vang Vieng; the people are generous and genuinely friendly, expecting nothing in return.  They will invite you to share a Beer Lao or offer you some kebabs cooked over an open flame.
They are proud to tell you about their land and their people, and they do not seem to mind the travelers who have invaded their quiet town.
It is as if time stands still here.  Vang Vieng rubs off on its visitors and one can't help but to slow down and take the time to enjoy the simple things in life.  Many people stop in to spend a day or two but, like us, they tend to stay for a few more.
Busses run daily between Luang Prabang and Vientiane stopping in Vang Vieng, and you can fly to Laos on Thai Airways from Bangkok to Vientiane.
Cost for a Visa
30-day visa's can be issued in Bangkok for around $30.  15-day tourist visas can be bought at the airport on arrival for $30. Visas can also be purchased at the Lao embassy in Toronto.
There are no ATM's in Laos, and Thai Baht and US dollars are the currency of choice. Banks and money changers will exchange cash and US dollar travelers cheques for a small fee. There are flights from Toronto to Bangkok daily on Air Canada.
Read More
7 Things to do in Hanoi – Complete Guide To A Kid-friendly Trip
The Great Myanmar Train Travel Adventure
Slow Boat to Thailand from Laos
You Might Also Enjoy