Imagine paddling in silence through a remote lake of Algonquin Park in the Canadian wilderness. You're in a traditional canoe used by the ancestors of Canada's Aboriginal People to explore the Northland.
You imagine yourself as a great explorer venturing out into the unknown frontier and take in the spectacular scenery of one of Canada's most famous provincial parks.
The tensions of work and every day living have drained out of your body and all you do is concentrate on each stroke as you dip your paddle into the dark water.
With your head down, you are startled as you turn a corner and happen upon a mother moose and her calf chewing on long grass while standing in the water in front of you.
Untamed Americas – A Quiet Moment in Algonquin Park
Well that is exactly what happened to us!
Algonquin Park is filled with an abundance of wildlife and moose are the star attraction. These large beasts are imposing with males sporting a full rack of antlers to intimidate and dominate their opponents.
The largest animal of the deer family, these slow moving lazy looking beasts can be quite aggressive when agitated. While males are more powerful, a mother can be very dangerous when protecting her young from intruders.
We drifted towards them in silence taking great care in keeping a safe distance as not to disturb their lunch. Moose are powerful swimmers and if the mother at all felt threatened she would be sure to charge to protect her calf.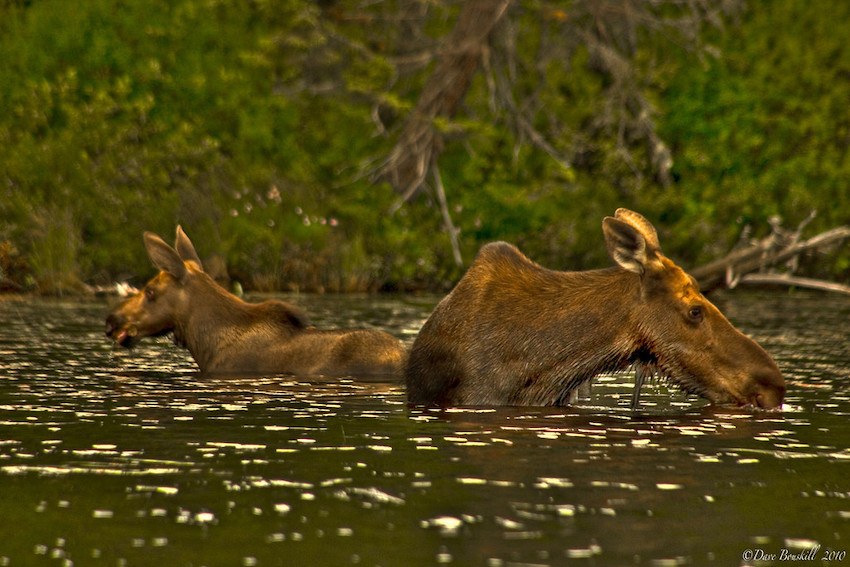 Luckily they paid us no attention as we watched on in awe of the moment. Relaxing as if it was just another ordinary day, they ignored our boats and the snaps of our cameras as we couldn't believe our spectacular luck.
10 Day Canoe Trip
We saw many things during our 10-day canoe trip through Algonquin park such as great herons, otters and even had a curious bear intrude on our campsite one evening but we will always remember our quiet encounter with the moose and her calf as a special moment in time where we came face to face with a powerful wild animal in an untamed America.
Untamed Moment
In honour of National Geographic airing their new series "Untamed America" tomorrow night, we wanted to share our favourite untamed moment in time in North America. We've seen Bald Eagles in Alaska, spider monkeys in Mexico, searched for the elusive Jaguar in Belize, swam with sharks and sea lions in Ecuador and spied whales off the coast of Argentina.
Our moose encounter in Algonquin will always be remembered as one of our best encounters with the wildlife of the Americas. We experienced it right in our own back yard, it's a Canadian symbol and to see it while sitting in another symbol of Canada – the canoe, is a moment we will never forget.
This two night television event is narrated by Josh Brolin and airs this Sunday and Monday night on National Geographic Channel at 9:00 pm.
For more information on Untamed Americas you can visit the National Geographic Channel's Website
It reveals the grit and glory in the wild of North America, Central America and South America and celebrates the incredible landscapes and wildlife right here on the continent. National Geographic is encouraging people to explore what is right in their own "backyards" and has even launched an Instagram contest featuring stunning landscapes from our viewers' travels through the continent. More details on the contest here.
Entering is easy – just follow @natgeochannels on Instagram and submit your photo with the hashtag #UntamedAmericas by midnight June 18, 2012.
Read More
Algonquin Park Canoe Trip and Camping in Luxury
Canoe Algonquin Park, Canada's Wilderness