Do you know much about Greenland? If you don't, read on because we're going to tell you all about it. If you do, well, I bet you didn't know this, Greenland has the most Elvis impersonators per capita in the world.
Note: This offer is now closed

Greenland
We've been itching to go to Greenland for ages, and this August 28th we get our chance with Quark Expeditions. Does the name sound familiar to you? We'll that's because we went to Antarctica with Quark Expeditions, the leader in polar expeditions. We've partnered with them again and this time we want you to come too! Quark is offering ThePlanetD readers an incredible 40% discount on the Greenland Explorer: Valleys and Fjords voyage August 28, 2013 departure. Come hang out with us for this once in a lifetime opportunity.
Find out more about booking at Travel with Dave and Deb to Greenland
Why is Greenland so intriguing? It's one of the final frontiers on the planet! Greenland is the most sparsely populated country in the world and there are no roads connecting any of its towns. How does one travel when there are no roads you ask? By ship of course. We'll be boarding the beautiful Sea Spirit for our 14-day adventure from north of the Arctic circle all the way around to Reykjavik, Iceland.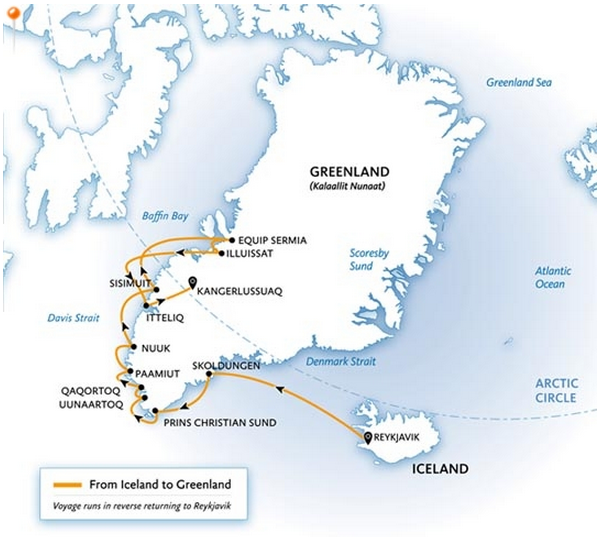 We had the privilege to sail this ship to Antarctica with Quark in January 2012 and it was hands down the best trip we've ever taken. Now, I must take a moment away from Greenland to tell you about the ship, because it's a very good ship.
The Sea Spirit
The Sea Spirit is an all suites ship that holds 112 passengers. There are flat screen TV's in every room with DVD players and we can attest the most comfortable duvets you've ever had. This isn't your usual polar explorer vessel, this is a luxury liner was made to experience the Polar regions in grand style.  It's approved for polar region cruising, but it isn't one of those ice breaker beasts, it has all the amenities of a hotel including an open all inclusive bar and hot tub! Oh and the food. Quark Expeditions has the most amazing dinners. Here we go again, just when I say we have to get back in shape, we'll be eating like kings on the Sea Spirit. Luckily we're finding our balance this summer, so we'll be spending the next couple of months in our regular workout routine to prepare for the good eats ahead.
What to expect in Greenland
Glaciers
Greenland has some of the most active glaciers on earth, including the world's fastest moving glacer. It also has the largest glaciers outside of Antarctica.
Northern Lights
We have yet to see the Aurora Borealis and Greenland is one of the best places on earth to witness them. Going late in the year is the best chance to view them and since this is the last departure of 2013, it is the best chance of the season to see them. That's why we picked it!
Northern Lights photograph taken by thePlanetD contributor Jonathan Irish website
Culture
Unlike Antarctica, people live in Greenland and it has a rich cultural history. We'll be visiting a Viking settlement dating back to 985 AD and we'll be learning about Inuit culture, visiting ruins and exploring the capital city which was first inhabited in 2200 BC. Yes, Greenland is filled with a history that Antarctica only wishes it could have.
Wildlife

We're going to see some incredible wildlife like Whales, musk oxen, seals and Reindeer. There is something magical about seeing whales and seals are one of our favourite animals. I hope we get the chance to kayak up there to see them relaxing on some ice flows like we did in Antarctica, but I have to admit, we're most excited about the reindeer.
In the mean time, enjoy this video of Greenland. It makes me so happy to watch this video, it totally puts me in the mood to travel to the latest "it" destination in the world. See you in Greenland!
Terms and Conditions.
Travel with Dave and Deb and save  40% off Greenland Explorer: Valleys and Fjords Voyage.
August 28, 2013 departure ONLY. Triples excluded. New bookings only. Not combinable with any other offer
Please quote promo code MK64 at time of booking.