If your feeling like you need a little pick me up this winter, our ongoing Travel Inspiration series is just what you may need. We're nearing the end of our week of inspiration and the stories that have been coming out of these awesome travel bloggers have been amazing. Enjoy this one about getting out of your comfort zone and pushing your limits. 
Being Afraid of People and Couchsurfing Anyway by Jackie DesForges
I am not a people person. 
This stems more from the fact that I am painfully shy than it does from my being a mean or Scrooge-like person. As a result, I've never considered myself the best candidate for couch surfing, and I've always preferred hostels as my main option for lodging. Unfortunately I am also a recent graduate with very little money to spend when I'm traveling, which does not translate so well into paying for lodging whenever I go somewhere. My first foray into the world of couch surfing was therefore a reluctant but financially necessary one, and it occurred when I was backpacking through Europe with my boyfriend two summers ago.
Our first couch belonged to my friend Hilliary in Berlin. Hilliary and I knew each other from college but not well; I felt somewhat awkward when I sent her the facebook request asking if we could stay with her, assuming she would think I was trying to use her for her free lodging (which was, honestly, somewhat true at the time). To my surprise I received an extremely enthusiastic response, and she even offered to show us around the city the whole time we were there.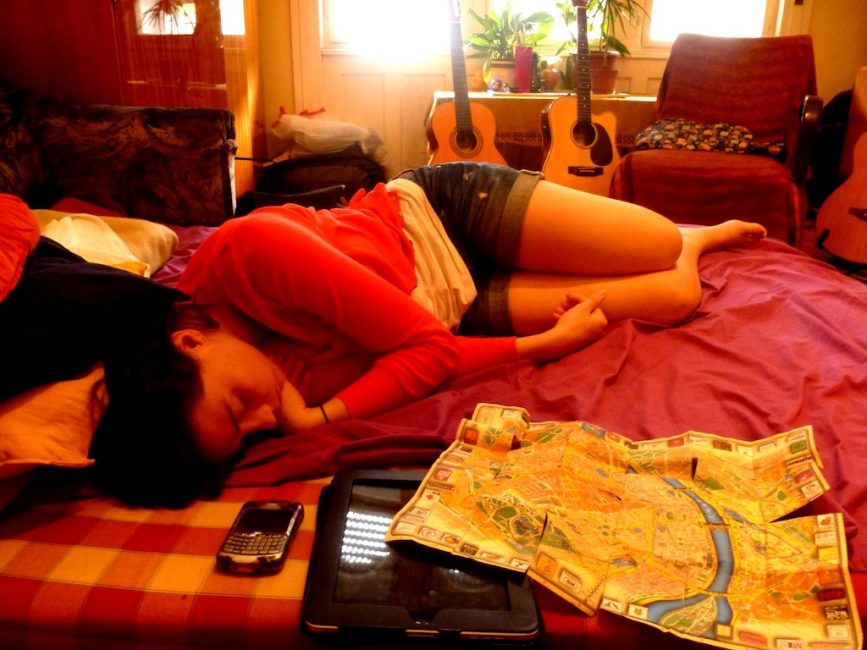 When we arrived, there was no couch anywhere in her tiny apartment, and we realized that she was going to let us have her whole bedroom to ourselves while she stayed at her boyfriend's place. Her roommate was away for a few days, so we had the whole run of the apartment to ourselves. In the few days we stayed with her, Hilliary and I became genuine friends. She introduced us to her favorite dish, something I still cannot spell or pronounce, and translated a humorous conversation we had with a few bums in the park during an evening picnic. She showed us around, she translated street signs, she and I talked about all the things back home we hadn't ever realized we had in common. The entire time I had been afraid of feeling like an imposition, but she made me feel like we were old friends catching up after a summer apart. We are still great friends, and I'll be staying with her again on an upcoming trip later this year.
Berlin
Our time in Berlin was split between her apartment and the mattress of a guy that my boyfriend had previously met through the couchsurfing website a year earlier. He was a musician, a traveler, and a serial couch surfing host, and when we arrived we realized we'd be sharing the house with a few other travelers who were also passing through. Like Hilliary, this host also let us have his bed and room for the night, and I began to wonder if couches were ever actually involved in couch surfing. This house seemed to have an open door policy, and anyone who walked through was immediately welcomed, as though they had been expected to show up at that exact time.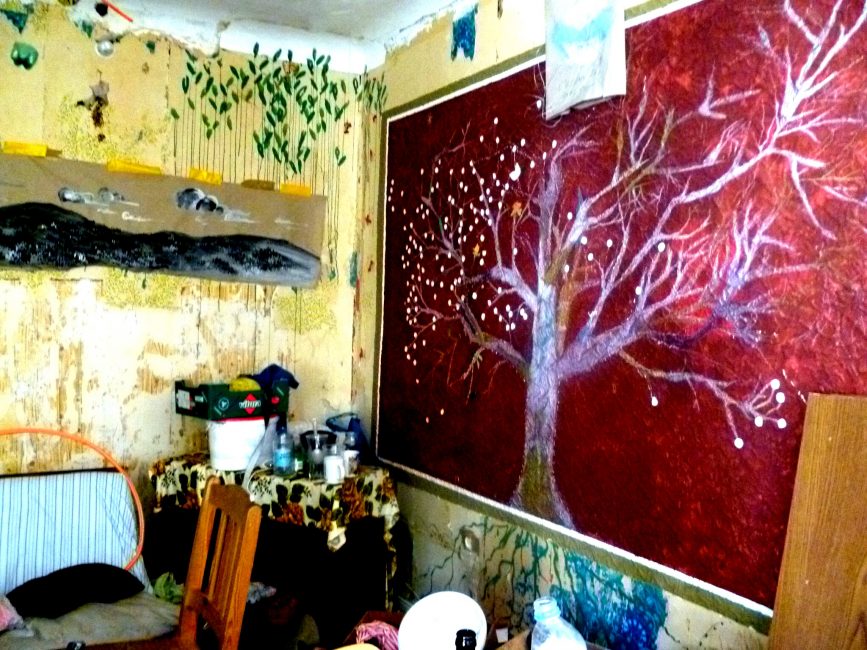 It wasn't the cleanest or most comfortable house, and certainly not the quietest, but it was one of the most interesting places I've ever seen. The walls revealed layer after layer of paint and paper peeling off, covered in certain parts by words in various languages and sketches that were either drawn or scratched by someone who had been there before us. In this place I felt more of a connection with the house than I did with the host; I think that's an overlooked part of couchsurfing, the relationship you form with the different houses, apartments, walls, and floors that give you shelter when you're far away from home. The house itself, its smells and colors, can have as much of an effect on your memory of that time as the person living there can.
Budapest
After Berlin, we traveled through a few cities until we made our way into Budapest and into the home of Balazs, a Hungarian musician and architect.  He's one of those people who doesn't seem to have a specific age; I placed him between 32 and 40. Most of the time I was distracted by the orange and black striped knee socks he wore for the majority of our stay. Never have I met someone more like a sitcom character. On our second day in Budapest he took us on a daylong bike tour of the city – for free, because he happened to know the woman working the bike rentals. Later that night, we finally got to experience the couch aspect of couch surfing on a very uncomfortable foldout couch bed.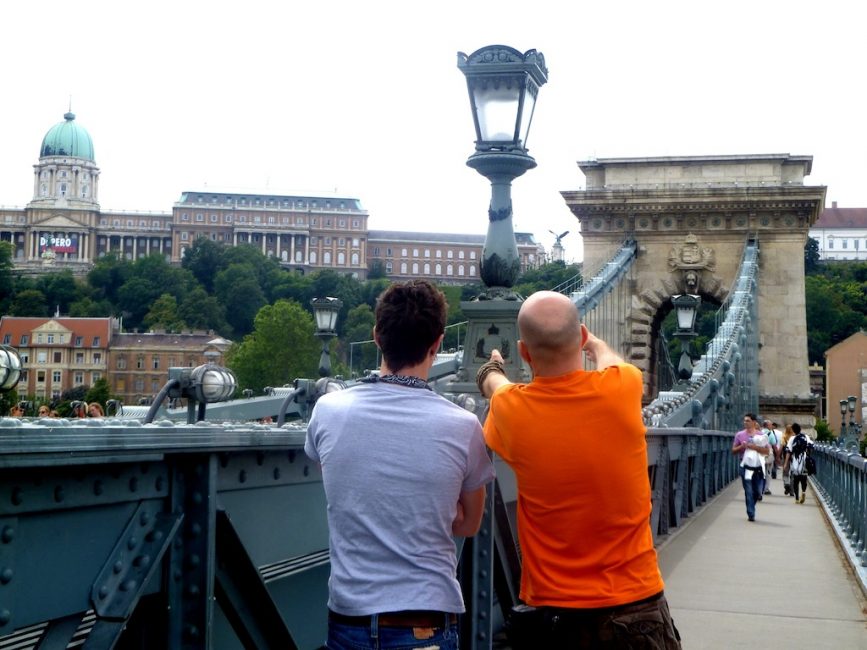 Balazs was tireless. He wanted to show us everything. This enthusiasm for his city and his background in architecture made him an incomparable host – he knew everything about every single building, statue, and park in Budapest, and he wanted us to hear and learn everything we could while we were there. Trying to keep up with him was sometimes exhausting, but I doubt I would have seen as much as I did if I hadn't stayed with him. He reminded me how much of the world I still want to see and learn about, and how little time there always seems to be to do it. Most of the travel stories that get a laugh out of my audience have to do with Balazs and my time in Budapest.
Before meeting each of these three hosts, I hadn't expected anyone to be mean or unwelcoming, but I had definitely expected to feel like an imposition. Traveling is nerve-wrecking enough without having to worry about putting anyone out. However, I know that traveling is also about getting out of your comfort zone and pushing your own limits, and I think I'm stubborn enough to keep doing that, to keep meeting people, to keep doing things that I wouldn't be doing if I was sitting at home reading other people's travel stories from my own couch. My couch is pretty great, pretty safe, and pretty comfortable, but I know I can't bring it with me when I go…and really, why would I want to?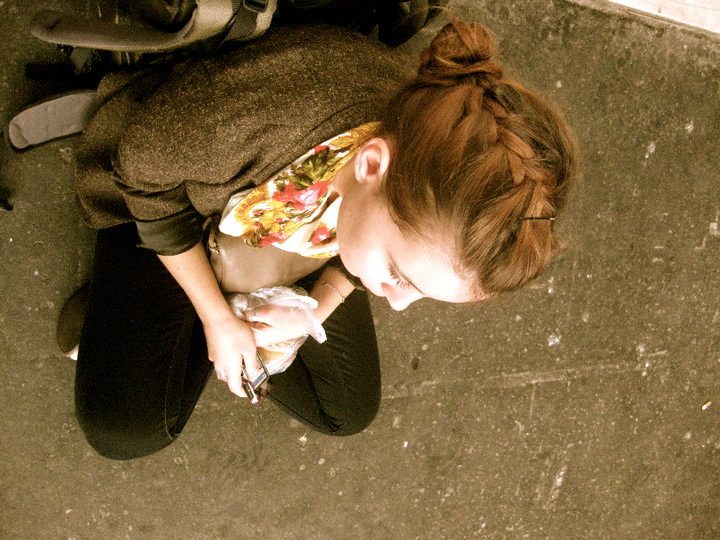 Jackie DesForges is a writer from Los Angeles currently living in Chicago. To date she has served as a student ambassador in England and France, a volunteer in Mexico, an art student on the Riviera, and a fledgling travel writer in Edinburgh. Currently she spends her time blogging about travels past and present at http://jackietravels.com and saving her pennies for her next great adventure overseas.
Blog: www.jackietravels.com
Twitter: @jackie_travels
Couchsurfing page: http://www.couchsurfing.org/people/jdpickle/
Read More Inspirational Stories
Habitat for Humanity in Alaska
You Might Also Enjoy