We have several travel blogs that we admire and we often wonder how they manage to stay ahead of the game so well.
How to Travel Blog as a Couple
Most of the travel blogs out there seem to be solo travelers.  They travel the world and manage to post quality articles while staying connected to their community and running an appealing blog.
Dave and I are lucky, We Travel Blog as a Couple

We can split the workload. While it may seem to some that Deb does the bulk of the work because she writes the posts, that is only one portion of running a successful travel blog.
We thought that we would share with you what the roles are of Dave and Deb at theplanetd travel blog.
Since Deb is obvious, let's start with Dave.
Dave's Roll on thePlanetD Blog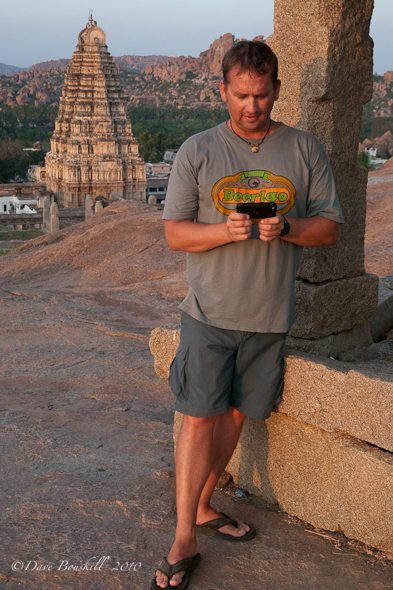 Dave's main focus lies in three areas of the blog.
1. Photography
He takes travel photos that not only complement Deb's writing but enhances the piece.  He puts his photos into the blog post and formats the page. We also posts his photo gallery at www.picturetheplanet.com
While photography brings him accolades, it is his behind the scenes work that really plays an important role in Canada's Adventure Couple.
Dave proofreads and edits all of Deb's posts and chooses the photos to go with the articles that she write.
2. Code and Website Design



Do you see the layout of this blog? Well, Dave has sat at the computer for hours on end learning code and reformatting the website.  From the little things like adding sponsors and advertisers to changing the look of pages, sidebars and even the colour of the blog he has become a self taught web designer.
It may seem easy when you look at it, but each area of the blog has delicate coding to deal with and Dave does it all.
Dave makes changes to theplanetd blog regularly. It is hard to believe that our little box stating "connect with us" contains a lot of code and can't just be done through widgets and plugins.
3. Business of Travel Blogging
People contact us regularly to advertise on the site.  Dave deals with the business aspect of theplanetd blog.  He fields emails, writes proposals and sets up our rate structure. While we would love to take all the money and run, Dave screens advertisers to see if they are right for our site.  He has a strict code that other blogs may not follow regarding price and content. We won't bring our price down just to get more advertisers on our site.  We have a minimum amount that we will take for an ad and we stick to it no matter how badly we may need the money. Content must also fit with the content on our blog.
Quality is always better than quantity.
Deb's Roll at thePlanetD Travel Blog

–



Deb's work is directed to the creative, marketing and social side of the blog.
1. Writing
Deb comes up with ideas for articles and writes the content.  It can be exhausting during travels to constantly look for the story, but Deb keeps us moving to the next adventure.  Once she has run out of content, it is time to move on to another destination. Deb looks for the story at every destination that we visit and come up with a unique spin on an article to capture the readers.
2. Networking
Deb is also the social force behind the blog.  She visits other sites to comment on their content, give them a tweet or stumble and helps to advertise her friend's content.  She is the person that keeps our presence alive in the Internet universe. It may seem like she is simply having fun spending time on social media sites (which actually is fun) but it is a very important aspect of travel blogging to spend time at other travel blogs and social sites.
3. Marketing
Deb works on building relationships and getting the word out about theplanetd.  She contributes guest articles to other websites and sends queries to newspapers.  She has also mastered social media, working hard at building followers on twitter, stumbleupon and creating links through unique article wizard and ezine.  Deb is also never too proud to hand out a business card and tell everyone that they run a popular travel blog. Networking is the key to success and getting new readers to our blog is the most important thing that a Blogger can have.
Blogging Together as a Couple.
This blog is run together and it is a team effort.
1. Brainstorming
Dave and Deb brainstorm story ideas and decide whether people will be interested in what they have to say or not.  We check for key words and search engine optimization together.  We also make sure that the blog stays focused to our niche of adventure couples travel.  (something we are still working on)
2. Video
Dave is by far the more technical savvy of the two and he has set up the entire system of editing.  He is in charge of transferring files to the computer and keeping it organized.
Editing is a team effort that takes a lot of time.  We have fallen behind I am afraid, but are working to catch up. We feel that video is a very important aspect of any travel blog and we are looking to add more videos in the future to our website.
3. Planning
We plan our itinerary together.  Believe it or not, we plan our travels around the blog.  We would love to sit at the beach for weeks on end, but that would not make for interesting writing.  We choose locations and adventures that we feel people will interested in.  We climb mountains and go on safari's because that is the adventure.
Summing up Blogging as a Couple
So there you have it.  Dave and I have our separate roles, but we also work together.  Just like traveling as a couple, blogging as a couple requires communication, compromise and adaptability. We are lucky to be able to split the workload, but we also need to be able to have the patience with each other to get across what we both want to our readers. This can sometimes be a challenge, but as time goes on, we are both developing a similar vision for theplanetd.
We admire the solo travelers out there that keep such great blogs going and have no idea how they manage.
We will stick with travel blogging together. It works for us and besides, we are already overwhelmed with the workload and we have double the man power!
You Might Also Enjoy