In one month we'll be in Prague for the kick-off party of the Mongol Rally.
Three days after leaving London, we will drive to Prague, party at a castle and begin our trip through 15 countries.
We have decided to stay in Prague an extra day to take a tour of the city. Dave, Rick and I will be driving Segways around the town while Sherry goes off on a photography tour.
We've always wanted to go and cannot believe that it has taken us over a decade of travel to finally make it to this beautiful Eastern European city.
We're gearing up for summer all over the world and what better way to get in the mood than to think about upcoming festivals. Summertime is Festival Season and Prague seems to know how to party.
While we may not have the time to take in a festival, you can count on us making the most out of our visit to Prague.
Top 3 Sizzling Summer Open Air Festivals in Prague
Summertime is one of the best times of the year to visit the beautiful city of Prague.
The city's parks are blooming with fragrant fauna; the bars are brimming with a mixture of thirsty city slickers and tourists; and the glowing sun bounces off the stunning mix of Gothic, baroque and neoclassical architecture.
So, what better way to spend the summer afternoons and evenings, than unwinding with a chilled Pilsner beer listening to a fusion of global music at one of the fantastic open-air festivals.
United Islands – 25th – 27th June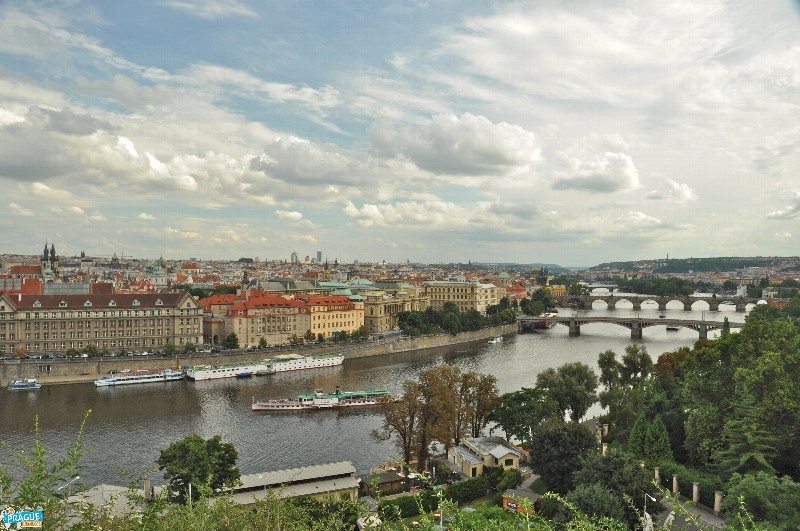 This annual open-air festival offers over 150 hours of free music and caters for every age and music taste, from jazz, folk and blues, to rock, dance and ska punk.
The three-day festival takes place around 22nd to 26th June each year and is held along the banks of the Vltava River.
The main events happen in Žofín, Stelecký Island, Dtský Island and Kampa in the historic and medieval town centre of Prague and festival-goers can enjoy a variety of music from 100 bands from 15 different countries.
The atmosphere of this festival is electric and the streets of Prague come alive with music and enthusiastic dancers.
Over the past few years, the festival has seen performances from live global DJs and bands including NoJazz, DJ Scratchy, Yellow Umbrella, Navigators, Mitsours, and Placebo.
The 2011 line-up includes the UK's Audio Bullys, Dusa Orchestra, and punk-rockers Porno Para Ricardo from Cuba.
This is a rare chance for revellers of all ages to see some of the world's best live music free of charge and enjoy a great day out.
Open Air Festival – 11th -13th August 2011
The Open Air Festival is one of the newest events to hit Prague's festival scene but as it enters its second year, the word is spreading fast about this fantastic three-day music event.
The festival takes place at the Panenský Týnec Airfield on the outskirts of the historic city in the middle of August and features a dedicated children's corner, cultural events, sporting activities and live music from talented musicians, vocalists, and DJs from across the world.
The 2011 line-up will be headlined by British electronica duo, the Chemical Brothers, and popular acts joining them include Good Charlotte, Leftfield, Interpol and an array of Czech bands such as 100°C and Krystof.
Tickets cost 990 CZK (roughly $60) and entry is free for children under the age of 12 when accompanied by an adult.
Venetian Nights – 29th-31st July 2011
Though not technically located in the centre of Prague, this festival is well worth the 65-mile journey to the town of in Malá Skála. Venetian Nights is an open-air festival that takes places along the sparkling Jizera River during the last week of July each year.
Locally known as the Festival Benátská Noc, the festival was first established in 1993 and over the past eighteen years it has seen over 1,000 local and international rock bands and pop artists take to the stage including Anthrax, Die Happy with Marta Jandová, The Gathering, Edguy, The 69 Eyes, Black Majesty, Suzi Quatro and the Scorpions.
The line-up for 2011 features international artists including Dream Theatre, Clawfinger, Scooter, U.D.O, and a host of Czech bands such as Abba Stars, Heebie Jeebies, Disco Balls, Flipover Lenka, Krystof, Sunflower Caravan, Lucie Bila and Traktor.
Tickets for Venetian Nights cost 690 CZK (approximately $40) per day and entry is free on Sunday.
Prague hosts a number of festivals throughout the summer every year to suit all music tastes and ages, including the European touring rock and metal festival, Sonisphere in June/July; the Prague Proms in June/July; Ameropa festival in July/Aug; Festival of Italian Operas in Aug/ Sept; and the Dvorak's Festival in September.
Anna Ridley is a freelance travel writer who has a passion for travel, writing and fizzy wine. After living in the French Alps for two years, she now lives back by the beach in Cornwall where she is attempting to work her way through her "bucket list."
Read More
Where to Stay in Florence – Insider Tips to the Best Areas
What to do in Prague in 3 Days
Your Czech Republic Travel Guide
You Might Also Enjoy