Year in Pictures
Check out our year in monthly pictures!
 January – South Africa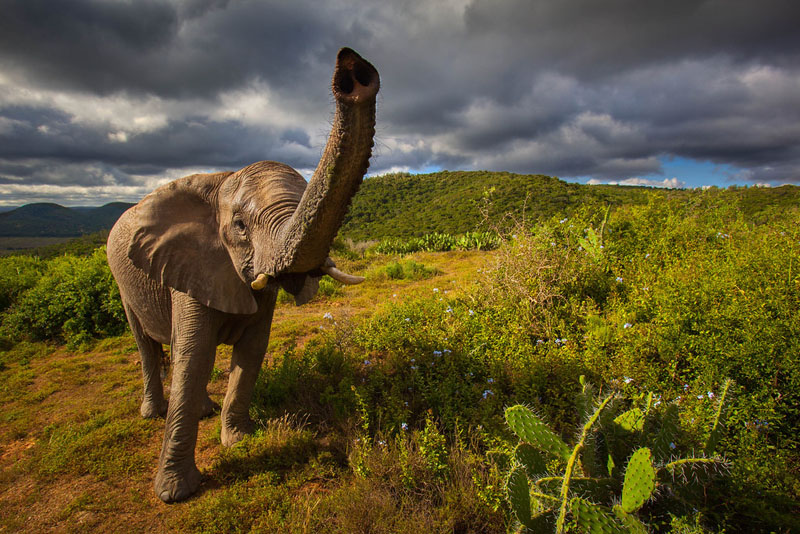 2013 started off with a bang as we visited South Africa. We had been once before when we cycled the continent from Cairo to Cape Town, but this time we really had the chance to explore in depth. We started our tour in St. Lucia to explore the iSimangaliso Wetlands and then worked our way down to Durban before driving the garden route all the way to Cape Town. This photo is from our safari at the Kariega Game Reserve. This little guy came right up to our truck.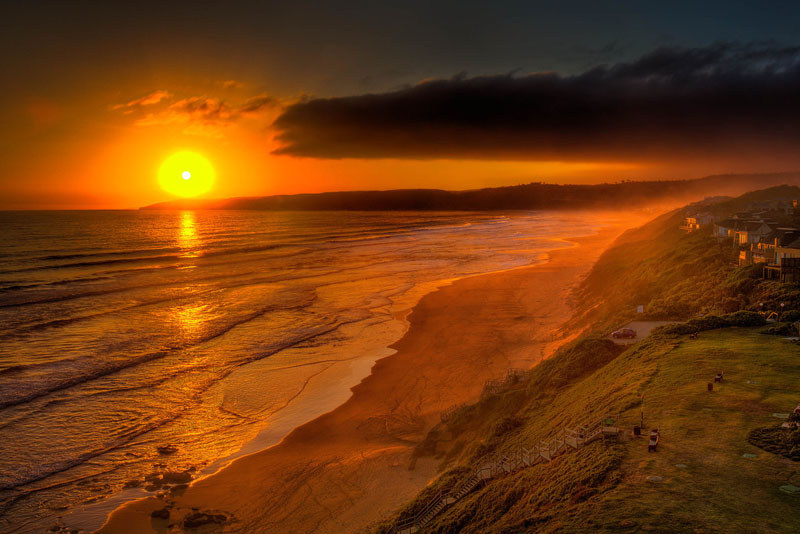 This magnificent sunset was taken in the wilderness area of the Garden Route in South Africa from the seaside view of the aptly named "Views Hotel"
Read more about South Africa at See 12 Awesome Things to do in South Africa
February – Marrakech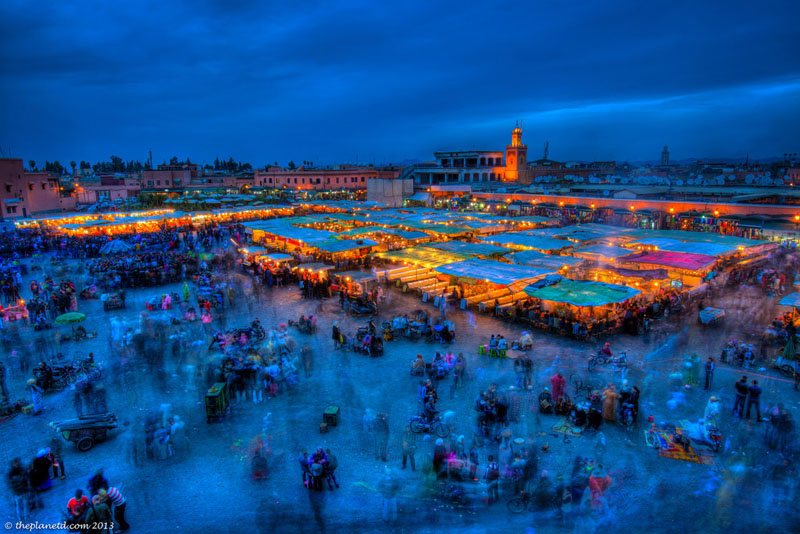 February was the start of our tour traveling for 5 weeks with HouseTrip. We were commissioned to be their video bloggers showcasing the ways to live local at five different destinations. Marrakech Morocco kicked off this campaign and it was everything we could have imagined. This photo is taken from a rooftop patio above the famous square Jamaa el Fna. Its night market is the place to eat.
For more visuals of Marrakech check out, The Beauty of Marrakech Through the Lens
March – Berlin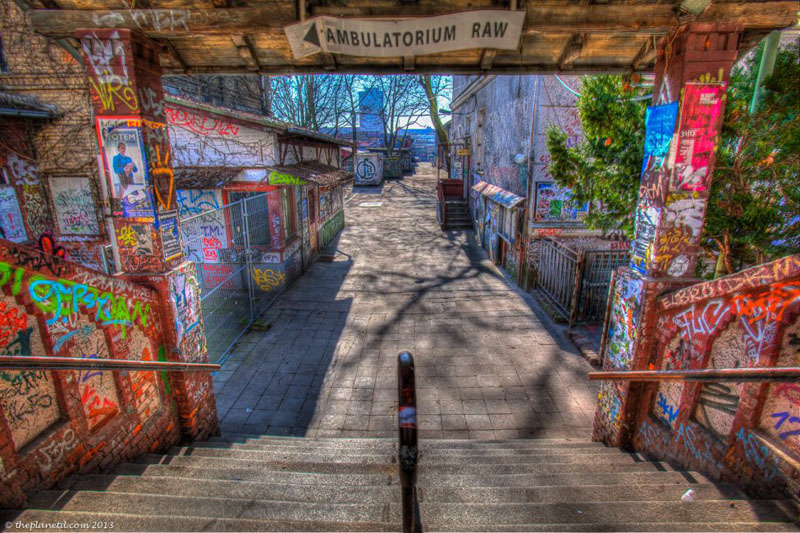 Our next stop took us to Berlin. We had a mixture of weather during our time there in March. Some days were pleasant and quite warm and others were freezing. Our final day ended with a snowstorm as we were flying out. Luckily, the day we toured the city to explore it's street art culture was beautiful and this photo captures the essence of Berlin and it's graffiti history.
Check out Berlin's Cool Hosts with the Most!
March – Istanbul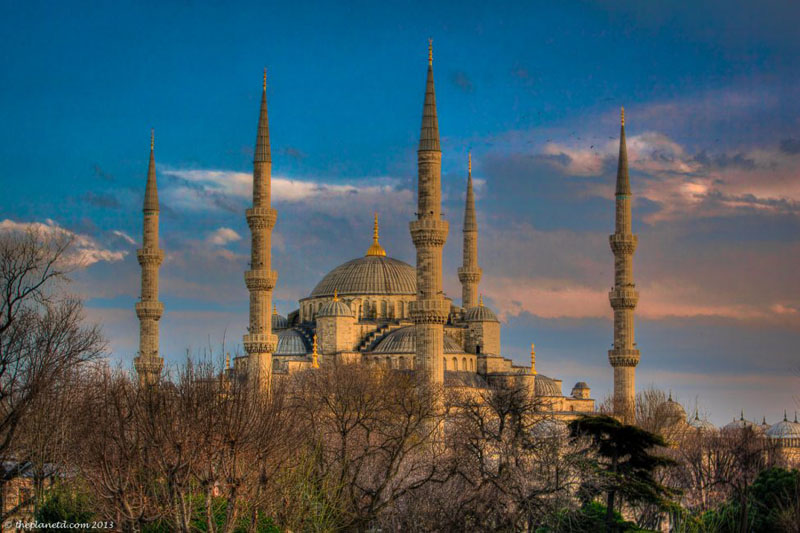 The Blue Mosque is  Istanbul's most famous attraction. The Blue Mosque's exterior that stands proudly over the old city of Istanbul and you can see it from nearly everywhere. We shot this photo from the transit stop on the main street of the old city.
March – Budapest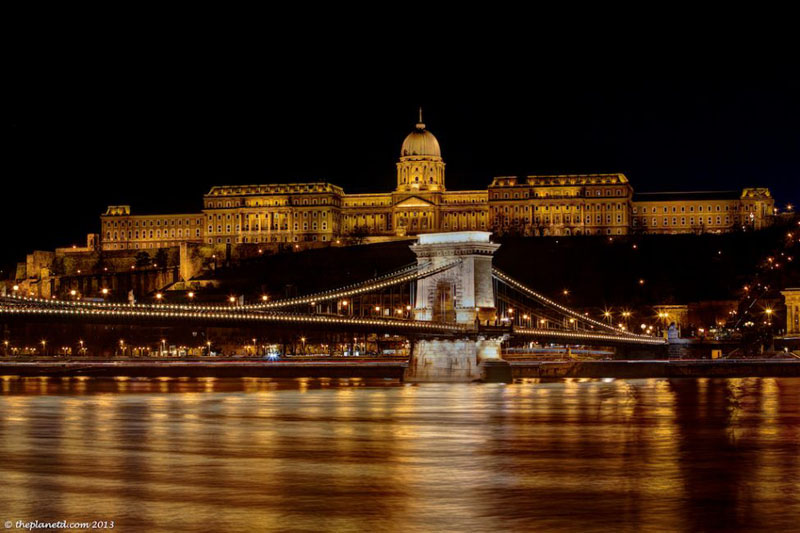 February was a very busy month for us as we jetted around Europe with HouseTrip. We were excited to witness the city of Budapest because we had always heard it was the most beautiful city in all of Europe. It did not disappoint. We truly believe that it is, especially at night when the waterfront is lit up. This is a photo of the parliament building behind the famous chain bridge.
Read more at Tour Budapest through it's Communist Past
April – Paris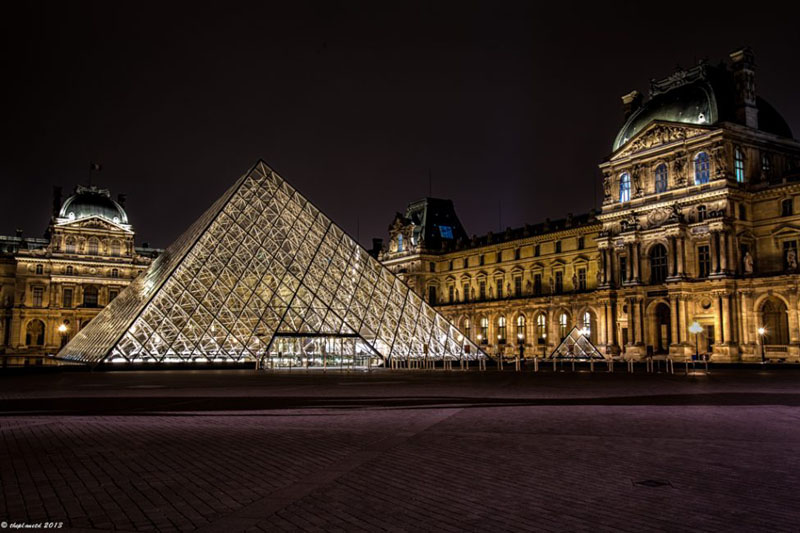 I love Paris in the Springtime…and that is exactly when we were there! Paris is really beautiful anytime of the year. We have visited four times and this was our first time finally going in to the Louvre.
We had never been ones for looking at art, but we thought it was time to check it out. Whether you go inside or out, the Louvre is a work of art.
April – South Australia
We had never been to Australia before save or a layover between flights to New Zealand so we were very excited to finally explore it in 2013. Our trip took us to South Australia, one of the least visited States in the country. Kangaroo Island was definitely a highlight and we loved finding this secluded beach found by walking through a sea cave at low tide.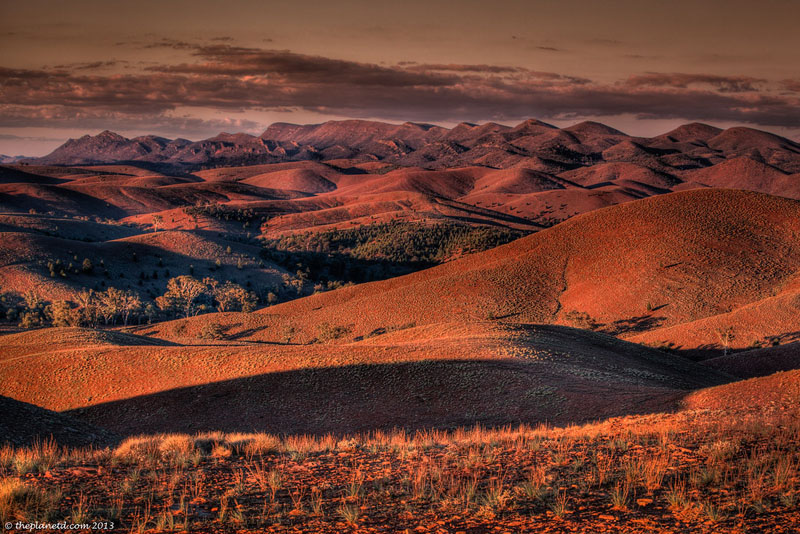 Wilpena Pound is another beautiful stop in South Australia. We're suckers for sunsets and this one was definitely one to remember.
April/May – La Paz, Mexico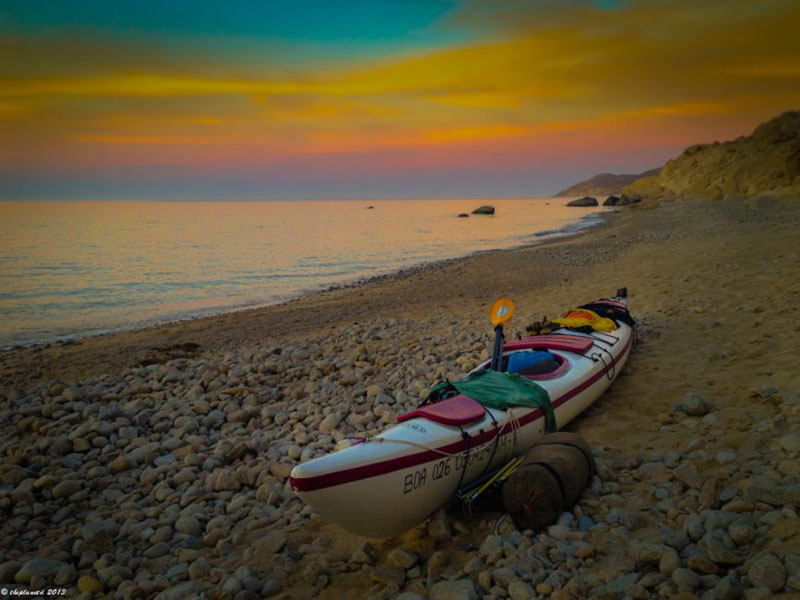 One of our favourite adventures of the year was our kayaking trip circumnavigating the island of San Jose off the coast of Baja California. It was an incredible 10-day trip with Baja Outdoor Activities and this was our kayak for the duration of the tour. A two man kayak is often referred to as the divorce boat, but we passed the test with flying colours.
See, Can we Survive the Divorce Kayak and book your own with BOA Activities
May – Bologna, Italy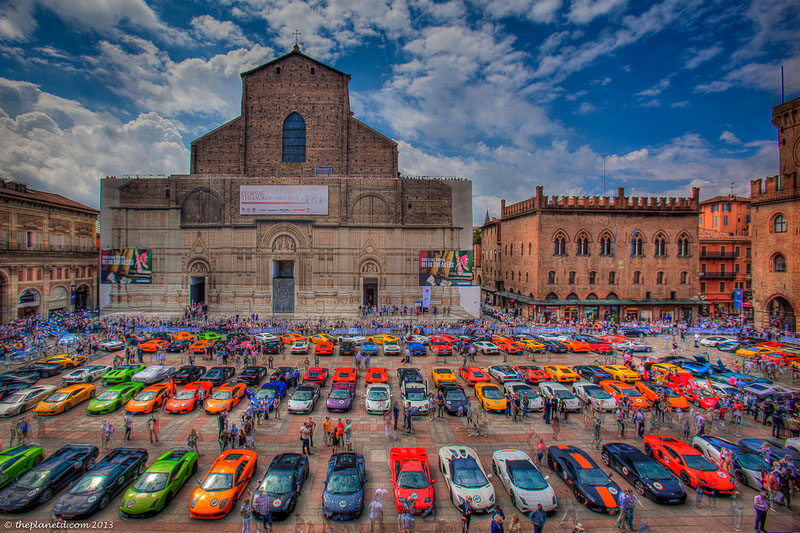 Emilia Romagna in Italy is known as The Land of Motors. It is where Ducati, Ferrari and Lamborghini all originated and we just so happen to be there during the 50th anniversary of Lamborghini.
In Bologna this past spring, hundreds of vintage and modern Lamborghinis crowded the street and showed off their stuff in the main Plaza Miagiorre. It was an incredible sight and made us fans of the car. We even met Fabio Lamborghini at the family museum! Yes.
See more at The Best of Bologna and Meet Fabio Lamborghini.
May – San Marino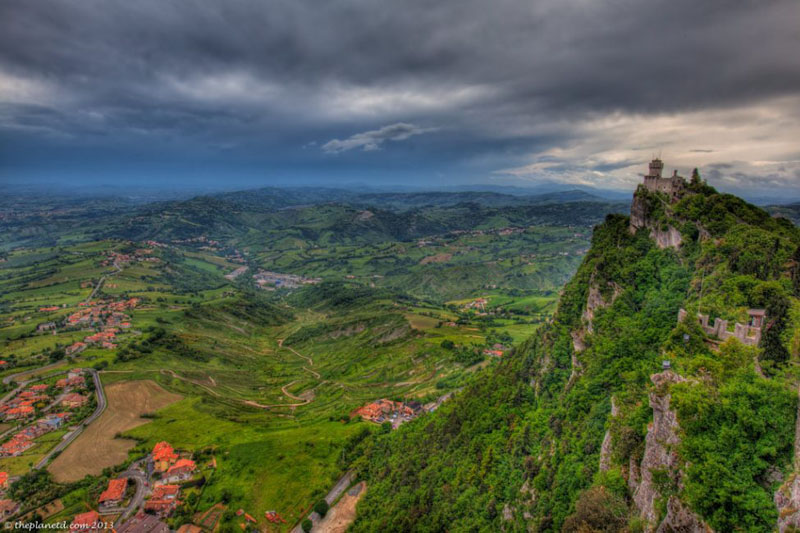 San Marino is tiny sovereign nation surrounded by Italy. The Italian Apennines to one side, and the Adriatic coast to the other, with views that are out of this world. If you haven't seen the Italian Apennines, you should. We almost feel that San Marino has the best views of any city we've ever seen. It sits high on a mountain overlooking the valley and I don't think we have ever seen such a beautiful sight. Tuscany, eat your heart out.
For more on San Marino check out The Remarkable Views from San Marino. 
May – Pisa, Italy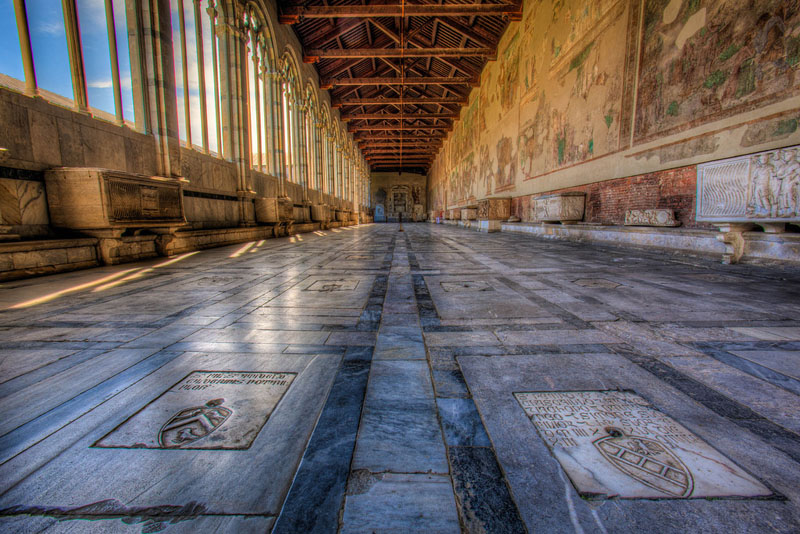 We've all seen photos of the Leaning Tower of Pisa but it is the buildings around the famous tower that are worth taking note of. Taking a walk through its cemetery will give you peace and quiet as you take in the beauty of the frescoes and tombs.
The Camposanto was built in the 12th century, but unfortunately it was all but destroyed during WWII. It has been beautifully rebuilt with 84 tombs still intact including the ones you see above.
See more of our experience at The Tipping Point, we Finally make it to Pisa.  and book your tours in Italy with Walks of Italy. 
June – Milwaukee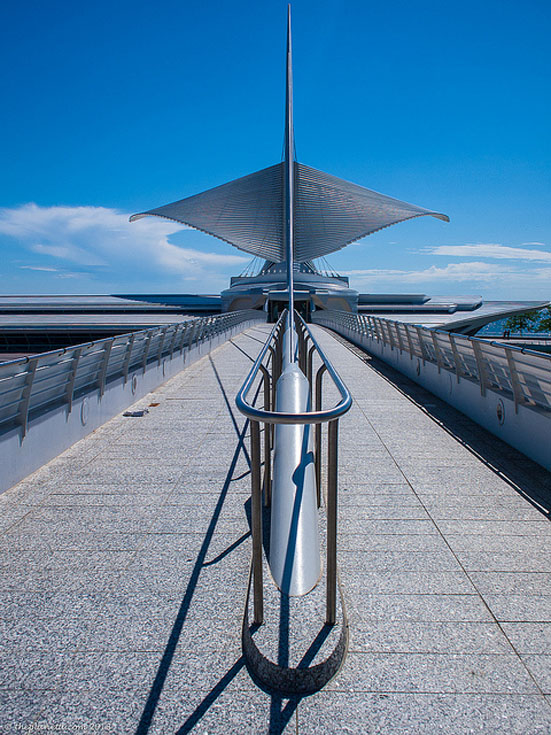 We changed direction quite a bit in the Month of June after returning home to Canada for a Travel Conference. The rest of our summer was spent much closer to home and it all started in Milwaukee to experience, Summerfest. However, it was the The Milwaukee Art Museum that caught our attention. It is worth visiting for the architecture alone.
The Burke Brise Soleil has a wing span of a Boeing 747 and to watch it open up is magnificent. You must make sure to get to the waterfront at 10:00 am sharp to watch the sails open up.
It opens so gracefully and effortlessly that you almost don't even notice until it is too late. Make sure to stand in the centre of the Reiman Suspension Bridge that connect the museum to the city to capture it's beauty.
Check out more of Milwaukee in A Cool City that will Surprise You. 
July – Michigan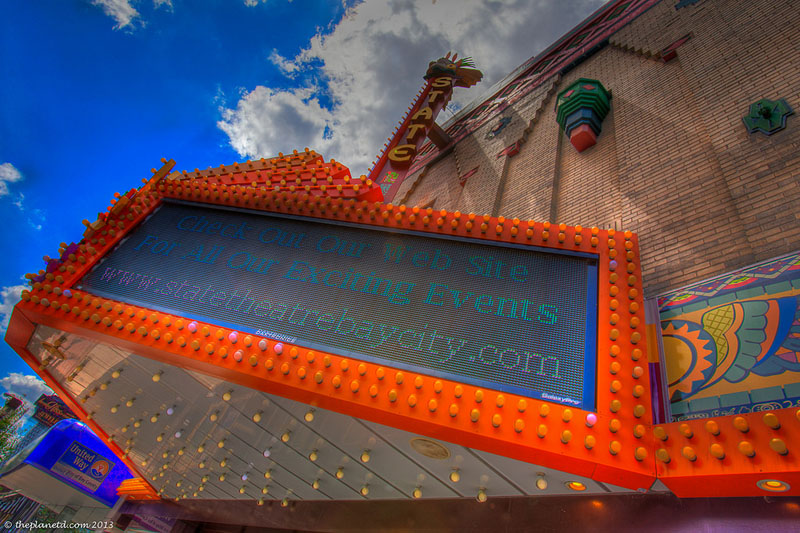 We continue our journey closer to home at our neighbouring State of Michigan. We visited Bay City for the tall ships festival and had the chance to walk around and explore too. Our favourite stop was The Regent Theatre.
It's been used as a location for several movies and it even has a resident ghost.  Floyd was the theatre manager in the 40?s who was shot and killed for his bank roll. If you believe in ghosts and watch a lot of horror films, you'll agree as Floyd is probably haunting the theatre because his real killer was never found.
Read more at Tall Ships, Battle Ships and Bay City Beer.
August – Exumas, Bahamas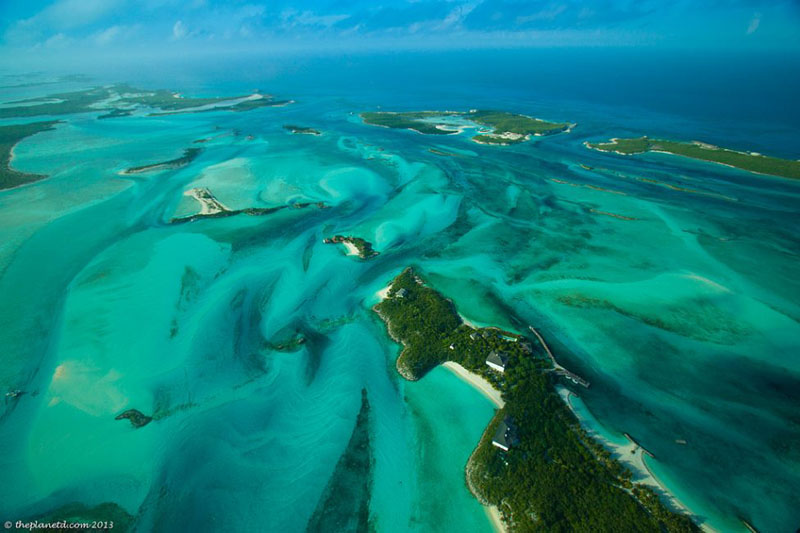 Flying from Nassau to the Exumas in the Bahamas took our breath away. As we looked out the window of our small commuter plane, we couldn't believe the beauty below. We stayed on Staniel Cay and had an amazing tropical getaway.
The Bahamas has the most beautiful blue waters. It has been described as Gin Blue or Sapphire Blue. When you look at this photo, it's difficult to decide on a name for the blue because there are so many hues. but look at those sandy white beaches. They truly are deserted. Can you believe it?
Enjoy more at Paradise and Pigs Found in the Exuma Cays
August – Alberta, Canada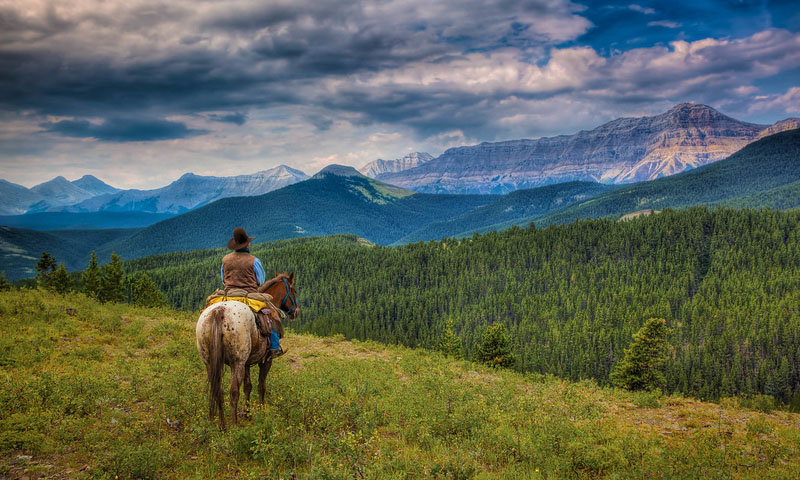 This summer took us back to my roots. I (Deb) was born in Alberta. My mom and dad worked on the Bar U Ranch and we had the opportunity to visit the ranch which is now a Historical Site. Alberta was heavenly and there was no more memorable moment than our high mountain trail ride with Dewey of the Anchor D Ranch in Black Diamond. That's him looking out at the Rocky Mountains. A True cowboy through and through.
Read more about it at A High Mountain Trail Ride, Your Buns have come a long way Baby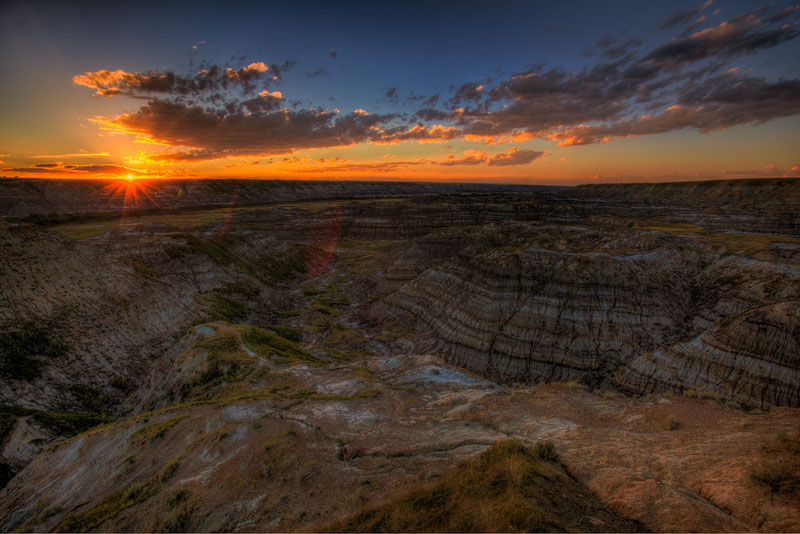 The badlands of Alberta surprised us so much that we have put them in all our year end round ups. This photo of Horse Thief Canyon just outside of Drumheller was taken at sunset.
We were going to go to Horseshoe Canyon in the opposite direction, but instead we listened to the owner of the Heartwood Inn and Spa who suggested we try Horse Thief instead. It's much better at sunset. I'm glad we listened.
Check out our suggested Itinerary for Alberta.
September – Greenland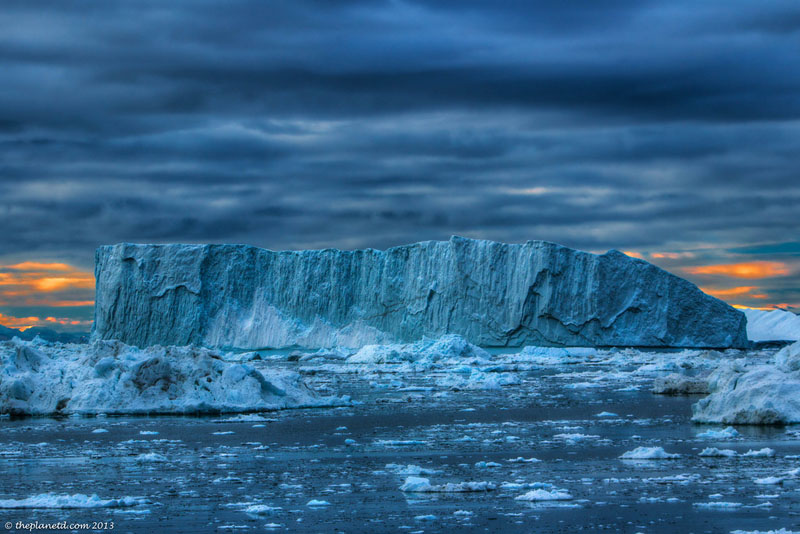 Greenland was a dream come true as far as travel dreams go. We had been to Antarctica, and now it was time to get ourselves above the Arctic Circle. Greenland was surprising and the landscape was incredible. What struck us the most was the massive ice everywhere. Greenland has the most active calving glacier in the world and it creates huge icebergs like this one.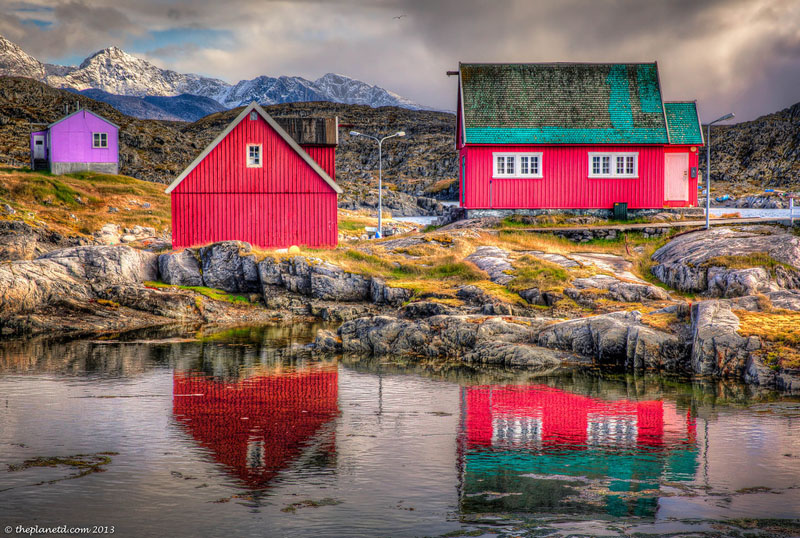 Another interesting point about visiting Greenland is that there is a thriving Inuit culture there. Unlike Antarctica, Greenland has a population that is unique to the country. We had the chance to visit villages and learn about their way of life.
Our trip to Greenland was courtesy of Quark Expeditions check out the video we made for them called A Day in the Life.
September – Iceland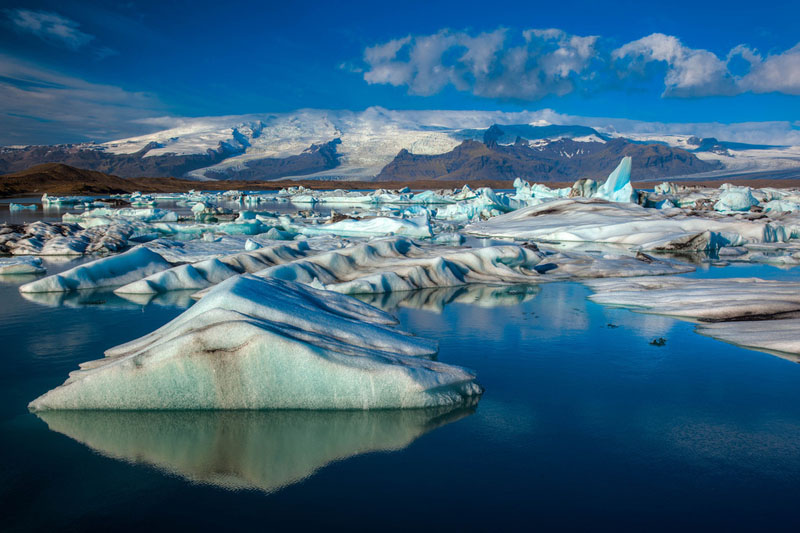 We finished off our expedition to Greenland in Reykjavik in Iceland, so there was no way we were going to fly directly home. Iceland has been on our must see list for years! Instead we partnered with Iceland Travel to take a road trip around the country. We spent 11 days exploring everywhere and one of the stand out sights was the  Jokulsarlon Glacier Lagoon. Pure Beauty.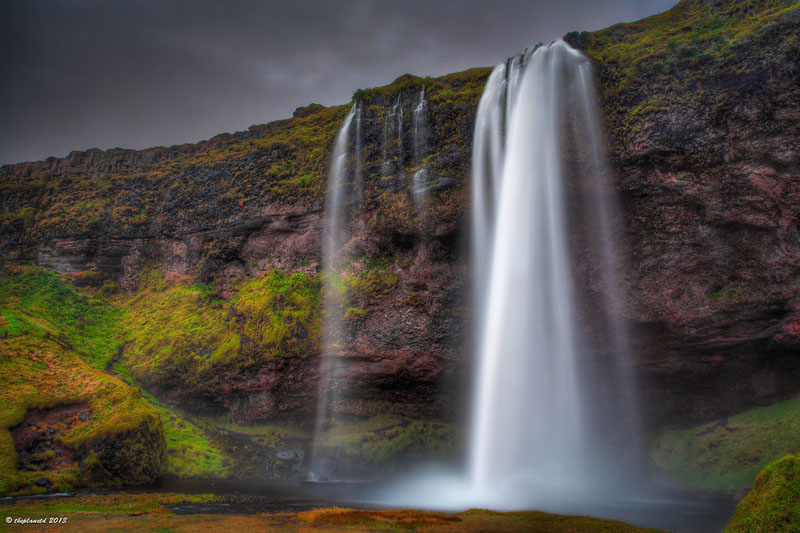 Waterfalls are everywhere in Iceland and you can spend your entire time in the country photographing them. There was no way we could talk about Iceland and not show a waterfall.
October – New York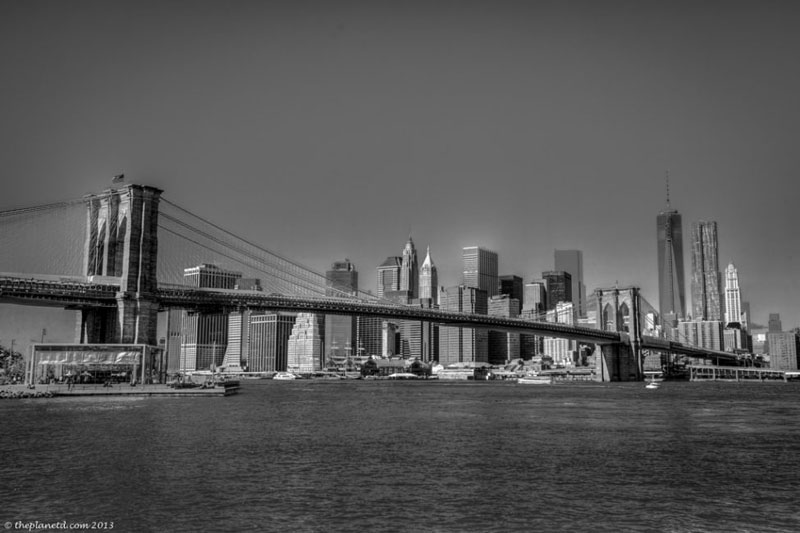 We don't frequent New York often so we are excited for the opportunity to spend a week in the Big Apple during our final project with HouseTrip. We got to see a totally different side of the city as we lived like locals staying in Brooklyn and Queens.
But we also stayed downtown in SOHO so we really saw it all! This view of Manhattan is just down from the DUMBO area (meaning Down Under the Manhattan Bridge Overpass) at the Brooklyn Bridge Park.
November – Sudbury Ontario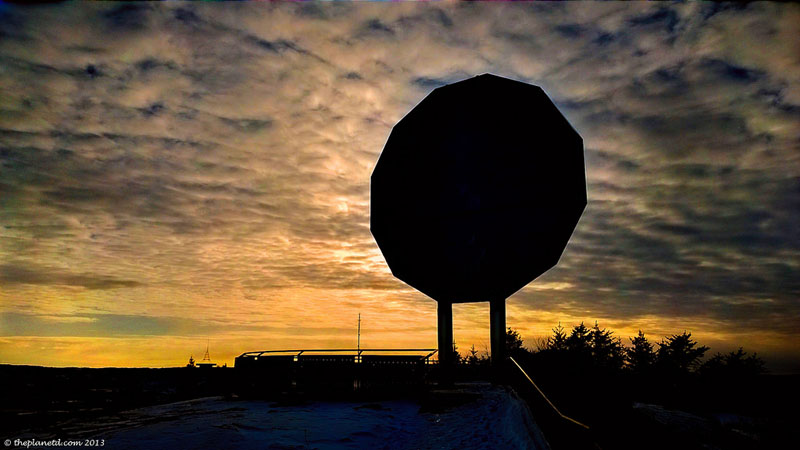 We've wanted to see the Big Nickel forever and while it wasn't on our agenda when we visited Sudbury, Ontario, we asked our guides if they would mind bringing us to see it! Sudbury was famous for it's nickel mining and the big nickel is a Canadian icon.
Joshua Jackson stopped to take a look at it in the excellent road trip movie "One Week" We were in Sudbury to make moccasins for our upcoming epic winter adventure starting this weekend with Ontario Tourism. It was amazing and we can't wait to share it all with you!
December – Alberta, Canada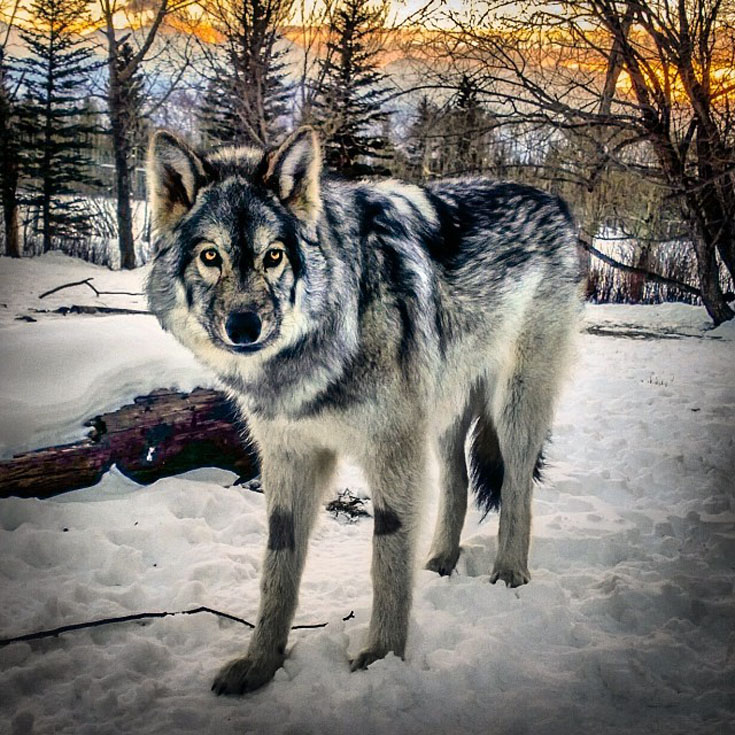 We haven't written any posts on our adventures in Alberta yet and Dave is just going through is photos now, but we wanted to share this beautiful instagram photo of a wolf dog from the Wolf Dog Sanctuary in Canmore. It was a beautiful experience to be allowed to sit inside the fenced in enclosure with these rescued wolf dogs and watch them behave in their natural manner.
December – Europe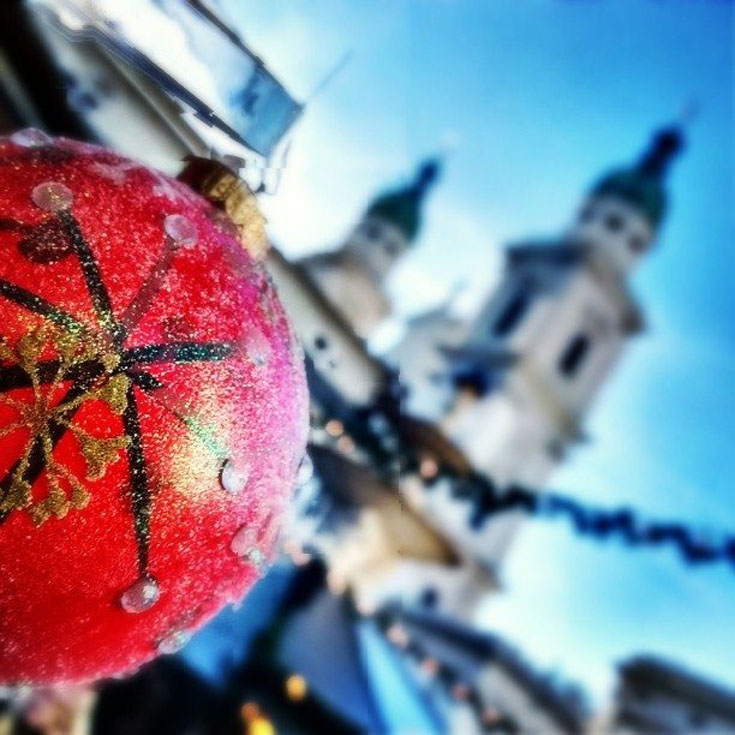 What fits the month of December perfectly when it comes to travel? A Christmas cruise of course. We were invited to experience a Viking River Cruise down the Danube. If you love Christmas markets you'll love this tour. There were scenes like this everywhere with a lot of Gluehwein to keep us very happy and warm.
---
Read More
The Best Canada Adventures: 36 Amazing Trips from Coast to Coast
How Travel Can Change Your Life