During the course of this week, we are running a raffle giveaway with our teammates Sherry Ott and Rick Griffin. As travel Bloggers, we don't have access to television and radio to get our message out there, but we do have access to the most powerful marketing tool in the world right now. Social Media.
Online friends.
Last week we reached out to our online travel community to let them know that we would be running an amazing giveaway courtesy of Intrepid Travel, a specialist in small group tours around the world.
The Winner will get to choose from one of two incredible tours courtesy of Intrepid Travel to either Peru or Mongolia.
To Find out more on how you can enter click here!
The response was overwhelming. People were excited and eager to help spread the word. The Travel Blog community is a generous group of people and not only that, a powerful collection of marketing geniuses that carry a lot of weight and influence in their respective niches.
"When companies choose to partner with a Travel Blog, they instantly inherit that person's social network"
Benefits of Travel Blogs
I was initially going to thank everyone for their generous support today when thinking about this post. But the more I thought about it, the more proud I felt about our community and travel colleagues.  We and wanted to share just how powerful social media is and how much companies can benefit from choosing to partner with travel bloggers.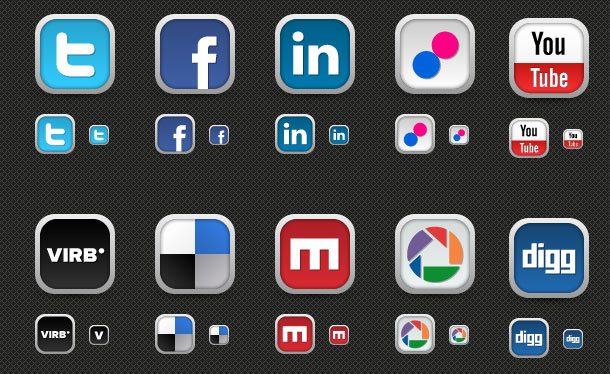 People are starting to take notice of the clout that bloggers have and this raffle giveaway is living proof. In two short days the raffle has had incredible coverage all over the Internet. From interviews on other blogs to shares on facebook and twitter, travel websites writing their own posts about the event and the Mongol Rally to discussions in comments and social media threads.
In just a few short hours yesterday, our readers helped Intrepid Travel earn 276,132 impressions!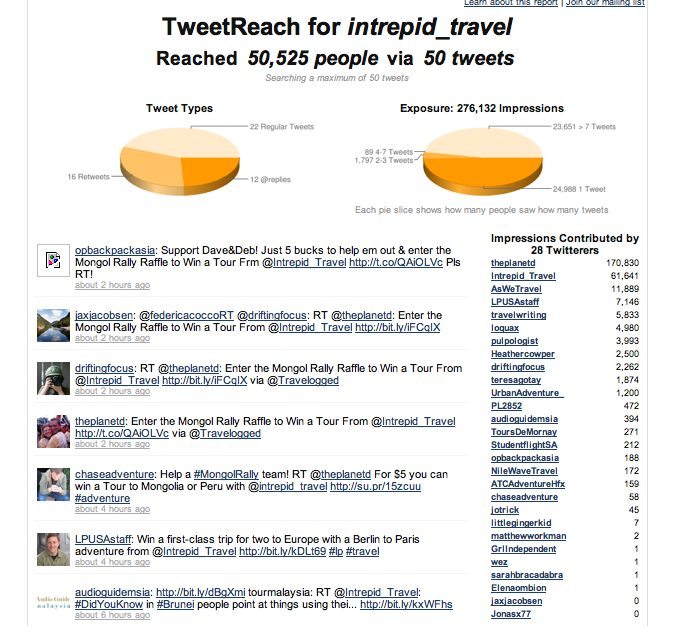 A Strong Community
Travel Bloggers help each other out whenever each of us has an event, contest or fundraising campaign. Once word gets out, people join forces to share articles with everyone in their network. Posts can gain momentum quickly in the blogging world and several different demographics can be reached at once. When companies choose a blog to work with, they instantly inherit that person's social network.
Not only that, by joining forces with Sherry and Rick, companies like Intrepid Travel and our other Sponsors for the Mongol Rally have our combined numbers of our three respective websites as well as our one united site The Social Media Syndicate. Suddenly they have an audience and demographic from three very different niches of Adventure, Midlife and Career Breaks brought together in a package targetted to Mongol Rally watchers on the Social Media Syndicate website.
This community has been one of the most generous and inspiring businesses we have ever worked with. It is exciting to see people we know grow and succeed and it is even more exciting to be a part of it. The travel blogs that shared our event on their websites are some of the most respected and successful Travel Blogs and influencers online and we are honoured that they chose to share this adventure with their readers.
We are excited to be giving back to the people of Mongolia while we have our own adventure of a lifetime and we are excited to know that we will have friends cheering us along and sharing our progress with their vast network of readers. We feel that this community is all about give and take and while right now people have come out to support us, you can count on us returning the favour in the future.
Our fellow bloggers have generated thousands of hits from targetted individuals interested in Travel, The Mongol Rally and Intrepid Travel's Tours and this has only been from one day of promotion. Imagine what a company can do when developing a long term relationship with an influential travel blogger.
It is very exciting times.
Big Thanks to Travel Bloggers
Here's a big thanks to the community that supported us this week. I know of others that are going to post some more and we won't forget you!
[column width="47%" padding="0%"]
YTravelBlog
What Boundaries
Midlife Road Trip
Gadling – by Chris Owen of Chris Cruises
[/column] [column width="47%" padding="0″]
Ottsworld
IndieTravelPodCast
Wandering Educators
Hike Bike Travel
[/column]
[end_columns]
Not only were people writing about this raffle on their blogs they were sharing it on twitter and facebook. We tracked those that shared and supported us over the past two days and here are the twitter handles that threw a retweet (or two or five) our way!
[column width="47%" padding="0%"]
traveldudes
federicacoccoRT
[/column] [column width="47%" padding="0%"]