McKinley Princess lodge offers beautiful views of Mount McKinley when the weather is cooperating. One of the best ways to see the views is riding a horse on a trail ride.
Our guide "Montana" picked us up at the lodge telling jokes as we signed in and scolded us whenever he had the chance.
A true cowboy through and through he had a brash sense of humour and rugged wit.
The Great Alaskan Trail Ride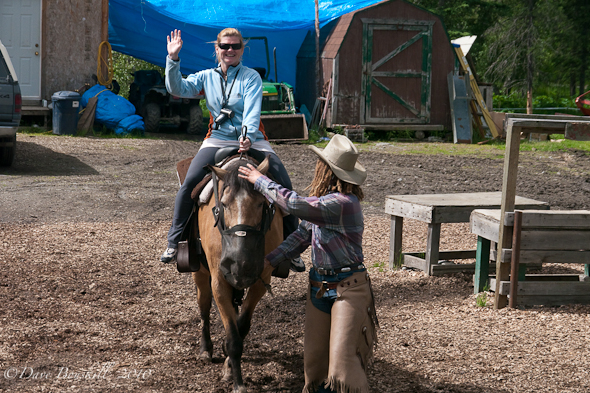 We arrived at the ranch and lined up in a row.
A cowboy came out from the barn and sized us up.
He studied our stance and faces and assigned horses.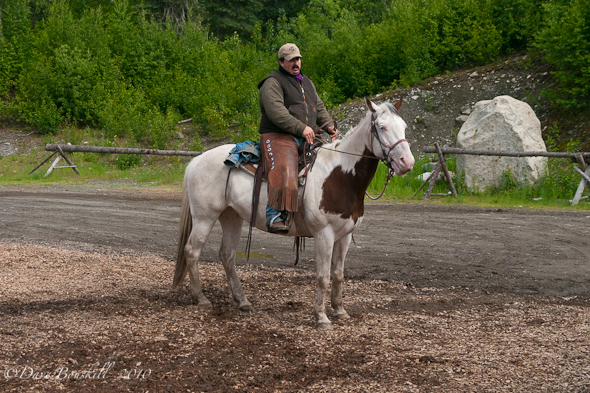 Once we were told the name of our horse, we would be known for the rest of the afternoon by its name.
My horse was "Cash" and Dave's was "Captain".
The Rules of Riding
There are five rules on the trail that must be followed or we'd be walking back to camp.

Never Take your hands of the reins – Ever
Don't deviate from the path
Sit forward when your horse pee's to relieve its bladder
Sit forward when going uphill
Sit back when climbing downhill (thanks for the note in comments Trisha. I didn't realize that I had the rules backwards)
Following the Trail Ride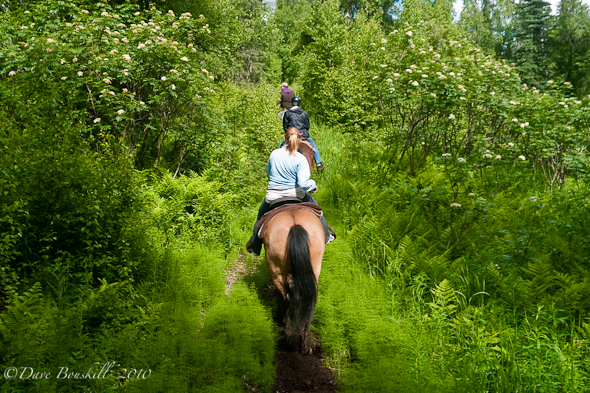 Our horses fell into line behind Montana.
Dave and I were in the first group. Our horses wanted to be at the front and that is where they stayed.
There isn't a lot of control when riding trail horses.
They go to their place in line and stay there whether you like it or not.
Luckily the staff asked us all who was riding with who and our entire group was riding in single file.
We had a blast!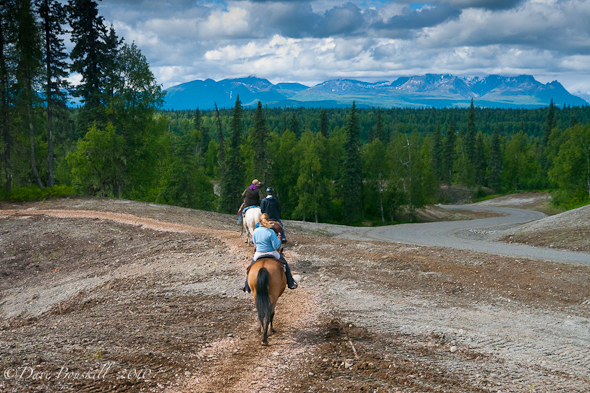 Montana, Mellissa, and Congo, our three guides yelled back and forth razzing each other with jokes and jibes.
I was right behind Montana and a kid that refused to talk, so I had the privilege of being the only one listening to Montana's crazy stores.
He definitely kept me entertained if not a little baffled as to what he was saying.
Note: If you want to stay a step ahead of the pack when traveling to Alaska, you need to know the answer to this common question.  "What is the difference between a reindeer and a caribou?" Answer: "A Reindeer can fly."
Staying on Our Toes
My horse and Dave's horse must have had a little spat before the ride because whenever we turned a corner or went downhill, my horse "Cash" would rear a little and turn around to try to bite Dave's horse "Captain."
It made for an exciting ride though.  We love horses that have some attitude. It keeps you on your toes and adds a little zip to the ride.
The scenery was gorgeous and halfway through the ride we stopped for a photo opportunity looking out towards Mount McKinley.
The clouds hadn't quite cleared from the morning rain, but it was still stunning.
We really enjoyed the trail ride and thought about how our original plan was to be in Mongolia right now riding a horse across the country.
Our plans changed due to some different travel arrangements and we realized that it was probably a good thing.
We should maybe take some riding lessons before we decide to ride horses across an entire country when we don't know what we are doing.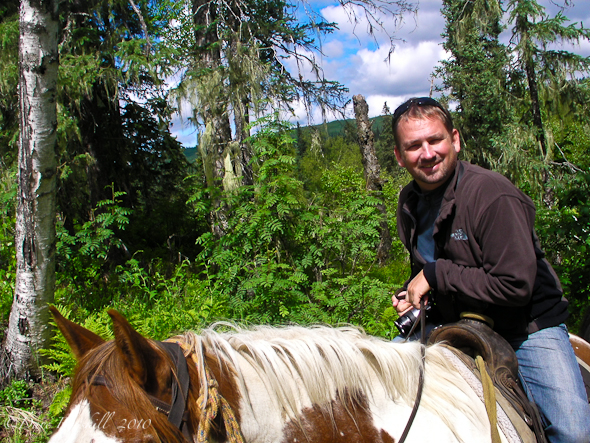 My horse was spunky and I didn't do a great job showing him who was boss.  I think that there is potential for me though.
Whenever "Cash" turned on the trail or hightailed it to bite "Captain," I kept my cool and got him back on track.  Dave held steady as well as my horse charged.
Cash would always come to an abrupt stop, turn quickly and snap at Captain.  Dave didn't even flinch.
Quick Learners
As we rode high on ridges, through forests over valleys, the song "Happy Trails" went through my mind.
I couldn't believe that we were in Alaska, riding horses in the shadow Mount McKinley, the tallest mountain in North America.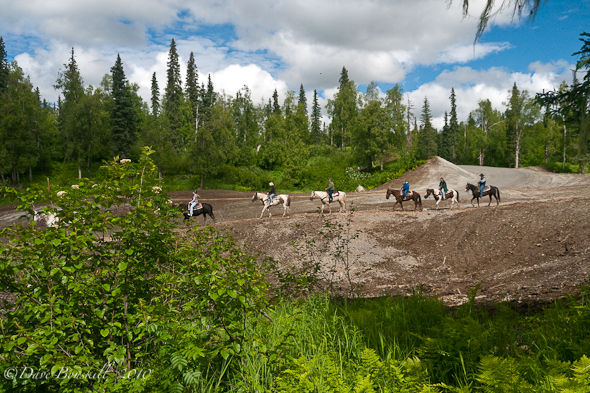 I imagined that this is what it must have been like for the early cowboys that crossed the great frontier in search of gold and a new life.
It may have been a difficult journey for them, but at times I am sure that they casually rode their horses in the summer warmth and laughed and talked just as we were doing today.
If you are looking for a fun family adventure in Alaska, consider a trail ride at Mount McKinley.
The scenery is quite spectacular and the joy of being on a horse is second to none.
Read More
A High Mountain Trail Ride, You're Buns Have Come a Long Way Baby!
Alaska's Denali National Park, Pioneer in Conservation
Meet the Motorcycle Gang, Our First Group Ride
You Might Also Enjoy