A Fork, A Glass and a Drop of Magic. That is the motto of The Bearfoot Bistro in Whistler Canada and when you decide to have dinner here, you're not only in for an amazing meal, you're in for the best dining experience ever.
The Bearfoot Bistro Story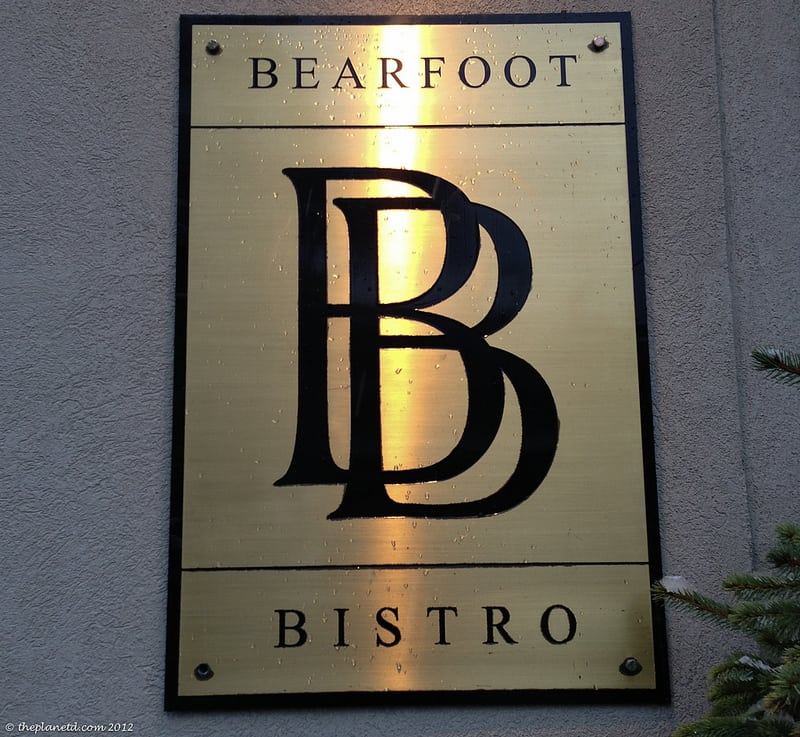 While riding the chair lift up Whistler Mountain with our Mountain Host (a free mountain tour offered to everyone every day at 11:30 on Whistler and Blackcomb Mountains in British Columbia, Canada) he told us that we should give the Bearfoot Bistro a try. "They have an ice room for vodka tasting." He told us.
We've always wanted to go to one of those ice hotels, so this seemed like it would be the next best thing.
We made note and quickly forgot about it after our day on the slopes.
But then a couple of days later while having dinner with Mary of Whistler Tourism, she mentioned the Bearfoot Bistro again. "You must try it." she said. "I'll let them know your in town and see what we can do." A couple of days later, she sent us an email telling us that we've been invited for Apres ski with oysters and champagne.
Apres Ski at Bearfoot Bistro
Apres ski is a tradition in the mountains and everyone is looking for the hottest place to have some appetizers and a drink before heading back to the lodge and change for dinner.
If you are on a budget, going to the Bearfoot Bistro for Apres Ski is a great choice.
Between 3:00 and 6:00 pm you can buy a dozen oysters for $9.95 with a bottle of Moët & Chandon for only $35.00.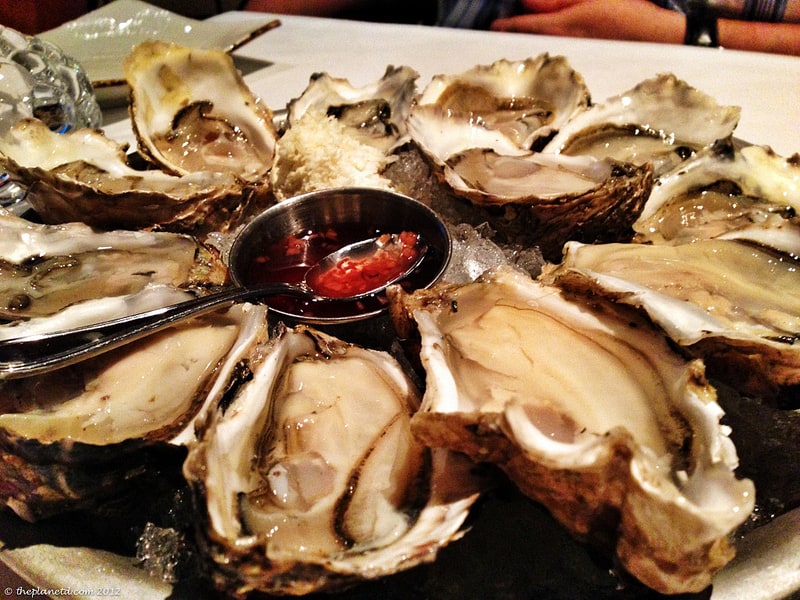 We slurped back two dozen Glacier Bay oysters with red wine and horse radish sauces and relished every moment. Our server returned regularly to fill our baseless champagne flutes and told us the story of how they came to be.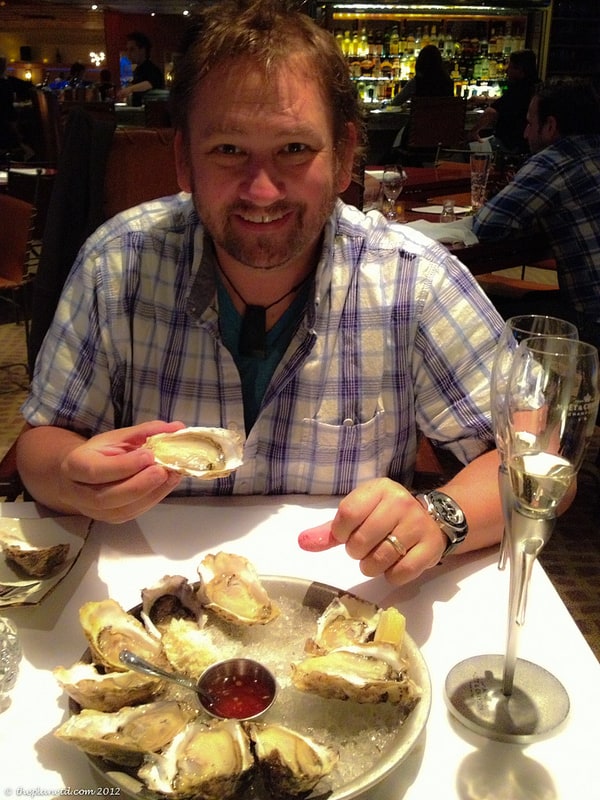 The Story of the baseless champagne glass at Bearfoot Bistro
Our server told us that it all started in France at the Moulin Rouge.
The owners of the cabaret wanted people to have a good time and keep their glasses full, so they took away the base so that they would never be able to put their glasses down. We could easily tell that the rule of thumb at the Bearfoot Bistro was to have fun, so I can understand why they adopted the baseless champagne flute as well.
The Belvedere Ice Room
Our cheeks were rosy and blushed from the champagne and we felt toasty warm after enjoying our apres ski hors d'oeuvres. So it was a good time to enter the ice bar.
The ice bar is an event to say the least. You are escorted to a closet in the lobby while other guests look on in awe as you try on your snow white Canada Goose parka. After choosing the right size, you bundle up and prepare to enter the coldest vodka tasting room in the world. It may be cold, but those parkas are warm and we didn't feel a thing.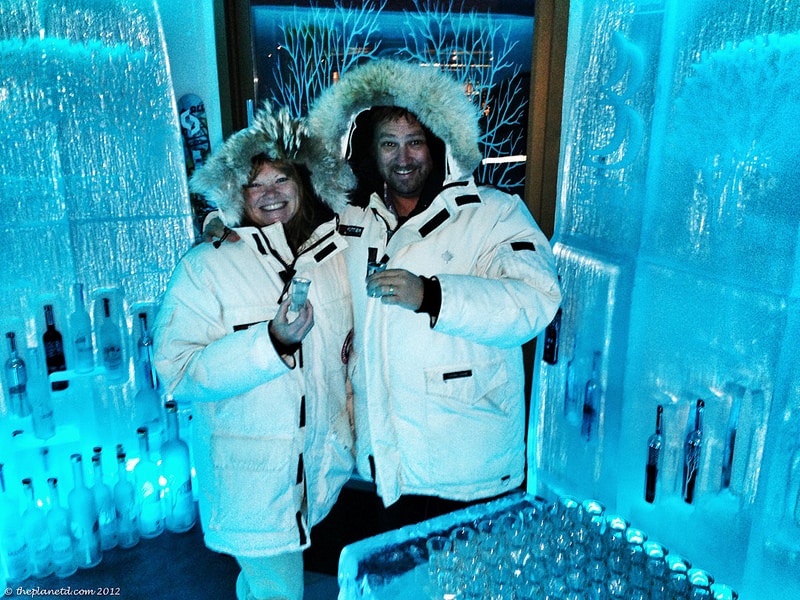 It's an outstanding experience. The vodka tasting session is $48 and you are given the chance to taste four different types of vodkas from around the world.
Since we had done the Mongol Rally and drove our way through Russian Siberia, Kazakhstan and Mongolia, we felt like we were vodka experts (which we weren't) but with our champagne buzz and elation of the evening, we pretended that we knew what we were talking about.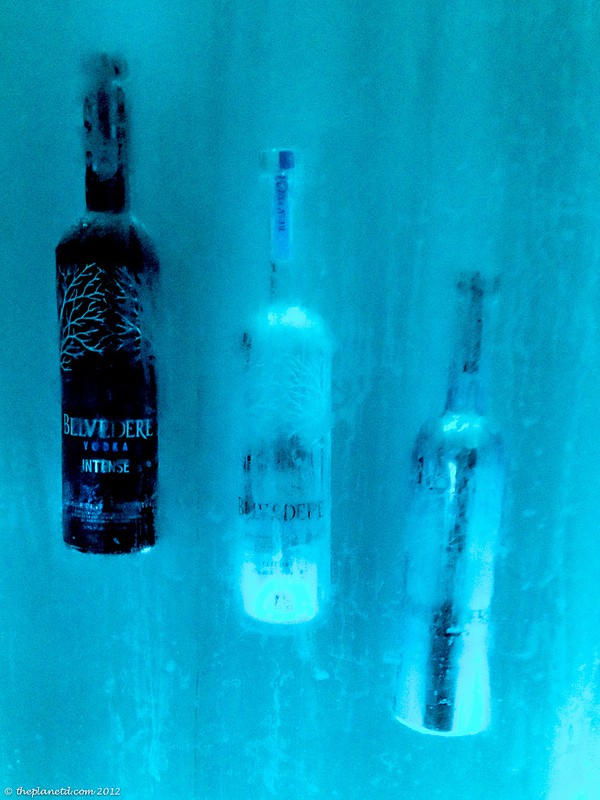 We tried vodkas like Belvedere Premium Vodka from Poland, Imperia Russian Vodka, Luksusowa Vodka from Poland, Hangar One Vodka from California and as a special bonus, we tasted a White Owl Whiskey from High River Alberta, a white whiskey that is oh so smooth. Plus, High River was where I was born, so I was feeling a bit nostalgic.

All the vodka bottles are placed in shelves made of ice and our drinks were served in shot glasses sitting on a table made of solid ice. The walls were made of ice and they were all beautifully etched with logos and art work. Vodka had never tasted so good.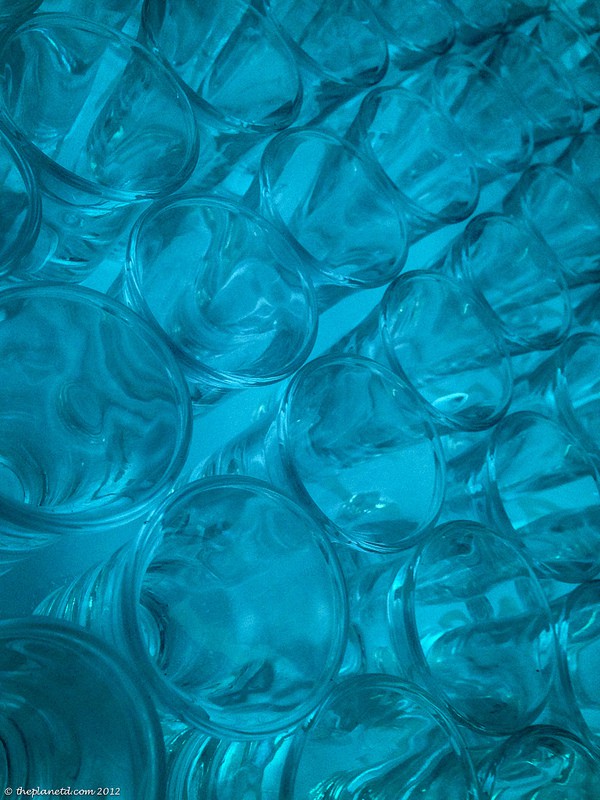 We thought our night was over and were feeling pretty happy at this moment. Four shots of vodka and a bottle of champagne will do that to a person. But instead we were met by the general manager of the Bearfoot Bistro who asked us if we would like to see the wine cellar.
Would We?
The award winning wine cellar is filled with 20,000 bottles of wine. The wine list is impressive, but most people come to this cellar to sabre a bottle of champagne.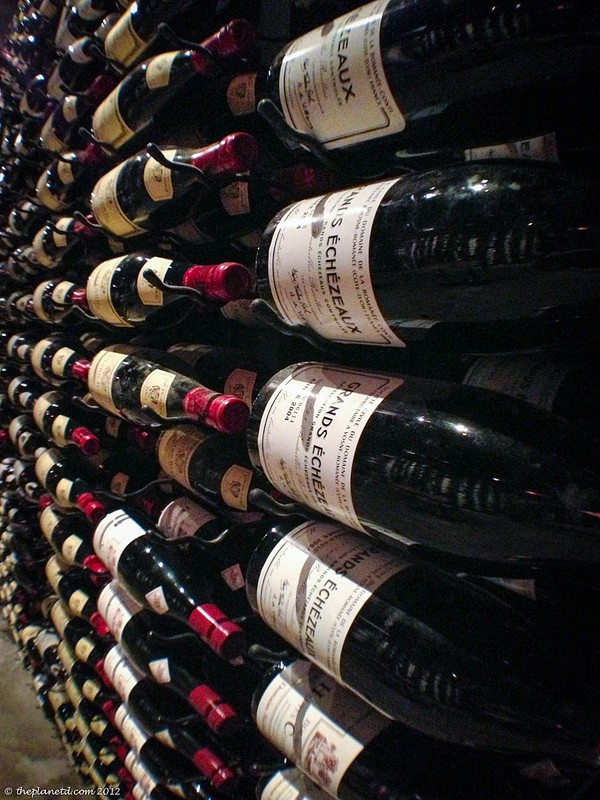 Champagne Sabring in the Wine Cellar
The owner of the Bearfoot Bistro, Andre actually holds the Guinness World Record for the most bottles of wine sabred in a minute at 21! I
t was a tradition during the 2010 Winter Olympics where every Canadian Olympian was invited to the cellar to sabre a bottle and since it was a record year for Canadian gold medals, there was a lot of bubbly spilt on these floors.

Today it was our turn! I had seen champagne sabring on TV and I had even seen people do it from afar at a party, but I had no idea what sabring entailed. As it turns out, Sabring a bottle of champagne is quite easy.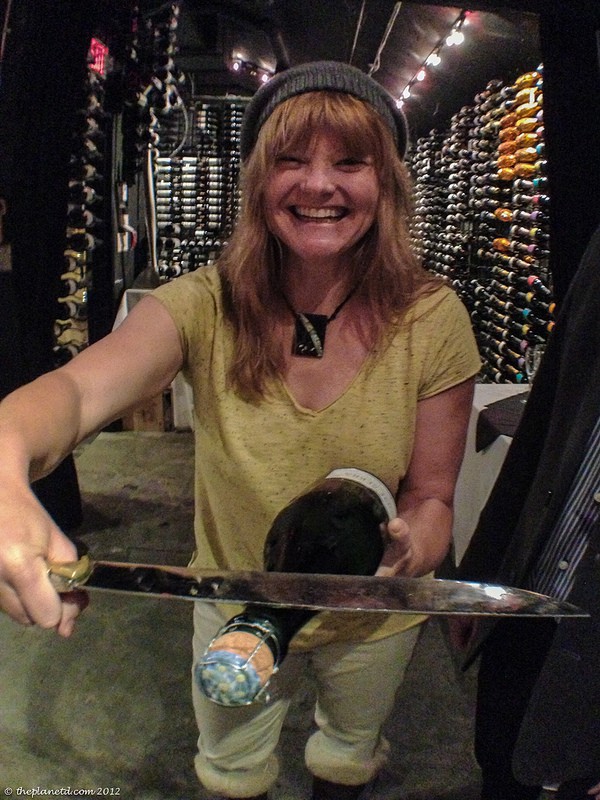 Steps to Sabring a Champagne Bottle:
Chill the bottle thoroughly

Find Yourself an impressive sword

Put the seam of the bottle to the top facing you

Rub your sword along the seam 3 times

On the forth pass, follow through to the cork – It will pop off in a bubbly delight

Quickly stand the bottle up straight and pour your champagne.
As we chatted with Mark (the general manager) we learned about his love for wine and cuisine and zest for life. The Bearfoot Bistro isn't just a dining experience, it's a life experience.
The cellar has a bicycle hanging on the wall and a genuine bobsled strung from the roof. When we pointed it out, Mark took it down for us to have a seat in. It was fitting since we had just drove a Bobsled down the Olympic track earlier that day!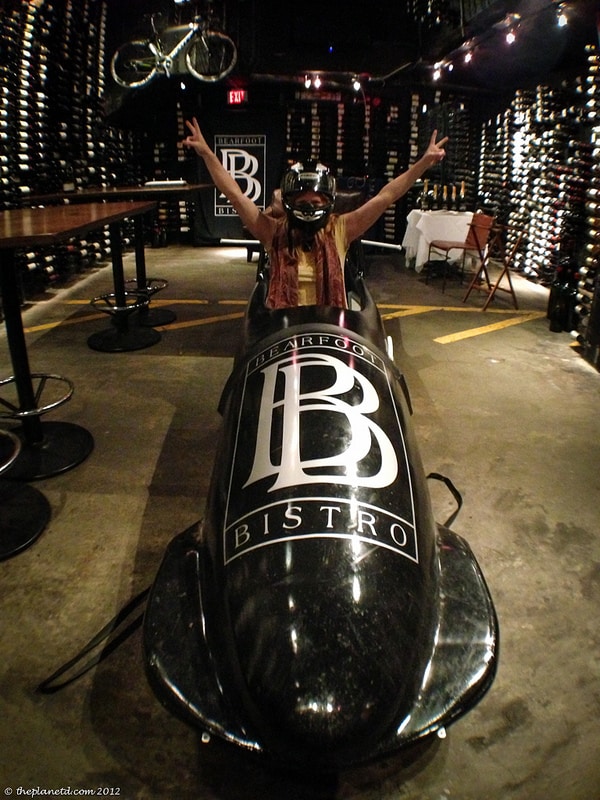 The Dining Experience Continues
We had a lovely conversation but it was time for to go back to work. Instead of sending us on our way, he invited us to join them for dinner where we enjoyed an incredible 5 course dining experience followed by Nitro Ice Cream made and served table side.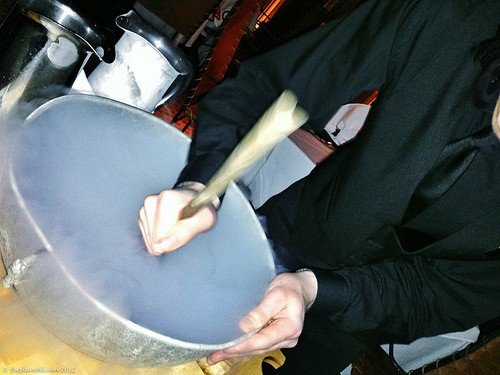 I can't gush enough over our night out at the Bearfoot Bistro. We've eaten in Michelin Star Restaurants throughout Europe and even been served by the Rocca Brothers who were voted the Number 2 Restaurant in the world but no dining experience has ever been so entertaining.
The Bearfoot bistro has their own award winning Executive Chef – Melissa Craig, and the food is second to none.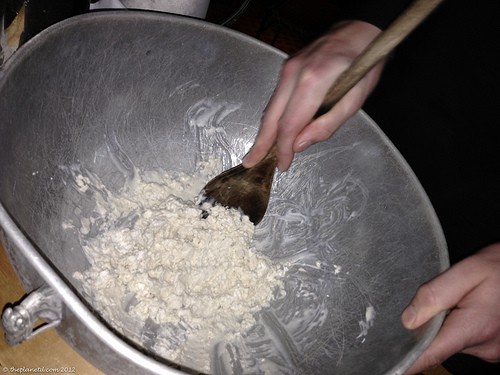 If you are on vacation in Whistler and looking for a romantic evening out, a dining experience you'll never forget with the added bonus of incredible food give the Bearfoot Bistro a try. It's worth the splurge when you're in Whistler.
For more on the Bearfoot Bistro, visit their website to view their menu and experiences. BearfootBistro.com

Thanks to Whistler Tourism for putting us in touch with the Bearfoot Bistro and a special thanks to Mark for picking up our BackCountry Ski kit while we at our delicious five course wine tasting meal. They have a great facebook fanpage, check it out at GoWhistler
For more articles on Whistler check out…
You Might Also Enjoy