There must be enough of a market of people driving through the town of Aktobe in Kazakhstan to warrant a write up in the Lonely Planet about the local motorbike club offering free advice on driving through the country.
We know that a good chunk of people drive this direction each year during the Mongol Rally and we were no exception.
The Ambassador of Aktobe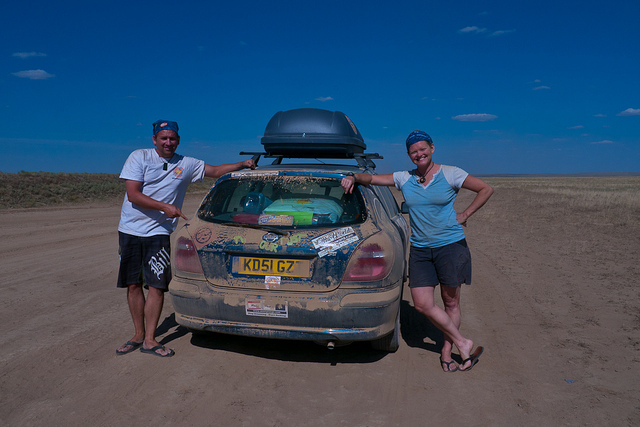 We took them up on the offer and gave Gemanie (the president of the club we assume) a call when we arrived. When he answered the phone and I asked him a few questions, he didn't hesitate to help us out.
"What hotel are you staying at?"
"The Amsterdam," I replied.
"I'll be right there!"
Within 15 minutes Gemanie had arrived in a brand new Mercedes convertible, a pink shirt and expensive shoes and started to give us advice on what route to take to Astana. We had just endured a tedious drive through severe pot holes and craters a couple of days earlier and had we had the advice of the locals, we could have avoided the epic 2 days of travel. We sat in the hotel lobby while he gave us advice on our route and studied our map.
After he assured us of what was the best route to take through the country, he asked us about our registration card. In Kazakhstan a person has to be registered within 5 days of entering the country or else they will suffer punishment in accordance to the law (as it says on the paper we received at the border)
Scary Stuff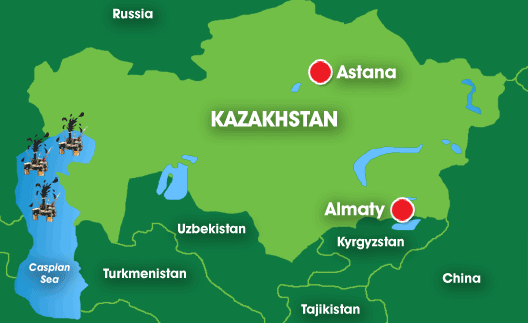 We thought that we could be registered at a hotel, but they wouldn't do it at our current hotel. We really didn't think much about getting registered again and forgot about it until he brought it up to us that morning.
If we didn't register ourselves immediately at a police station, we would have serious problems leaving the country most likely having to pay a $200 fine each to exit.
He asked how long we had been in Kazakhstan and we did the math. It was exactly 5 days. There wasn't a moment to spare. We had to get ourselves to the police station to register.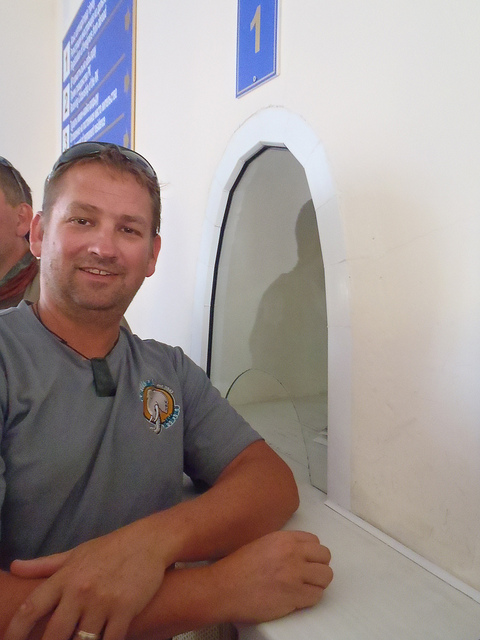 We hurried to make it there before lunch and arrived at 12:01. People were standing in line and Gemanie translated for us. He told us that the booth would be open until 12:30 and then they would go for lunch.
Looks like we made it in time after all.
After standing around for about 15 minutes, he came back to us to tell us that it was closed. We should go to the mega mall for lunch. So much for rushing to get there on time.
We didn't have a lot of options. We had to get our registration done today so we couldn't push on to another city, so we followed his advice and went to the mall.
This mega mall in Aktobe is spectacular. It's complete with an indoor skating rink, rock climbing wall, a toy store with a topsy-turvy type of amusement park ride, and several restaurants.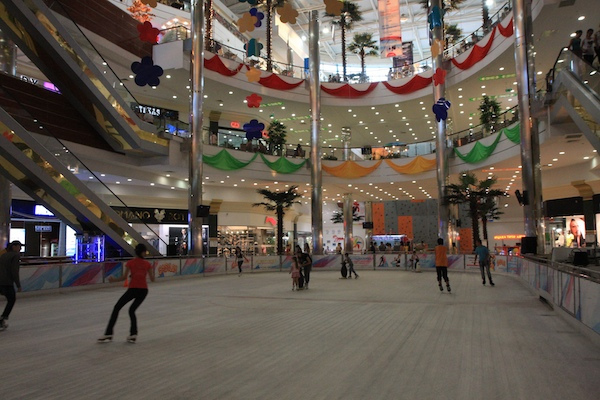 Gemanie came with us to the mall but he did not eat with us. Instead he met two beautiful women for lunch and sat in another part of the restaurant while we passed away 2 ½ hours by ourselves. The police in Kazakhstan take a very long lunch apparently.
Time for Paperwork
We met him back at the police station at precisely 3:00 pm and he was waiting for us. It wasn't long until we were at the front of the line and with him translating for us the clerk knew exactly what we needed to be done.
They handed us the paperwork to fill out, all in Kazakhstani of course and he translated what was on the page and what we needed to get done.
We couldn't have survived without him. The sign clearly said that this was the place for Foreigners to register, but not one person spoke English. Germanie even made a point of saying that it was odd.
If it is the registration office for foreign visitors to check in,  they should have someone who could speak English and the paperwork should be in English so that people could fill everything out properly. Instead everything was in Kazakhstani and if you didn't have a translator, you'd be very confused indeed.
No worries for us though, we had help and he was taking great care of us all.
Within about 15 minutes we were done.
Our pessimistic travelers nature waited for the ball to drop. We thought that he may ask us for money or want something from us, but instead, he simply gave us directions on how to get out of the city and on to the highway in Astana.
He told us to follow him out to the main road where he would show us where to turn.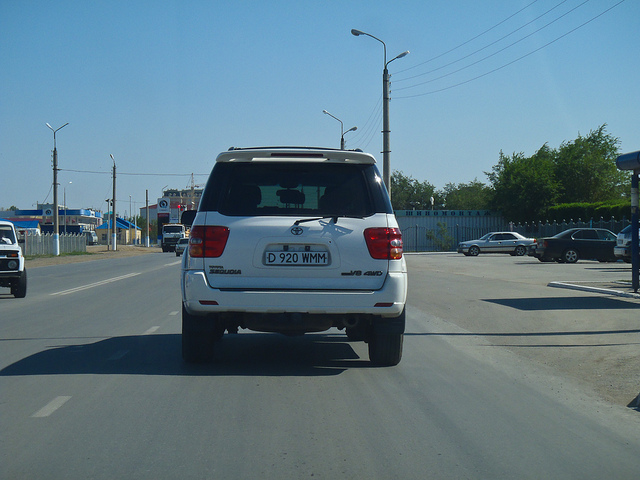 We wet back to our car and kept an eye out for his Mercedes but couldn't find him anywhere. Well, that would be because he had changed cars during lunch and pulled up in a brand new Toyota Sequoya, another beautiful car. Looks like the bike club business in Kazakhstan pays very well!
He told us that he helps out travelers driving through Kazakhstan at least once a week and most of the time they don't have their registration papers in order. He knows the people at the police station very well now since he is always taking foreigners there to get their paperwork in order.
He is truly an all around nice guy that loves to help people out and make the most of his city.
What a fantastic Ambassador for Kazakhstan.
We left Aktobe with our hearts filled and vowed to return to one of the most friendly cities we've ever been to in our travels.
It wasn't only Gemanie that was kind to us, it was everyone. Young adults stopped us on the street to ask us if we were tourists, a man gave us a key chain as we stopped at a stop light, many people honked and said hello as we drove by and everyone used the universal thumbs up sign to show their approval for us visiting.
Oh yeah, we'll definitely be back.
Read More
How to Survive Being Stopped by Kazakhstani Police
Astana, Kazakhstan: The City at Night
You Might Also Enjoy