Recently we received an email from one of our readers looking for a pep talk. He had just finished his Masters and started a new job 6 months ago.
Take Risks, It Really Does Lead to Great Things
In his mid thirties he's worried about pursuing his dream of travel. He's feeling discouraged because everyone around him thinks he's crazy for leaving a good job and his family and friends behind.
When we emailed back he was so pleased to hear our words of encouragement, It made me think that maybe it was time that we gave others a pep talk too. We've taken a lot of risks in our lives.
Some have worked out and others didn't.
But we never stopped pursuing our dreams and when we failed, we looked for other ways to succeed. We've learned that it is true what they say, "With Great Risks come Great Rewards."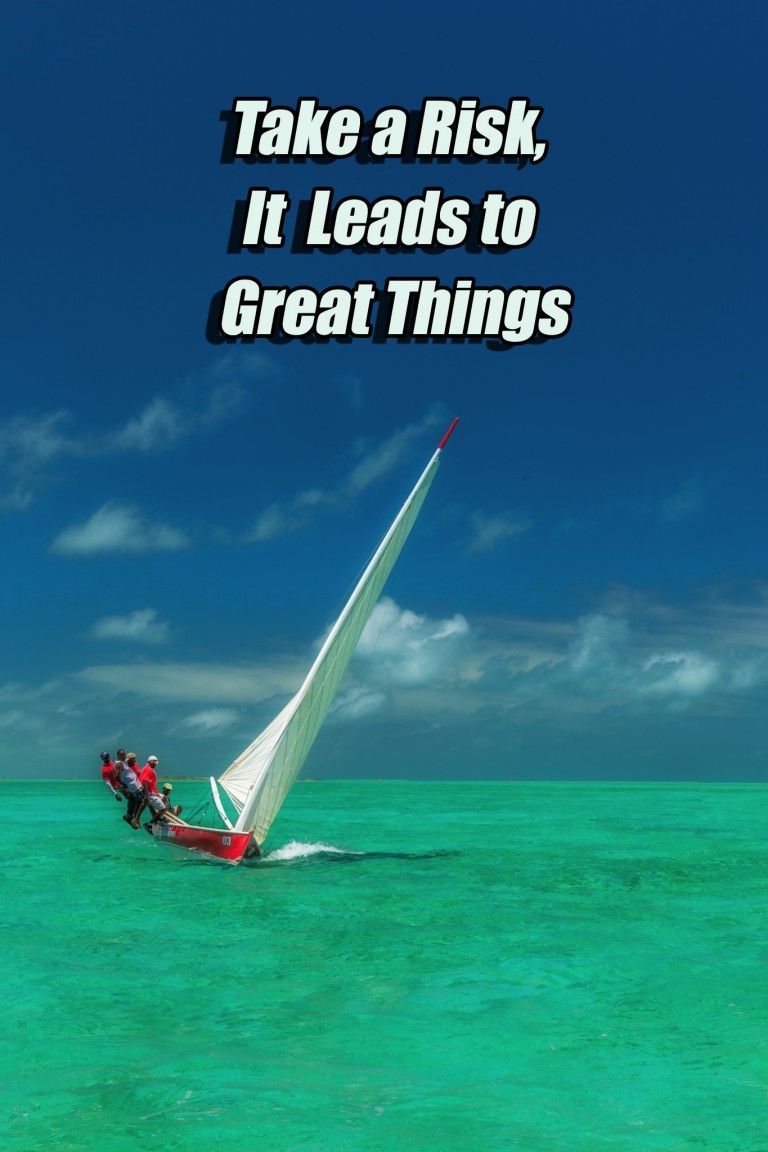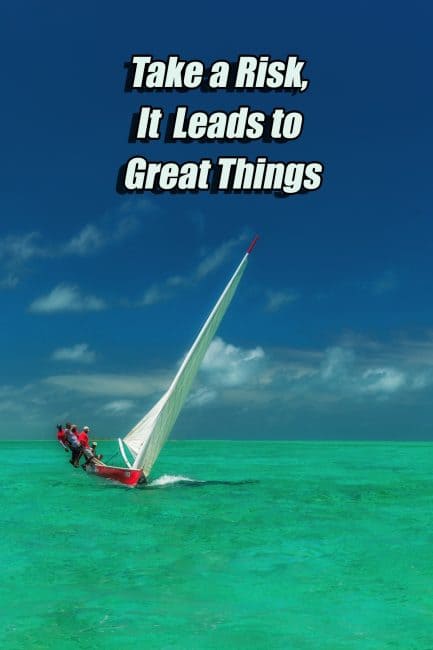 Think Things Through
Let me first say, that I don't think anyone should ever jump into travel to run away from their problems or to use it as an escape.

They should never go somewhere if it is going to put them into debt to do so and they should think things through. You should have a passion for what you are taking a risk on.

You don't want to jump into something just because it looks easy or because everyone else is doing it. You need to pursue your own dreams and never think that a quick decision will fix your life.
That said, some of the best decisions Dave and I have ever made were on a whim.
But by the time we made any split-second decisions, we had already been thinking and nurturing our dream for years.
Really, the whim had been brewing for quite some time and we just needed to finally make a decision.
We had often talked about leaving and travelling the world long before it was in style.
We had dreamed of being together 24/7. We wanted to work, traveling and live together.
I remember sitting by the campfire behind our house in Ontario Cottage country in 2002. We told our neighbours that we'd be leaving our lives in Canada for good, and we plan on traveling the world forever.
I think they all thought we were nuts. We didn't even have a plan then, but we knew that's what we wanted.
A few months later we put our house up for sale and planned on leaving for Asia.
The house didn't sell but we still wanted to travel.
We were part of a scuba diving club then so we decided to join them on a dive trip to Cozumel.
After that trip, we stayed in Central America to tour around a bit. Since we still had our house, we weren't sure what to do.
Money was tight and we had a lot of bills, but things fell into place.
A neighbour's friend recently separated from his wife and needed a place to stay, so he sublet our house while we were in Central America. Things were looking up.
Worried about our jobs.
A lot of people worry that opportunities won't be there when you come back if you leave for a while. We tend to feel the opposite.
We often think that if you don't mix things up, opportunities will never present themselves.
We've watched countless people stay in their "safe" jobs and either eventually lose them or stay in them so long they become miserable.
From the year 2000 to 2008 we left each year anywhere from 1 month to 7 months at a time.
Sure, we were freelance in the film industry so that offered us flexibility, but it certainly didn't offer us stability.
Each time we left, some eager young person could have easily taken our place. Out of sight out of mind right?
But we were determined to figure out our lives and we knew that to keep traveling would eventually lead us to where we wanted to be. If someone replaced us while we were away. So be it.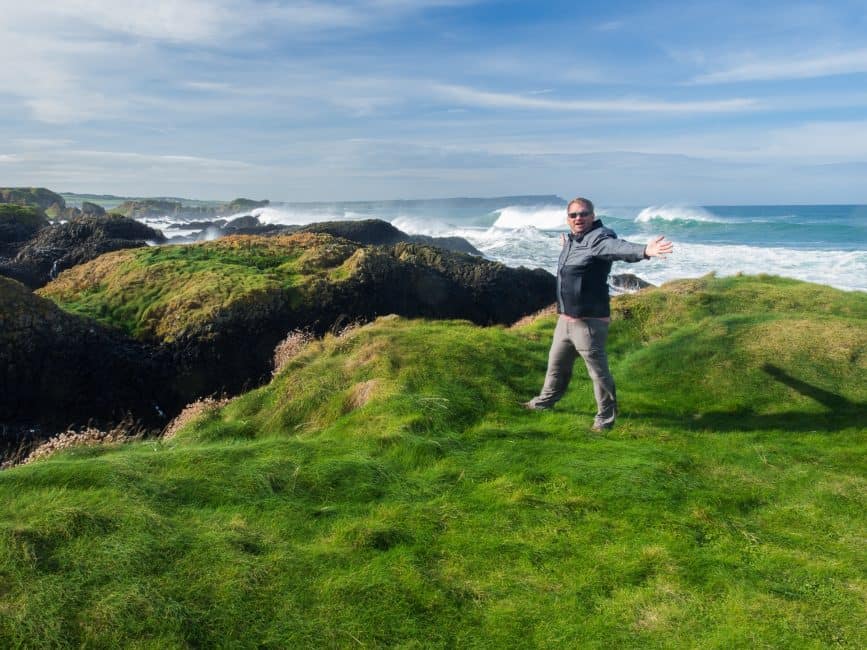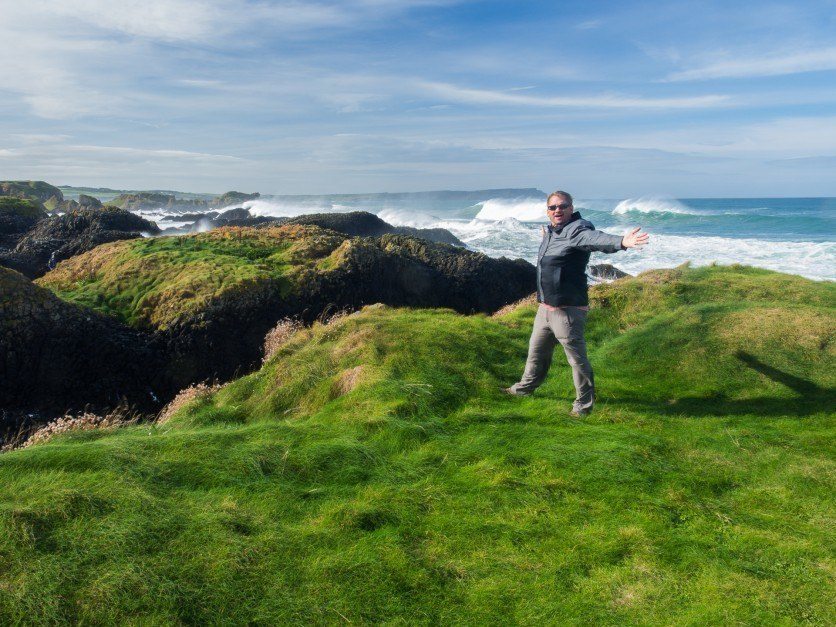 We were young and able and could easily adapt.
And yet, each and every time we left the country, a new and exciting opportunity came our way… In 2000, after 5 weeks in Thailand, Dave returned to Canada to be offered his first Rigging Gaffer job on a feature film.
The call came out of the blue from a Gaffer he worked with once a summer before. The Gaffer (Bryan who became a good friend) said "I recall working with you on The Long Kiss Goodnight last year and you seemed keen and eager. Would you like to be my rigging gaffer for Turn it Up, starring Ja Rule and Jason Statham.
I received a call a few days later to work on a show called Snit Station at YTV.
I had done a few calls here and there in the past, but never much and suddenly I was keying a show!
It all worked out and for the next two years we worked hard and made a lot of money. We bought a house and began planning for the future.
I'll never forget the first day I was alone in my beautiful new house when Dave was at work.
I sat on the floor of our living room and cried. I said to myself "I just settled" I couldn't envision myself living like this for the rest of my life.
Sure it was everyone's dream to have a beautiful home, two cars, money in the bank and a supportive loving family. But I wanted to do something extraordinary. Not ordinary.
Dave and I talked it over a lot for the next few months and decided that we weren't going to live an ordinary life.
Looking back I have no idea how we managed.
We decided that since we just bought a house, we couldn't travel for a bit, so instead, we'd make our lives at home an adventure.
That summer we took up mountain biking and scuba diving and that winter we bought a seasons pass at Blue Mountain and snowboarded every free day.
Where we found the time to commute an hour to work each day, own a home, and do all of these hobbies without going broke was beyond me. But we did.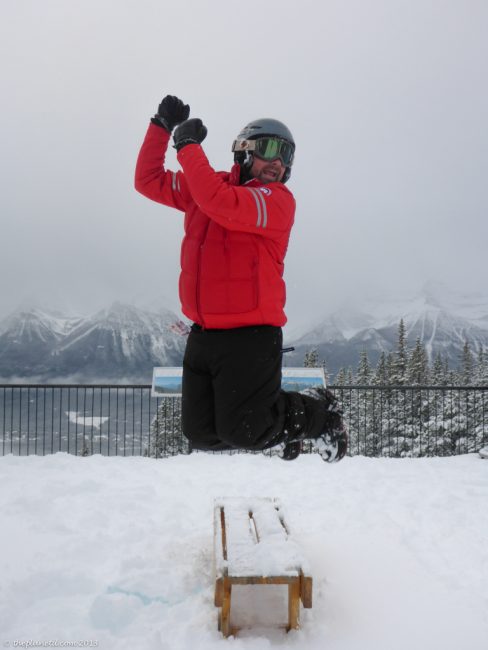 After a year of home ownership, we knew we wanted to leave again and that takes me back to our time around the campfire.
We were getting to know our neighbours really well by this point. Because we lived in such an amazing area, we were always outdoor enjoying campfires in our backyards, or drinks at each other's houses.
It sounded like a pipe dream when we told people about our plans, but we knew we were going to leave one day soon.
When setbacks happen, search for other avenues
When our house didn't sell, we didn't get discouraged, we just looked for another way….
We didn't have as much money to travel as we hoped, but with a bit of cash to last a month or so and a very cheap trip to Mexico thanks to our dive club, we got ourselves to Central America.
At least we had a few hundred bucks coming in each month from our subletter. We'd just have to worry about the rest later.
At that time, we thought that the best way for us to live a life of travel was to become Dive Masters and scuba instructors. So our real plan in Central America was to make our way to Honduras to take our dive masters course.
It was known as the cheapest place in the world to do it and we didn't have a lot of extra money, so Utila2 fit the bill.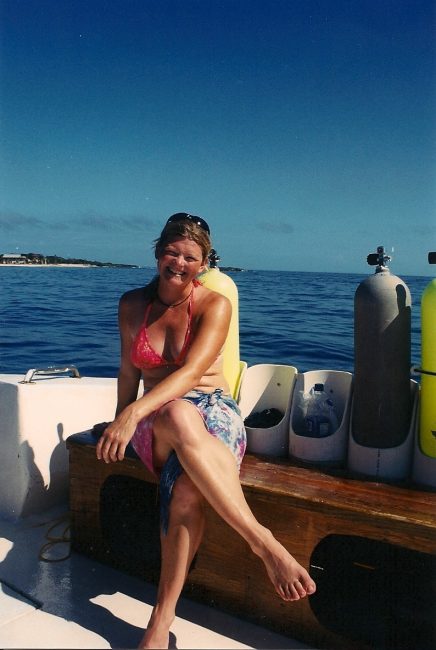 The money went fast and we were stressed out a lot. After a couple of months into our trip, Dave received an email from his boss Bryan to see if he wanted to come home for a job.
We thought long and hard about it and decided that things weren't working out here in Central America, so we booked a flight home. Hey, we gave it a shot and we added three new countries on our list of places visited.
We may have failed at this attempt to travel forever, but we'd figure it out the next time.
When we came home, we put our house on the market again and this time it sold within a month.
Dave worked on his movie while I took a few calls in movies as daily make up artist. After I settled back in at home, YTV was happy to have me back!
I got my old job back with Snit Station. Between that show and daily makeup calls with my Union, I was doing OK and Dave was back at his job as rigging gaffer on another feature film.
It was Spring 2003.
After selling our house we moved into a small apartment in Toronto and decided to work for the summer before leaving to travel again. We made a bit of money off our house and put that in the bank as our travel fund and started planning a trip.
This was our second attempt at leaving for good and we wanted to do things right.
All summer long we worked hard and even though we weren't traveling, we made the best of things at home. We joined a climbing gym in Toronto and took up rock climbing.
That summer ended up being one of the most fulfilling of our lives.
We lived with excited anticipation of our upcoming trip to Asia in the fall, but we lived life to the fullest while living in Toronto that summer.
Each weekend we went on camping and climbing trips and every night we had off work, we were at the gym climbing. We made new friends and had an amazing time.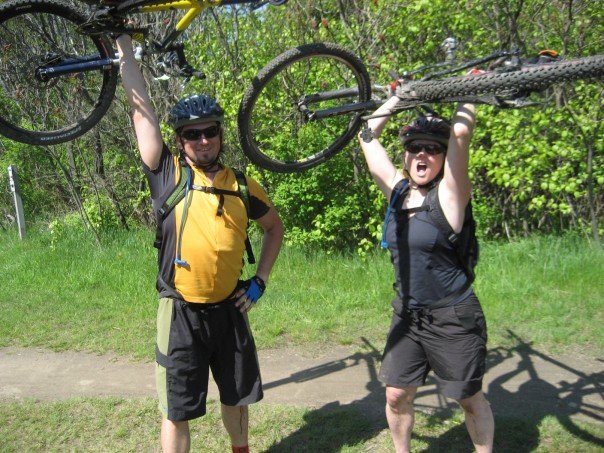 7 Months of Travel
When Autumn came along, we put everything in storage and took off for an indefinite amount of travels.
I gave up my job at YTV for good and Dave let everyone know that he wasn't available for any upcoming movies. We severed all ties.
For the next 7 months, we travelled around South East Asia and fell in love with life on the road. Dave received many emails inviting him to come back to work on big feature films.
It was tempting, (especially when we were living on a tight backpackers budget) but he declined and someone else took his place. We really did it this time! We were going to be travellers.
Unfortunately, the money ran out and we didn't have a plan.
I remember sitting on a bus in Laos crying because I knew that this great adventure was going to come to an end soon and I didn't want to go back to work in TV and film.
I knew in my bones that travel was my destiny, I just didn't know how to make it a reality.
After 7 months, we decided to fly home and figure life out again. We had to replenish our bank account and we had to learn how to make it sustainable.
Back to our Jobs
This time we were really worried about work. We had both severed ties and a lot of time had passed. People would have definitely forgotten about us and more importantly, we had been replaced with fresh young talent.
We found an apartment in Toronto and I decided that I wasn't going to go back to the film business. I had had enough, and in college, I waitressed so why not go back to that? I answered an ad for a seasonal job waitressing at Ontario Place and was hired.
It ended up being so much fun. I was good at waitressing and the adrenaline of busy dinner rushes was awesome.
It turned out that the same company that owned the Ontario Place restaurant ran the private suites in Air Canada and after only a couple of weeks, they offered me a job there.
I was suddenly working rock concerts, hockey and basketball games in private suites making amazing cash.
And then, out of the blue, YTV called me. A long running popular show called The Zone, suddenly had a budget for a makeup artist. The host Sugar really liked the way I did her make up once on a photo shoot and requested me.
Even though I didn't want to go back to working in movies, a nice stable job at YTV was just what I needed.
Dave was already hot and in demand! Even though he turned down plenty of work during the time we were away, the industry was thrilled to have him back and bigger and better opportunities came his way.
He was suddenly in charge of huge production budgets and living a very exciting life as one of the cities most in-demand rigging gaffers. And here we were thinking we'd be struggling when we got home.
Dave's IMDB Profile
Make Room in your life for bigger and better things
We realized that each time we left to pursue our dreams, we were rewarded ten-fold when we came home. It seemed that life would always have a way of working out better because we opened ourselves up to new possibilities.
We truly and honestly believe that you need to mix things up and take risks to live a full life.
You need to pursue things in life that make you a better person.
By trying new things, meeting new people, and making rooms for new opportunities, better things inevitably happen.
Those who stay stuck in a rut and stick to routine end up doing just that…living a routine. It's important to do things that scare you and excite you. You need to follow your passion.
We didn't know how we'd become full time travellers, but for nearly a decade, we kept travelling every chance we had until we figured it out. Yes, it was scary.
Yes, we weren't sure what we were going to do when we came home, but if you are truly committed to making things work, you can be a success.
I wasn't embarrassed that I went back to waitressing for a few months while I figured things out. I did what needed to be done. I had to make money and that was one way I knew how.
I knew I didn't want to be a makeup artist for the rest of my life. I didn't want to watch actors and hosts live their dreams from the sidelines, I wanted to live my own dreams and that is exactly what I did.
Dave and I are very lucky we wanted the same dream. I'll never forget Dave talking about leaving again to travel almost immediately after buying our house.
If we listened to conventional wisdom and listened to the naysayers and did what a "good adult" was supposed to do, we would never be where we are today. We are living our dreams and things have worked out better than we ever imagined.
After returning from that trip to Asia in 2004 we started to make plans.
It took a while longer than expected and we took a few more smaller trips and risks before the final plunge, we made our final decision in 2007 to do something that completely changed our lives. We'll tell you all about that journey tomorrow.
Read More
From Trailer Park to Travel Bloggers, our path to success.
How to be a Professional Travel Blogger
The Most Uncomfortable Night of My Life: Overcoming Travel Mistakes
You Might Also Enjoy