I could have traveled to Asheville, North Carolina only to eat. but there are so many things to do in Asheville, it will surprise you.
Simply walking around a town or city, is one of my favorite things to do as a traveler to a new place and Asheville does not disappoint.
From the colorful and sometimes bizarre window shopping to the live music which occurs in nearly every park and on so many street corners,
I enjoyed walking the town enough to rate it highly based on this activity alone. I even found myself hoping I'd stumble upon a contra dance to join.
What to do in Asheville
LaZoom Tour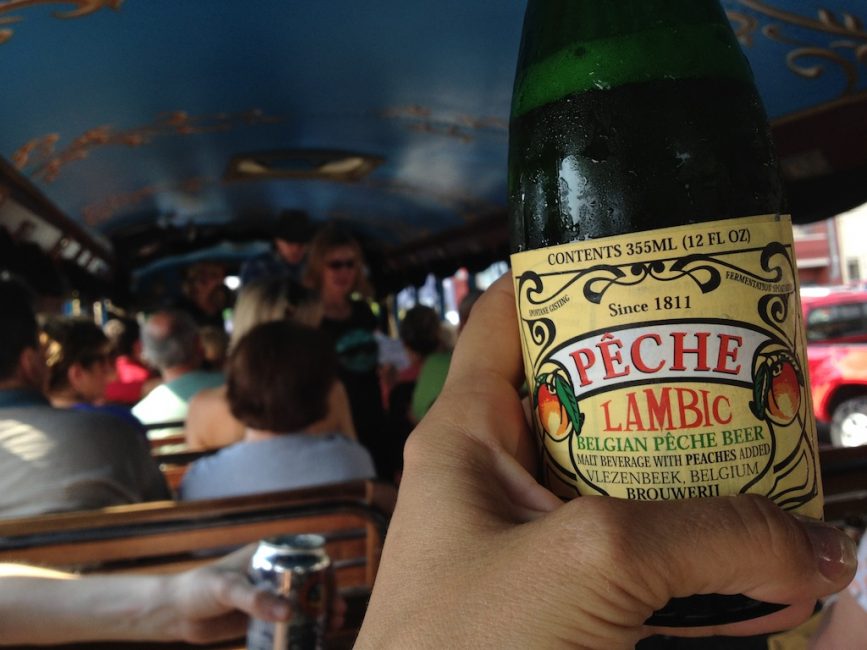 The LaZoom tour we experienced that had me laughing so hard I was in pain and in need of another spa visit.
LaZoom's bus tour of Asheville is narrated by a very flexible woman who at times hangs from the roof of the bus or out its windows in order to complete the random and amusing stories she tells of Asheville's history, architecture, residents and former residents (cough, ghosts).
LaZoom received bonus points from me when one of the stops on our tour was for refreshments we could then take with us, at Thirsty Monk which stocked my favorite, rare, Belgian beer!
Art in Asheville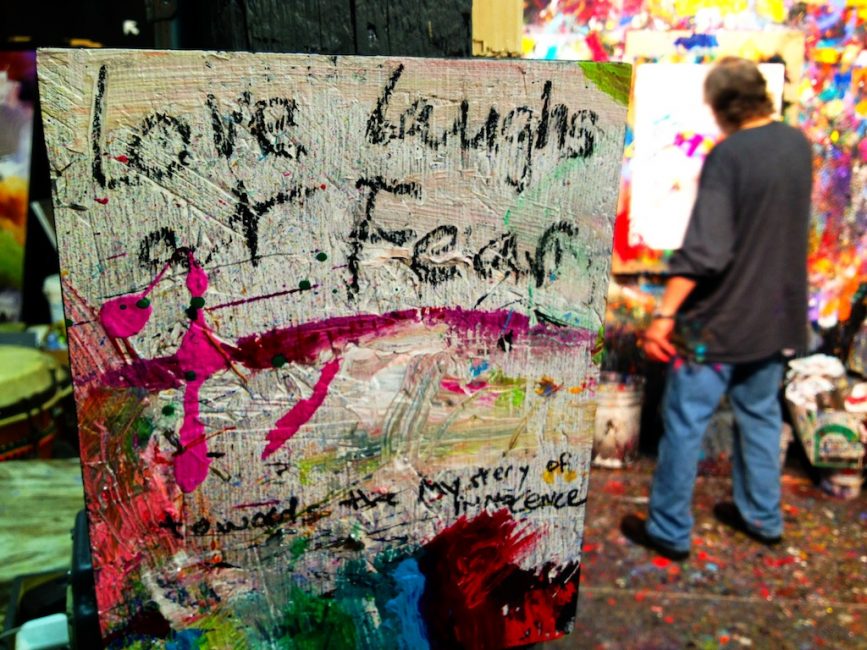 Touring the River Arts District was enjoyable, even during a downpour of rain, but it was meeting Jonas Gerard that was the real adventure.
One of the members of our group became a human canvas but I most enjoyed the stories Jonas told from his long career as an artist and the live demonstration he did in which he created an entirely new piece while we watched and tried to stay still in our chairs as Latin music filled the air with an intoxicating beat.
I happen to be one of those quote addicts so I also loved that Jonas had turned one wall into the largest inspiration board I have ever seen, filled with printed quotes, torn magazine pages and layer-upon-layer of colorful paint splatters.
Live Painting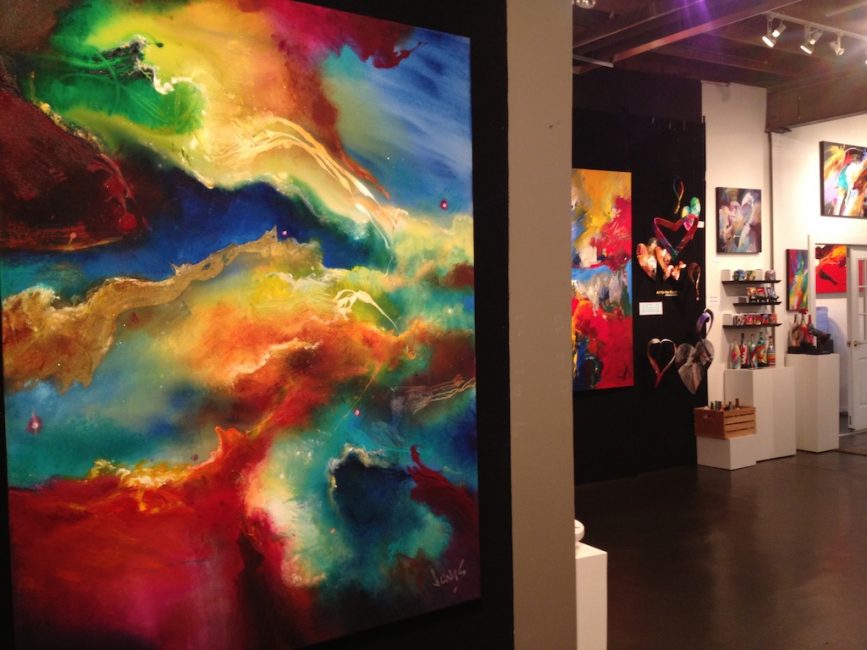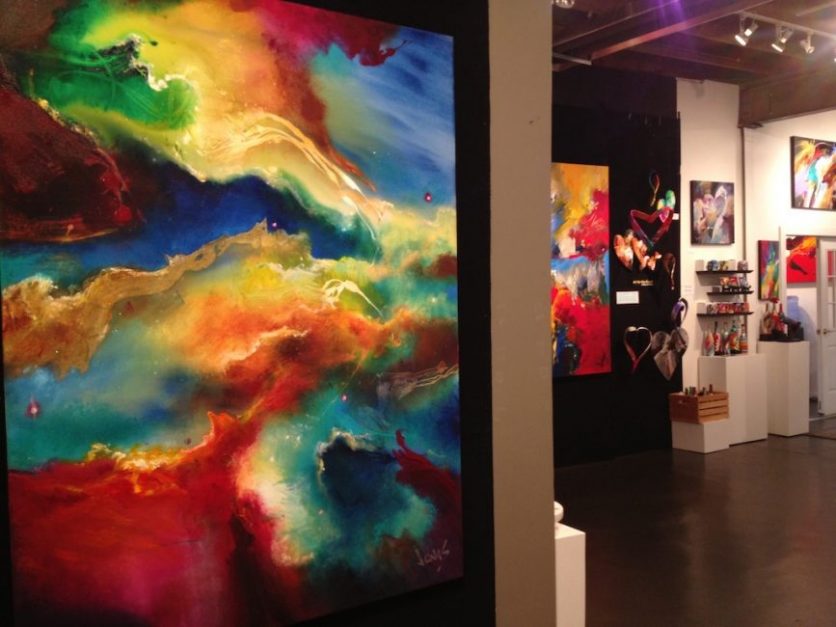 We watched a live painting demonstration in the River Arts District and I was impressed by the intense energy of artist, Jonas Gerard.
Navit Canopy Adventures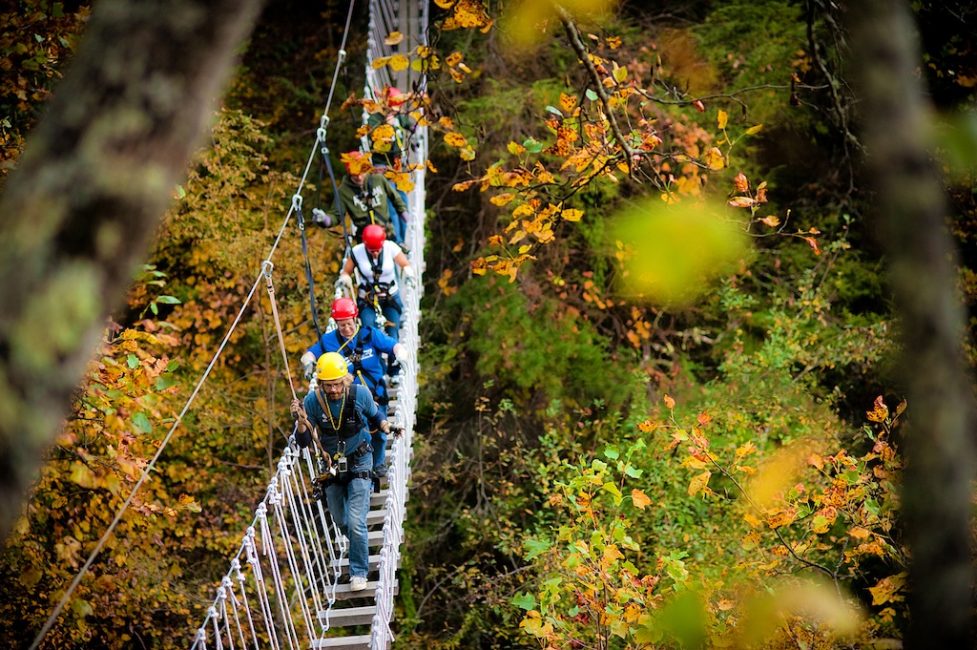 For outdoor sports enthusiasts, Asheville also has the draw of Navitat Canopy Adventures.
Navitat exists both in North Carolina and California, both locations get participants up and into mountains.
I first experienced ziplining in Mexico and while it was fun I can't imagine it was half as fun, yet safe and well organized as Navitat's courses are.
They are also quite serious about the environment and about preserving the natural gifts North Carolina is blessed with, cares which are worthy of high praise in my opinion.
The Biltmore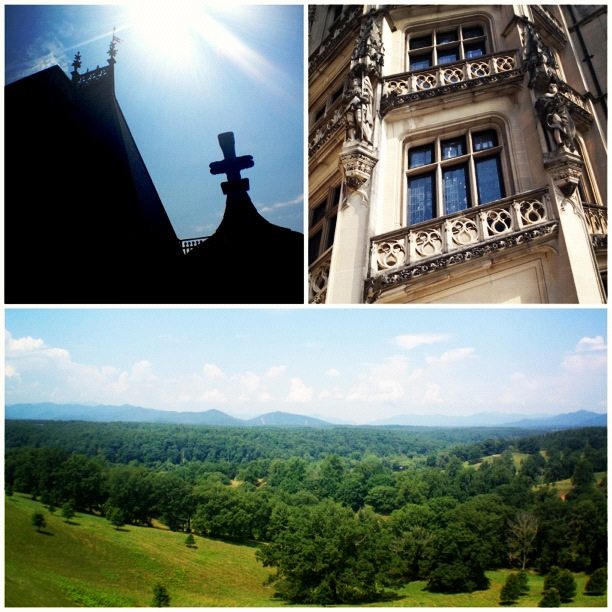 A trip to Asheville isn't complete without visiting the Biltmore Estate.
What surprised me there was just how enormous the main home is; so large it's easy to understand why it holds the title of largest privately-owned home in the United States.
The view from the rear promenade of the stunning home took my breath away and I could hardly accept that anyone could have so much money as to basically purchase an unobstructed view that extended as far as the eye could see.
It changed from being a place only of grandeur in my head, to a place of peace and escape.
Perhaps that is just what George Washington Vanderbilt II intended from the beginning.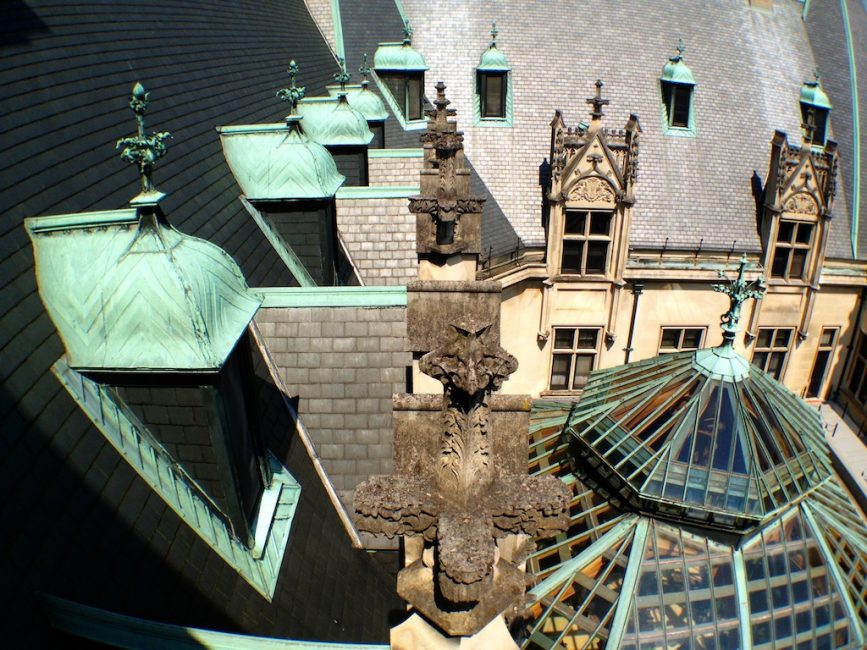 Perhaps not every traveler enjoys touring old homes and public buildings but I love a good architectural tour so the one at The Biltmore is high on my list of the things I enjoyed most while in Asheville.
Our docent was enthusiastic, well informed and engaging. We saw the extensive estate grounds from the roof, the back promenade and the formal gardens.
We gazed up in wonder at carvings and details on the facade which ran the gamut from religious to weird; a man with the features of a woman, a monkey, Joan of Arc, even gargoyles.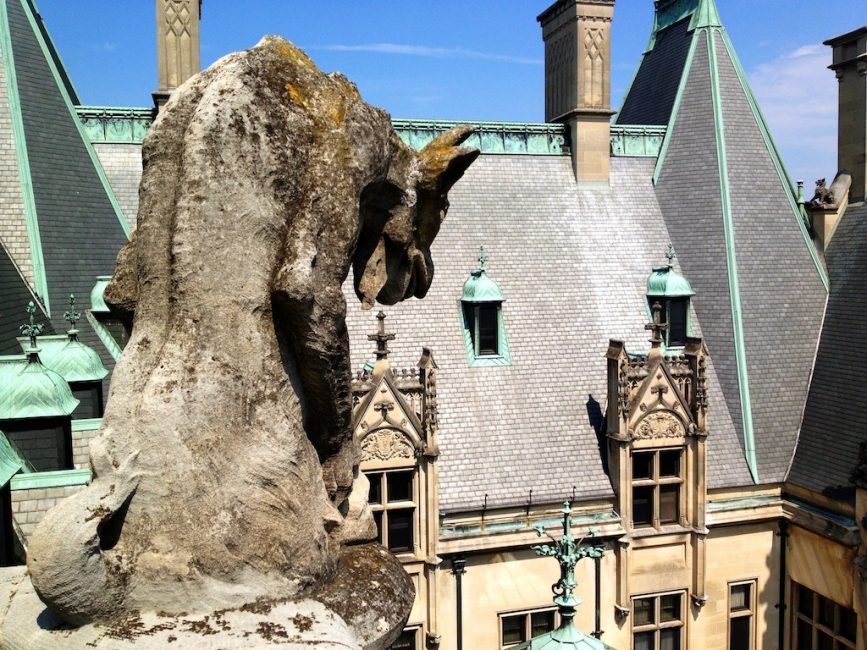 I couldn't help but wonder how one of the largest chandeliers in the world hangs from the roof inside The Biltmore's main staircase by only one o-ring.
This isn't something I was aware of before my visit. So a plan was made that included all sorts of activities that didn't have to do with eating at all!
Shopping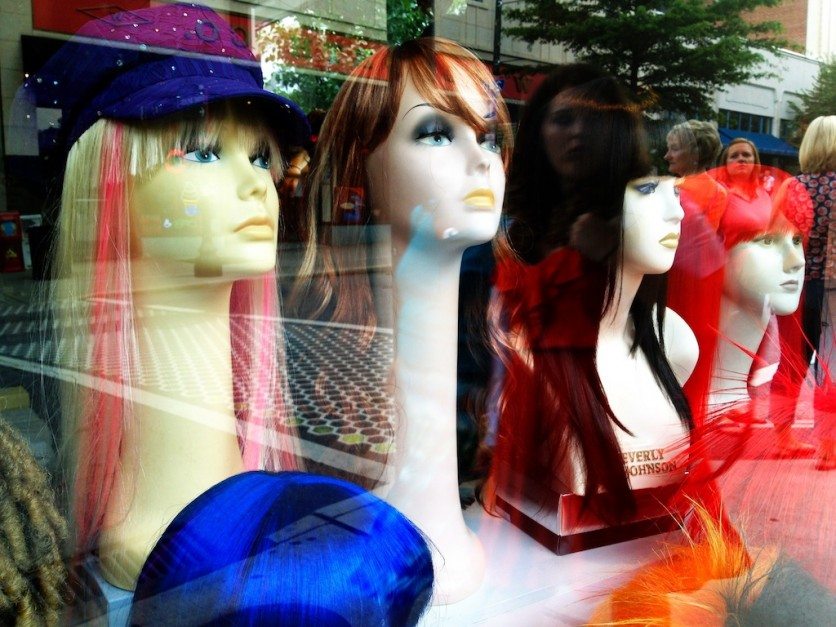 was shopping that was truly adventurous, for my wallet. From antique store to gallery to vintage clothing boutique it was a challenge to see just how much loot I could score without breaking my poor bank account. I am not-so-secretly plotting my return because a necklace I failed to purchase is still calling my name!
The Grove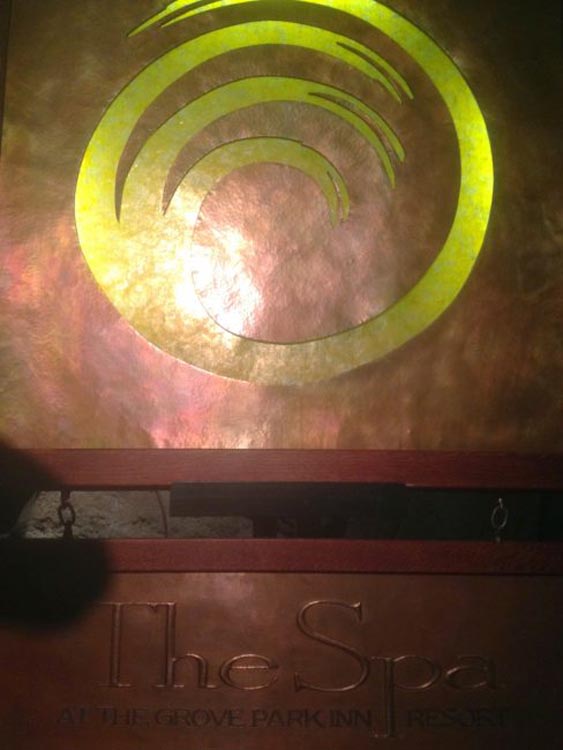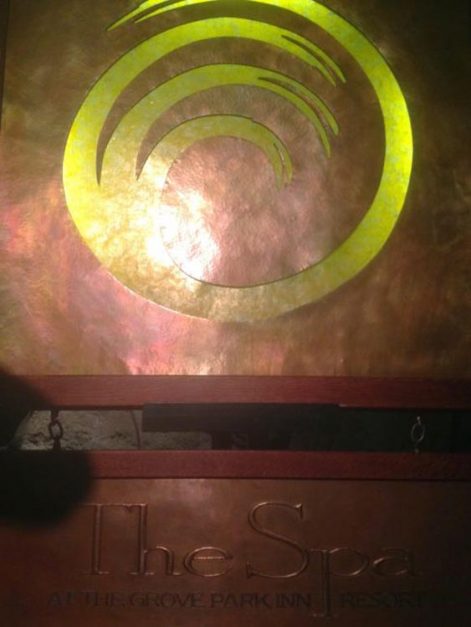 The Grove's history, of playing host to visiting US presidents and dignitaries from around the world, and its status as a supposedly haunted hotel makes it ripe for touring and gives any visitor a lot to marvel at.
I particularly enjoyed riding in the old elevator that's somehow inside one of the hotel's massive fireplaces.
And I'd still love to hear an engineer explain how that works!
There, I enjoyed a massage that seemed to take years, and so many levels of stress, off my body. I
I also checked out their salt-water pool grotto and spent a long time further kneading my tired muscles by standing under waterfalls of rushing, heated water.
The pools are co-ed and that fact is the only one which I might note could potentially turn some people away.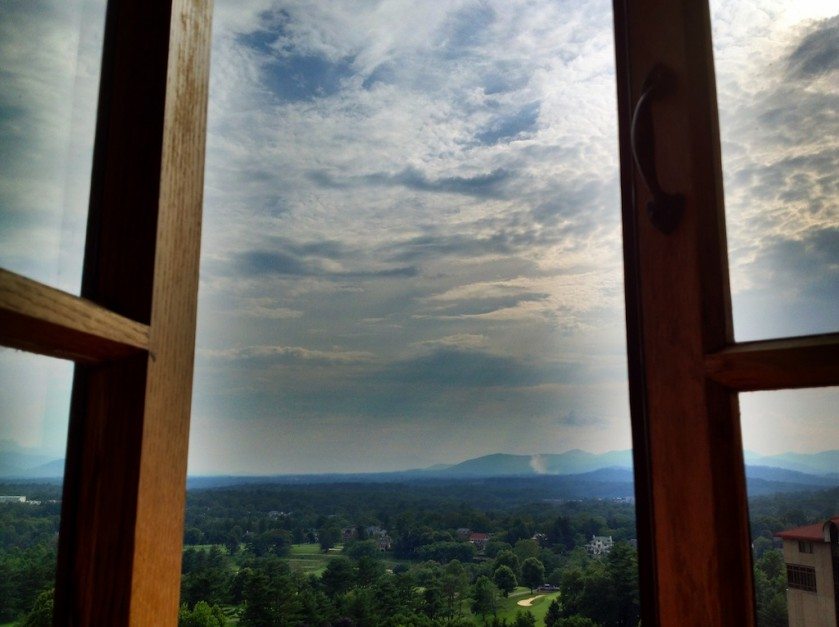 The Grove has a view of the mountains to rival that at The Biltmore, an elevator hidden in a fireplace (yes, really!) and rumored hauntings and ghosts that caused sleeping to be an adventure like I've never known.
Perhaps I will always think of Asheville as a place of history and Southern gentility, as so many do.
However, I'm glad that since my visit I can now reflect upon Asheville as also being a place of culinary creativity, quirky residents, adventurous outdoor sports, and abundant musical entertainment.
For more information on visiting Asheville, NC visit Explore Asheville.com