It's Shark Week on Discovery Channel so we thought it would be fitting to talk about our best shark encounters we've had around the world. Shark week is about helping people understand sharks. Sharks are dangerous that is a fact, but they don't go out of their way to seek out man. Most deaths are a case of mistaken identity. Sharks usually mistake surfers for seals.
We've been up close and personal with sharks many times and can honesty say that when you see them in person, they are far less scary than on TV. That's not to say that we shouldn't have a healthy respect for sharks. Many people are killed each year by sharks, but what do you expect when you go uninvited into somebody's home? That's what happens when you play in their backyard.
Diving and snorkelling with certain sharks is actually quite safe. When a shark sees you and can understand that you are not a part of their diet, they take a curious interest, but for the most part leave you alone. We've gone diving, snorkelling and swimming with everything from Nurse Sharks to Great White Sharks, and each shark is just as exciting as the next.
ThePlanetD's Shark Week, Our Best Encounters
1. Cage Diving with Great White Sharks in South Africa
By far, getting in the cage with great white sharks in South Africa is the best experience we've ever had on or off land. There is nothing more exciting than looking into the eye of a great white as it swims by, bumps the cage or leaps into the air. We dove with White Shark Projects who have been featured on Discovery and is the company Charley Boorman dove with during his cage diving experience. It was the thrill of a lifetime.
See more about Shark Diving in South Africa at our post In The Cage
2. Swimming with the Galapagos Shark
The Galapagos Sharks are friendly sharks. The protected ecosystem of the Galapagos offers plenty of food for the shark so by the time humans get into the water, they are not interested. We hopped in the water at Sleeping Lion Rock and drifted through the two giant cliffs before ending on the other side in the middle of a dozen swimming sharks. They circled below and swam through us all for a closer view. No cage here, just us and the sharks swimming in harmony.
3. Snorkelling with Sharks in Belize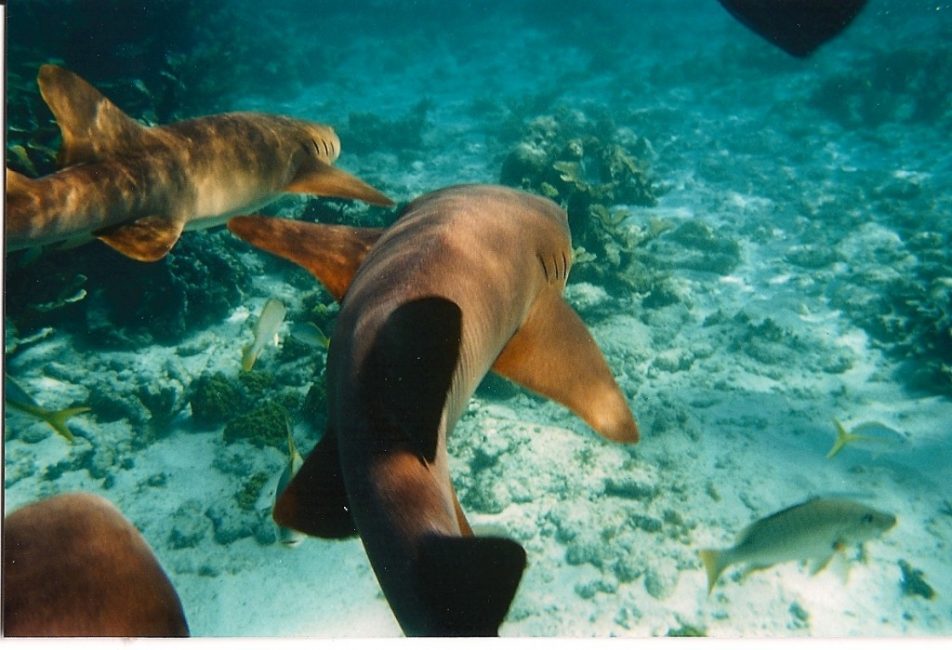 Our very first shark encounter was in beautiful Belize. We were staying in Cay Caulker and walked down the street looking for Juni who we had heard about all the way to Guatemala. He took a maximum 6 people on his sail boat out to Shark Ray Alley to swim with the sharks. It's become a popular destination for cruise ships now but when we were there in 2003, we were the only ones around. Juni timed our trip perfectly so that we were the only people on the reef. We kissed shark on it's belly!
4. Cage Diving Again in South Australia
We tried a second cage dive in South Australia to see Great White Sharks. The water was much clearer in South Australia, but the sharks were not as busy on the day we went out. In South Australia we only saw one Great White Shark. We were told that there was a pod of killer whales in the area a couple of days earlier and that can cause the sharks to stay away. We also think that it had something to do with the sound waves used by Adventure Bay Charters. It's difficult to compete with the chumming of the water used by a competing company a few km away. Although, according to a show we saw on Discovery, sound is the first thing that attracts sharks so we could be wrong. See more at Great White Sharks, Guitars and Gettin' Down, Down Under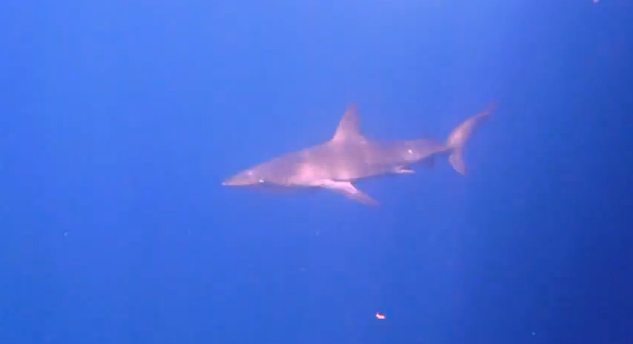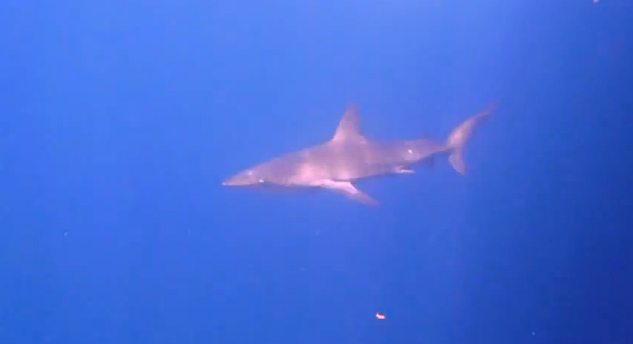 5. Scuba Diving, Cozumel
The very first shark we ever saw was in Cozumel on a diving trip. We had a reef shark follow the path of our dive route for quite some time. In Cozumel there is a good drift so everyone is on the same path. We didn't have an underwater camera at that time in our lives so we couldn't capture any of it on camera, but it was a moment we will never forget. I don't think you can ever forget your very first shark sighting in the wild. We were mesmerized.
 Tell us about your best Shark Encounter!