We awoke this morning feeling exhausted from the previous day's climb here in Krabi, Thailand.  We forgot just how much rock climbing takes out of you and when you haven't done it in a while, your muscles definitely feel the punishment from the day before.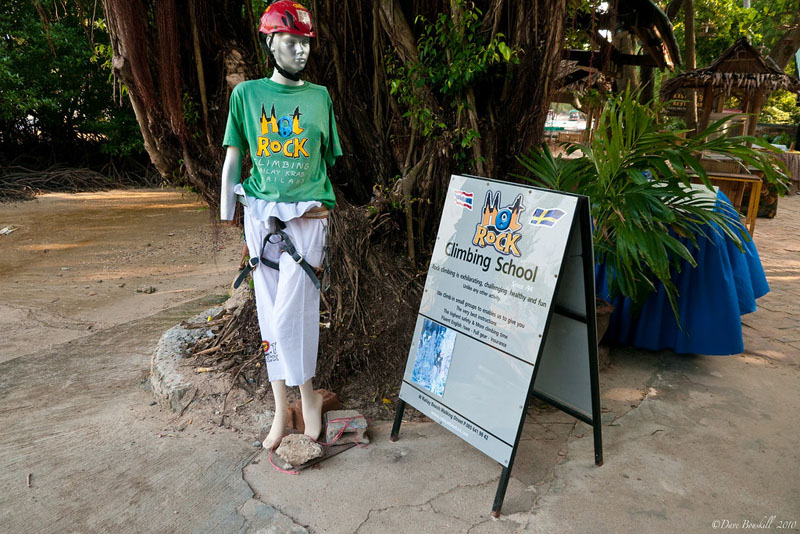 Climbing Adventures in Thailand, Day Two
It was another beautiful day in Southern Thailand and we caught a longtail boat bright and early from Ao Nang to Railay Beach. The temperature was rising and the cool breeze from the sea was a welcoming relief from the already building humidity.
Toto, our guide was waiting for us with a big smile when we arrived at Hot Rocks Climbing School's new office.
They had just moved back to the East side of Railay right in the heart of where all the rock climbing schools and climbing action take place. With our gear and water in tow, we set off directly to Diamond Cave wall to work on our lead climbing skills.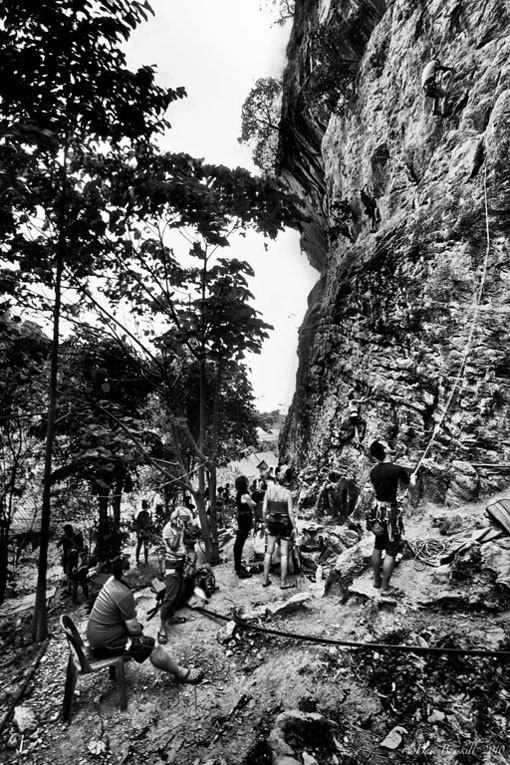 Today's Rock Climbing Lesson
We started off the day refreshing our memories on how to tie into the top anchor.
When lead climbing, the climber pulls the climbing rope with him and clips into anchors all the way up the wall making himself safe as he goes.
We practiced our "clipping in" skills yesterday, but the most important aspect of making yourself safe during a lead climb was yet to come.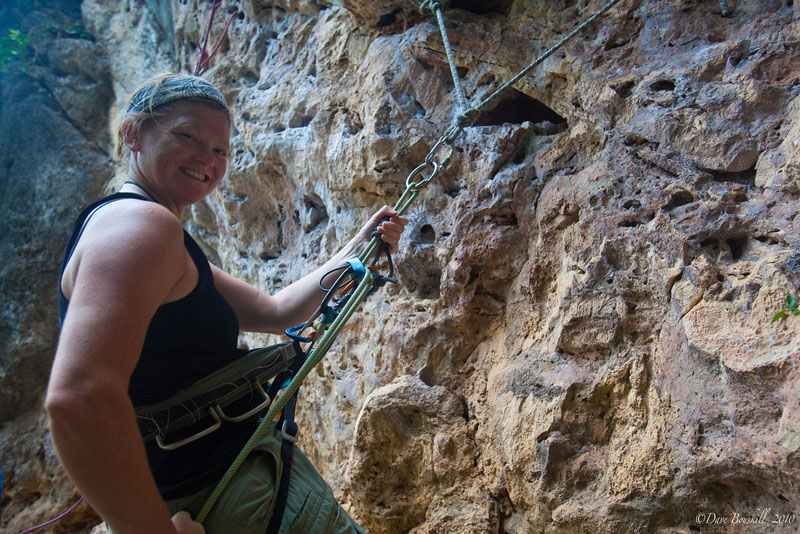 Reaching the top
Once you finish the climb, you have to loop the rope through the final anchor which normally has a titanium ring hanging from it.  You can't leave your quickdraws and own gear behind, so you have to feed your rope through the anchor that is already there.
One problem though, that means you have to untie yourself from the safety of the rope. Once you know what you are doing, it is completely safe.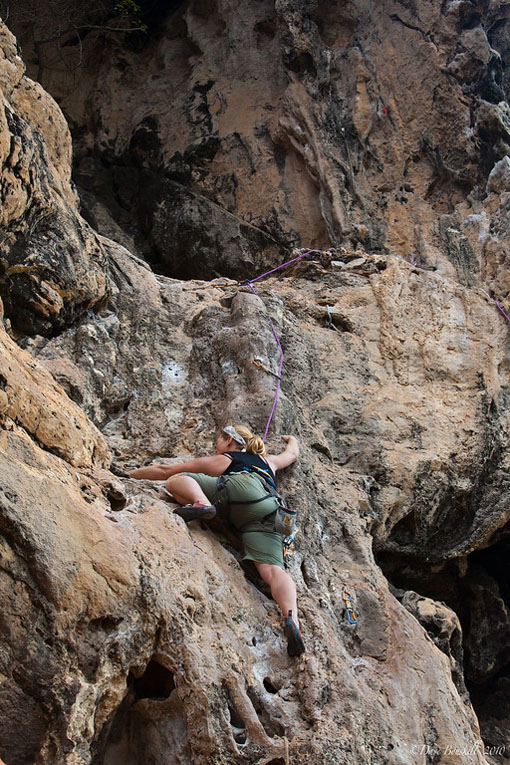 Steps to setting up a top anchor.
Clip two quickdraws hanging in opposite directions to the final anchor and clip your rope into the quickdraws. You are now safe and on the top rope.
Clip yourself into the anchor with a sling and locking carabiner connected to your harnesses belay loop.
Ask your belayer for tension on the rope.
Sit back on your sling to make sure that it is safe and secure and then once you are safe, ask for slack.
Pull up the rope, and feed it through the anchor ring. Tie a double figure 8 knot and clip the knot to your belay loop on your harness.  You are now connected to the rope and you are secure on your sling.
You now untie your original figure 8 knot that you had connecting you to the climbing rope on your way up.
Feed the rope through the anchor ring (not the quickdraws) and tie yourself back in.
Check and recheck that everything is done properly.
Undo the double figure 8 that you made to secure the rope to your harness before untying and feeding the rope through and ask for tension on the rope.
Sit back on the rope to make sure that you are indeed tied back in safe and ready to be lowered.  The climbing rope should have all your weight on it and your sling should be loose not holding any of your weight.
Once you have confirmed that everything is safe and that the rope is holding your weight safely and securely, you can unclip your sling, take down the quickdraws and let your belayer know that you can now be lowered.
Success and the climb are finished.
NOTE: this is not a substitute for proper training and not a guide on how to set up a top rope, it is just a quick lesson to show people what happens at the end of a sports climb and what the climber needs to do. It is in no way intended to teach you how to set up an anchor.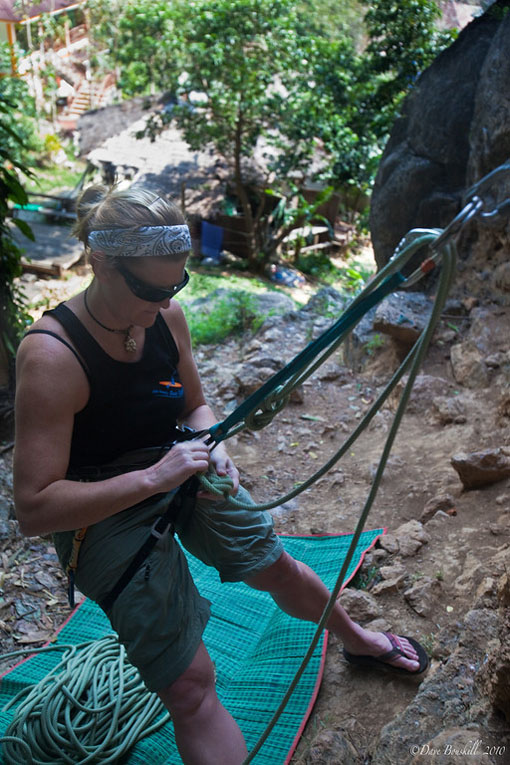 We practiced this over and over until it was second nature in our minds. We started on an anchor low to the ground and then once we felt confident, we practiced on a climb.
Toto went up first to set up a top rope on another anchor so that we could climb on top rope while pulling up our lead rope and setting up anchor in complete safety.  We did this for a few more climbs and then it was time for lunch.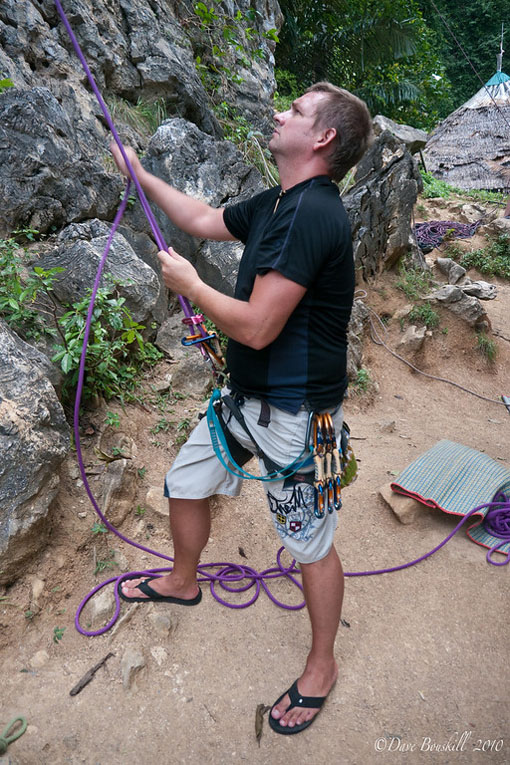 The day was extremely hot, so we took an early lunch to get in a good afternoon.  Since we climbed hard the day before and did some more climbs this morning, our muscles weren't up to lead climbing in the afternoon.
Hot Rocks is aware that people's forearms will be exhausted at this point and it doesn't boost your confidence to climb when your muscles are fatigued, so it is on this day that they schedule some excellent fun in the afternoon.
Abseiling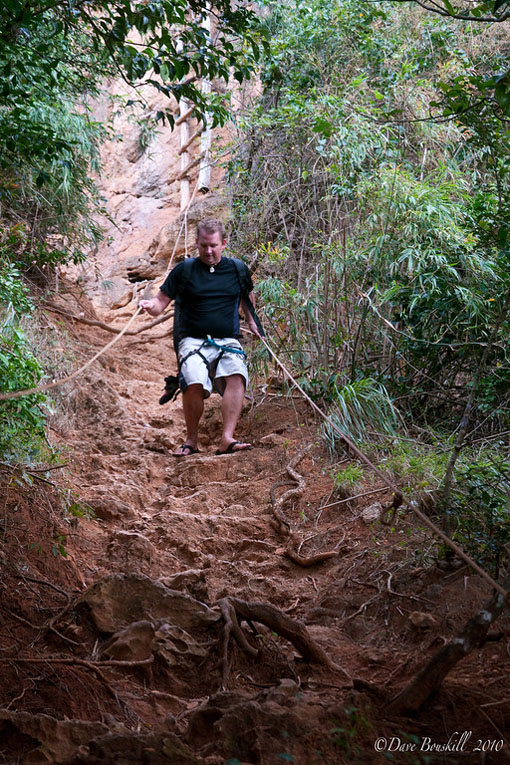 After lunch, we went for a hike to Phra Nang Beach.  When we visited this area in 2000, there wasn't a soul on the beach and we decided that it was the most beautiful place on earth.
At the time many magazines had named it the most beautiful beach on earth.
Today it is filled with day trippers and package tourists and it is littered with topless women and chubby tourists walking the beach with their beer bellies hanging out.  Not quite the paradise we remember.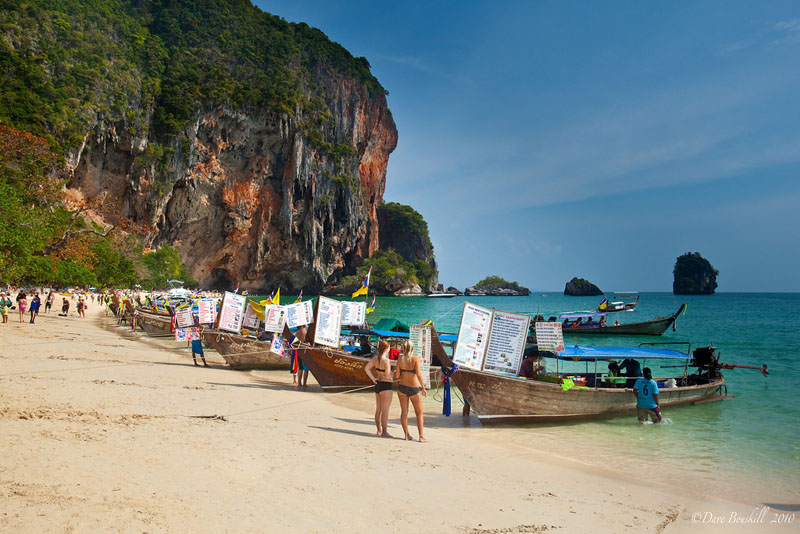 However, we were walking right on by.  Dodging touts and half-naked bodies we looked like an odd sight decked out in our harnesses and carrying ropes, bags and quickdraws.
We were going to do rappel out of Khoa Luk Choee Cave, an extraordinary cave located close by.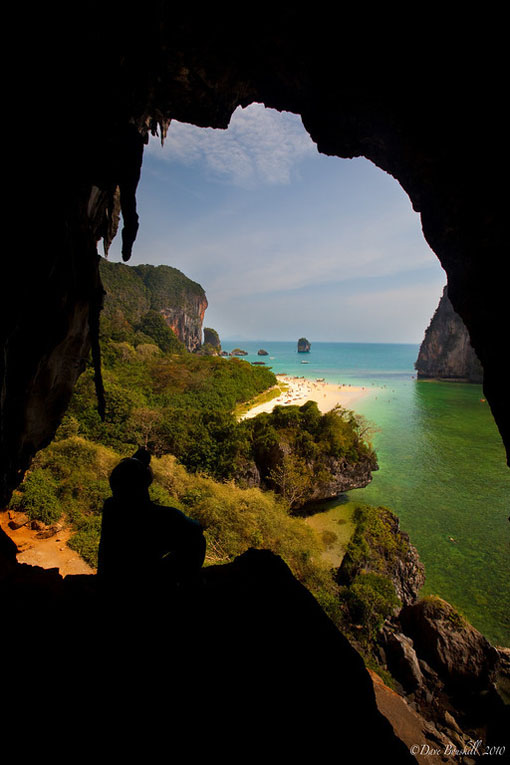 The walk is an adventure in itself.  Make sure to bring a headlamp as it gets dark and you will have to scramble up ladders and over rocks in the dark.  The trek is worth it though because you come out 60 meters above sea level overlooking all of Railay Beach and Ton Sai.
What a ride, one of the best payoffs of climbing is getting to abseil back down.
Lowering Safely
We have rappelled a few times, so we didn't have to spend too much time on technique, but if you have never done it before, your guide from Hot Rocks will show you exactly how to safely lower yourself to the ground.
The day was still young when we finished our abseil, so we managed to do a couple more fun climbs on the wall right beside the cave.
You will find 1000 routes in the Railay area and can spend months climbing here without even scratching the surface.  It is a place that we first discovered the joy of climbing over a decade ago and it is a place that we rediscovered just how much fun climbing a rock can be.
Note:

A 3 day climbing course costs 6000 baht – $200 USD
They also offer half day and full day courses starting at 1000 baht
Includes gear, guide, and lessons as well as water and snacks.
If you are staying in Ao Nang and not climbing the long tail boat costs 100 baht one way, but buy return and it is only 80 baht per way.
Dave and Deb's Thailand Adventure is sponsored by the Tourism Authority of Thailand and hosted by Smiling Albino. A team of travel enthusiasts offering custom built adventure travel in Asia.
Read More
Rocking Climbing – The Final Day
Rock Climbing in Railay, The Adventure Continues
Sea Kayaking and Camping With John Gray's Sea Canoe
You Might Also Enjoy