The invitation couldn't have come at a better time. We had been feeling burnt out from traveling for that past 6 months and we were in need of a vacation. When Rancho La Puerta came a knockin' we came a rockin' 😉
The ranch is like nothing we had ever experienced.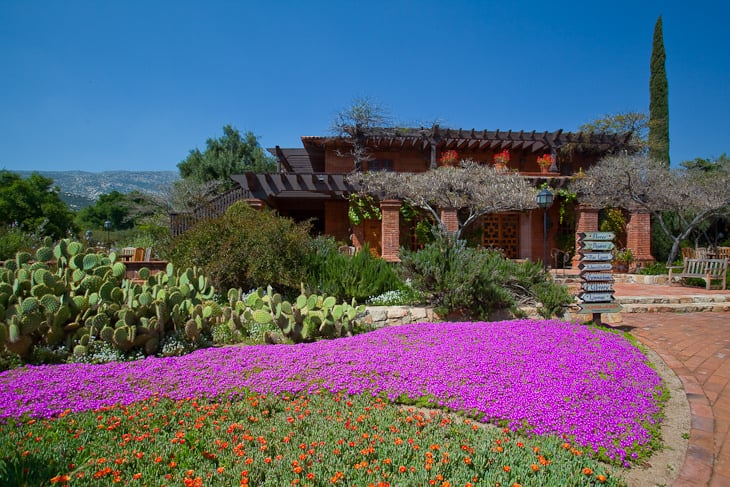 We weren't sure what to expect at this 3000 acre spa across the border of San Diego in Tecate, Mexico. Catching the 8 am shuttle from the San Diego airport allowed us to enjoy our first day to its fullest. Had we known better, we would have packed a day bag to take advantage of the resort until our room was ready.
If only we had our workout clothes, swim suits and gym shoes organized, we could have already begun to take classes. Alas our workout would have to wait another day.
Spa Mexico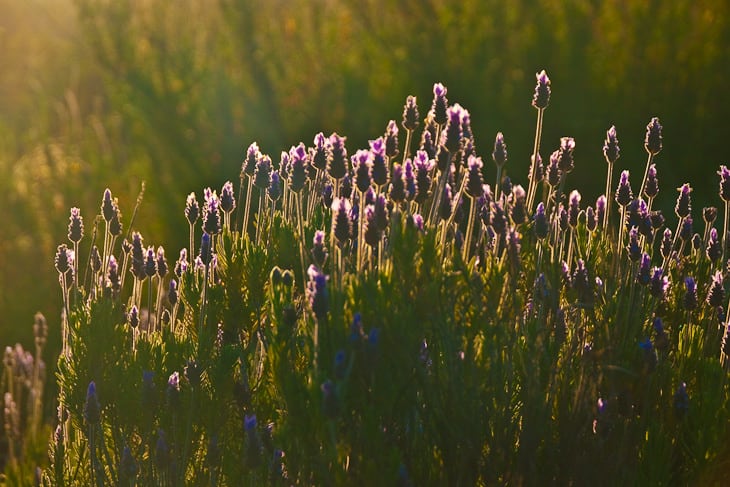 Instead, we spent the day orientating ourselves around the grounds of the complex. Rancho la Puerta is located on 3000 acres of farmland, meadow and gardens tucked beneath Mount Kuchumaa aka Sacred Mountain. It would take many visits to thoroughly explore the place. We enjoyed our relaxing day walking through the gardens, eating our first portion controlled delicious vegetarian meal and taking in some reading at the lounge.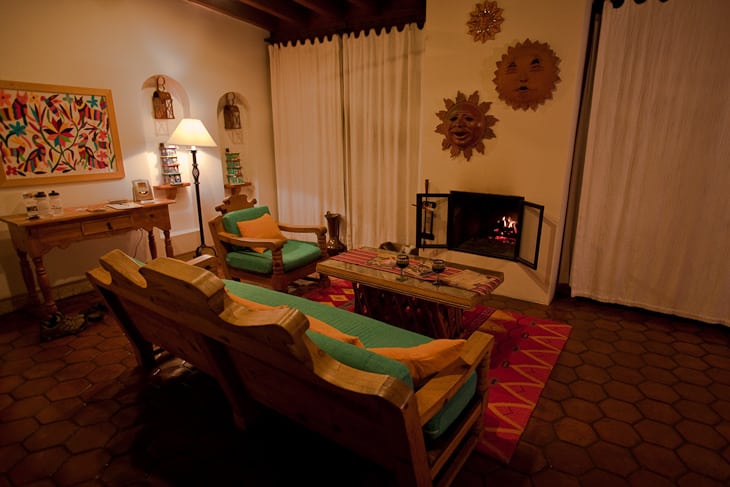 The next 7 days were going to be anything but.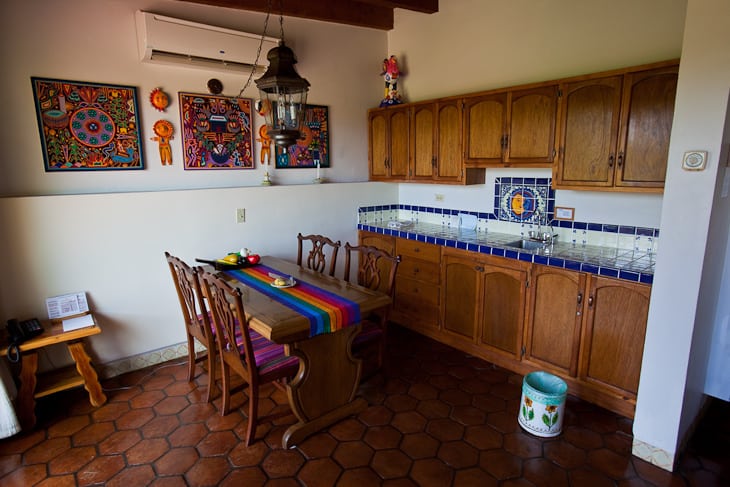 Day 1.We enjoyed an early night and great conversation by the fire with our "Villa Mates" (yes, we stayed in a villa!) Melanie and Adam of Travels With Two. We had met Melanie a year earlier in New York and instantly adored her. We weren't surprised to find Adam to be exactly as we expected. Fun, friendly, successful and giving. We never travel with other couples but I could see us vacationing regularly with these two.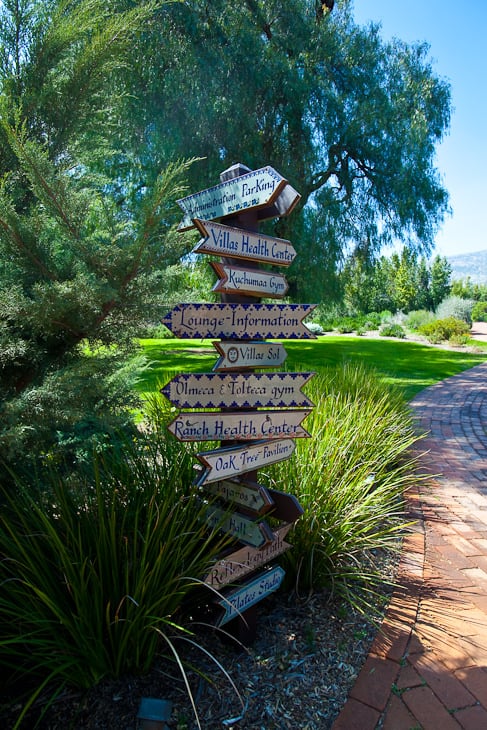 The jet lag hadn't even had a chance to settle in from our flight from New Zealand and we were up at the crack of dawn to enjoy our choice of classes.  Dave and I parted ways as he went on to try all the high impact workouts like Men's Circuit training, Core workout, Cardio Muscle Blast and weight training. I decided to go a more balanced and relaxed approach for my week at Rancho La Puerta.
I have spent too much of my time trying to keep up with Dave's tireless energy these past 6 months, and this was my week to spend time with my spiritual and artistic side.
Balance at Rancho La Puerta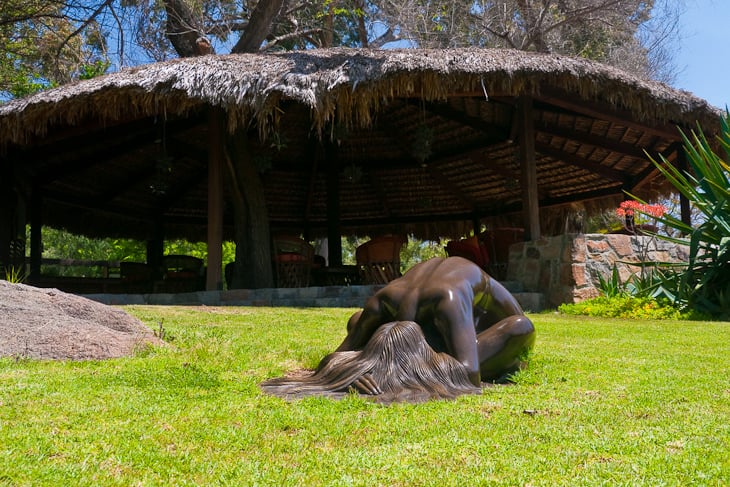 What we loved about Rancho La Puerta was amount of choice you have. Every single hour of the day offers an array of activities. You can workout as hard or as little as you want. Each hour there is no less than 5 different classes to choose from. With clinics in painting and jewellery making to intensive yoga and aquafit programs there is something to fit everyone's needs.
What did my first day consist of?
Dave and I took part in completely different activities for the entire week. He will be sharing his experience with you later this week, but for now, he is taking the day off while I tell you about my first day at Rancho La Puerta.
Feldenkrais – What on earth is Feldenkrais? I had to check out this class simply for it's name. It turns out the Feldenkrais is a series of micro movements in the body to rework your nervous system. You can change years of bad habits and aches and pains by practicing Feldenkrais regularly.
I had a difficult time with the micro movements. I was uncomfortable and squirmed a lot while laying on the floor, but after the treatment was finished, I felt that I had better posture, more balance in my muscles, I was energized and had a feeling of lightness. This micro movement stuff really works!
Ay Caramba! – As a former singer and dancer, I was looking forward to all the dance classes at the ranch. Manuel's "Ay Caramba" class was packed and he didn't disappoint.  Having won a major award  the "All Around International Fitness Presenter" during the East Coast Alliance's (ECA) Fitness Convention at Times Square, New York City, he lived up to his reputation.
This class was the most fun I have had in years and for a solid 45 minutes he gave us a high energy workout. I had no trouble with the choreography with my years of dance training, but after not dancing for 15 years, my stamina wasn't what it used to be. I felt sick on more than one occasion during that class, but didn't let the level drop for a second because Manual had a way of pushing his students to perform to their fullest.
Release and Mobilize – Lucky for me, my next class was spent laying on the floor.  Have you ever been told to lay down on a tennis ball when you have a sore muscle in your back? Release and Mobilize teaches you how to self massage your aching muscles with that tennis ball.  I didn't know I had pressure points and tight muscles in certain areas until I took this class.
It taught us how to make the most of working out those aches and pains. One word of caution though, don't go too hard. I have this bad habit of thinking if there's no pain there's no gain, but in this case, I over did it and had an aching neck and shoulders for the next few days.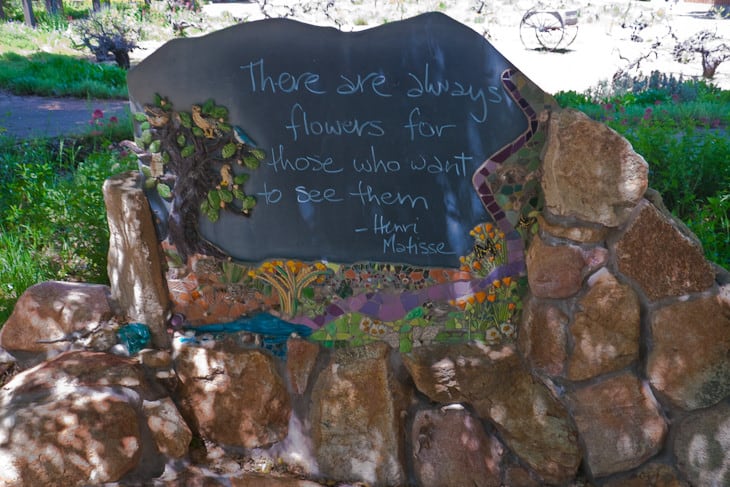 Massage – Lucky for me I had a massage booked to work out my tender muscles. Rancho La Puerta has 3 different spas complete with several professional masseurs in all different types of massage therapy. You have a choice of hot stone massage, deep tissue massage, relaxing massage, the 5 elements, and Four Hands Massage.
It doesn't stop there, you can try reflexology, facials, herbal body wraps, hydrotherapy, manicures and pedicures.  It is your week to completely pamper yourself as much as you like.  This is your time to give yourself 100% of your attention.
I wanted to make the most of my time at Rancho La Puerta and tried to take a class nearly every hour of the day.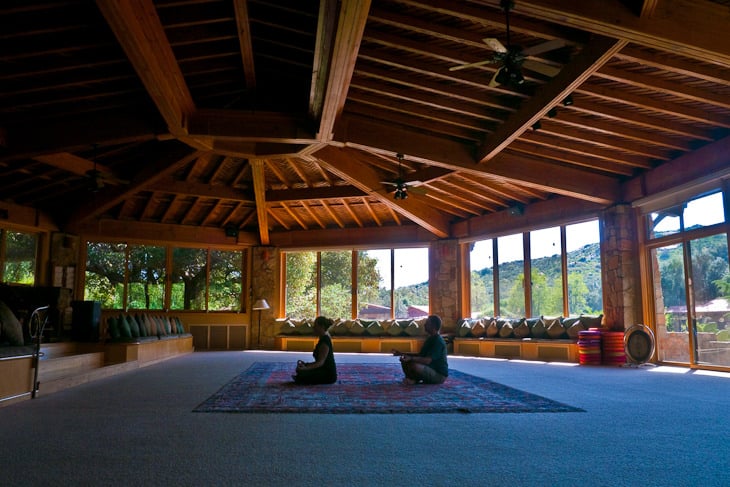 I rounded out my first day with some Tai Chi and finally a Stretch and Relax class to ensure that I felt in prime shape for the days to come.
With an incredible 4 course portion controlled healthy meal to end the day, we set off for an early bed time.  If you haven't just arrived from New Zealand and you have the energy to stay up, you can take advantage of the night time activities at the Ranch.
There are talks and people speaking on life, health and love, there are movies playing in the library or you can simply enjoy a good book by the fireplace in the lounge and lose yourself in the quiet and calm that Rancho La Puerta encourages.
To find out more about a retreat visit their website – Rancho La Puerta

As a promotion to our readers, Rancho La Puerta is offering a special discount to first time guests. Make sure to provide the code below for a $250 discount when booking your very own spa getaway at Rancho La Puerta…For Reservations – Quote Code: RM-BL
Stay tuned for more on our time at Rancho La Puerta and on Dave's point of view on visiting a fitness resort spa.
---
Read More
Top 10 Things to do on the Yucatan Peninsula Mexico
10 Must-Visit Places in Mexico
Cruise to Cozumel – My Day in Paradise
SaveSave
SaveSave