It was our first time to the South of France.
We rented a car in Paris last summer and we made it our top priority to head south. Who doesn't want to go the playground of the rich and famous.
Photo of France Marseilles
The French Riviera conjures up images of million dollar yachts, outrageously beautiful people, celebrities and fine living. We were seeing it our little Nissan Micra. We may not be millionaires, celebrities,  outrageously beautiful or own a million dollar yacht but we could certainly enjoy the French Mediterranean to the fullest.
Our First stop was Marseilles.
We weaved our way through the traffic, getting lost and hitting dead ends, but we finally made it to the old port. We spent 2 days sightseeing and taking in the laid back pace of the city. We ate seafood on an outdoor cafe, drank wine on a terrace, walked along the waterfront and strolled through the streets hand in hand pretending we were rich and didn't have a care in the world.
We took this photo of Marseilles from the Old Fort.
It is a magnificent scene of a port filled with sailboats, traffic, people and grand architecture framed by the French countryside and a perfect blue sky.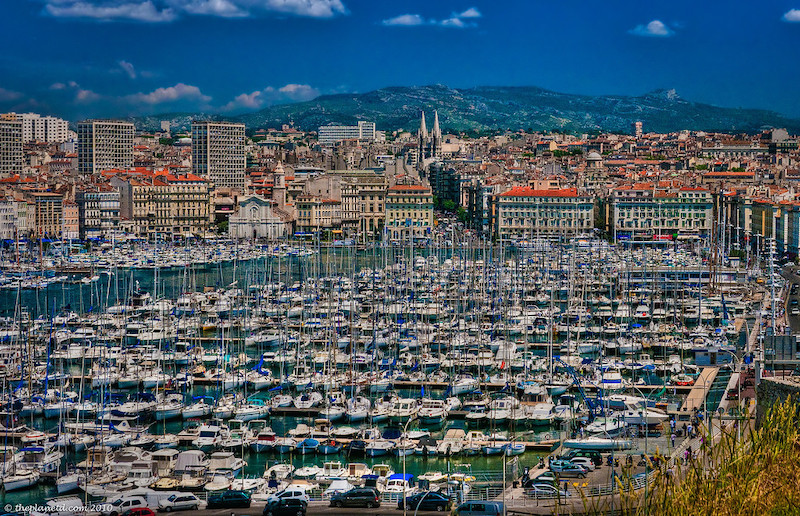 Marseilles gets a bad rap in the travel world. People say it is dangerous and dirty. People say its a seedy port town and that you shouldn't go. We disagree.
We witnessed relaxed and carefree people hanging out in the parks and strolling hand in hand. It is a city that is working to change its image and we like it. It has a cosmopolitan feel.
Like anywhere that you travel you stay smart, be aware of your surroundings and keep your wits about you. Marseilles is like any large city in the world, there is a chance for crime, but if you act as you would in any city, you will be fine. It would be a shame to miss out on such a beautiful town just because you heard a rumour about how the place used to be.
If you are looking for a Photo storage/Portfolio solution click below for my discount code!
Read More
Where to Stay in Florence – Insider Tips to the Best Areas
10 Best Things to do in Bologna, Italy
Where to stay in Rome – Insider Tips to the Best Areas
You Might Also Enjoy