It's our final motorcycle ride before the big Lake Superior trip at the end of the month. Today is a motorcycle tour around the Kawarthas.
I cannot believe how far we've come in such a short time. It's hard to fathom that just a few short months ago we wrote our M1 test and then took our M2 exit course in Toronto with MotorSoul Driving School.
 Motorcycle Touring the Kawarthas
There've been so many ups and downs during our summer motorcycle riding adventure. From wondering if we could indeed learn to ride a bike in two days then pass a test at the end of it all to finding out if we can handle a bike in traffic and at high speeds.
Let alone wondering if we would even like driving a motorcycle at all. It turns out – we can and we do!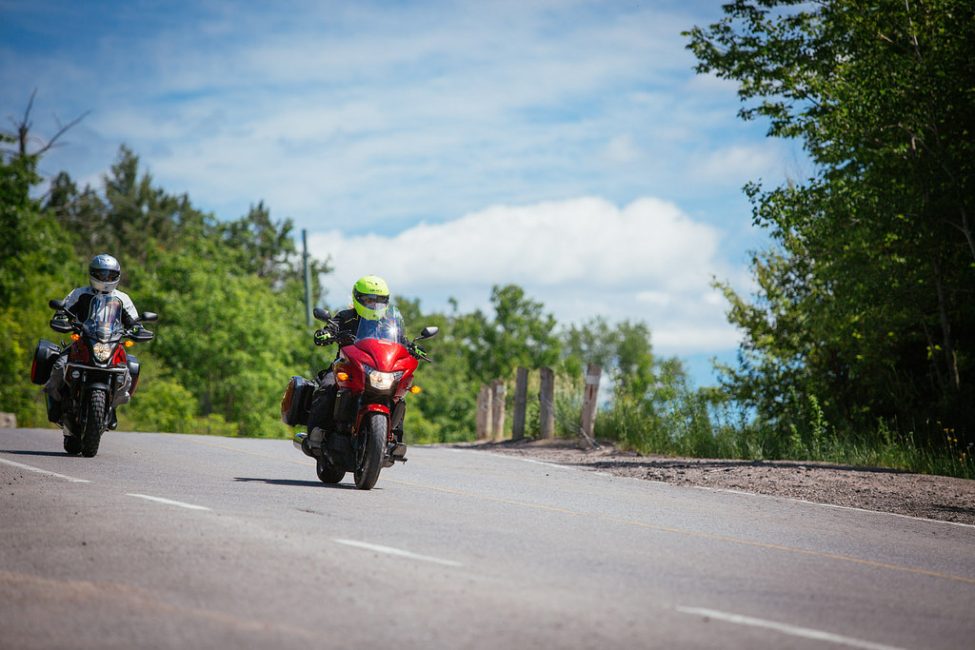 It helps to have professionals with you every step of the way.
Our instructor Ginny came out for our first 4-day ride for support and safety, but more importantly offered words of advice and encouragement.
Without their help, I don't think we would have been prepared for this epic 10-day ride ahead.
We've been doubly fortunate to have Ryan and Virgil along to take photos and videos too!
When learning a new skill and having to concentrate on the road while keeping two hands on the handlebars, it's nice to know that it's all being captured on film and we don't have to pull over every 10 minutes to take photos ourselves.
Motorcycle Peterborough and the Kawarthas
Our last ride took us to the beautiful region of Peterborough/Kawarthas. There are some epic Ontario rides here with winding roads and magnificent Ontario scenery.
I love how green our province is with trees and wildlife everywhere.
We saw a bear run across the road in front of our path and although we missed it, a group of fellow motorcycle riders told us to keep an eye out for a deer that was hanging out around the corner.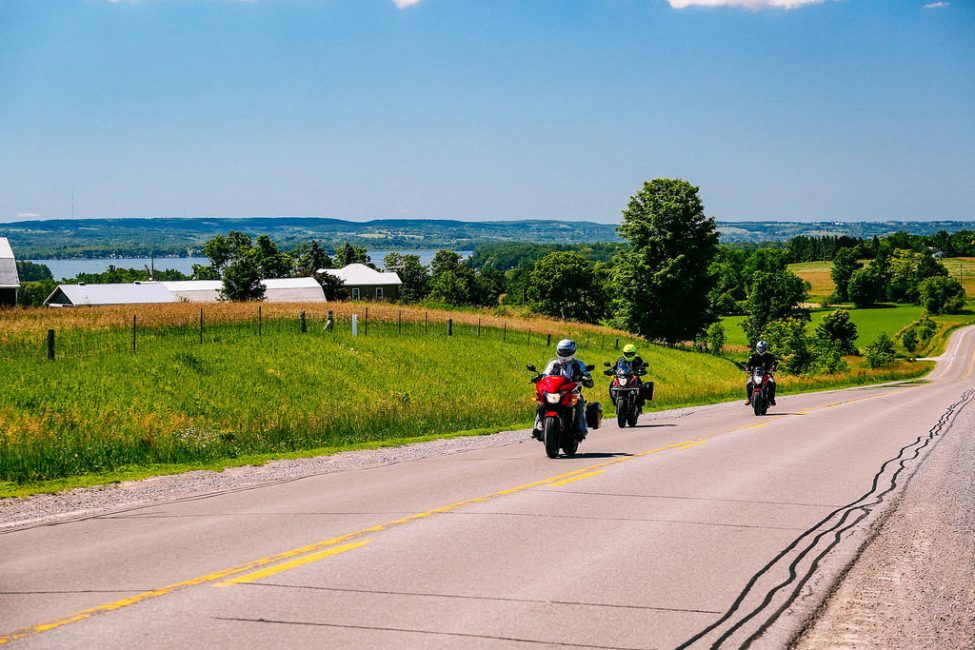 Something we've been very surprised about since joining the ranks of two wheel riders in Ontario is how friendly the motorcycle community is. Each time we pass a fellow rider, we all give a wave of the hand.
Whenever we stop somewhere near a group, everyone talks to each other, pays compliments to their bikes and gives some tips or heads up.
We've been lucky to be able to ride new Honda Canada bikes so I have to say, Dave and I get a lot of compliments on them.
My CTX 700 turned a few heads on the road with some people drooling over her. I didn't have the heart to say it was a loaner, but I also didn't have the heart to take credit for choosing such an awesome bike.
Instead, I said a meek thank you and felt embarrassed that I barely knew anything about it.
Honda has sent out a few different bikes for each weekend ride for us to test and try on. It's important to get the right fit and comfort. I was surprised to find that I loved the cruiser bike the most.
The CB500X adventure bike was a lot of fun, but I realize that I'm more of an Easy Rider type and love the feeling of lounging on the seat. Dave and I are going to be riding these two bikes for our Lake Superior trip.
They are both very different. One is a lounge touring bike, one is a more upright adventure bike.
We figure that we'll be able to switch off when we get tired of being in one position.
One of our favourite parts of the day was riding Buckhorn Road. We didn't see a lot of traffic on this beautiful winding road, but we did see quite a few motorcyclists out for a ride on a beautiful summers day.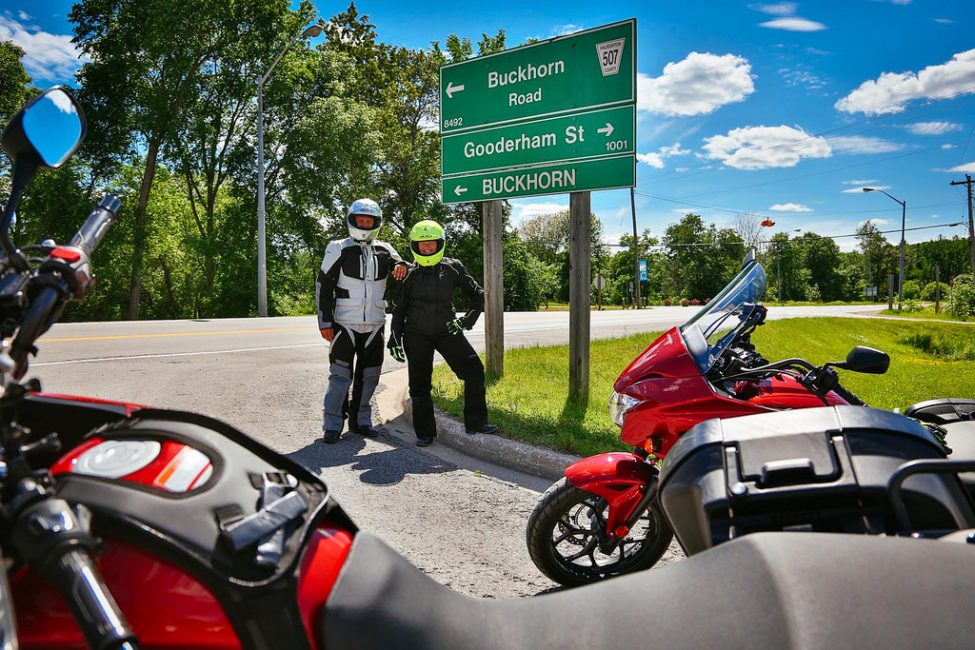 We were amazed to see how relaxed everyone was.
Before riding, we always thought motorcyclists had a need for speed. But the people that ride bikes are a lot like us. They're out with friends enjoying a leisurely ride and taking care to be safe.
We didn't know a lot about riding formations before taking our motorcycle test, but we now see that all riders really do follow the rules.
Groups ride in staggered patterns, they follow the speed limit and they wear safety gear.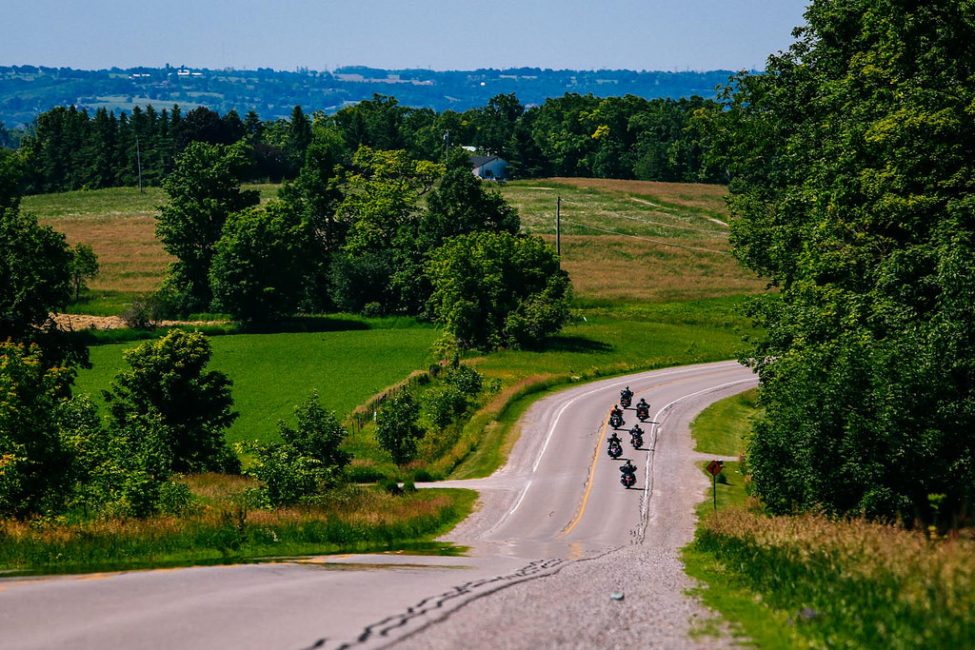 We've been noticing that more and more people wear their protective motorcycle gear all the time and we're following suit.
You don't have the cage of a car to keep you safe, so you want your gear to have all the safety components you need.
Parts Canada has made sure we're riding safely with our gear.
If we crashed and skidded across the road, we'd be safe from any road rash occurring due to our reinforced jackets and riding pants. Each piece of clothing has body armour, knee, shoulder, and back pads and even our gloves have knuckle armour.
I never knew that so much work went into motorcycle gear. I thought it was just about style and a bit of protection.
With a full face helmet, we both feel very safe, should anything happen. However, thanks to our training with Motorsoul, we don't plan on having any crashes. We're staying alert and keeping our concentration high so that we can anticipate any problems well ahead of time.