–The sun didn't set by the time we turned in at 10:30pm on our first day of our Princess Cruise.
We are in the land of the Midnight Sun after all and we are approaching the longest day of the year.
Our trip starts in Fairbanks Alaska where we will be spending 5 days on land exploring America's Northernmost state.
Guy Glaeser (pronounced Glacier) our tour guide set up a great day for the early arrivals.
Chena River
Staying in the Princess Riverside Lodge offered an excellent home base for all our excursions and today we set out to explore the Chena River.
We were led on a historical tour regarding the heritage of the Athabaskan People and the early settlers of Alaska.
Our first stop was watching the cutest demonstration of Alaskan mushing dogs training at their kennels.
Sled Dog Tours – Mushing Camp
The energy was high as the musher ran his dogs along a trail. The dogs pulled his "summer" sled on wheels with great speed and determination.
The other dogs that had the day off seemed a little jealous of the dogs running the track.
They stood atop their doghouses barking and turning in circles trying everything to get off their leashes.
These dogs love to run and they don't want to stop.
As their musher said, "it takes 2 days to teach a young pup to run and 2 years to try to teach them to walk!"
Village Visit
It was a relaxing tour with a fun stop at a traditional village where some great young people hosted demonstrations and talks regarding their heritage.
Fish Camp
The village's heart is the fish camp.
Up here the winters are long and hard and people needed to catch, dry and smoke salmon to last the season and feed not only them but their dogs as well.
Sled dogs were the only way to travel long distances and the dogs had to remain healthy.
Their health was paramount to survival. From alerting the village about bears to taking the men out to hunt and fish they were an important part of the Athabaskan way of life.
We walked through temporary fish camps, hunting camps, and a more permanent village.
Camps and villages were cleverly designed.  They were built for survival from the elements and predators.
It is a well-oiled machine, this tour by Princess Cruises.
We walked in groups from station to station to learn about every aspect of early life in Alaska.
They kept the talks short and moved us along holding our interest with jokes and great visual aids like grizzly bear pelts, stuffed moose and traditional clothing.
On the Riverboat
The riverboat tour was an excellent history lesson but the highlight for us was going to the Captain's Wheelhouse.
This operation is in its 60th year and it has remained all in the family.  Founded by Jim Binkley in 1950, it had 20 people aboard its inaugural voyage.
Today it has grown to a giant organization run by the grandchildren and extended family of Jim.
Our Captain was a certainly a youngster, but highly professional and friendly.
Ryan Binkley had spent his life working on the boat and by the time he turned 18, he had so many hours as a deckhand, he was automatically eligible to become captain.
Icons of Alaska
The boat tour ended with a great surprise.
Lance Mackey, 4-time Iditarod and 4 Time Yukon Gold champion was standing by to meet and greet the passengers.
He is the Lance Armstrong of dogsledding.  He's the Tiger Woods of mushing and Dave and I are huge fans.
We watched the Iditarod on Discovery cheering for Lance Mackey when he was trying for his second consecutive win and have been fans ever since.
He has an amazing story of surviving terminal cancer, fighting back with great determination and then becoming the greatest Musher in history.  Not only did he win both races four times he won them all in consecutive years and held the title of both the Yukon Gold and Iditarod for 2 years at the same time!
Here he was standing at the dock to greet us all
Panning for Gold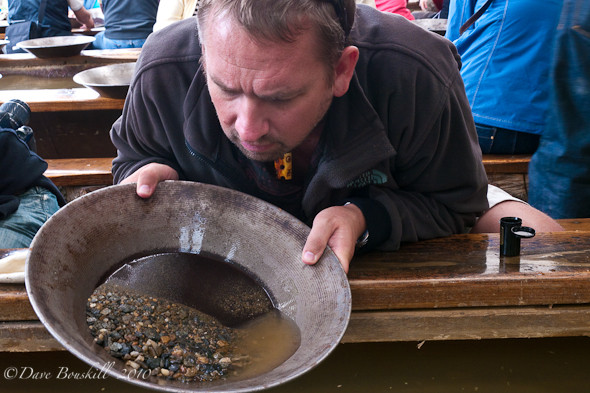 It was already a busy day, but we had an afternoon of panning for gold.
Visiting an old mine we listened to the history of the Alaskan Gold rush then tried our hands at panning ourselves.
We managed to pan $28 worth of gold, not a bad haul for 20 minutes of work.
You Might Also Enjoy